WWE boss' shock announcement after 'affair'
WWE founder and CEO Vince McMahon has made a major announcement about his role in the iconic wrestling promotion.SportDon't miss out on the headlines from Sport. Followed categories will be added to My News.WWE founder and CEO Vince McMahon has "voluntarily stepped back" from his positions as chief executive and chairman amid an internal investigation…
WWE founder and CEO Vince McMahon has made a major announcement about his role in the iconic wrestling promotion.
Sport
Don't miss out on the headlines from Sport. Followed categories will be added to My News.
WWE founder and CEO Vince McMahon has "voluntarily stepped back" from his positions as chief executive and chairman amid an internal investigation stemming from allegations that he paid $3 million in hush money to an employee with whom he had an affair.
The investigation has also reportedly uncovered several older agreements related to misconduct claims that other female WWE employees brought against 76-year-old McMahon and John Laurinaitis, WWE's head of talent relations.
The Wall Street Journal was the first to report the allegations.
"McMahon will retain his role and responsibilities related to WWE's creative content during this period and remains committed to co-operating with the review underway," the company said.
The investigation is being overseen by a special committee from within the board of directors.
McMahon's daughter, Stephanie, will serve as interim CEO and interim chairwoman, according to the WWE.
The WWE board found out about McMahon's recent $3 million agreement after receiving a series of anonymous emails from someone claiming to be a friend of the woman who had an alleged relationship with the WWE chief, according to the Journal.
The emails reportedly alleged that McMahon hired the woman as a paralegal at a $100,000 salary, then bumped her pay up to $200,000 after they began a sexual relationship. McMahon also "gave her like a toy" to Laurinaitis, the reported emails said.
"My friend was so scared so she quit after Vince McMahon and lawyer Jerry paid her millions of dollars to shut up," the person who sent the initial email reportedly wrote.
The email appears to refer to Jerry McDevitt, who works as McMahon's lawyer and did not respond to a request for comment from the Post. McDevitt wrote in a letter to the Journal that the ex-paralegal hadn't accused McMahon of harassment and that "WWE did not pay any monies" to the ex-employee "on her departure".
The board has reportedly found that McMahon used his personal funds to pay ex-employees who signed the agreements.
McMahon is married to Linda McMahon, who co-founded WWE alongside her husband and served as the administrator of the Small Business Administration under President Donald Trump.
This article originally appeared in the New York Post and was reproduced with permission
Originally published as WWE's Vince McMahon 'steps back' from CEO roles amid misconduct probe
37 "Treat Yourself" Products Under $15 That Are Worth Every Penny
Life's too short not to have tiny prisms casting rainbows all over your room and sweet potato habanero sauce drizzled on your chicken.We hope you love the products we recommend! All of them were independently selected by our editors. Just so you know, BuzzFeed may collect a share of sales or other compensation from the…
Life's too short not to have tiny prisms casting rainbows all over your room and sweet potato habanero sauce drizzled on your chicken.
We hope you love the products we recommend! All of them were independently selected by our editors. Just so you know, BuzzFeed may collect a share of sales or other compensation from the links on this page if you decide to shop from them. Oh, and FYI — prices are accurate and items in stock as of time of publication.
1.
A set of eye-popping fine point pens designed for planners and journals, so you can — gasp — color code all your to-do lists, fun plans with friends, and scrapbook pages.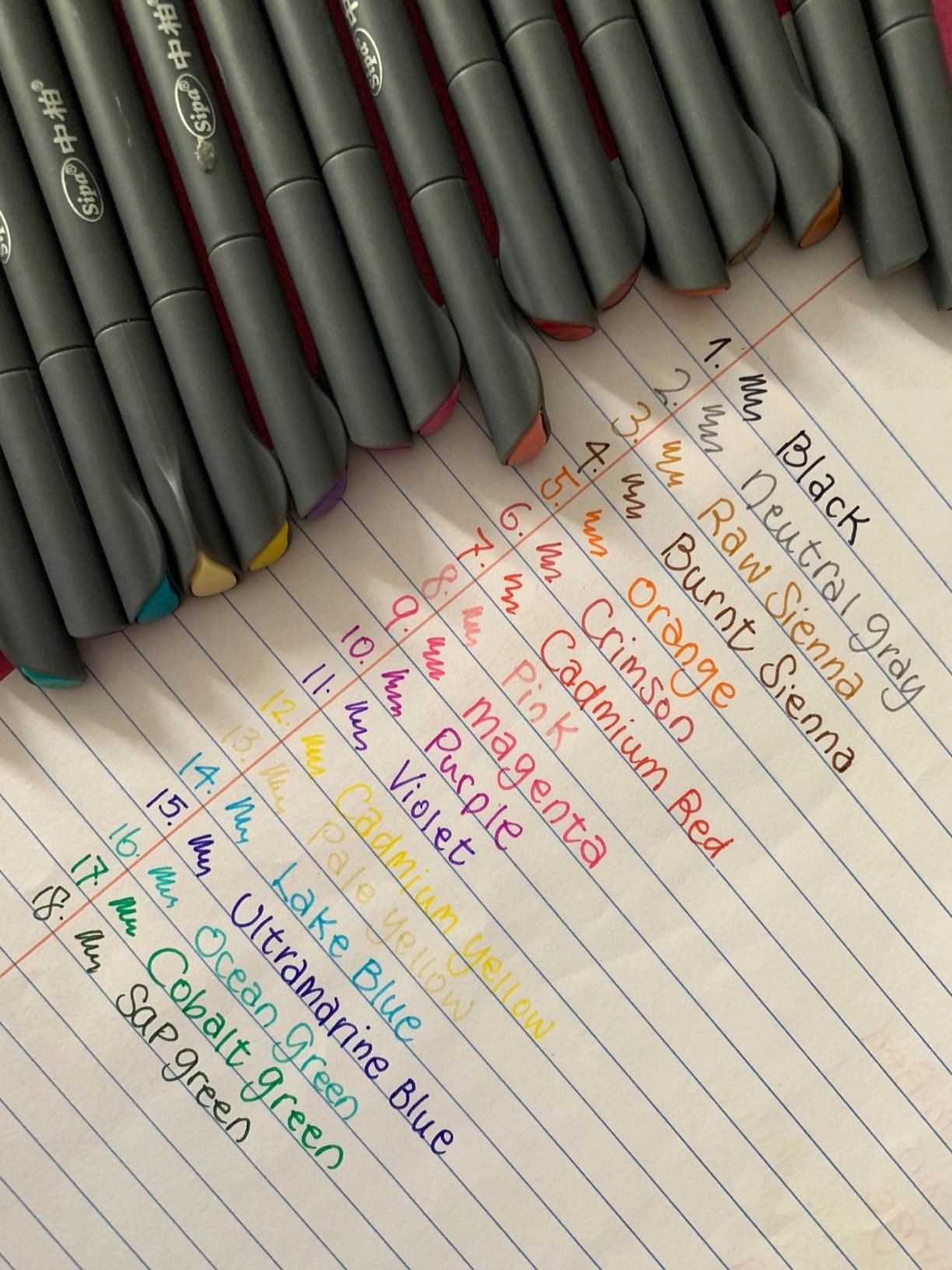 Perhaps most importantly for anyone out there planning to go full Leslie Knope on these is that they're designed not to bleed through thin pages!
Promising review: "I love how this pen feels to hold and it writes beautifully! I am very picky about how the ink looks from the pens I use and I don't remember having one that writes so smoothly and beautifully! I will buy these whenever I need more. I actually just purchased another package of all black!" —Marcia
Get a set of 18 from Amazon for $7.49 (get this price by clipping the 15% off coupon). 
2.
A copy of Burn After Writing, a guided journal that tens of thousands of reviewers swear by — through a series of questions and thought experiments, it encourages people to take time away from their screens to explore their feelings, both new and old, so they can embrace meaningful ones and try to let others go. 

Promising review: "I first saw this book on TikTok and decided to look more into it. I purchased four total because I know some people holding onto things that are difficult to let go of. It's a great way to look at things from a different perspective and truly hold yourself accountable to different things in your life. I love what it stands for and I look forward to when I burn mine after I'm done. Self love, self care, and meditation for a better state of mind tomorrow is always the goal. I definitely recommend it to those susceptible to change and the willingness to try things different. You're so much more than what's been done to you and someone's inability to see your worth does not decrease your value. Choose you for a change." —Brent Helm
Get it from Amazon for $7. 
3.
A cult-favorite ~secret~ popcorn salt that anyone in the movie theater industry will tell you is a perfect dupe for that oh-so-savory buttery goodness you love to inhale before the previews begin. Not to be dramatic about popcorn on main, but this stuff is game changing — reviewers put it on everything from ice cream to eggs to veggies. 
Our family recently unearthed this because beloved To All The Boys I've Loved Before author Jenny Han mentioned that it was her secret to delicious popcorn, and it may have just wrecked me for other at-home popcorn for the rest of my life. It genuinely tastes just as salty and buttery and savory as fresh movie theater popcorn. I inhaled it so fast that every single one of my organs lit up in mild alarm.
Promising review: "I am a person who will make myself sick eating buckets of popcorn (I have no self control). This has by far been my favorite 'TikTok made me buy' item. My at-home popcorn is now my favorite thing to make and I don't need to go the theater for popcorn. Very much worth the purchase and this will last me such a long time." —S Martinez
Get it from Amazon for $10.10 (available in two other flavors).
4.
A ridiculously charming octopus-shaped blackhead remover you can use to gently scrub as part of your skin routine or in the shower to remove excess sebum to exfoliate pores and pull out blackheads, whiteheads, and other miscellaneous gunk from the day that you'd rather evict.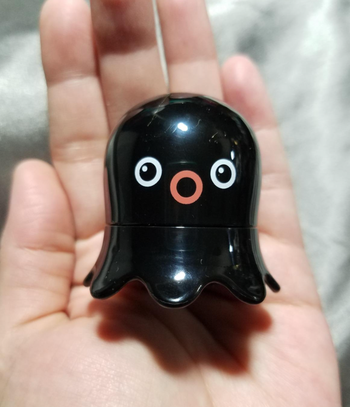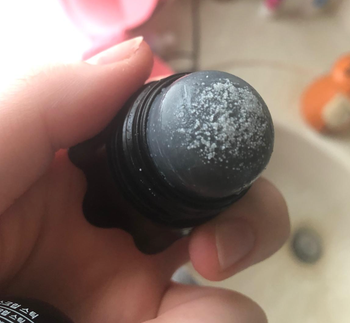 Promising review: "I saw this on TikTok, it works great so far." —MarMarManuel
*Another* promising review: "After just two days of use, this adorable little octopus has done wonders for me, smells great too. Here's how I used it: I wore down the stick just a little to where the texture from the salt is visible, scrubbed around on my face so there was plenty of product, then I used my fingers to gently massage all the gunk away. Rinse, pat dry, and enjoy the softness. Highly recommended for people with sensitive skin like myself." —LuckLocust
Get it from Amazon for $12.50. 
5.
A plug-in color-shifting mushroom light for anyone whose little cottagecore heart could use an extra dose of cozy in their room.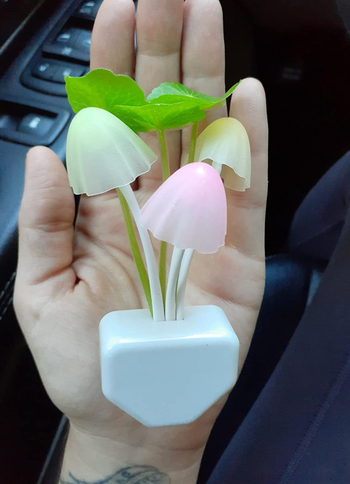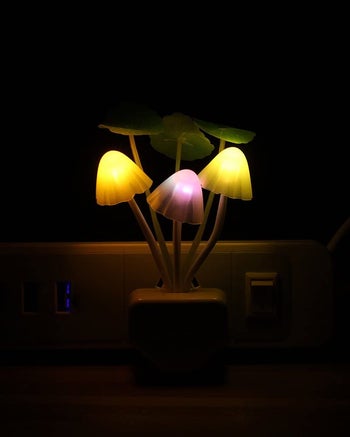 Promising review: "I LOVE this night-light. It's in my bathroom and is a lovely addition. It turns off the second the lights go on which is nice that I don't have to worry about accidentally leaving it on. Super cute and the little itty-bitty lighting element does a good job lighting, just enough so I don't have to turn the main lights on in the middle of the night." —1Thand

Get it from Amazon for $5.97. 
6.
A Harry Styles air freshener that comes in so many scents that you're bound to find the perfect one for your car, whether you're in a strawberry lipstick state of mind, feeling like lemon over ice, or a just enjoying a good old-fashioned watermelon sugar high. (They also have non-fruit scents available, but like … that seems disrespectful.)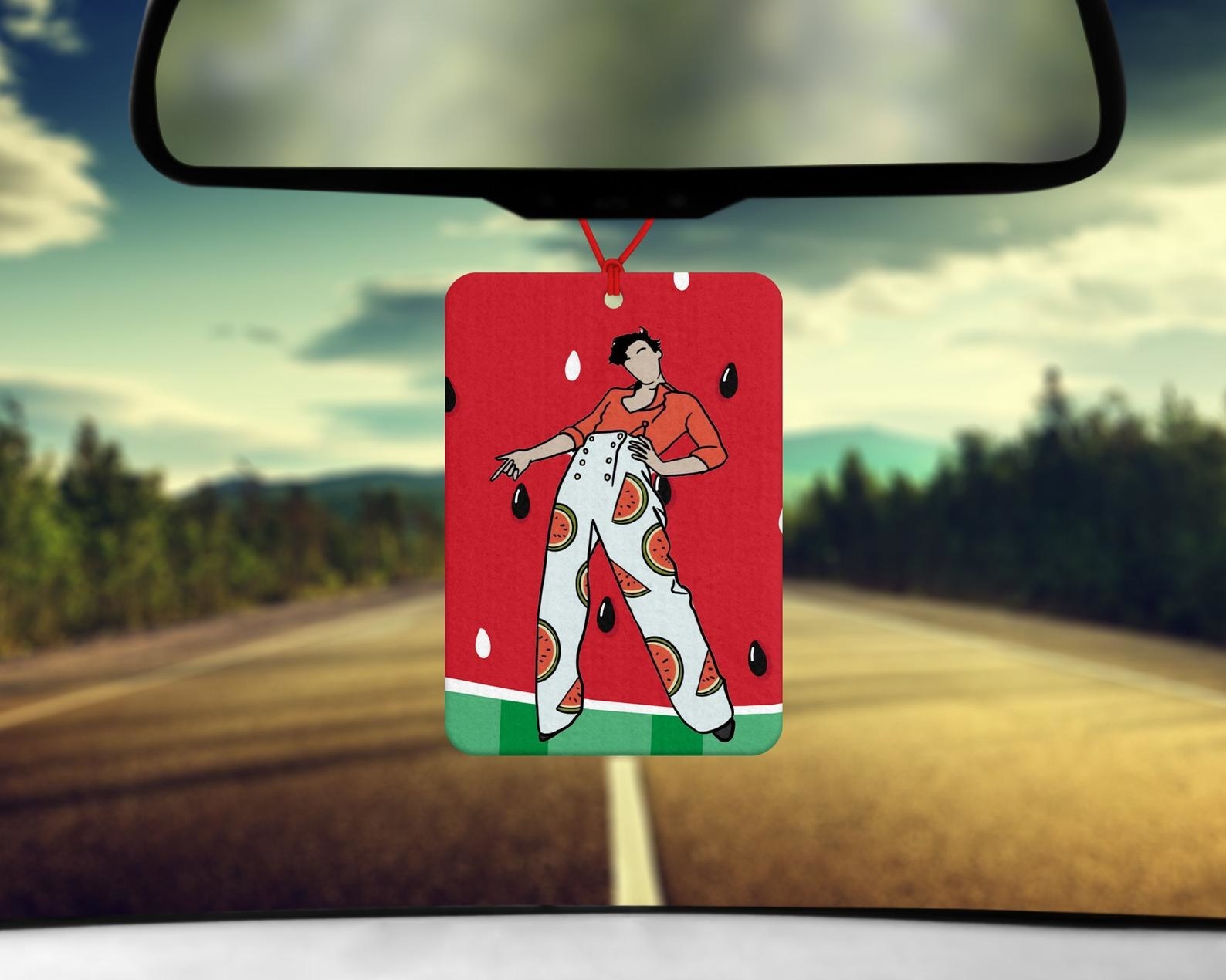 Gifts by Ells
Gifts by Ells is a UK-based Etsy shop established in 2020 that specializes in handmade goods inspired by pop culture. 
Promising review: "This shipped very quickly and smells wonderful! I ordered the watermelon scent and was a bit worried about it being too strong, but it is very pleasant. I would absolutely recommend!" —Steph0214
Get it from Gifts by Ells on Etsy for $6.23 (available in 15 scents). 
7.
A set of Globbles, which are about to be your new favorite stress-relieving fidget toy. These colorful balls are squishy, stretchy, and stick to pretty much any flat surface you throw them at *without* leaving any messy residue. TikTokers are having a blast tossing these at walls and ceilings to see the satisfying way they glom onto them.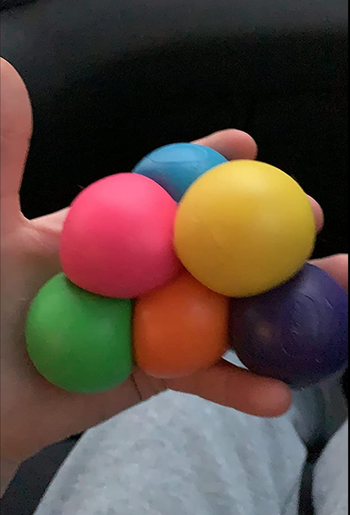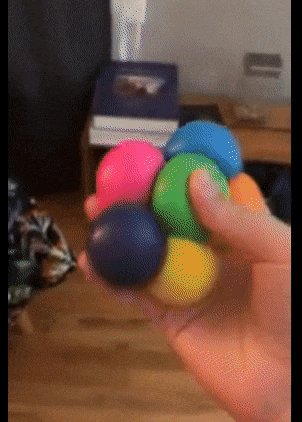 Check out a TikTok of the Globbles in action. 
Promising review: "Bought a six pack for my neurodivergent family. We are all either ADHD or autistic. I struggle with compulsive hair pulling and bought these to help keep my hands busy. They are the perfect size, more satisfying than a stress ball, clean easily, fun to hurl at the wall or ceiling, and so far have lasted very well. I did test the durability of one and did break one when I pulled it as hard as I could —the inside looks something like shaving cream and didn't smell or anything. But if you have a kid who is an aggressive chewer, perhaps keep an eye on them." —Amazon Customer
Get a set of six from Amazon for $8.99. 
8.
A rainbow prism suncatcher you can easily hang indoors to refract sunlight and make a bunch of teensy little rainbows all over the place, adding a subtle touch of magic in your space 🌈.
Promising review: "They actually were bigger than I anticipated which was actually pretty awesome. I hung them in the window of my office and it's beautiful when they catch light. Definitely worth the money when it puts a smile on your face." —Emmy Ann
Get a set of two from Amazon for $8.98.
9.
A super-chic minimalist glass tumbler that reviewers love for on-the-go iced coffee and water. I personally love mine because I am *terrible* at drinking water (the Wicked Witch of the West has nothing on me!!) but this straw situation has a weirdly good mouth-flow-feel (there is probably a more concise way to describe that, but too late!!) and it makes it more fun to hydrate. Also I am an aesthetic monster, and this ticks that box.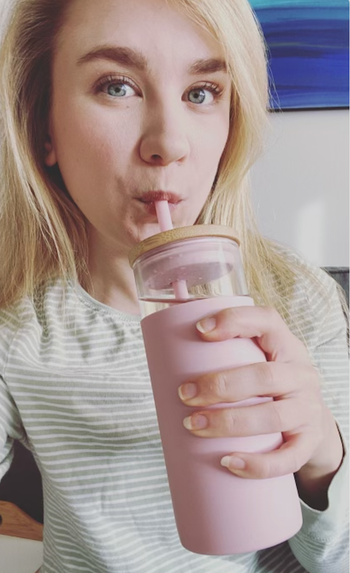 Emma Lord/BuzzFeed
Promising review: "I saw this product on TikTok and automatically liked it! I love that it comes in so many different colors and the top is wood. I drink lots of water and needed a cup I could take with me everywhere. I could also put iced coffee in it too. I love that it came with two straws, a clear one and white. I will be purchasing another one for my husband and also one for my mom in different colors!" —Rose

Get it from Amazon for $13.49 (available in dozens of colors and in multiple packs). 
10.
Essence's Lash Princess mascara, because TBH, we've all wasted too many years and too much money looking for the ~holy grail~ mascara. This one is less than $5, gives you instant length, and is DELIGHTFULLY sweatproof for the summer. 
Emma Lord/BuzzFeed
Hello, that is my face above, because I bought into the hype of all the 5-star reviews and now I will never look back!! Putting it on is like giving my eyelashes butterfly wings. It doesn't get clumpy, it stays put ALL the livelong day no matter how much you sweat, and you can apply it on very lightly if you don't want it to look so dramatic, or continue applying for longer lashes each time.
Promising review: "Saw this product on TikTok and thought it would be expensive looking at the results they got. I am beyond amazed with how my lashes look after about two coats. For around $5 you couldn't ask for a better mascara! I will be buying this same one when I run out. I was not expecting to like it as much as I do! No complaints." —Kd
Get it from Amazon for $4.99.
11.
A bottle of Elizavecca Hair Treatment, an Olaplex "dupe" repairing mask infused with collagen ingredients and protein extracts that will help restore hair health and reduce shedding. All you gotta do is apply it on wet hair after a shampoo, wait five minutes, and rinse it out.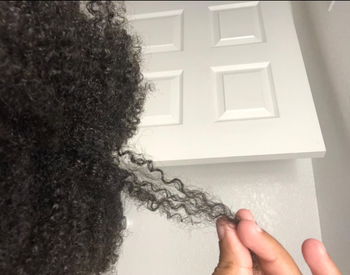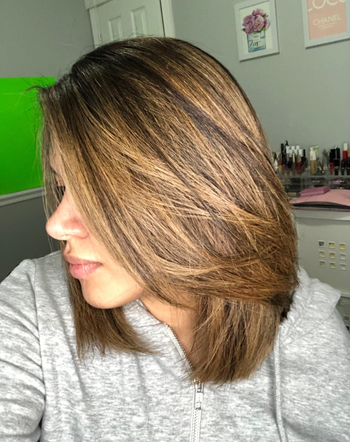 This is designed to work on all hair types, with reviewers with 2b to 4c curls mentioning it worked for them! 
Promising review: "I saw this on TikTok, and in between other compares products that were four times the price, I decided to bite the bullet and buy this — let me tell you, best decision ever! I shampooed my hair, then heavily massaged this in, from ends to scalp. The carton says 5–20 minutes… But I ended up leaving it in for two days! And after washing it out, my hair was so shiny, bouncy and CURLY! My curl recovery journey has been long, but this has helped restore so much vibrance and shape to my hair. My mom has been stealing it from my bathroom every couple of days, after having similar results on her hair. Going to need to buy a few more to ward her off." —curlyhead3
Check out BuzzFeed's full review of the Elizavecca hair treatment for more deets!
Get a bottle from Amazon for $7.90.
12.
A rose gold rechargeable electric lighter you can use to replace all your old gas ones. This one is not only chic as heck, but completely flameless, and made with a long stem so you can use it to light gas burners and larger candles without dealing with an open flame.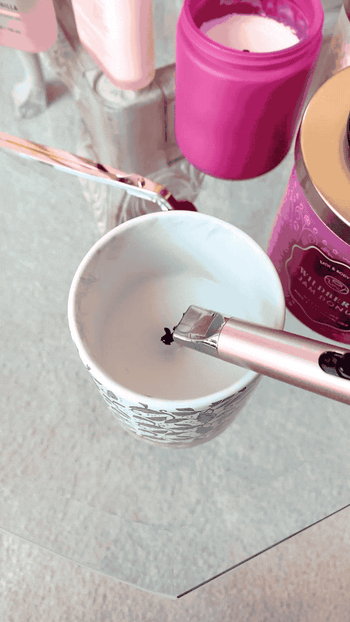 Emma Lord/BuzzFeed
This also comes in other pretty colors, but I am especially partial to this one because I bought it for my parents (their kitchen is entirely pink and one of my favorite places on Earth), and this was SO EASY to use — not to mention super safe! I'm a big weenie about fire (LOL, self-preservation) so I've always stuck to extended-arm gas lighters, but this is much better for the environment (plus cuter), so I feel a lot better about using it. You can read my full review of the Leejie electric lighter for more deets!
Promising review: "Works like a charm. I saw this on a TikTok. Knew immediately that I needed it. I love candles and this is so much better than a match or lighter. It's kept a charge for months. I use it several times a month." —dwhite3012
Get it from Amazon for $9.99 (available in five colors).
13.
An illuminating moisturizer designed to enhance your skin's natural glow ✨ — perfect for anyone who wants a lightweight alternative to foundation or just a lil' extra low-effort shimmer in their lives.
Promising review: "Didn't need this but bought this due to watching a TikTok. Pleasantly surprised by the magical erasing powers. This product has magic dust. Gives you a great glow and erases imperfections with the thinnest layer." —Kim Wilmot
Get it from Amazon for $6.99 (available in four shades).
14.
A six-piece (!!) set of high-performance matte lipsticks at a *fraction* of the price of its competitors that stays the heck put without drying or cracking your lips by the end of the day. (Seriously, reviewers are DRAGGING major brands in their comments, these are so cheap and effective.)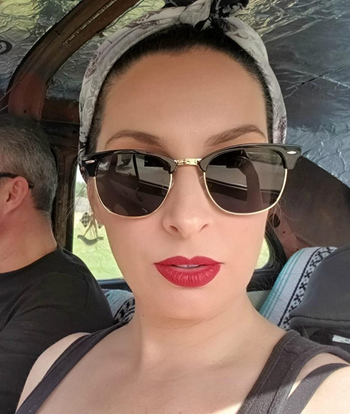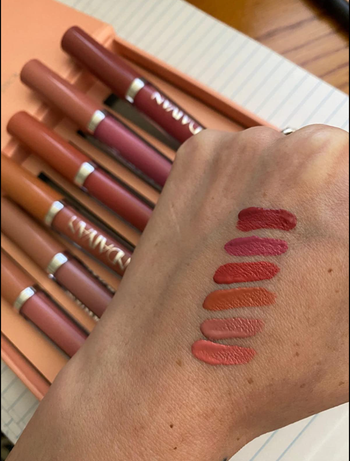 Promising review: "What can I say, I saw a TikTok about this lipstick and for $10 had to try it! The reviews are right, for some reason this lipstick is better than even $20 name brand ones bought from Ulta. Not only does it smell great, but dries in under a minute and survived eating a cupcake, a Starbucks drink, and an entire evening out, no smudging and had to be removed with a makeup wipe. Fantastic product!!" —Claire
Get a six-piece set from Amazon for $11.88. 
15.
A retro-inspired scarf to add some effortless glam to your outfit during any season — this is basically a "declaring yourself the main character" life hack no matter how you decide to wear it. 
Promising review: "I actually get compliments on this all the time. I just bought it as a cheap little way to accent my black purse and people are shocked when I say it's just an $8 scarf off Amazon. The print looks great and it's really soft. You can definitely tell it's not an expensive scarf if you spend some time touching/looking at it. But, it's a great accessory that apparently fools passersby!" —Katie Payne

Get it from Amazon for $8.91 (available in 45 colors and patterns).
16.
A pack of 24-karat gold cooling eye gels you can easily make a part of your Sunday night Netflix marathon — help hydrate and brighten and reduce wrinkles in your under-eyes with a blend of collagen, hyaluronic acid, and, of course, a healthy amount of shimmer ✨.  
Promising review: "First of all, amazing deal for the price! Secondly, they work amazing!! I have issues with tired eyes and I used the patches for about 30 minutes after I washed my face, while I was in the shower, then took them off when I did my makeup and my under-eye was so moisturized and rejuvenated!" —Tiara Baker
Get a pack of 20 pairs from Amazon for $14.47.
17.
A bottle of one of Hot N Saucy's unique hot sauces so you can take your taste buds on a happy lil' rollercoaster, from Sweet Potato N Habenero on your eggs in the a.m. to Garlic N Peperoncini on your veggies in the p.m.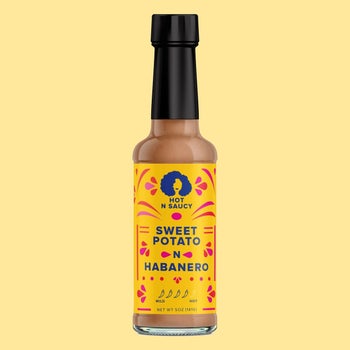 Hot N Saucy
Hot N Saucy is a New York City-based, Black woman-owned business that specializes in unique flavors of hot sauce (and VERY cute merch!!).
Get it from Hot N Saucy: the Garlic N Peperoncini for $10 and the Sweet Potato N Habanero for $10.
18.
A bunch of teensy macaron boxes for a delightful upgrade to many things in your life, whether it's storing pills or trinkets or just staring at them looking all fancy and French on your bedside table.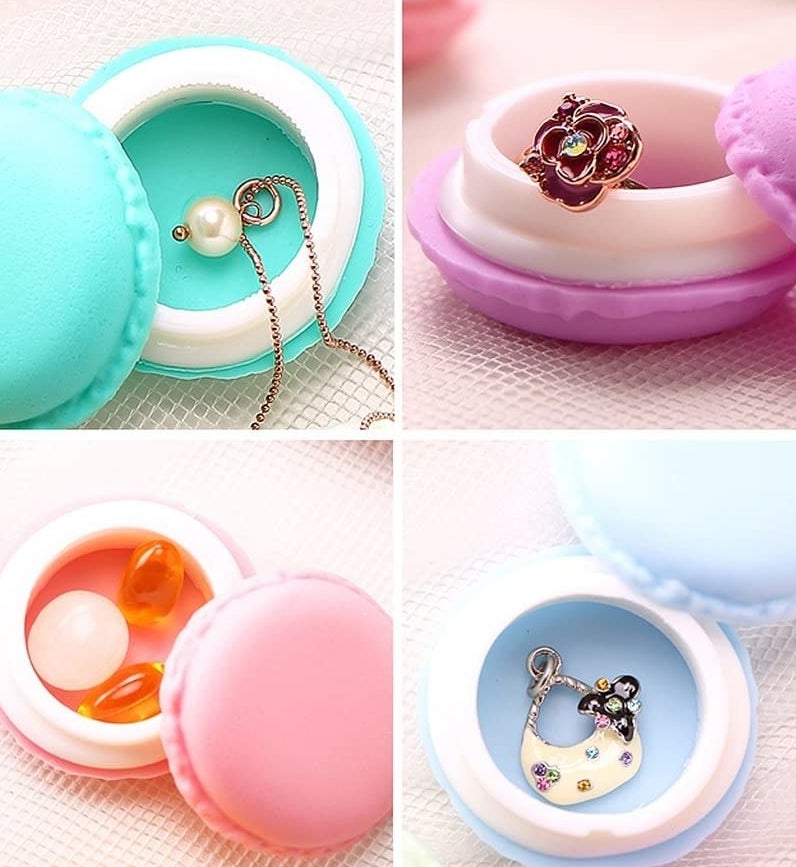 Amazon
Promising review: "Just received these cute little boxes and am in love with them. Very thick and sturdy plastic but easy enough to open. These will work perfectly for filling solid perfumes and giving out as stocking stuffer gifts as I don't have to worry about it being a snug fit/lid falling off. I imagine these would also be great for pretend food for kids' playsets or for a kid's trinket box. Overall I love them, love their feel, love the colors and am very happy." —Mary
Get a set of six from Amazon for $6.99.
19.
A lil' polar bear hydrating eye stick for some sweet, sweet relief when you wake up with puffy, aching eyes. This formula is blended with Iceland glacial water to help tighten skin and tackle dark circles so you look and feel more ~refreshed~.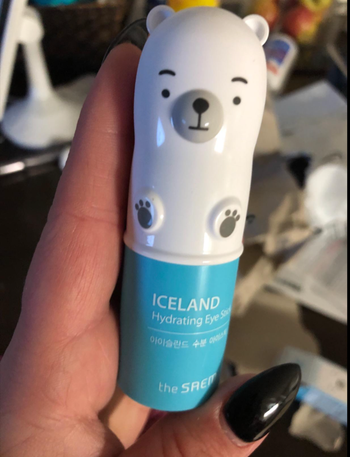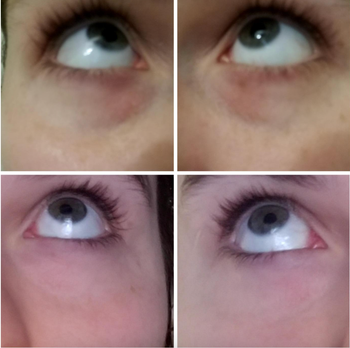 Promising review: "I have always had serious dark circles and bags under my eyes and this has really changed this for me. The results are incredible. The puffiness is gone. The dark circles are hardly noticeable. My sensitive skin has not broken out. I never write reviews, but this was so good that I had to write a review. This actually works." —Ben
Get it from Amazon for $8.99. 
20.
A shampoo scalp massager you can use in the shower to massage and exfoliate your scalp, so you can get all of the relaxing decadence of feeling like someone is massaging your head without physically going to a salon. Psst — a lot of reviewers mention this has also helped with psoriasis, dandruff, and scalp tenderness!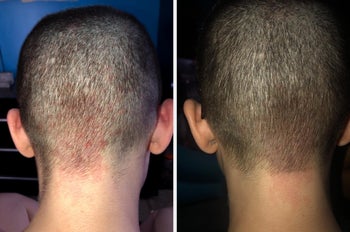 I started using one of these a few months ago and WOWZA, it really helps you get extra mileage out of your shampoo. I have a whole lot of hair on my head so sometimes it's a struggle to feel like I've soaped up my whole scalp thorough, but this was a very effective way to spread out the suds and really get them to the roots. I was worried it might tangle in my hair, but it was totally fine on that front, too. I've noticed that my hair has been a little less greasy at the roots since I started using it. And I'm echoing a ton of reviewers here when I say it just feels reeeeeally, really nice.
Promising review: "I saw this little thing all over TikTok and everyone swore by it. To be honest, they're right and I now swear by it. It's perfectly soft and sturdy to massage the scalp. Works shampoo into roots, helps with dry skin and such. I absolutely love it and I use it every time I wash my hair. I most definitely would recommend to anyone. Don't hesitate." —Z
Get it from Amazon for $6.98+ (available in three colors).
21.
A Saucemoto dip clip so you can enjoy the sweet, delicious freedom of dipping your fries into ketchup at a road trip stop without cosplaying as that red light when the ketchup ends up all over your lap.
Promising review: "I don't like to admit it, but sometimes I eat fast food in my car, particularly on long road trips. This holder is exactly what I would have designed if I had thought of it. There really is nothing I would change. It's sturdy and I haven't found a sauce yet that doesn't fit; but if I do, there is a cup it comes with to hold 'loose' sauce." —Jr High Teacher
Get set of two from Amazon for $10.90 (available in four colors).
22.
A pair of glowing lightsaber chopsticks to bring balance to The Force *and* to your sushi.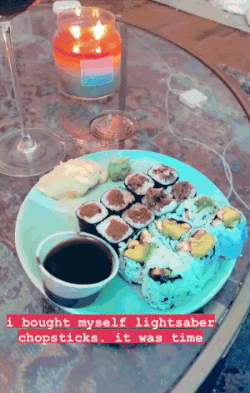 Emma Lord / BuzzFeed, Amazon
Check out a TikTok of the lightsaber chopsticks in action. 
As you can see from the above GIF, I bought these for myself, and I love them to pieces. TBH, I use them as decor every bit as much as I use them to eat. Sometimes I just keep them in my work area to light them up during the day to feel fancy. They toggle back and forth between a bunch of different colors, like red, blue, yellow, purple, and multicolor, so you can either make them match *or* have a red and blue one together and bring ~balance~ to the Force.
Promising review: "The chopsticks are very durable, and the glow is bright. They're a bit bigger that I expected — but very pleased nonetheless with the product because it serves the purpose and is entertaining for kids, right up to adult Star Wars nerds. It also made the perfect gift for my fellow Star Wars nerds. I've been too busy playing with them rather than using them to eat food — but hopefully that will eventually happen before the batteries need changing." —Anthony
Get it from Amazon for $10.97.
23.
A set of satin pillowcases that not only have a cooling effect, but are soft on your skin and create less friction for your hair so it won't get as tangled while you sleep.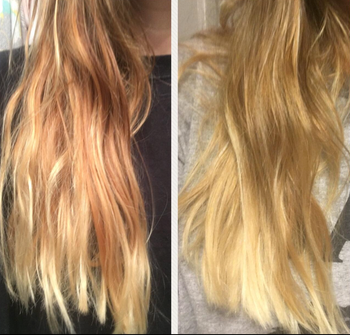 Promising review: "My hair has never been better! I got this because of TikTok and it has done wonders for my hair. My hair isn't frizzy or dull looking when I get up in the morning." —Aaron Key
Get a set of two from Amazon for $9.49 (available in 23 colors and three sizes).
24.
A set of durable matte hair clips designed for all hair types that are so comfy a lot of reviewers say they're a go-to for all-day wear. Sorry @ headbands, the clips are taking this one!
Promising review: "I will admit I bought these from seeing them on TikTok and I needed new clips for my thick hair. I am not disappointed and beyond glad I got them. The colors are gorgeous and they stay put without hurting my head. I'm very impressed." —Amazon Customer
Get a set of four from Amazon for $13.99 (available in five color combos). 

25.
A book tracker bookmark so you can keep track of all the lovely adventures you've taken from the comfort of your favorite window chair.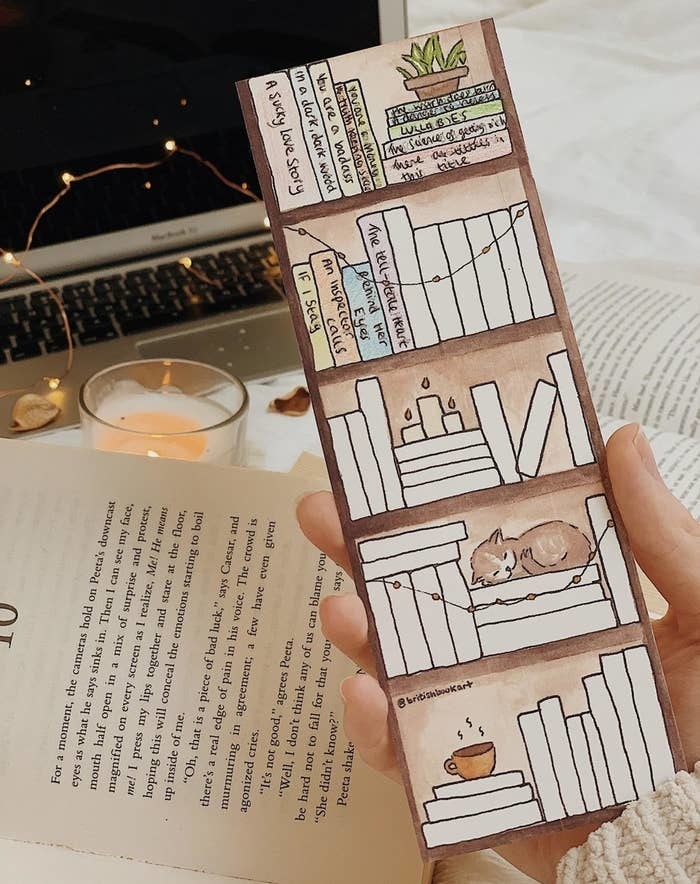 British Book Art / Etsy
British Book Art is a UK-based Etsy shop established in 2021 that specializes in tracker bookmarks and book art. 
Promising review: "Absolutely love my bookmark! So, so cute! Already made a start coloring in the books and writing the names on the spines!" —Chloe
Get it from British Book Art on Etsy for $3.17. 
26.
A pair of internet-famous retro driving sunglasses for anyone who's physically here in 2022 but emotionally about to pack their friends into a getaway car straight into the '90s.
If these seem familiar, it's cuz every TikTok influencer and their uncle seems to own a pair now — reviewers love them not just for the aesthetic, but because they're nice and sturdy and don't even snag in their hair! These also have UV400 protection, so they'll keep your eyeballs safe from the summer sun.
Promising review: "Okay I bought this set for a fashion statement but they are so well made I wear them every day! The packaging was very nice, I love having both color options — an amazing price for the value of sunglasses. Highly recommend you get them — I've had so many compliments, all my friends tried them on and they look good on everyone. Get them!" —Kim RN
Get it from Amazon for $12.95 (available in 11 styles and in two-packs).
27.
A bottle of Mike's Hot Honey to instantly elevate every dish you make to "my compliments to the CHEF" level. You can add a pinch of sweet and a kick of spice to anything from pizza to salads to tacos to — be still my '90s bb heart — grilled cheese.
Amazon
Promising review: "Saw someone try this on TikTok and knew I needed it. It's so good and sweet and spicy. I love it on fried chicken and even pepperoni pizza. It's delicious." —Tricia
Check out BuzzFeed's review of Mike's Hot Honey for more info!
Get it from Amazon for $10.99.
28.
A set of Glamnetic's press-on nails for anyone who's short on time or money but not on glamour — these standard and colorful sets are easy to reshape and apply, *plus* are reusable, so it's really an investment not just in one flawless manicure, but multiple.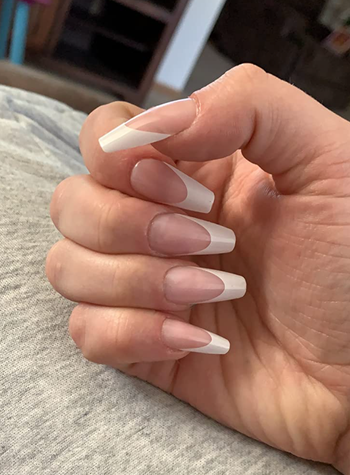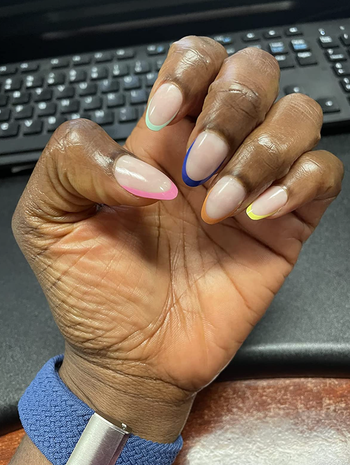 Promising review: "I saw these all over my TikTok FYP and was so curious to try them. The Mariposa nails are the first ones that I have tried and they are absolutely beautiful, and just after two days I have gotten so many compliments. The glue holds super well and the application process was super simple. I don't think that I will ever get acrylic nails again, as a set like this would likely be three times the price." —Leslie and Paige
Get it from Amazon for $14.99+ (available in 12 styles). 
29.
A temporary tattoo from a shop with a whoooole bunch of hyper realistic, eye-popping designs, so there's bound to be one you'll fall in love with.
Emma Lord/BuzzFeed
Tattoorary is an Etsy shop established in 2014 and based in the Netherlands that specializes in temporary tattoos, offering a large range of sizes, colors, and designs. Each tattoo lasts from two days to a week.
I am *obsessed* with these temporary tattoos — I waited for ages to get them, and I wish I'd done it much sooner, because I've had such a blast mixing and matching them every week this summer as a fun quarantine distraction! They transfer beautifully with warm water and look like legitimate tattoos (my neighbor truly thought I'd gotten some great ink), and are so easy and gentle to remove with a light scrub in the shower.
Get them from Tattoorary on Etsy: the vintage floral tattoo for $8, and the little birds tattoo for $3.
30.
A tin of cocktail sugar or salt for the rims of your at-home cocktails that come in so many inventive flavors you might just call the Food Network to get your own bartending show.

I started putting this on my end-of-the-week whiskey drink during the panini (quarantine made me go full Mad Men, who knew!!) and it is SO darn satisfying. I tried the citrus petals version, and it's got a light lemon, faint floral, and vaguely minty taste with its sweetness that just makes the whole experience a delight and a half. The container it comes in is actually quite wide, so what we did was pour lemon juice on the top half to prep the rim, and a bit of sugar in the bottom half to coat it. In other news, I am officially too fancy to exist.
Promising review: "Since COVID-19 I have become my own bartender. Taco Tuesdays and margaritas! The lime comes through so well with this salt. I use it for Bloody Marys as well. It is thick and chunky so its a learning curve to get the right amount of salt on. Don't press down too hard if you don't like a lot of salt. I do like extra salt but my husband said it was a little much for him, so I have mastered just a light salt for him." —cobrajet427
Get it from Amazon for $9.65 (available in nine flavors).
31.
A spooky skull-shaped ice mold, because honestly, if we're all gonna become TikTok bartenders now, we might as well be metal as heck about it.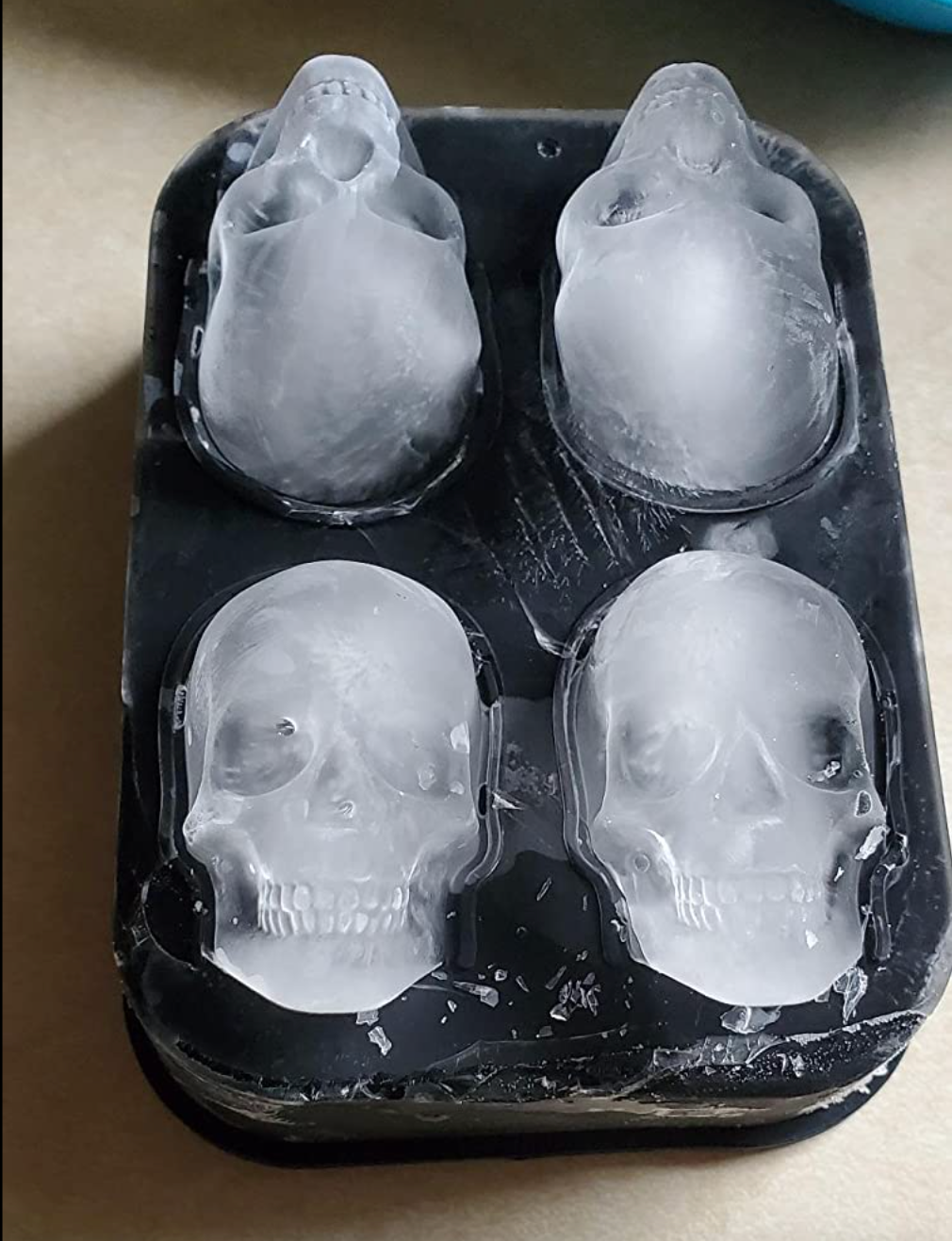 Pro-tip: these molds also work for making soaps, birthday candles, chocolate, and fondant, covering all your miscellaneous undead needs.
Promising review: "Got these to make ice cubes for a Halloween party. It's very easy to use and easy to clean. The cubes come out perfectly. I'm probably going to try to use it to make chocolate skulls next." —Amazon Customer
Get a two-pack from Amazon for $8.99.
32.
A gorgeous pastel paint-by-number with an intricate, deeply satisfying pattern for anyone who is looking for an activity that pairs perfectly with a night in with Netflix.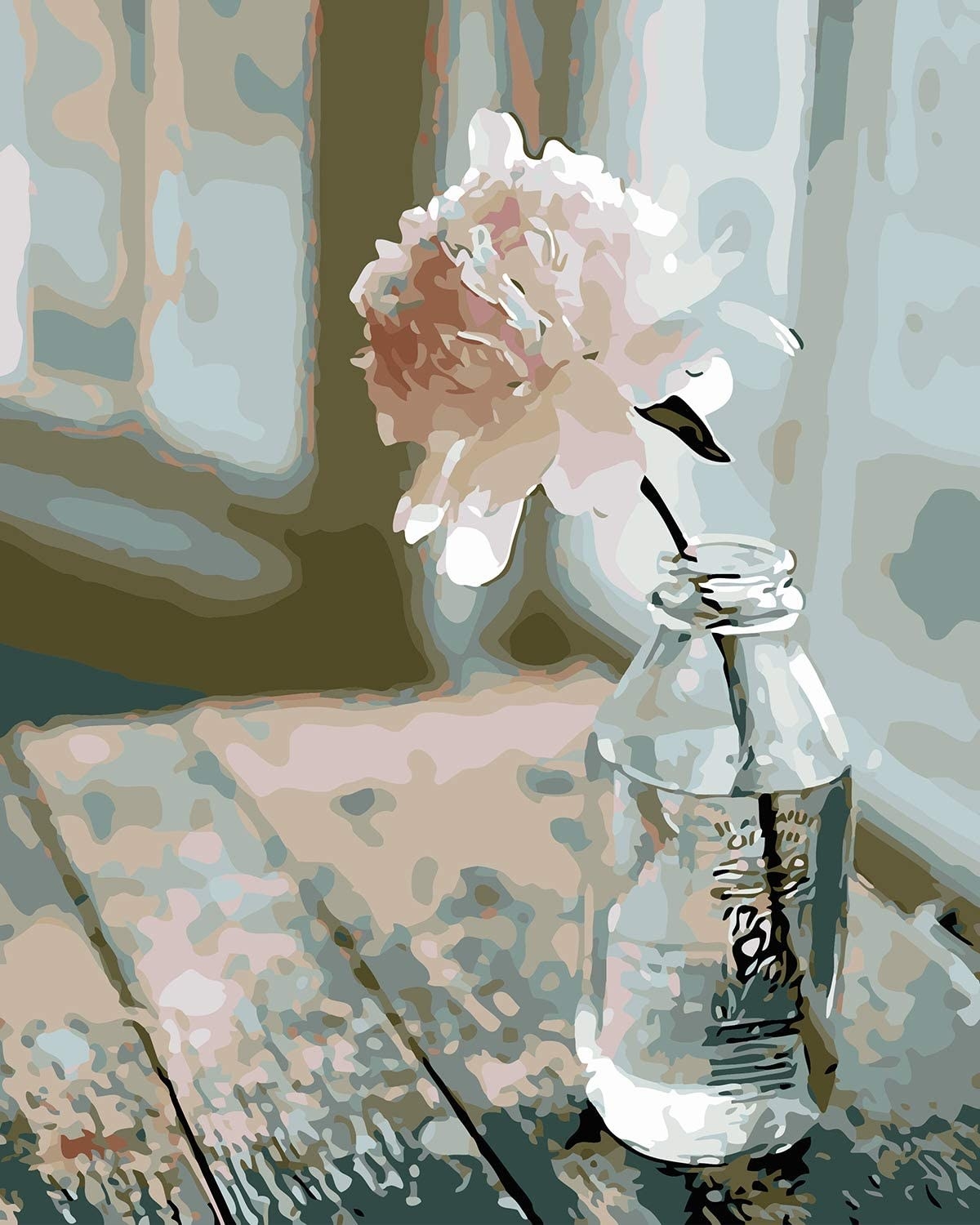 Amazon
Each set comes with a detailed numbered outline, three brushes, and a set of numbered acrylic paints with extra to spare.
Promising review: "I've been doing a lot of paint by number paintings lately as a way to decompress from stress, and this one is by far my favorite one. It just looks so cool, and it was not as hard to do as some of the others I've done." —K Rivera
Get it from Amazon for $9.97.
33.
A teensy mini waffle maker that will churn out adorably-sized, perfectly cooked-through waffles in mere minutes. Psst — if you're waffling on the waffles, you can also use it for hash browns, paninis, biscuits, and even (gasp) PIZZA. If you can dream it, you can mini waffle it.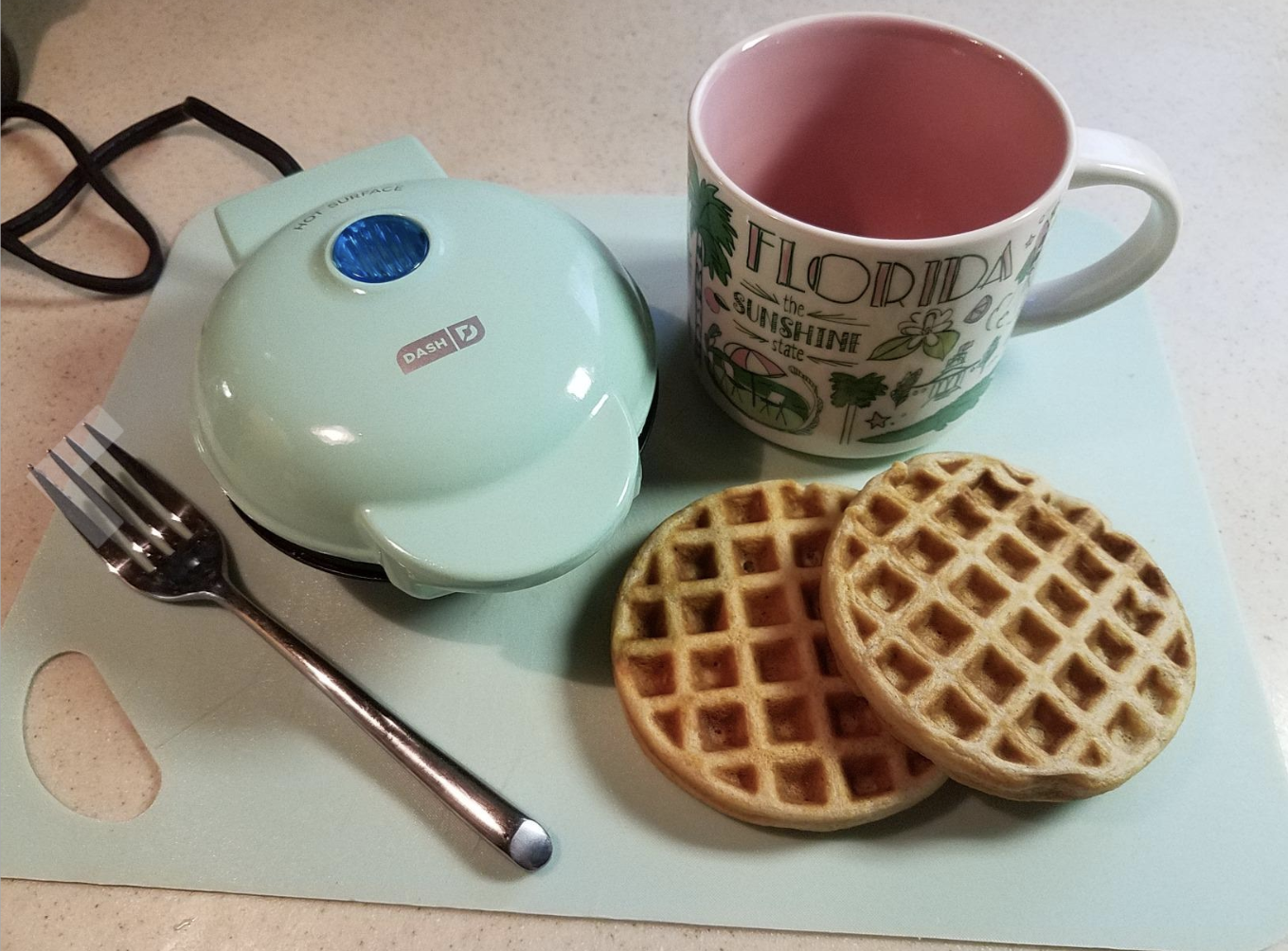 Promising review: "At first, I laughed thought it was too small to really do anything. I was so wrong — it's an amazing little waffle maker!! Can cook almost anything on it! I have cooked eggs, waffles, and French toast." —S PETERSON

Get it from Amazon for $12.63+ (available in 20 colors).
34.
A bottle of pet-friendly flavored bubbles so you and your furriest friend can have a romp of a good time in the backyard chasing and chomping them.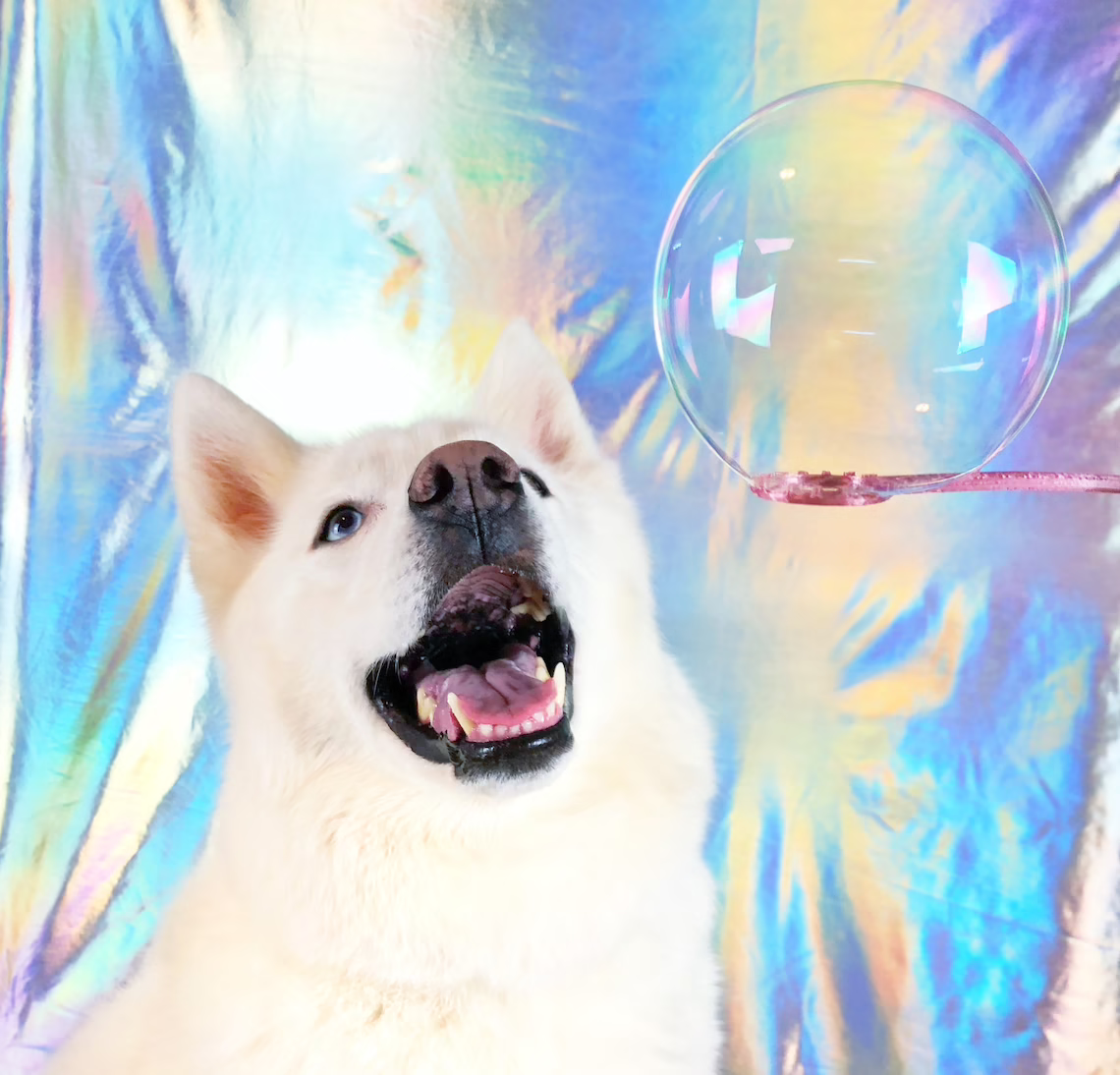 sniffingtons
Sniffingtons is a South Carolina-based Etsy shop that specializes in enriching products for dogs and cats. 
Promising review: "My pup, Toby, is a 2 1/2-year-old cavalier who loves bubbles. After catching them, he'd often give us an 'ewww' look, as they tasted like soap. Until these. He LOVES these bubbles and seems to love the taste of them, too! I will gladly buy these again and continue letting him feed his bubble-obsession in a tasty way! In addition, when I needed help with my order, Ash was so kind and gave me the help I needed! Highly recommend this shop!" —Elizabeth 
Get it from Sniffingtons on Etsy for $8.50 (available in 15 scents). 
35.
A ridiculously popular "cat dancer" toy so both you and your furry friend can shake off the stress of the day by chasing after it — and, of course, chronicling the absurd shenanigans for Instagram.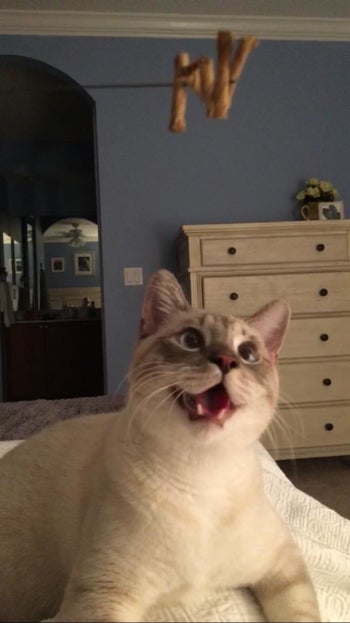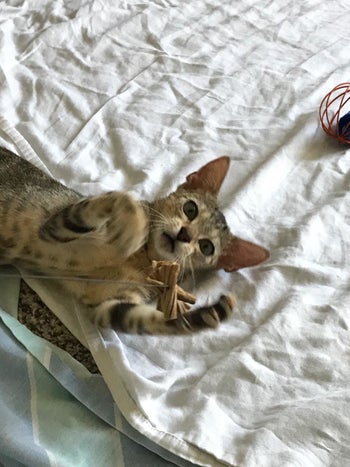 In fact, if you are looking for an immediate LOL, please head straight to the review images of this little gizmo — pages and pages of kitty cats losing their marbles. It is goodness and absurdity and light.
Promising review: "I have a whole room filled with cat toys that my cat is not interested in. It's funny how the least expensive cat toy I have makes him go crazy. He plays with this until he's panting like a dog and I have never seen him jump so high. I'm certain this toy will help him lose his belly. He loves it! I highly recommend it!" —Kwoo
Get it from Amazon for $1.73.
36.
A set of giant fruit-shaped sponges for anyone whose kitchen could use a pop of color 🍓🥭🍊🌈 — reviewers love these because they're super soft and gentle on hands, and their extra large size makes them super absorbent and great for cleaning larger areas outside of the kitchen, too!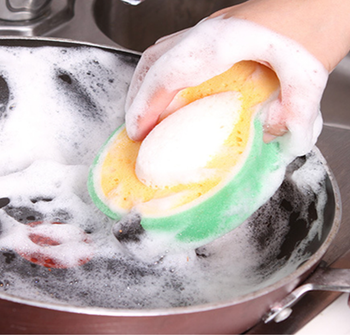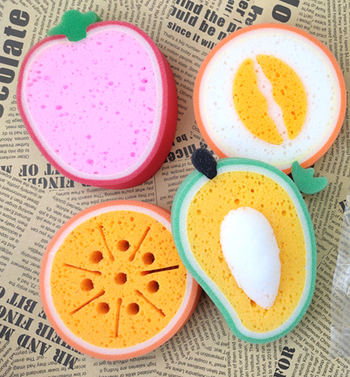 Amazon
Promising review: "I wanted nice sponges that could be used in a guest suite. Most people stay a week at the most, so I was not as concerned about durability as visual appeal. These sponges fit the bill perfectly. They are relatively sturdy, enough so that I typically use the sponge, after my guest leaves, to clean up the suite, and it holds up to that and then some. They are unique and cute, so they kick up the suite experience a notch. They are individually wrapped, so my guest knows that they are not getting a sponge someone else has used. And they don't have a rough scrubbing side, so I don't worry that my pans/pots will get scratched up." —Mad Hen
Get a set of four from Amazon for $6.99. 
37.
A ridiculously cute boba tea pencil holder that doubles as a portable carrying case so you can take it with you and recklessly inflict its cuteness on the world everywhere you go.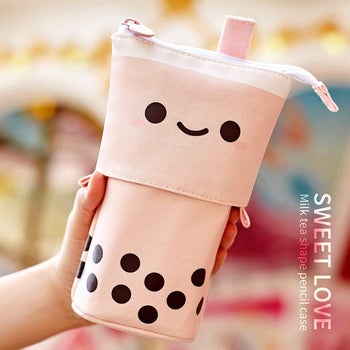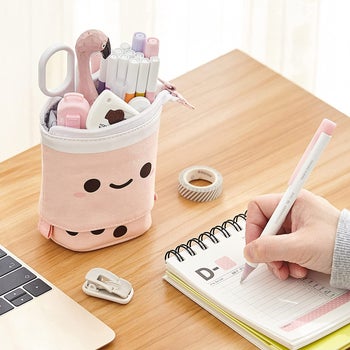 Amazon
Promising review: "This is super cute! It holds my skinny markers. It came intact. When I saw it I didn't see the pockets — they are farther down and they work. It's worth the $10. I take it to work and get compliments on it. I'm gonna get another one :)." —Kona
Get it from Amazon for $7.64 (available in four colors). 
Reviews have been edited for length and/or clarity. 
Looking for the perfect gift for any occasion? Check out all of BuzzFeed's gift guides!

What's A Career Field You Thought Would Pay Well But Did Not At All?
Air out the scams you've been led to believe! Let's be real: Times are tough. Making enough money to get by these days is not easy! And-one / Via Getty Images Some people have taken jobs they worked toward for years only to realize that the salary is far lower than they expected. Pheelings Media…
Air out the scams you've been led to believe!
Let's be real: Times are tough. Making enough money to get by these days is not easy!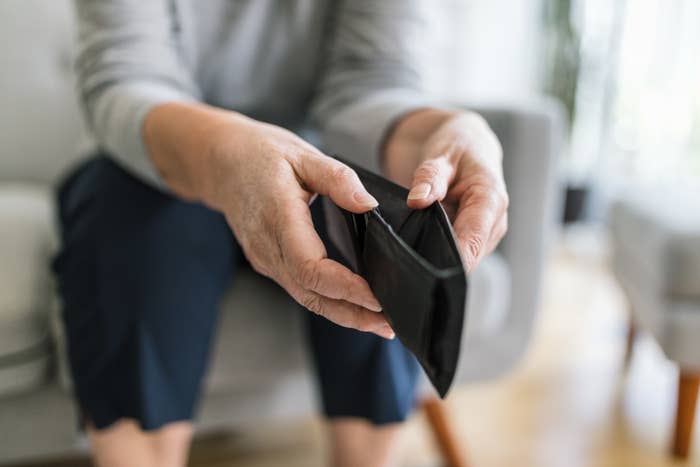 Some people have taken jobs they worked toward for years only to realize that the salary is far lower than they expected.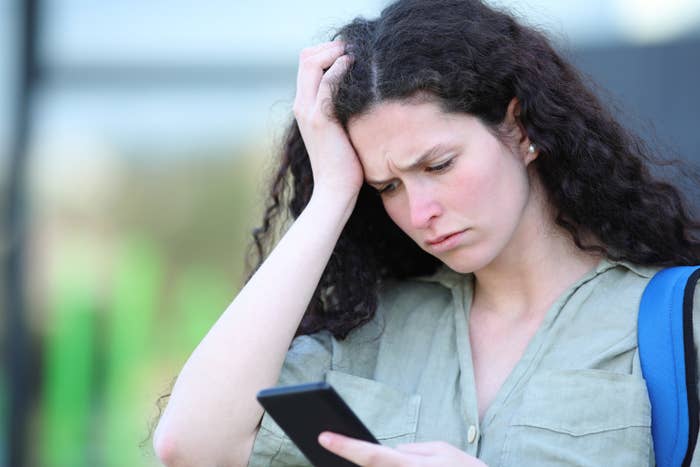 Maybe you thought that an important job in a booming industry would have to pay well, but that wasn't the case.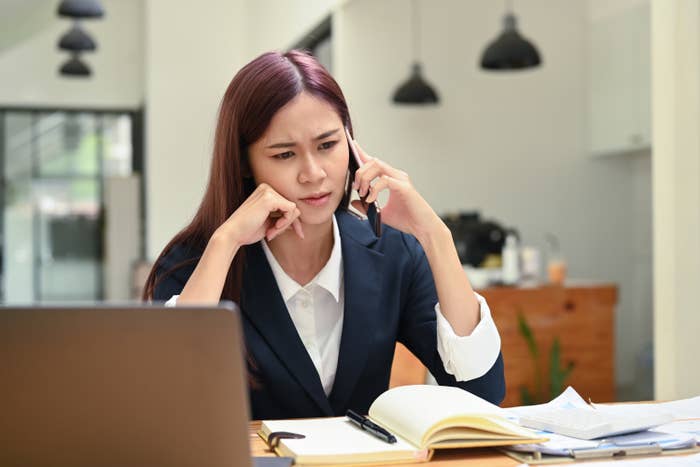 Maybe you had a childhood dream job that you just assumed made a lot of money, and you were wrong.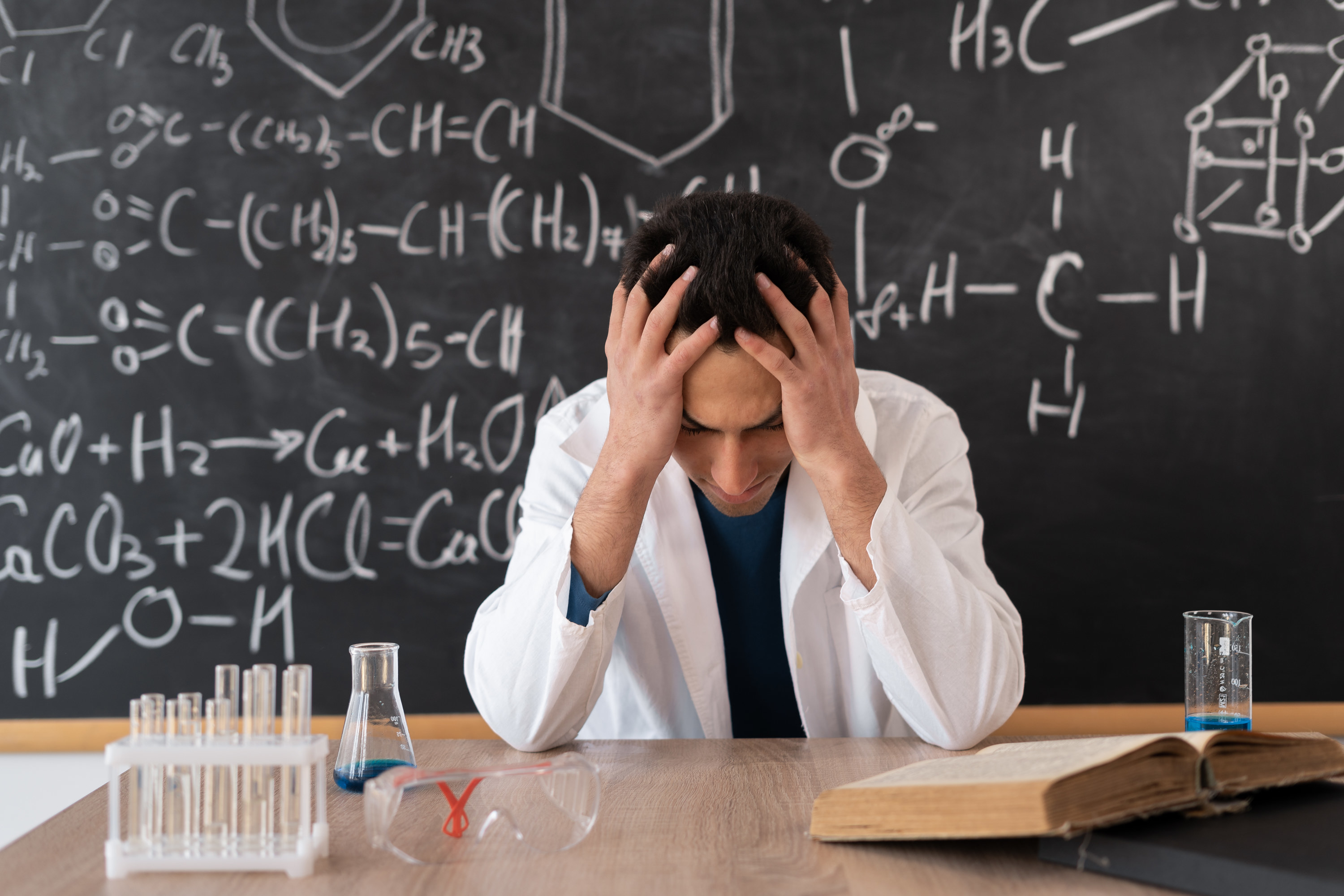 Or maybe the job you feel destined for and love is just not moving you up the ladder and paying as well as you'd hoped.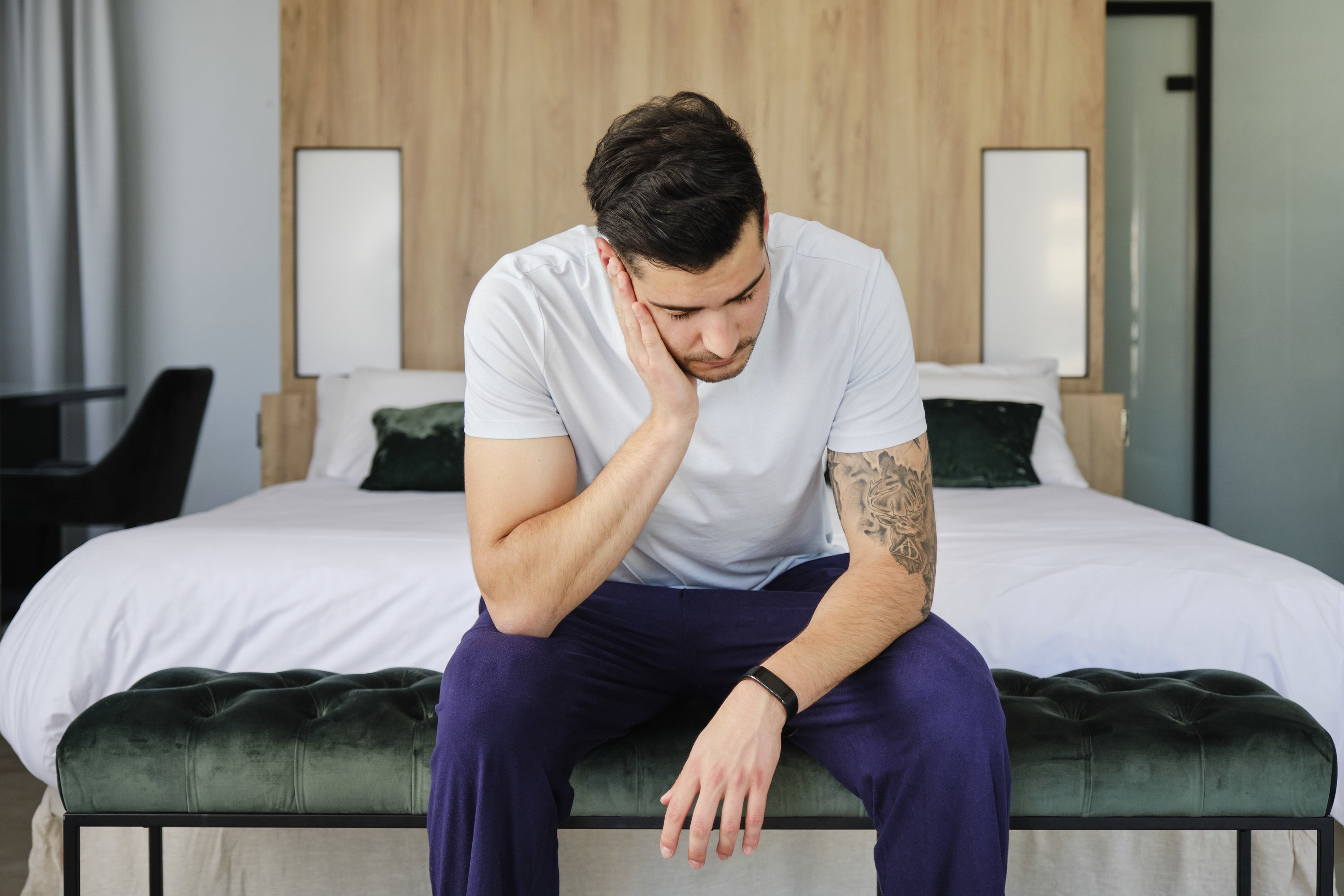 Perhaps you were lucky enough to realize the truth about a career field before you got too invested in it. Whatever the case, we need your help to warn others!
What's a career field you thought would pay well but didn't at all? Let us know in the comments! We'll share some answers in a BuzzFeed Community post!
FNAF: Security Breach Coming to Xbox One and Xbox Series X|S
Xbox Breach It's been about six months since release, but FNAF: Security Breach is coming out soon for more platforms. It launched on PC, PS4, and PS5 in late December 2021. While the game received praise for finally evolving its gameplay a bit, its release was not without technical issues. Yesterday, developer Steel Wool Studios…
Xbox Breach
It's been about six months since release, but FNAF: Security Breach is coming out soon for more platforms. It launched on PC, PS4, and PS5 in late December 2021. While the game received praise for finally evolving its gameplay a bit, its release was not without technical issues.
Yesterday, developer Steel Wool Studios released a short teaser for the Xbox version of the game. It shows Monty Gator in a commercial for Gator Golf. After the reveal, there is a brief, but lengthy disclaimer for the death, dismemberment, and all around gruesome fates you may encounter in the game.
Currently, all the main series Five Nights at Freddy's games up to Security Breach are available on PC, PS4, Xbox One, and Nintendo Switch. FNAF: Security Breach is expected to come out for Xbox One and Xbox Series X|S this fall. A collector's edition for PS4 and PS5 is available for pre-order and will ship in December.
Monty's amped for you to find him at Gator Golf! Will you be able to hit that hole-in-one? pic.twitter.com/swdQTewwb3

— Steel Wool Studios (@SteelWoolStudio) June 24, 2022
Sometime next year, FNAF: Security Breach DLC titled Ruin will be coming out. It will be released for free. Ruin supposedly takes place after the "Burntrap Ending" of the game, which is considered to be the true ending of the game.
Five Nights at Freddy's: Security Breach is available for PC, PS4, PS5, and Nintendo Switch. It is expected to come to Xbox One and Xbox Series X|S in the fall.
Have you played all the FNAF games? Let us know in the comments below.
SOURCE