Who Is Lester Pocket on The Umbrella Academy Season 3?
The following story contains spoilers for story developments in The Umbrella Academy Season 3.
---
Season 3 of The Umbrella Academy starts out with a lot of questions. The first one being: where are we? When we last left our superhero family, they finally found a way to jump out of the 1960s and into the present day. The only problem? They're no longer Reginald Hargreeves' children. In fact, Hargreeves chose a whole new set of babies to raise instead of The Umbrella Academy since they bothered him so much when they met him in the 60s.
So we know we're in some sort of present time…just not the present time we expected. With that established, the group tries to figure out how they can return to their own timeline and put the world back to the way it was, or at least find some comfort in the reality they're in. But in the midst of the gang's interfamily drama, the show teases a new character tracking the Umbrella Academy.
We don't know much about him to begin with, and he merely has various accessories with his name, Lester Pocket, on them. He's an old guy who listens to isolated sounds on his headphones (the buzzing of bees, or just the wind). So, who is this guy? Well, considering the entire show is already out on Netflix, you could just watch and find out. But if you're really curious, you can read on. Just be warned…MAJOR spoilers are up ahead. Scroll on if you really want to find out right away.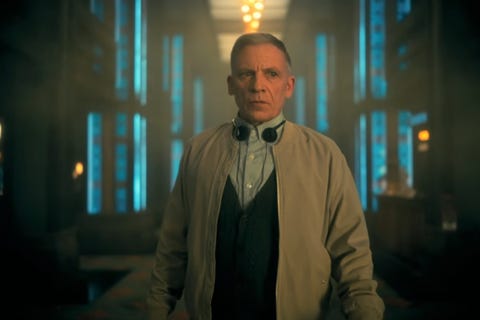 Netflix
Who Is Lester Pocket in The Umbrella Academy Season 3?
MAJOR SPOILER WARNING

Lester Pocket is actually Harlan from Season 2. Remember him? When Viktor went back in time to the 1960's, he met Sissy, a housewife and mother of Harlan. When Harlan drowns in a lake, Viktor saves him by transferring some of his power to Harlan. By the end of the season, though, it's clear Harlan can't contain his power the same way Viktor can.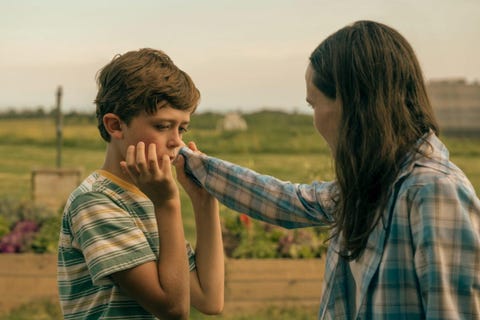 Harlan and Viktor in Season 2
Netflix
Viktor appears to remove Harlan's powers at the end of Season 2, but as we find out in Season 3, that isn't the case. Now that we're back in the present, Harlan is back to find Viktor and finally get some answers on everything that happened between then and now.
So that's who Lester Pocket is. But seriously, you should just watch the show. We didn't tell you everything that goes down with Harlan, so there's still surprises left for you to see.
This content is created and maintained by a third party, and imported onto this page to help users provide their email addresses. You may be able to find more information about this and similar content at piano.io
Statement from Agriculture Secretary Tom Vilsack on Passage of Keep Kids Fed Act
Skip to main content
WASHINGTON, June 24, 2022 – "I am pleased to see that Congress has taken action to provide much needed support to help USDA's child nutrition programs serve nutritious meals to America's children. Throughout the pandemic, the school nutrition professionals who feed our children faced enormous challenges, which persist today, and they desperately need additional resources and continued flexibilities. The deal passed by Congress will ease some of the uncertainty and provide partial relief to our schools, summer sites and child care feeding programs. As I have said before, it is important to note that schools across the country will still face ongoing challenges and at USDA we will continue to use every tool at our disposal to ensure kids get the nutritious meals they need and deserve."

#

USDA is an equal opportunity provider, employer, and lender.
Statement from Agriculture Secretary Tom Vilsack on Supreme Court Ruling in Dobbs v. Jackson Women's Health Organization
Skip to main content
WASHINGTON, June 24, 2022 – "There is no question that today's Supreme Court decision will have a devastating impact on the health and autonomy of women in America. Yesterday, the right to privacy was secure, with fifty years of precedent behind it. Today, six Supreme Court Justices took that right away for millions, and jeopardized it for all Americans. I'm particularly concerned about what this will mean for women and families in rural America. Yesterday, their health care options were limited. Today, the hurdles they face in accessing reproductive care have grown taller. The Department stands ready to explore the tools at our disposal to support them."

#

USDA is an equal opportunity provider, employer, and lender.
470 illnesses and potential liver function issues reports linked to Daily Harvest product
Daily Harvest has received approximately 470 reports of illness or adverse reactions to their products, specifically their "French Lentil + Leek Crumbles."
In response to consumer reports of gastrointestinal illness and potential liver function issues, Daily Harvest has recalled all French Lentil + Leek Crumbles.
From April 28 to June 17, 2022, approximately 28,000 units of the recalled product were distributed to consumers in the United States through online sales and direct delivery, as well as through retail sales at the Daily Harvest store in Chicago, IL, and a "pop-up" store in Los Angeles, CA. 
Samples were also provided to a small number of consumers. Daily Harvest directly notified by email those consumers who were shipped the affected product, and other consumers for whom the company had contact information, and consumers were issued a credit for the recalled product.
Recalled product:
French Lentil + Leek Crumbles is a frozen product packaged in a 12oz white pouch with the words "Daily Harvest" at the top, a large "CRUMBLES" immediately below the top and the words "French Lentil + Leek" in bold. All lot codes of the French Lentil + Leek Crumbles are affected.
The company says that no other Daily Harvest products are affected or part of this recall.
Consumers who may still have the recalled product in their freezers should immediately dispose of it. 
(To sign up for a free subscription to Food Safety News, click here)