What's New on Hulu in July 2022
If there's nothing good on Disney+ in July, it might be because their corporate parent, the Walt Disney Co., decided to put everything good on Hulu. It's an especially strong month for the streamer, which will premiere a handful of star-packed films and benefit from the return of cult favorite TV series, including new seasons of What We Do in the Shadows (July 13) and American Horror Stories (July 21).

On the movie front, the service will pick up recent theatrical sleeper hit The Bob's Burgers Movie on July 12, while the critically adored Finnish horror film Hatching, a puberty allegory in which a young girl brings home a strange egg that hatches a bizarre create that will change her life, arrives on July 29. Meanwhile, Johnny Depp will get a chance to prove himself to the public as an actor (as opposed to a tabloid topic and bizarre culture wars hero) with the July 8 release of Minamata, a true-life story in which he plays a photographer who travels to Japan to document the effects of corporate greed and the resultant mercury poisoning on a small Japanese community.
Other than the aforementioned returns of American Horror Stories and What We Do in the Shadows, Hulu will also pick up the final season of Killing Eve (July 10); the first (and, to date, only) season of the FX anthology series Feud, focused on the legendary rivalry between Bette Davis and Joan Crawford; Santa Evita (July 26), an acclaimed Latin American limited series about the mysterious
fate of Eva Perón's body; and Victoria's Secret: Angels and Demons, a documentary series exploring the rise and fall of the iconic fashion retailer.
Here's everything else on tap in July 2022, as well as what's leaving during the month.
What's coming to Hulu in July 2022
Arriving July 1
The Princess (2022)
Are You The One?: Complete Season 1
Black Ink Crew: Complete Seasons 5 & 6
Feud: Complete Season 1
Love & Hip-Hop Atlanta: Complete Seasons 4 & 5
Rupaul's Drag Race: Complete Season 9
Survivor: Complete Seasons 38 & 39
The Amazing Race: Complete Season 32
The Challenge: Complete Season 34
127 Hours (2010)
Any Given Sunday (1999)
Because I Said So (2007)
Big Trouble In Little China (1986)
Billboard Dad (1999)
Black Knight (2001)
Bogus (1996)
Bohemian Rhapsody (2018)
Bride Wars (2009)
Cadillac Records (2008)
Closed Circuit (2013)
Contraband (2012)
Death Race (2008)
The Descendants (2011)
The Expendables (2010)
The Expendables 2 (2012)
The Expendables 3 (2014)
First Knight (1995)
Ghost Rider (2007)
Godsend (2004)
The Gospel According To André (2017)
Heist (2001)
Hysteria (2012)
Independence Day (1996)
Insidious (2011)
John Dies At The End (2012)
Joy Ride (2001)
Jumanji (1995)
Knock Knock (2015)
Kung Fu Hustle (2005)
The Last Circus (2010)
The Last Days On Mars (2013)
Legend Of The Guardians: The Owls Of Ga'hoole (2010)
The Librarian: Quest For The Spear (2004)
The Librarian: Return To King Solomon's Mines (2006)
The Librarian: Curse Of The Judas Chalice (2008)
Little Richard (2000)
Maid In Manhattan (2002)
The Man Who Knew Too Little (1997)
Mary Shelley's Frankenstein (1994)
Milk (2008)
Money Train (1995)
Nim's Island (2008)
Passport To Paris (1999)
Poseidon (2006)
Post Grad (2009)
Que Pena Tu Vida (2016)
Rachel Getting Married (2008)
Radio (2003)
The Replacement Killers (1998)
School Daze (1988)
Sexy Beast (1999)
The Sitter (2010)
Sorry To Bother You (2018)
Step Up (2006)
Step Up 2 The Streets (2008)
Step Up 3d (2010)
Switching Goals (1999)
Talladega Nights: The Ballad Of Ricky Bobby (2006)
Taxi (1998)
Te Presento A Laura (2010)
That's My Boy (2012)
The Tourist (2010)
Urban Legend (1998)
Urban Legends: The Final Cut (2000)
Urban Legends: Bloody Mary (2005)
The Watch (2012)
The Wave (2015)
What's Love Got To Do With It (1993)
Working Girl (1988)
Available July 2
Available July 5
Available July 6
Maggie: Complete Season 1
Available July 7
How a Realist Hero Rebuilt the Kingdom: Complete Season 1 (Dubbed)
Ultrasound (2021)
Available July 8
Generation Gap: Series Premiere
Press Your Luck: Season 4 Premiere
Rehearsals (Hazarot): Complete Season 1
Minamata (2022)
Available July 9
Available July 10
Killing Eve: Complete 4th and Final Season
Available July 11
The $100,000 Pyramid: Season 6 Premiere
Celebrity Family Feud: Season 8 Premiere
Real Housewives of Potomac: Complete Season 6
The Final Straw: Series Premiere
Who Do You Think You Are?: Series Premiere
Curious George (2006)
Available July 12
Missing: Complete Season 1
The Bachelorette: Season 19 Premiere
Claim to Fame: Series Premiere
The Bob's Burgers Movie (2022)
Available July 13
Solar Opposites: Complete Season 3
The Case Study of Vanitas: Complete Season 1 (Dubbed)
What We Do in the Shadows: Season 4 Premiere
Available July 14
Victoria's Secret: Angels And Demons: Complete Documentary Series
Everything's Trash: Series Premiere
Room 203 (2022)
Available July 15
Cooks vs. Cons: Complete Season 1
Cutthroat Kitchen: Complete Season 14
Deadly Women: Complete Season 13
Murder Comes To Town: Complete Seasons 1–3
Obsession: Dark Desires: Complete Seasons 4 & 5
The Bachelorette: Complete Season 10
Centurion (2010)
Filth (2013)
Hobo With A Shotgun (2011)
I'm Still Here (2010)
Ragnarok (2013)
Sex, Guaranteed (2017)
Venus And Serena (2012)
Viva (2015)
Available July 17
Available July 18
Available July 19
Available July 21
American Horror Stories: Season 2 Premiere
Grown-ish: Season 5 Premiere
Milkwater (2020)
You Are Not My Mother (2021)
Available July 22
All My Friends Hate Me (2021)
Available July 24
Available July 25
King Arthur: Legend of the Sword (2017)
Available July 26
Santa Evita: Complete Limited Series Premiere
Available July 29
Not Okay (2022)
The Americans: Complete Series
Hatching (2022)
Available July 31
A Day To Die (2022)
Client 9 (2010)
What's leaving Hulu in July 2022?
Leaving July 2
I Am Not Your Negro (2016)
Ingrid Goes West (2017)
Leaving July 3
Leaving July 8
Barb And Star Go To Vista Del Mar (2021)
Leaving July 10
China: The Panda Adventure (2001)
Horses (2002)
The Secret Of Life On Earth (1993)
Leaving July 12
My Scientology Movie (2015)
The Rest Of Us (2019)
Leaving July 13
Leaving July 14
Devil's Knot (2013)
Dog Eat Dog (2016)
Leaving July 24
Rattlesnakes (2019)
Zoo-Head (2019)
Leaving July 25
2099: The Soldier Protocol (2019)
Leaving July 31
A Beautiful Mind (2001)
The A-Team (2010)
The Angriest Man In Brooklyn (2014)
Armored (2009)
The Big Year (2010)
Blind Date (1987)
The Breakfast Club (1985)
Bringing Down The House (2003)
Burn After Reading (2008)
Center Stage (2000)
Cyrus (2010)
The Devil Wears Prada (2006)
Dodgeball: A True Underdog Story (2004)
Easy A (2010)
Equity (2016)
Fever Pitch (2005)
The Fifth Element (1997)
The Five-Year Engagement (2012)
The Flintstones (1994)
Grandma (2015)
Gridiron Gang (2006)
Happy Feet (2006)
Happy Feet Two (2011)
Hitch (2005)
Look Who's Talking (1989)
Madeline (1998)
Marie Antoinette (2006)
Me, Myself And Irene (2000)
November Criminals (2017)
Nowhere To Run (1993)
Once Upon A Time In America (1984)
The Other Guys (2010)
Pineapple Express (2008)
The Program (1993)
Push (2009)
Resident Evil (2002)
Resident Evil: Apocalypse (2004)
Resident Evil: Extinction (2007)
Resident Evil: Afterlife (2010)
Resident Evil: Retribution (2012)
Rock Of Ages (2012)
The Runaways (2010)
Sideways (2004)
Single White Female (1992)
Stuart Little (1999)
Stuart Little 2 (2002)
That's My Boy (2012)
Tyler Perry's Meet The Browns (2008)
The Vow (2012)
Walk Hard: The Dewey Cox Story (2007)
Water For Elephants (2010)
We Own The Night (2007)
Wolf (1994)
How to grab and move multiple iPhone apps at once
There's an iconic scene in Braveheart where William Wallace, played by Mel Gibson, repeatedly orders his army of Scots to "hold… hold… hold!" in the face of an English cavalry charge, and I want you to keep that in mind for the next few minutes as I talk about iPhones.
Now, the stakes—literally—are not as high today as they were when Wallace's infantry raised sharpened wooden poles at the last moment, obliterating the rushing horsemen. But those three words will truly help you as I walk through how to select and move multiple apps at once on your iPhone's home screen.
How to select and move multiple apps at once on iOS
Anyone who's reorganized their iPhone screens knows this first step: press and hold the app you want to move. Keep holding—don't let go. Ignore the dialog box that appears, asking you if you want to edit your home screen. Keep holding. Don't waver when all the app icons start to jiggle. Keep. Holding. This is where the fun begins.
Now, using any finger other than the one keeping pressure on that first app you touched, start tapping the icons you want to move. They'll start to stack up, along with a number that shows how many apps you've grouped together. When you've grabbed everything you want, just drag the pile to another part of the home page, a folder, or another home page entirely, and let go. The apps will fall into place right there, in the order you selected them.
That's all there is to it, but there are some foibles that can make the process a little awkward if you're using it for the first time.
Seriously, don't let go
I emphasized Wallace's words above for a reason: let go of the first app you pressed down on—at any point—and you'll have to restart the process. If you stop holding when the dialog box popped up, you'll be stuck there and will have to tap elsewhere on the screen to close it. Don't bother choosing Edit Home Screen—you won't be able to stack the apps no matter how hard you try. If you release when the icons start vibrating, you'll lose the ability to start a pile. Hit Done in the top right to begin again. And if you lift your finger before the app stack gets where you want it to go, they'll all drop right where they are.
Move the app stack to an empty part of the screen
Before you start grouping apps, slide the first one to an empty part of the screen. Not only will this eliminate the need for dexterous digit gymnastics, but it will help you avoid accidentally creating an app folder as the unselected apps slide left. If they slide under your stalwart fingertip, iOS will think you're trying to create a folder and open one up. If that happens, just drag your app hoard away from the folder window and it'll disappear.
[Related: Your iPhone's home screen can hold more than just apps]
You can stack apps that are in folders
If you want to pull an app out of a folder and stick it in your ever-growing pile, just use your tapping finger to open the folder and touch the icon you want. Tap outside the folder to close it when you're done. You can't, however, stack folders.
Tap strategically, if you want
Some people are happy to let apps fall where they may, building an iPhone organizational scheme that only makes sense to them. Others strategize. If you're in the latter group, and have a plan for how you want your apps to end up, all you have to do is make sure you long-press on the first one first, then tap them in the order you want them listed. So if you want to keep your home screen in alphabetical order, for example, tap App Store, then Bumble, Chrome, and so on until you've got everything under your finger. Sterling work, friend.
The Roku Channel is adding 22 free movies in July – here's the full list
Every month, streaming services add dozens of new TV shows and movies to their libraries. They do this in order to keep their subscribers around and entice new ones into signing up. But no matter how exciting these additions may be, there are far too many services for any of us to subscribe to them all. Thankfully, paid services aren't the only choices — many free alternatives have started popping up all over. One of the best options is The Roku Channel, and the service is adding a bunch of free movies to its library in July.
The Roku Channel added 26 new movies back in June, including Independence Day and Taken. Another 22 movies are joining the library in July. Some of the highlights are As Good as it Gets, E.T. The Extra-Terrestrial, Space Jam, and White Chicks.
They are all free to watch on The Roku Channel. You can access The Roku Channel on nearly any smart device. The service is also available online at TheRokuChannel.com.
In addition to on-demand movies and shows, The Roku Channel also features a number of live channels. These include ABC News Live, Family Feud, Real Crime, Fubo Sports Network, Movie Favorites by Lifetime, and WeatherNation.
Free movies on The Roku Channel in July 2022
Akeelah and the Bee (Exclusive)
As Good as it Gets 
Divine Secrets of the Ya-Ya Sisterhood 
E.T. The Extra-Terrestrial 
Evita 
Eyes Wide Shut 
Four Christmases 
Fury 
Hitch 
My Girl 
Observe and Report 
Outbreak  
P.S. I Love You 
Soul Surfer 
Space Jam 
Sucker Punk 
The Count of Monte Cristo 
The Pelican Brief 
Three Kings 
What a Girl Wants 
White Chicks 
Wild Hogs 
Those are the free movies coming to The Roku Channel in July. There are also a few TV shows that you'll be able to watch for free on the service:
Crash 
Friday Night Lights 
Love & War 
Natural Born Narco (Roku Original)
We'll be back next month with all of the latest movies and shows on The Roku Channel.
---
More Roku coverage: For even more Roku news, visit our Roku guide.
Watch MIT's fascinating little robot lightning bugs take flight
Fireflies are one of the best parts of warm summer nights. The dancing, flickering lights of these tiny bugs have enamored people for centuries. Now, a group of scientists at MIT have created robot lightning bugs inspired by nature. Not only can these robots fly, but they also emit light. Just like real-life fireflies.
From performing simple tasks to helping explore the Moon, humans have found many uses for robots. But what could robots the size of an insect do? Well, the possibilities, as it turns out, are quite endless.
Check out these robot lightning bugs that MIT researchers created
Making robot lightning bugs that are built to insect-scale isn't easy. And, there are a lot of factors to consider. After all, at such a small size, these robots can't really be fitted with sensors and other tracking tech. That's not even taking into account the need to keep the robot's weight down as low as possible to make flying smoother.
But, because these robots can emit light, the researchers can track them without sensors. Instead, all the researchers need is a camera capable of picking up the emitted light. Normally, we'd have to rely on bulky infrared cameras. Which would make the robot's usefulness outdoors unlikely.
However, the researchers proved they can track the robot lightning bugs using a standard smartphone camera. And, the researchers say, they could even teach them how to communicate using their lights, similar to how real fireflies communicate.
The glow up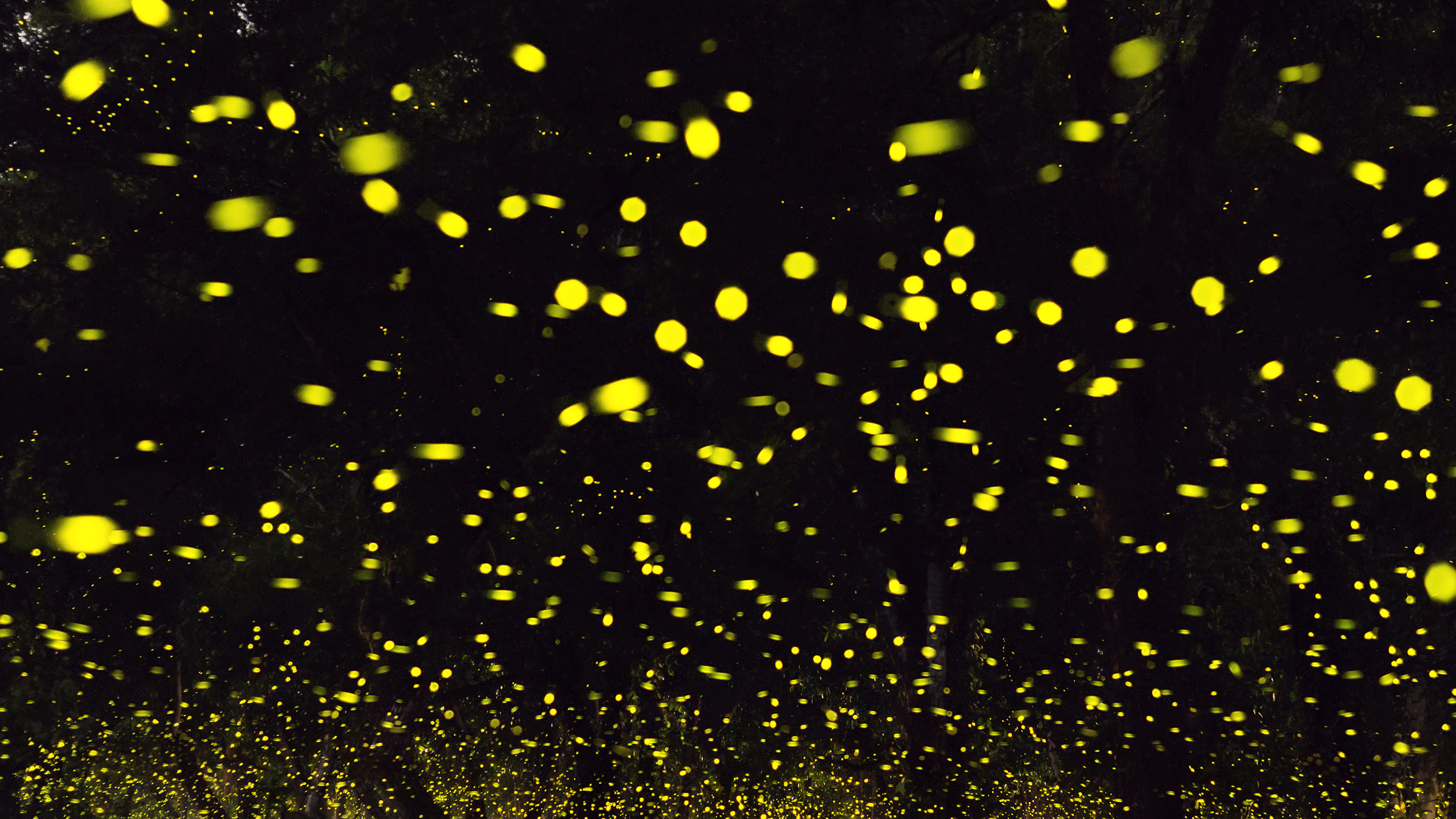 One of the most challenging parts of the process was creating small robots capable of emitting light. While it might not sound difficult, you still have to take the weight and overall size of the robot lightning bugs into account. As such, the researchers at MIT had to embed minuscule electroluminescent particles into the artificial muscles the robot utilizes.
Altogether, the process added around 2.5 percent more weight to the robot. However, it didn't affect its flight performance, a key factor the researchers had to consider. Another intriguing part of these robots is how they move around.
Unlike drones, which require propeller-like systems to move around, the robot lightning bugs use artificial muscles capable of flapping built-on wings. That means that MIT's robot is actually flapping wings to take off, instead of forcing air underneath it like a propeller system. To make the light-emitting qualities work, the researchers had to create an electrode that wouldn't block light.
To do this, they used highly transparent carbon nanotubes. These nanotubes are only a few nanometers thick. As such, they allow the light to pass through them easily and clearly. The researchers published a paper on the robot lightning bugs in IEEE Robotics and Automation Letters earlier this month.