'Want To Cry': Bill for Uninsured Hospital Stay in Italy Stuns Americans
The disparity between the charges incurred by patients in the U.S. compared with other countries was thrown into sharp focus after a man who underwent surgery and spent a week in an Italian hospital without insurance shared a screenshot of his total bill.
The Italian national, posting to Reddit as byJoi, told Newsweek he suffered a series of bone, ligament and tendon injuries around one of his knees while skiing with friends in the Alps.
"I was immediately brought into the ER, got an MRI and was then scheduled for surgery," he said. ByJoi said he went on to spend a week in the hospital while he recovered and has also undergone physiotherapy since the accident.
At the time, he had feared his medical costs would be substantial as he had no form of insurance when the accident occurred. However, when he eventually got the bill, he was relieved and delighted to see it was just €53.78, which equates to $56.53.
"An injury like this is already a very annoying thing to happen to you. I am very glad I didn't also have to pay absurd amounts of money because of it," he said. "I am very happy to be a European citizen."
ByJoi said he decided to share a screenshot of the bill to Reddit after seeing "an extremely high medical bill from a U.S. movie." The post was subsequently upvoted 88,000 times. Several stories have hit the headlines in recent months detailing instances in which U.S. citizens have been left facing huge bills, whether insured or not.
One woman was hit with a six-figure bill after initially being told her surgery would cost just over $1,000. In that instance, she was able to appeal the decision and won but others have not been so fortunate.
One woman was billed $600 for her son who lived for only three minutes and received no care. Meanwhile, a thread detailing the scary cost of U.S. health insurance went viral back in April.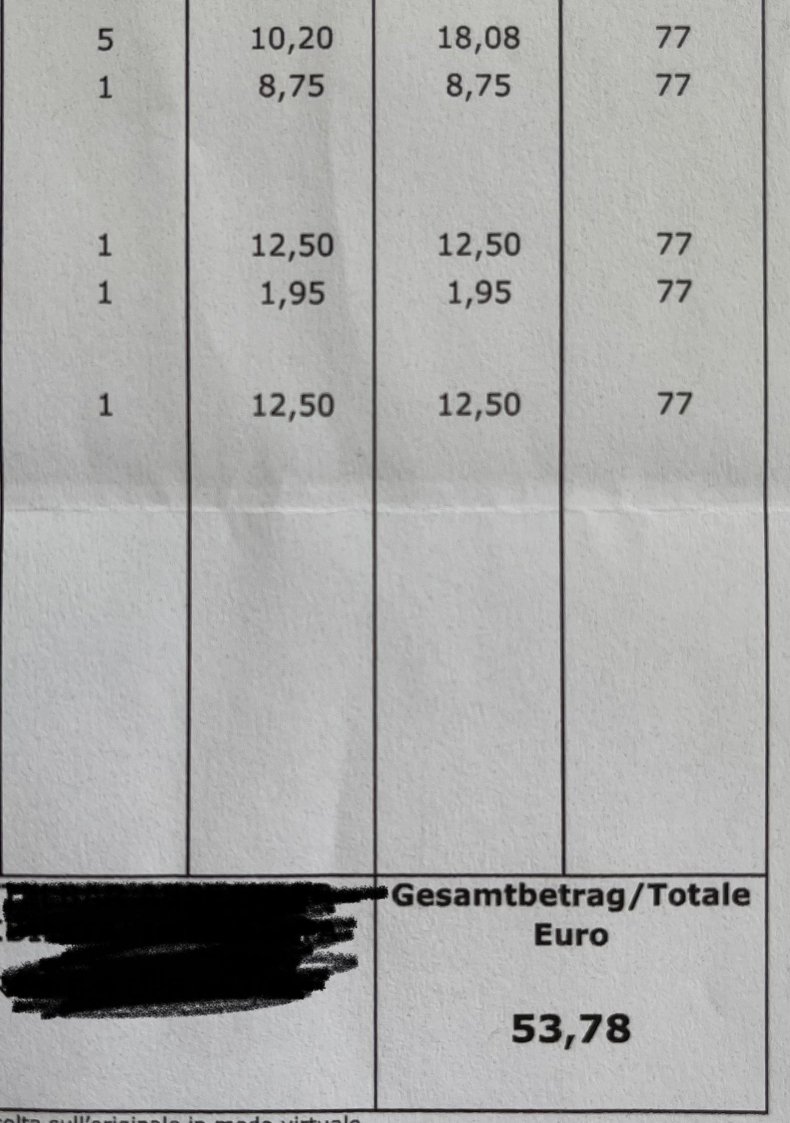 Little wonder then that a survey conducted by the Pew Research Center back in 2020 found 36 percent of Americans were in favor of a single national government program for health insurance coverage while 26 percent called for a mix of private and government programs.
If any further reminding was needed, ByJoi's bill provided it, with many Americans on social media reacting with despair at the contrast in charges.
Glasman88 commented: "That is so amazing, here in the U.S. I was in the ER for 2 hours… $14,900 before insurance, my out-of-pocket was $2,900 and they want the total balance in 12 months."
90brabus said: "I can't imagine living in a country like that to be honest. I would get stressed every time I got a fever" while Kaizenno added: "I had an ER bill that I was there a total of 15 minutes and the doctor said to just call my regular doctor, $1000."
Jonker5101 wrote: "I went to the ER for an infected abscess last year. Just had to get it lanced and drained. Was there for about 12 hours because I went in at night and had to wait for the doc the next day. $51,000 before insurance, I owed about $4,500 out of pocket. Still paying it off."
Pfft_jackee, meanwhile commented: "This makes me want to cry. I had a 3-month hospital stay and major heart surgery and thank god I had good insurance from my parents because the total was over $3,000,000. My part to pay was $15,000. God the US sucks at health care."
ByJo told Newsweek it was "crazy" that people could end up losing their life savings "simply by having an accident." He said |imagining having to pay thousands out of pocket even with insurance is a scary thought."
"The system needs to be adapted to the 21st century as soon as possible," he added. "For me the prices on US medical bills just seem insane. How can a bandage cost hundreds of dollars? It all seems very capitalized and profit-based."
He also claimed that "free healthcare greatly increases quality of life" in countries like Italy. "Our health is not something we worry about here. We know that if something happens, it doesn't matter who we are, we will always get quick and high-quality help."
Ultimately, while his medical costs left some online despairing, byJoi is "very happy to be a European citizen" right now.
Gerrit Cole's strong outing wasted in Yankees' no-no loss
This wasn't what Gerrit Cole had in mind earlier in the week when he laughed at how being on the mound for a no-hitter has eluded him.
Cole spun a gem of a start Saturday, but wound up on the losing end because he shared the rubber with three Astros pitchers who combined on a no-hitter in a 3-0 victory over the Yankees. In a reminder of how cruel baseball can be, Cole twice took no-hitters into the middle of the game or beyond this week and wound up with a no-decision and a loss on his record (6-2).
"The cold hard truth is we got outpitched and outplayed," Cole said. "Credit to the opponent. Magical day for them."
Cole lost a no-hitter in the eighth inning Monday against the Rays, but the Yankees still won, which created a light moment when he joked he has never completed the job despite building a résumé with four All-Star selections and an ERA title. There was no such luck or levity Saturday when he would needed perfection — or better — to outduel Astros starter Cristian Javier and two relievers.
Instead, Cole settled for striking out eight and scattering four hits over seven innings.
"Gerrit's just going to keep doing that," catcher Jose Trevino said. "That's good for us in the long run."
Cole walked two, but did not allow a hit until back-to-back, two-out singles by Jake Meyers and Martin Maldonado in the fifth inning. He survived that jam unharmed, but his 101st pitch was his big mistake in the seventh inning of a scoreless game.
J.J. Matijevic turned on a low-inside fastball and deposited it into the right-field seats for a homer as his reward for showing patience laying off a first pitch in the dirt. The rookie first baseman's only two career hits have been solo home runs.
"I tried to make an adjustment and I obviously overcorrected and threw the pitch into an area that he was anticipating or he wasn't going to be late on," Cole said. "Not the side of the plate that we were trying to go to. It was honestly just a bad miss, but I don't want to take any credit away from the guy who put a good swing on it."
The solace is that Cole is pitching like an ace. He has allowed one run or fewer in five of his last six starts. Matijevic's home run snapped Cole's 21-inning scoreless streak at home.
"Right away he was getting swing-and miss-with his heater, which was big while he was finding it those first two innings," manager Aaron Boone said. "I thought his stuff was really good. Once he settled in, he was terrific."
4 wounded, including 8-year-old, in Brooklyn scooter shooting
Four people were wounded — including an 8-year-old boy — in a scooter shooting in Brooklyn on Saturday night, police said.
Two men riding on a scooter pulled up around 11:30 p.m. to a large gathering of people in front of the Stuyvesant Gardens Houses on Quincy Street in Bedford-Stuyvesant and opened fire into the crowd, cops said.
An 8-year-old boy received a graze wound in the leg. A 27-year-old male, a 35-year-old female and a 46-year-old female were also each shot in the legs.
All four victims were transported to Kings County Hospital with non-life-threatening injuries, police said.
The suspects fled on a green and white scooter in an unknown direction, according to police and sources.
Six shell casings and two live rounds were recovered at the scene, sources said.
No arrests have been made at this time as police continued to canvas the area early Sunday morning.
Man arrested for attempted murder of LAPD officers amid Roe v. Wade protests
A man was charged with attempted murder of Los Angeles police officers Friday night amid protests of the Roe v. Wade reversal, cops said.
A woman was also charged with resisting police after four officers were injured following a barrage of projectiles, fireworks and a makeshift blow torch, according to officials.
The mayhem unfolded around 8:20 p.m. in Downtown Los Angeles, the LAPD said.
Michael Ortiz, 30, is accused of throwing a makeshift flame thrower at an officer, who was treated for burns, according to a Saturday press release.
Juliana Bernado, 23, allegedly attempted to steal an officer's baton. A "less-lethal" bullet was fired at her, and she was taken into custody, police said.
"I condemn the violence against officers that occurred last night and into today," Chief Michel Moore said.
"Individuals participating in such criminal activity are not exercising their 1st Amendment rights in protest of the Supreme Court decision, rather, they are acting as criminals.  
The Department will vigorously pursue prosecution of these individuals."
Large scale protests in other cities large and small around the country were mostly peaceful.