ULTIMATE TT-R110 PIT BIKE: BEHIND THE BUILD
We're not sure if Yamaha ever envisioned the true versatility of the TT-R110. The product planning group probably saw it as an entry -level bike for preteens. And it certainly is a good fit in that world.  But there's a cult of adult pit bike riders who see the TT-R as something completely different. Gary Gardner and the crew at Simi Valley Cycles teamed up with BBR, Pro Circuit and a few other industry-leading companies to transform a stock 2022 Yamaha TT-R110 into the ultimate adult pit bike.
Job one for a high-end pit bike build is making it fit an adult. Designed specifically for taller riders, the Pro Circuit top triple clamp and bar mounts are CNC machined out of billet aluminum with an anodized finish. BBR mini handlebars are constructed out of T-6 aluminum and have been developed to be the perfect fit for MX-style riding for adult riders on pit bikes. Next, you gotta make the suspension suitable for someone who might well be double the weight of the intended rider. BBR front-fork damping rods replace the stock damping rods to increase travel and provide increased damping control for adult-sized riders. The damping rods slow rebound and increase compression damping for a firmer, more controlled ride.
The single most elaborate piece on this particular build is the BBR aluminum swingarm. You could hang it in your living room. In fact, virtually all the parts are art.  Supersprox aluminum sprockets are machined out of 7075 T-6 alloy with a lightweight, grooved tooth design and available in a variety of colors. The Throttle Syndicate gripper seat is made in-house to match the custom graphics with durable, rubberized gripper material and additional traction ribs. The BBR handmade skid plate protects the entire undercarriage of the engine from damage and is made from high-quality aluminum for durability. Pro Circuit engine plug kits are machined from aircraft-grade aluminum, anodized blue and hand-polished for a true works look.
The only real problem with a build like this is that  you don't want to ride it when it's done–it's too nice. And no matter what, you gotta hide it from your kids.
Draymond Green Rips Kendrick Perkins For Praying for LeBron James Injury in 2008
Noah Graham/NBAE via Getty Images
Golden State Warriors forward Draymond Green ripped into Kendrick Perkins after the former NBA center admitted to once praying for LeBron James to get injured.
"Are you kidding me? You actually thought that was OK to admit? Come on, cuz," Green said on his podcast (13:45 mark). "You can't think that's OK to admit. Even if you felt that way—which, by the way, why do you feel that way? That's a problem. But even if you feel that way, take that to the grave, my man."
Perkins admitted he was so "terrified" of James during the 2008 Eastern Conference Semifinals that he hoped the then-Cleveland Cavaliers star went down with an injury before Game 7.
"I ain't going to lie, man, I was scared as hell going into that Game 7 against LeBron James," Perkins said on the Old Man and the Three podcast. "This was the only time that I actually prayed that something happened to him at practice. … I was like, 'Let us get breaking news that LeBron tore his ACL or something. I did, bro, I'm not even lying. I'm not even exaggerating."
Green said he found Perkins' admission unbecoming for someone who used to be an NBA player and called it a "character flaw."
"There was once a point in time where ACLs was ending people's careers. You remember this is how we feed our families?" Green said. "We always talk—I don't know if you do, because it's not much substance—we always talk about, when you get hurt, you leave the court, you live that. You don't leave the court and it's like, 'All right, I'm not hurt anymore, I can walk now. But when the game's going on, when practice is going on, I'm back on crutches.' Like it's a video game. No, you really live this stuff.
"So, for you to pray on another man's downfall, that's a character flaw, my man. If you pray on somebody's downfall once, you're gonna pray on it again. … That just means you're the type of person who will pray on someone's downfall. That's a little wack to me. That's not new media. I don't understand. You don't have to go on TV and go act like that, brother. You played. Act like it. Stop doing this. Stop making a fool of yourself."
Of course, Perkins' prayers went unheard and James has spent his entire 19-year NBA career without suffering a catastrophic injury. Perkins' Celtics were also able to escape that second-round series with a victory despite James' clean bill of health on their way to capturing the 2008 NBA championship.
While Perkins' comments were seemingly made out of respect for James' presence on the floor, Green's response highlights what could be a general feeling among players about wishing injuries on one another.
Francis Ngannou gives update on return from knee surgery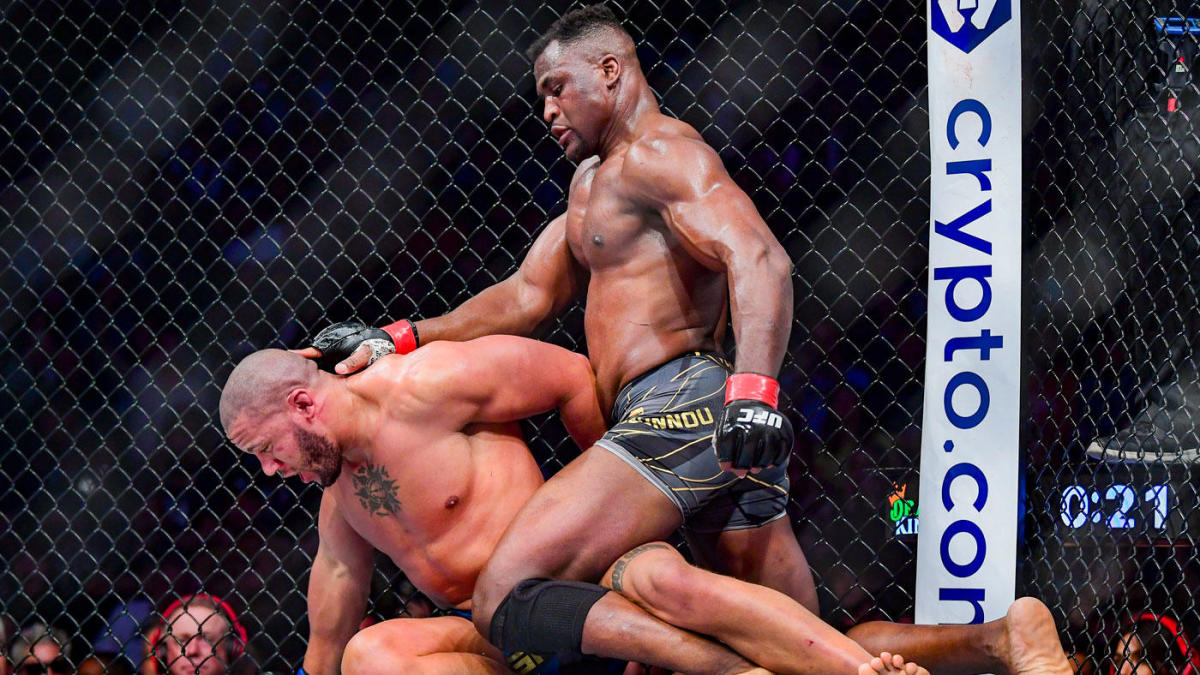 The future of Francis Ngannou is a source of much debate.
The UFC heavyweight champion fought out his UFC deal early this year when he defeated Ciyrl Gane by unanimous decision in the UFC 270 main event from Anaheim, California — but afterwards revealed that he would be on the shelf for a significant period following a knee injury he suffered preparing for the bout.
That, coupled with a very public pay dispute with the UFC, has appeared to leave his UFC future hanging in the balance. He will be free to leave the UFC at the end of this year if a new deal isn't agreed, and this remains far from a foregone conclusion given Ngannou's insistence that any new contract must have provisions within for him to be able to take on challenges in the boxing ring.
The Predator has also been linked to an exhibition bout with WBC champion Tyson Fury, even appearing in the ring with him in Wembley Stadium following Fury's recent knockout win against Dillian Whyte.
But speaking to TMZ Sports, Ngannou provided a concrete update on his knee — but stopped short of giving an indication as to who his next opponent might be, or even in which sport it might occur.
"It's getting better. It wasn't easy, but getting there," Ngannou said. "It's been only three months, so I'm still doing physical therapy.
"If everything goes well, I will be ready by the end of the year because it is going to be nine months. So let's say late December or early next year. For now, let's fight for the situation and get everything squared up. Then when I get close to the return we will see where the landscape is at because a lot of things can happen."
The UFC is rumoured to be considering an interim title bout between former UFC champs Stipe Miocic and Jon Jones during Ngannou's enforced absence. After that? We'll see.
comments
Mateusz Gamrot reveals what Khabib Nurmagomedov said to him following his win at UFC Vegas 57
Mateusz Gamrot has revealed what Khabib Nurmagomedov said to him after his huge win over Arman Tsarukyan.
Last Saturday night at the UFC Apex in Las Vegas, Mateusz Gamrot managed to grind out a scintillating unanimous decision win over Arman Tsarukyan. The two lightweights exchanged blows in an incredibly technical bout but in the end, it was the Polish star who got the job done – even though many felt as if Tsarukyan had done enough to get over the finish line.
Many big names were in attendance to see the action unfold including former UFC lightweight king Khabib Nurmagomedov, who had a few kind words for Gamrot in the immediate aftermath of the decision being read.
advertisement – continue reading below
advertisement – continue reading below
"Khabib say me 'congratulations on your fight, you are a nice guy. For sure in the future you meet with Islam [Makhachev] in fight.' So I keep fingers crossed for Islam…I think Islam beats Charles Oliveira next fight and I want to have my next fight with Justin [Gaethje], and then the next fight [after that] with Islam. Simple plan."
Quotes via MMA News
While there is no official champion right now as a result of Charles Oliveira being stripped of the gold, the Brazilian is expected to fight Islam Makhachev for the vacant strap later this year.
Gamrot, meanwhile, is set to continue climbing up through the ranks at 155 pounds, opening up the door for a string of possibilities in the immediate future.
advertisement – continue reading below
advertisement – continue reading below
He wants to face off against Justin Gaethje which is a showdown we'd all pay to see, and if he's serious about becoming Poland's third UFC champion sooner rather than later, that's a path he should go down.
Do you think Mateusz Gamrot has what it takes to become a UFC champion? Who can you see him fighting next in the UFC?
This article appeared first on BJPENN.COM