Ukrainian Artillery Hits Farm Housing Russian Armored Vehicles
Ukrainian artillery reportedly hit a hangar on a farm that was housing Russian armored vehicles.
The footage appears to show a farmhouse with Russian troops present. The area is then repeatedly shelled, with multiple buildings being hit and Russian armored vehicles reportedly being destroyed.
The images were obtained Tuesday evening from the 45th Separate Artillery Brigade of the Armed Forces of Ukraine.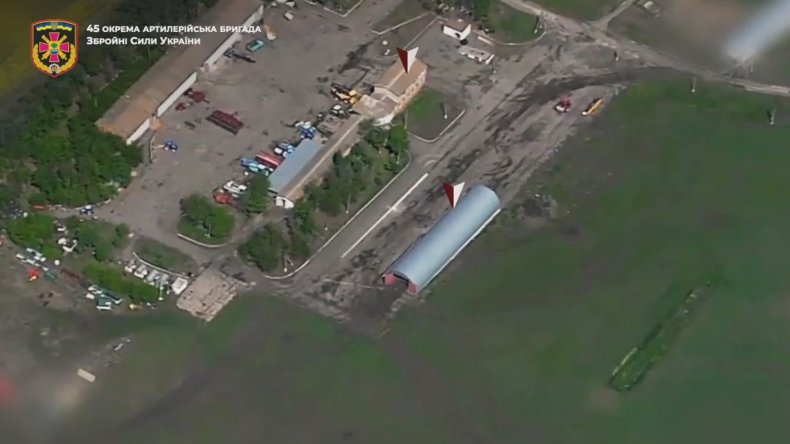 The footage was also shared by the Strategic Communications Department of the Armed Forces of Ukraine, who said: "Morning would not be morning without fried Russians."
They signed off with the well-known slogan "Slava Ukraini!", which means "Glory to Ukraine!" in English.
Zenger News contacted Russian and Ukrainian officials for comment but had not received a reply at the time of writing.
Russia invaded Ukraine on February 24 in what the Kremlin is calling a "special military operation." Wednesday marks the 119th day of the invasion.
The General Staff of the Armed Forces of Ukraine reported that between February 24 and June 22, Russia had lost about 34,230 personnel, 1,496 tanks, 3,614 armored combat vehicles, 752 artillery units, 239 multiple launch rocket systems, 99 air defense systems, 216 warplanes, 182 helicopters, 614 drones, 137 cruise missiles, 14 warships, 2,543 motor vehicles and fuel tankers, and 60 units of special equipment.
The Ukrainian military said it has launched airstrikes on Zmiinyi Island, which is also known as Snake Island, causing "significant losses" to Russia's forces there in an operation it says is ongoing.
Russia conducted an anti-ship missile exercise this week in the Baltic Sea amid escalating tensions with NATO member Lithuania after the latter country blocked the transit of goods to the Russian exclave of Kaliningrad.
Russian Foreign Ministry press secretary Maria Zakharova said that Moscow's response to Lithuania banning the transit of goods, sanctioned by the EU, to Kaliningrad will not only be diplomatic but also practical.
Ukrainian forces have said that they have been successfully thwarting fresh Russian attempts to advance in the Kharkiv region of northeastern Ukraine, but Russian forces have captured several settlements near Lysychansk and Severodonetsk, with 568 civilians believed to still be sheltering in Severodonetsk's Azot chemical plant.
Iryna Vereshchuk, Ukraine's deputy prime minister and minister for Reintegration of the Temporarily Occupied Territories, has urged locals in the Kherson region to evacuate, to help Ukrainian forces "de-occupy" the area.
British intelligence has claimed that the pro-Russian, so-called Donetsk People's Republic (DPR) may have lost about 55 percent of its original forces.
Zelensky said that a "historic week" has begun as Kyiv awaits a decision from Brussels regarding its EU candidate status, with the EU expected to approve the application by the end of the week.
This comes after the European Parliament adopted a resolution on June 8, recommending that the European Union grant Ukraine the status of candidate country for EU membership. Some 438 Members of the European Parliament voted in favor of the resolution, with 65 voting against and 94 abstaining.
Zelensky, speaking to the African Union on Monday also accused Russia of holding Africa "hostage" over grain and fertilizer shortages.
This story was provided to Newsweek by Zenger News.
Australian Energy Industry Calls for Scrapping of 'Complicated' Grid Transmission Proposals
Australian companies and peak bodies in the energy sector have called on regulators to scrap "overly complicated" proposals on transmission access that may adversely affect the energy market.
The Energy Security Board (ESB) has developed an Integrated System Plan to adjust controls and investment incentives in energy transmission as more and more renewable energy zones have been added to the grid.
The plan will determine which generator gets priority in the transmission queue and how much they need to pay.
Regulators have been concerned that new renewable energy projects are not bringing more new clean energy to the system but displacing existing sources and worsening congestion in the transmission network.
However, Elizabeth Molyneux, the general manager of energy giant AGL, said the ESB's plan needed further modelling to figure out if there were still congestion issues requiring immediate attention.
In addition, Jonathan Upson, the head of policy of Tilt Renewables– Australia's largest owner of wind and solar generation, said that wholesale electricity prices are subject to volatility and currently stay at extremely high levels.
Therefore, he said regulators should focus on avoiding any rule change or policy that could cause wholesale electricity prices to become more volatile.
Meanwhile, the Australian Aluminium Council said the plan had many design features and complexities that were not resolved and provided with enough details.
The council's CEO Marghanita Johnson said the above issues might further increase risks or hinder investments and would not necessarily result in better overall efficiency and cost-effectiveness for the energy market.

Sharing a similar view, Clean Energy Council director Christiaan Zuur said the models included in the ESB policy paper could not sufficiently judge the market impacts caused by the plan.
"We would caution the ESB from further over-complicating an already complicated system by the introduction of an investment timescale mechanism," Zuur said.
Regulatory Uncertainty Cause Difficulties for Investors
At present, many investors are facing difficulties due to uncertainty in regulations and lengthy project timelines.
A report by Clean Energy Council showed that new renewable energy investment in 2021 was down 29 percent from 2020 and 70 percent from 2018.
Energy regulators said that their proposals would improve investment certainty and provide more funds to technologies that could deliver new forms of energy to consumers and enhance the reliability and cost-effectiveness of power supply.
However, AGL said the congestion zones with connection fees and a proposed "transmission queue" outlined in the regulators' proposals would cause energy generators to pass on costs to customers.
AGL's general manager also said many other ESB processes and market rule changes that would improve the energy market were still not finalised.
"AGL believes those should be prioritised over a reform of open access at this time," she said.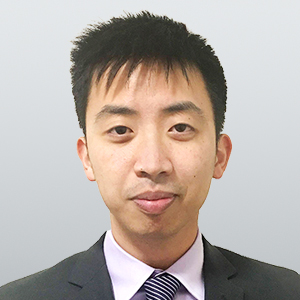 Follow
Alfred Bui is an Australian reporter based in Melbourne and focuses on local and business news. He is a former small business owner and has two master's degrees in business and business law. Contact him at alfred.bui@epochtimes.com.au.
Schools' 'Woke Agenda' Causes Children 'Climate Change Anxiety': Australian Senator
An Australian Liberal Senator has accused the education department of bringing children "climate change anxiety" as she called out the "strong left-wing bend" across the school system.
The comment comes as radical climate protesters continued the mass disruption in Sydney's Hyde Park after bringing the CBD to a standstill on Monday, aggravating the police force in Sydney and the New South Wales (NSW) government.
Police on Monday arrested ten Blockade Australia protesters, including a 22-year-old woman who used a bike lock to chain herself to the steering wheel of her rental car to block traffic at the Sydney Harbour Tunnel.
Blockade Australia spokesman Jonah Sabtay told the Australian Associated Press that the protests were meant to demonstrate the disruption caused by the "climate collapse," as he blamed Sydney's economy for the problem.
Liberal Senator Hollie Hughes condemned the activists' actions as "completely irresponsible and disruptive."
"It was almost laughable when you saw the girl that put a bike chain around her neck … to then drink from a non-reusable water bottle and I'm pretty sure she wasn't driving an Eevee. So the hypocrisy is alive and well with these people," she told Sky News Australia on Tuesday.
Left-Wing School Agenda Driving Activism
Hughes, who got into trouble last week for saying the education system is run by Marxists, attributed young people's "climate change anxiety" to the "woke agenda" across the school system.
She said it's "dangerous" for students to be told of the assumed "catastrophic impacts that are about to occur on their lives or their futures are doomed."
"There is a very strong left-wing bend, anyone that denies that either doesn't have kids at school or aren't saying what's happening even with the curriculum."
The outspoken Liberal senator added that such school content results in students voting for the left-wing Greens when they leave school.
Labor MP Matt Thistlethwaite echoed Hughes' sentiment on the Blockade climate protesters' disruption but disagreed that the group's actions are a result of the school system.
"There's absolutely no evidence of that at all," he told Sky News Australia, "I see from the teachers that are teaching my kids in the community that I represent that they work very, very hard."
"I think that you and your party have learned the lesson from the election and that is that Australians do want stronger action on climate change. They want greater integrity and politics and women want more rights."
In response, Hughes said while many people consider climate change actions very important, "a lot of people don't want to pay for it either."
"We could have affordable, reliable baseload power through a renewable system. That'd be great. But the technology just doesn't exist and no one is being honest and upfront about that."
Environmental Activists Continue to Protest in Sydney
Meanwhile, NSW Premier Dominic Perrottet criticised the climate activists' actions as "disrespectful" and warned they won't be tolerated.
"It has to stop, the police are out in force today and they'll make the arrests and my expectation is they will face the full force of the law," he told Sydney radio 2GB.
NSW Police Minister Paul Toole called the protesters " professional pests."
"I'm furious. The public are furious," he told the Nine Network.
Blockade Australia spokesman James Woods said on Tuesday the protest will continue all week.
"Resistance will continue. Blockade Australia will again take to the streets tomorrow, to continue disrupting Australia's destruction where it began," he said in a statement.
Follow
Nina Nguyen is a reporter based in Sydney. She covers Australian news with a focus on social, cultural, and identity issues. She is fluent in Vietnamese. Contact her at nina.nguyen@epochtimes.com.au.
NYC and Washington Run Out of Monkeypox Vaccines: Officials
New York City and Washington have run out of monkeypox vaccine doses on the same day they began to offer them to gay and bisexual men, officials say.
In less than one day, New York City's 1,000 monkeypox vaccine doses were allocated to eligible New Yorkers, according to a letter sent to Gov. Kathy Hochul by New York state Sen. Brad Hoylman, Manhattan Borough President Mark Levine, and city council member Erik Bottcher.
"We are writing to urgently request that you work with the Centers for Disease Control and Prevention (CDC) to procure additional doses of the monkeypox vaccination for New York City," the letter's authors said.
The officials said they were grateful that a monkeypox vaccination site opened in Chelsea, "but the two hundred doses available was entirely inadequate to meet the demand."


The online appointment booking system registers no available appointments at the time of publication, and the officials said many eligible New Yorkers were turned away from the clinic where "wait [times] were extensive."
"Clearly, New York City has the greatest need in the country for monkeypox vaccines, and the State must do everything in its power to stop the spread and protect all New Yorkers," they said.
Washington similarly ran out of vaccine doses, according to the district's Department of Health.
"When additional doses become available, the vaccination scheduling portal will reopen," the D.C. health department said on Twitter. "Stay tuned to DC Health's social platforms for updates."
When additional doses become available, the vaccination scheduling portal will reopen. Stay tuned to DC Health's social platforms for updates.

— DC Health (@_DCHealth) June 27, 2022
LGBT Community 'At-Risk': Officials
New York City has more than 700,000 LGBT people, the largest population of any large metropolitan area, and with monkeypox being primarily transmitted among gay and bisexual men, the New York officials told the governor there was an urgent need to secure more doses.
"With such a substantial at-risk population, the fact that New York City has received a one-time allocation of merely 1,000 doses (being distributed over five days) is unacceptable," they said.
Figures from the CDC show that New York state has a large number of cases nationally, with state health data showing that 30 of the 32 cases are clustered in New York City.
Although anyone can contract monkeypox, it is currently mostly spreading among the LGBT community, particularly men who have sex with men.