U.S. gas prices hit a new high: $5 a gallon
Business

Energy experts estimate that every penny increase in the price of gasoline costs Americans an extra $4 million a day.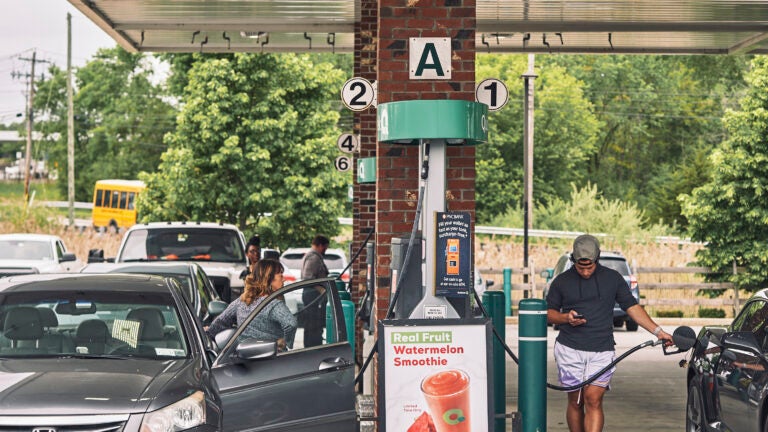 By Clifford Krauss and Marie Solis, New York Times Service
HOUSTON — Gasoline prices reached a grim milestone Saturday, as the national average for regular gasoline reached $5 a gallon.
Summer gasoline is nearly always more expensive because demand for fuel takes off around Memorial Day weekend. But this year oil and refined fuel prices have risen to their highest levels in 14 years, due largely to the Russian invasion of Ukraine and resulting sanctions, and a rebound in energy use as the economy recovers from the coronavirus pandemic.
The national average price of gasoline Saturday was $5, up 60 cents from a month ago. A year ago, gas sold for $3.08, according to the AAA motor club. The national average has been at its highest point since March, when it went above its previous record set in July 2008, when oil was trading at more than $133 a barrel. That was more than $10 above the current level without even accounting for inflation. Back then, the national average gasoline price was $4.11, or about $5.37 a gallon in today's dollars.
The average price is above $4 a gallon in all states. In California, long one of the most expensive states in the country for fuel, the price exceeds $6 a gallon. States with the largest recent increases in gasoline prices include Michigan, Delaware, Maryland, and Colorado.
Energy experts estimate that every penny increase in the price of gasoline costs Americans an extra $4 million a day.
"Strap on for a sizzling summer ride," said Tom Kloza, global head of energy analysis at Oil Price Information Service. "The average consumer is going to pay $450 a month for their fuel needs and that compares to something barely over $100 in 2020 during the pandemic."
The war in Ukraine has had the most direct impact on gas prices, as sanctions on Russia have pulled more than 1 million barrels of oil off global markets. Energy traders have also bid up oil prices in anticipation that Russian production and exports will fall further.
But many other factors have contributed to the rise in prices.
There isn't enough capacity to refine oil into gasoline, diesel, and jet fuel. Oil companies closed a handful of refineries in recent years, especially during the pandemic when demand plummeted. A few new refineries will open or expand over the next year, which could help.
But for now, analysts say that strong demand for gasoline is straining limited supplies and pushing prices higher as drivers hit the road after several waves of new COVID-19 variants kept them close to home. The easing of stringent pandemic lockdowns in China has also pushed up oil prices.
The high gas prices — along with the rising costs for other necessities like food and shelter — are a big problem for President Joe Biden. Many political experts believe the Democrats could suffer losses in the November elections because voters are angry and frustrated about high inflation. A report Friday showed that consumer prices reaccelerated in May, rising 8.6% from a year earlier, the fastest pace in more than 40 years.
Last week, as gas prices edged closer to the $5 threshold, Biden administration officials said that the president would travel to Saudi Arabia, one of the world's largest oil producers, in an apparent bid to restore diplomatic relations and, crucially, to seek help with bringing down energy prices. He is also encouraging domestic producers to pump more oil, although big oil companies are reluctant to increase investments significantly, preferring to return profits to investors through dividends and share buybacks.
In the past, when oil companies produced more oil in response to high prices, they caused a glut, undercutting their profits.
Biden has little influence on gas prices, which are governed by global supply and demand. Experts say even Saudi Arabia is not in a position to quickly bring down prices because it does not have the ability to completely offset the expected decline in Russian production. The European Union last month agreed to ban most Russian oil by the end of the year.
In March, when Biden announced that the United States was banning Russian oil and natural gas, he warned Americans that "defending freedom is going to cost." There is some evidence that the high prices are beginning to have an impact on demand. Travel experts say that some people are choosing to drive shorter distances on their vacations.
Eventually, the high prices at the pump are likely to encourage motorists to switch to electric cars, but the purchases of such cars are expected to reduce demand over the coming years, not months.
"It takes a while for price increases to affect demand," said Donald Hertzmark, president of DMP Resources, a Washington-based energy consulting firm. "Consumers have to believe the price increases are real and permanent, and there has to be some period of adjustment to substitution, conservation and demand destruction."
This article originally appeared in The New York Times.
---
Gerrit Cole's strong outing wasted in Yankees' no-no loss
This wasn't what Gerrit Cole had in mind earlier in the week when he laughed at how being on the mound for a no-hitter has eluded him.
Cole spun a gem of a start Saturday, but wound up on the losing end because he shared the rubber with three Astros pitchers who combined on a no-hitter in a 3-0 victory over the Yankees. In a reminder of how cruel baseball can be, Cole twice took no-hitters into the middle of the game or beyond this week and wound up with a no-decision and a loss on his record (6-2).
"The cold hard truth is we got outpitched and outplayed," Cole said. "Credit to the opponent. Magical day for them."
Cole lost a no-hitter in the eighth inning Monday against the Rays, but the Yankees still won, which created a light moment when he joked he has never completed the job despite building a résumé with four All-Star selections and an ERA title. There was no such luck or levity Saturday when he would needed perfection — or better — to outduel Astros starter Cristian Javier and two relievers.
Instead, Cole settled for striking out eight and scattering four hits over seven innings.
"Gerrit's just going to keep doing that," catcher Jose Trevino said. "That's good for us in the long run."
Cole walked two, but did not allow a hit until back-to-back, two-out singles by Jake Meyers and Martin Maldonado in the fifth inning. He survived that jam unharmed, but his 101st pitch was his big mistake in the seventh inning of a scoreless game.
J.J. Matijevic turned on a low-inside fastball and deposited it into the right-field seats for a homer as his reward for showing patience laying off a first pitch in the dirt. The rookie first baseman's only two career hits have been solo home runs.
"I tried to make an adjustment and I obviously overcorrected and threw the pitch into an area that he was anticipating or he wasn't going to be late on," Cole said. "Not the side of the plate that we were trying to go to. It was honestly just a bad miss, but I don't want to take any credit away from the guy who put a good swing on it."
The solace is that Cole is pitching like an ace. He has allowed one run or fewer in five of his last six starts. Matijevic's home run snapped Cole's 21-inning scoreless streak at home.
"Right away he was getting swing-and miss-with his heater, which was big while he was finding it those first two innings," manager Aaron Boone said. "I thought his stuff was really good. Once he settled in, he was terrific."
4 wounded, including 8-year-old, in Brooklyn scooter shooting
Four people were wounded — including an 8-year-old boy — in a scooter shooting in Brooklyn on Saturday night, police said.
Two men riding on a scooter pulled up around 11:30 p.m. to a large gathering of people in front of the Stuyvesant Gardens Houses on Quincy Street in Bedford-Stuyvesant and opened fire into the crowd, cops said.
An 8-year-old boy received a graze wound in the leg. A 27-year-old male, a 35-year-old female and a 46-year-old female were also each shot in the legs.
All four victims were transported to Kings County Hospital with non-life-threatening injuries, police said.
The suspects fled on a green and white scooter in an unknown direction, according to police and sources.
Six shell casings and two live rounds were recovered at the scene, sources said.
No arrests have been made at this time as police continued to canvas the area early Sunday morning.
Man arrested for attempted murder of LAPD officers amid Roe v. Wade protests
A man was charged with attempted murder of Los Angeles police officers Friday night amid protests of the Roe v. Wade reversal, cops said.
A woman was also charged with resisting police after four officers were injured following a barrage of projectiles, fireworks and a makeshift blow torch, according to officials.
The mayhem unfolded around 8:20 p.m. in Downtown Los Angeles, the LAPD said.
Michael Ortiz, 30, is accused of throwing a makeshift flame thrower at an officer, who was treated for burns, according to a Saturday press release.
Juliana Bernado, 23, allegedly attempted to steal an officer's baton. A "less-lethal" bullet was fired at her, and she was taken into custody, police said.
"I condemn the violence against officers that occurred last night and into today," Chief Michel Moore said.
"Individuals participating in such criminal activity are not exercising their 1st Amendment rights in protest of the Supreme Court decision, rather, they are acting as criminals.  
The Department will vigorously pursue prosecution of these individuals."
Large scale protests in other cities large and small around the country were mostly peaceful.