Trump lawyer cited 'heated fight' among justices over election suits
Politics

Another lawyer advising the Trump campaign weighed in on the odds of action from the court if there would be "'wild' chaos on Jan. 6."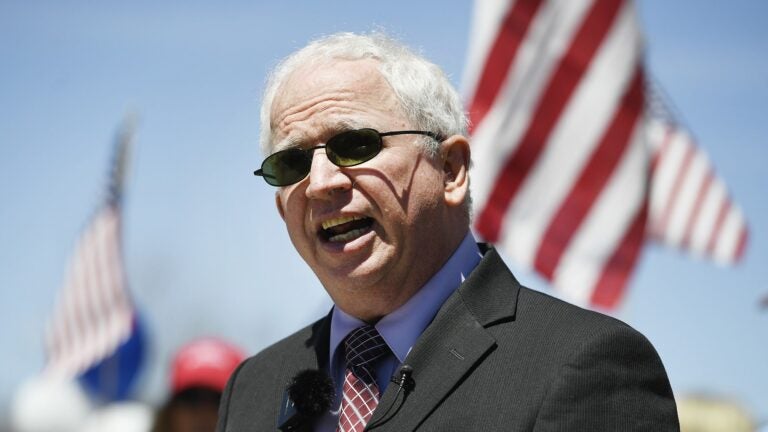 By Luke Broadwater and Maggie Haberman, New York Times Service

WASHINGTON — A lawyer advising President Donald Trump claimed in an email after Election Day 2020 to have insight into a "heated fight" among the Supreme Court justices over whether to hear arguments about the president's efforts to overturn his defeat at the polls, two people briefed on the email said.

The lawyer, John Eastman, made the statement in a Dec. 24, 2020, exchange with a Wisconsin lawyer and Trump campaign officials over whether to file legal papers that they hoped might prompt four justices to agree to hear an election case from Wisconsin.

"So the odds are not based on the legal merits but an assessment of the justices' spines, and I understand that there is a heated fight underway," Eastman wrote, according to the people briefed on the contents of the email. Referring to the process by which at least four justices are needed to take up a case, he added, "For those willing to do their duty, we should help them by giving them a Wisconsin cert petition to add into the mix."

The Wisconsin lawyer, Kenneth Chesebro, replied that the "odds of action before Jan. 6 will become more favorable if the justices start to fear that there will be 'wild' chaos on Jan. 6 unless they rule by then, either way."

Their exchange took place five days after Trump issued a call for his supporters to attend a "protest" at the Ellipse near the White House on Jan. 6, 2021, the day Congress would certify the electoral vote count confirming Joe Biden's victory. "Be there. Will be wild!" Trump wrote on Twitter.

The previously unreported exchange is part of a group of emails obtained by the House select committee investigating the Jan. 6 riot at the Capitol by a mob of Trump's supporters.

Chesebro's comment about the justices being more open to hearing a case if they feared chaos was striking for its link to the potential for the kind of mob scene that materialized at the Capitol weeks later.

And Eastman's email, if taken at face value, raised the question of how he would have known about internal tension among the justices about dealing with election cases. Eastman had been a clerk for Justice Clarence Thomas.

The committee is also reviewing emails between Eastman and Thomas' wife, Virginia Thomas. She was an outspoken supporter of Trump, and in the period after Election Day she sent a barrage of text messages to the Trump White House urging efforts to reverse the outcome and supported a variety of efforts to keep Trump in office.

It was not immediately clear when the communications took place between Thomas and Eastman or what they discussed. The existence of the emails between Eastman and Thomas was reported earlier by The Washington Post.

A federal judge recently ordered Eastman to turn over documents to the panel from the period after the November 2020 election when he was meeting with conservative groups to discuss fighting the election results.

After debating internally about whether to seek an interview with Virginia Thomas, members of the committee have said in recent weeks that they do not see her actions as central to the plans to overturn the election.

Rep. Elaine Luria, D-Va., a member of the committee, told NBC News last weekend that Thomas was "not the focus of this investigation."

But her contact with Eastman could add a new dimension to the inquiry.

A federal judge has already concluded in a civil case that Trump and Eastman "more likely than not" had committed two felonies, including conspiracy to defraud the American people, in their attempts to overturn the election.

Chesebro, and lawyers for Eastman and Virginia Thomas, did not respond to requests for comment.

Word of the exchanges among Eastman, Chesebro and the campaign lawyers emerged as the House committee prepared for a public hearing Thursday to present new details of the intense pressure campaign that Trump and Eastman waged against Vice President Mike Pence, which the panel says directly contributed to the violent siege of Congress.

The public hearing, the panel's third this month as it lays out the steps Trump took to try to overturn the 2020 election, is scheduled for 1 p.m. The committee plans to release materials detailing the threats of violence against Pence and the ways the vice president's security team scrambled to try to keep him safe from the mob.

The email exchange involving Eastman and Chesebro included a request, which appears to have been denied, that the Trump campaign pay for the effort to get another case in front of the Supreme Court. In the emails, Chesebro made clear that he did not consider the odds of success to be good, but he pressed to try, laying out why he claimed the election was invalid.

Eastman said that he and Chesebro "are of similar" minds and that the legal arguments "are rock solid," before going on to describe what he said were the divisions among the justices and the benefits of giving them another chance to take up an election case.

In the previous several weeks, the court had turned aside two other efforts to consider election-related suits brought by allies of Trump.

Chesebro then replied, according to the people briefed on the exchange: "I don't have the personal insight that John has into the four justices likely to be most upset about what is happening in the various states, who might want to intervene, so I should make it clear that I don't discount John's estimate."

He went on that he agreed that "getting this on file gives more ammo to the justices fighting for the court to intervene."

"I think the odds of action before Jan. 6 will become more favorable if the justices start to fear that there will be 'wild' chaos on Jan. 6 unless they rule by then, either way," he said. "Though that factor could go against us on the merits. Easiest way to quell chaos would be to rule against us — our side would accept that result as legitimate."

Chesebro concluded: "You miss 100% of the shots you don't take. A campaign that believes it really won the election would file a petition as long as it's plausible and the resource constraints aren't too great."

In the weeks after the election, Chesebro wrote a string of memos supporting a plan to send so-called alternate electors to Congress for the certification. A little more than two weeks after Election Day, Chesebro sent a memo to James Troupis, another lawyer for the Trump campaign in Wisconsin, laying out a plan to name pro-Trump electors in the state, which was won by Biden.

Chesebro also sent a Dec. 13, 2020, email to Rudy Giuliani, Trump's personal lawyer who was by then leading the legal efforts to overturn the election results. In it, he encouraged Pence to "firmly take the position that he, and he alone, is charged with the constitutional responsibility not just to open the votes, but to count them — including making judgments about what to do if there are conflicting votes."

That idea took root with Trump, who engaged in a lengthy effort to convince Pence that he could block or delay the congressional certification of Biden's victory on Jan. 6.

The House committee's hearing Thursday is set to feature testimony from J. Michael Luttig, a conservative former judge who advised Pence that Trump's push for the vice president to unilaterally decide to invalidate election results was unconstitutional and that he should not go along with the plan.

Also scheduled to appear is Greg Jacob, Pence's top White House lawyer, who has provided the committee with crucial evidence about the role played by Eastman, who conceded during an email exchange with Jacob that his plan to overturn the election was in "violation" of federal law.

The committee is also expected to play video from an interview it recorded with Pence's chief of staff, Marc Short. A day before the mob violence, Short grew so concerned about Trump's actions that he presented a warning to a Secret Service agent: The president was going to publicly turn against the vice president, and there could be a security risk to Pence because of it.

The committee is not expected to display any of the new emails it received involving Virginia Thomas on Thursday, according to two people familiar with the presentation.

Thomas, known as Ginni, is a conservative political activist who became a close ally of Trump during his presidency. After he lost the election, she sent a series of messages to Trump's final chief of staff, Mark Meadows, Arizona lawmakers and others pushing for the election to be overturned.

The Jan. 6 committee has been presenting the televised hearings as a series of movie-length chapters laying out the ways Trump tried to cling to power. After an initial prime-time hearing that drew more than 20 million viewers, in which the panel sought to establish that the former president was at the center of the plot, investigators focused their second hearing on how Trump spread the lie of a stolen election.

The committee is expected to detail Thursday some of its findings about the plot involving pro-Trump electors. The panel will present evidence that the White House counsel also concluded that the vice president had no legal power to throw out legitimate electoral votes for the fake electors Trump's team put forward.

Investigators will show how Trump was advised that his plans were unlawful but he pressed forward with them anyway, committee aides said.

This article originally appeared in The New York Times.
Donors pledge $160 million, Palestinian refugees need more
UNITED NATIONS — Donors pledged about $160 million for the U.N. agency helping Palestinian refugees, but it still needs over $100 million to support education for more than half a million children and provide primary health care for close to 2 million people and emergency cash assistance to the poorest refugees, the agency's chief said Friday.
Briefing reporters on the outcome of Thursday's donor conference, Philippe Lazzarini said the pledges when turned into cash will enable the U.N. Relief and Works Agency known as UNRWA to run its operations through September. But "I do not know if we will get the necessary cash to allow us to pay the salaries after the month of September," he said.
"We are in an early warning mode," Lazzarini said. "Right now, I'm drawing the attention that we are in a danger zone and we have to avoid a situation where UNRWA is pushed to cross the tipping point, because if we cross the tipping point that means 28,000 teachers, health workers, nurses, doctors, engineers, cannot be paid."
UNRWA was established to provide education, health care, food and other services to the 700,000 Palestinians who fled or were forced from their homes during the war surrounding Israel's establishment in 1948.
There are now 5.7 million Palestinian refugees, including their children and grandchildren, who mostly live in camps that have been transformed into built-up but often impoverished residential areas in the Israeli-occupied West Bank, east Jerusalem and Gaza, as well as in Jordan, Syria and Lebanon. But UNRWA only helps the more than 500,000 in school and close to 2 million who have health benefits.
Lazzarini said the more than $100 million shortfall in funding for 2022 is about the same as the shortfall that UNRWA has faced every year for almost a decade, but while income has stagnated costs have increased.
In past years, UNRWA has been able to absorb the shortfall through austerity and cost control measures, he said, but today it's not possible because there is very little left to cut without cutting services.
"Today, we have some classrooms with up to 50 kids," the UNRWA commissioner-general said. "We have a double shift in our schools. We have doctors who cannot spend more than three minutes in medical consultation. So if we go beyond that, it will force the agency to cut services."
Lazzarini said UNRWA's problem is that "we are expected to provide government-like services to one of the most destitute communities in the region, but we are funded like an NGO because we depend completely on voluntary contributions."
Funding the agency's services has been put at risk today because of the "de-prioritization, or maybe increased indifference, or because of domestic politics," he said.
Lazzarini said the solution to UNRWA's chronic financial problem requires "political will" to match the support for the agency's work on behalf of Palestinian refugees.
He said UNRWA has a very strong donor base in Europe and last year the Biden administration resumed funding which was cut by the Trump administration, but he said the overall contribution from the Arab world has dropped to less than 3% of the agency's income.
Donors have also faced financial difficulties stemming from the COVID-19 pandemic, and now there's a major effort to help Ukraine in its war with Russia, he said.
"We will know better at the end of the year how much it will impact the agency," Lazzarini said.
Some donors have already warned UNRWA "that we might not have the traditional top-up at the end of the year, which would be dramatic" for the agency, he said.
Ahead of Thursday's donors conference, Israel's U.N. Ambassador Erdan Calls on countries to freeze contributions until all UNRWA teachers that it claims support terrorism and murdering Jews are fired.
Lazzarini said UNRWA received a letter from Israel's U.N. Mission Friday which he hadn't read, but he said all allegations will be investigated and if there is a breach of U.N. values and misconduct "we will take measures in line with U.N. policies."
Mexico climber dies scaling active, off-limits volcano
MEXICO CITY — A woman mountain climber in Mexico died and a climbing companion was injured when they scaled the highly active, off-limits peak of the Popocatepetl volcano.
Mexico's volunteer Mountain Rescue and Assistance Brigade confirmed Friday that the climbers fell into a gully about 1,000 feet (300 meters) from the volcano's crater, suggesting they had reached the crater or near it.
The crater of the 17,797-foot (5,426-meter) tall volcano has been belching toxic fumes, ash, and lumps of incandescent rock persistently for almost 30 years.
Civil defense authorities have strictly prohibited climbers from going within 7.5 miles (12 kilometers) of the peak since it began erupting again in 1994.
Valentín Martínez Castillo, the mayor of the nearby town of Ozumba, identified the dead woman as a 22-year-old resident of the town.
Martínez Castillo wrote in his social media accounts that the climbers fell about 150 feet (50 meters) down a gully, and that the woman's body and the surviving climbers had been successfully removed from the peak.
The Mountain Rescue and Assistance Brigade posted a notice on their social media Friday reading: "She shouldn't have died. Don't put your life or those of others at risk. The Popocatepetl volcano is closed."
The country's National Disaster Prevention Center said it "calls on people not to go near the volcano, especially the crater, due to the risk of falling ballistic fragments."
Popocatepetl is located 45 miles (72 kilometers) southeast of Mexico City, and occasionally showers ash on surrounding towns and some parts of the capital.
Bill Clinton: Supreme Court's Roe v. Wade decision has 'put our democracy at risk'
Former President Clinton is slamming the Supreme Court's ruling to overturn Roe v. Wade, saying it contributes to putting "democracy at risk" and calling the high court "radical" and "activist."
"This decision puts partisanship ahead of precedent, ideology ahead of evidence, and the power of a small minority ahead of the clear will of the people," Clinton said in a statement on Friday.
"This jarring removal of rights that had long been guaranteed, along with decisions gutting the Voting Rights Act and abolishing any judicial remedy for admittedly unconstitutional gerrymandering by state legislatures and abuses of power by federal authorities, has put our democracy at risk in the hands of a radical, activist Court," he added.
He said said voters should be electing people "who will defend, not deny, our cherished rights and liberties" in addition to confirming judges who put the importance of the Constitution over partisanship.
His wife, former Democratic presidential nominee Hillary Clinton, called the decision "a step backward for women's rights and human rights."
The development comes as the high court ruled on Friday to eliminate federal-level abortion protections, which many anticipated after a leaked draft ruling last month. 
Several states, including Missouri, South Dakota, Louisiana and Kentucky, have now effectively banned abortion. More are expected to follow.
Tags
Abortion
Abortion ruling
Bill Clinton
Hillary Clinton
Roe v. Wade
Supreme Court