The Green Paradox—the Pitfalls of Green Energy and How to Overcome Them | Opinion
In order to promote truly green energy solutions, we need to highlight and debate some of the current practices of green energy more openly. Only by doing so can we device smart alternatives and work-around solutions that seek to mitigate the risk of the "green paradox."
As we discuss in our forthcoming book, Designing Smart and Resilient Cities for a Post-Pandemic World: Metropandemic Revolution, supporting renewable types of energy is essential in order to achieve a robust, environment friendly and sustainable distribution of energy in the future. However, studies have shown that wind power technology may have greater environmental impact than either nuclear power or hydropower. The environmental impact is particularly an issue during the manufacturing phase of wind turbines, as these require special materials that may necessitate considerable tracts of land.
The supple, light and robust characteristics of wood springing from the Ochroma pyramidale (commonly known as the balsa tree) makes it ideal for use as core material when manufacturing various parts of the blades of wind turbines. A rough average of 150 cubic meters (5,300 cubic feet) of balsa wood is needed to manufacture a single wind turbine unit with 100 meter blades.
Commercial balsa wood is chiefly supplied by Ecuador, which accounts for up to 95 percent of all exports. China is the largest consumers, claiming roughly 78 percent of all exported balsa wood, to a market that is seeing steady increase of demand owing to various Chinese wind energy projects. The global "balsa fever" has directly impact the deforestation of the Amazon. This is due to legal as well as irregular and illegal logging, which also imposes a great amount of suffering on the Indigenous peoples living in the area.
What can be done to remedy this paradox? Some alternative substitutes to balsa do exist, such as polyvinyl chloride (PVC) or polyethylene terephthalate (PET), or other various types of artificial admixture. There is also the possibility to use plantation-grown balsa trees instead, although these presently only exist in limited scales, and mostly so in Papua New Guinea, the world's second largest balsa wood export nation.
Moreover, wind farms are known to impact the local wildlife to varying degrees. A way to mitigate some of this impact is to build offshore wind farms. However, these are difficult to construct in a secure and robust manner in waters deeper than around 60 meters, as a floating-wind-anchored turbine anchored on the ocean floor would be needed for depths deeper than that.
Similarly, there is also a high purchasing cost for solar power systems. Apart from the solar panels themselves, there is also a considerable cost in regards to inverter, batteries, wiring, and installation. Solar energy is popular discourse commonly referred to as "green energy." The pollution associated with the manufacturing process of the solar photovoltaic systems and the transportation of solar panels contributes toward the use of some toxic and hazardous materials, as well as the emission of greenhouse gases. In addition, solar panels take up vast land areas and particularly so if they are to produce larger quantities of electricity. Moreover, solar energy needs to either be consumed instantly, or stored (most commonly) in large batteries.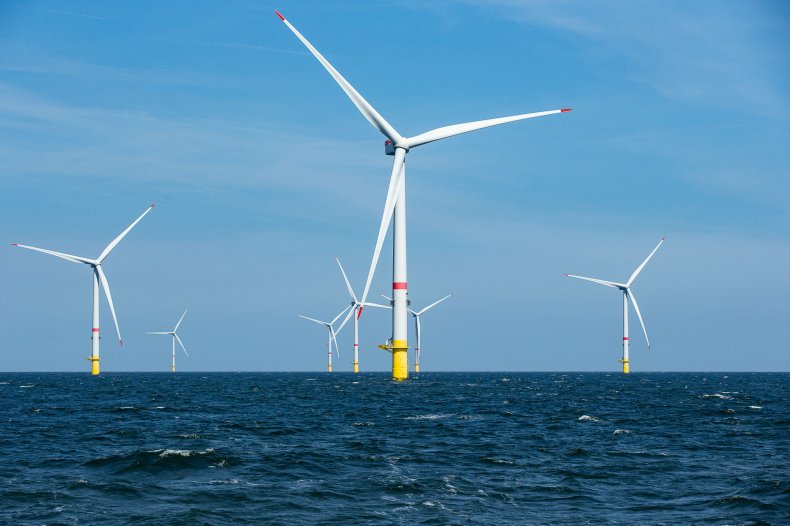 Another often overlooked aspect that applies to both wind and solar power is that their respective turbines and panels are facing extreme recycling challenges. The average lifespan of a wind turbines is roughly 20 years, whereas for a solar panel it is somewhere between 25 to 30 years. Decommissioning wind turbines comes with a steep cost, roughly $532,000 per wind turbine. For offshore wind turbines the cost ranges anywhere from $223,000 to $668,800 per MW. The data regarding the cost of decommissioning solar panels is currently somewhat sketchy. However, available estimates point to a rough $60,000 for a ground-mounted 2-MW solar panel system, bringing the cost to an approximate $30,000 per MW.
While some materials are recyclable, the large wind turbine blades are not. The result is that they are often buried in landfills. Although particular solar panel components are recyclable, the aluminium frame being a notable example, many other components are not as recyclable. This means that worn out solar panel's photovoltaic system are destined to the same end as wind turbine blades, namely in landfills where they release toxic materials into the earth. By 2050, turbine blades will make up for approximately 43.4 million tonnes, or about 96 billion pounds of waste. Last year, wind turbine maker Vestas announced new plans for technology with the ability to separate the glass or carbon fiber from the resin in the blades, which would, in theory, render them recyclable.
While worn out blades and panels will not be a pressing issue for another decade or two, it is nevertheless important to take preventive action now. The recyclable materials in old solar modules alone will have an expected value of roughly $450 million in recoverable assets by 2030 and $15 billion by 2050. Given this lucrative potential, there should be greater incentive for both companies and researchers to find ways to optimize the recycling of blades and panels than what we are seeing at the moment.
Finding ways to addressing the green paradox is essential if we wish to be as sustainable and environment friendly as we purport ourselves to be. The next generation will hold us accountable by the actions we take today and this, in no small part, involves purported "green" solutions as well.
Anthony Larsson, PhD, is an author, editor and researcher. He currently serves as Fellow at the Stockholm Chamber of Commerce, Sweden. Dr. Larsson has previously been a researcher at the Stockholm School of Economics Institute for Research (SIR). He has also been a researcher at Karolinska Institutet, Sweden, from where he received his PhD. He also holds an MBA and MSc degrees in political science, social anthropology, as well as business administration and economics respectively, in addition to an associate's degree in psychology. To date, he has authored, co-authored and edited five books along with numerous peer-reviewed scientific research papers. You may follow his research either on his Routledge author page, his Amazon author page, or his Goodreads author page.
Andreas Hazigeorgiou, PhD, is the CEO of the Stockholm Chamber of Commerce, Sweden, and affiliated researcher at the School of Architecture and the Built Environment, KTH Royal Institute of Technology. Dr. Hatzigeorgiou's research has been published in peer-reviewed journals and in reports for organizations such as the OECD. He received his PhD in economics from Lund University, Sweden, and graduated as a Fulbright Scholar from the Gerald R. Ford School of Public Policy at the University of Michigan, Ann Arbor. He has been the recipient of several grants and scholarships, among others from the Royal Swedish Academy of Engineering Sciences, and the Swedish Royal Court. Dr. Hatzigeorgiou has also served as advisor to Sweden's minister for trade and Nordic cooperation and as a researcher at the World Bank in Washington, D.C. Selected among Sweden's top agenda-setters within climate and sustainability, Dr Hatzigeorgiou is a frequent participant in the debate on cities, business climate, entrepreneurship, sustainability and innovation.
The views expressed in this article are the writers' own.
Donors pledge $160 million, Palestinian refugees need more
UNITED NATIONS — Donors pledged about $160 million for the U.N. agency helping Palestinian refugees, but it still needs over $100 million to support education for more than half a million children and provide primary health care for close to 2 million people and emergency cash assistance to the poorest refugees, the agency's chief said Friday.
Briefing reporters on the outcome of Thursday's donor conference, Philippe Lazzarini said the pledges when turned into cash will enable the U.N. Relief and Works Agency known as UNRWA to run its operations through September. But "I do not know if we will get the necessary cash to allow us to pay the salaries after the month of September," he said.
"We are in an early warning mode," Lazzarini said. "Right now, I'm drawing the attention that we are in a danger zone and we have to avoid a situation where UNRWA is pushed to cross the tipping point, because if we cross the tipping point that means 28,000 teachers, health workers, nurses, doctors, engineers, cannot be paid."
UNRWA was established to provide education, health care, food and other services to the 700,000 Palestinians who fled or were forced from their homes during the war surrounding Israel's establishment in 1948.
There are now 5.7 million Palestinian refugees, including their children and grandchildren, who mostly live in camps that have been transformed into built-up but often impoverished residential areas in the Israeli-occupied West Bank, east Jerusalem and Gaza, as well as in Jordan, Syria and Lebanon. But UNRWA only helps the more than 500,000 in school and close to 2 million who have health benefits.
Lazzarini said the more than $100 million shortfall in funding for 2022 is about the same as the shortfall that UNRWA has faced every year for almost a decade, but while income has stagnated costs have increased.
In past years, UNRWA has been able to absorb the shortfall through austerity and cost control measures, he said, but today it's not possible because there is very little left to cut without cutting services.
"Today, we have some classrooms with up to 50 kids," the UNRWA commissioner-general said. "We have a double shift in our schools. We have doctors who cannot spend more than three minutes in medical consultation. So if we go beyond that, it will force the agency to cut services."
Lazzarini said UNRWA's problem is that "we are expected to provide government-like services to one of the most destitute communities in the region, but we are funded like an NGO because we depend completely on voluntary contributions."
Funding the agency's services has been put at risk today because of the "de-prioritization, or maybe increased indifference, or because of domestic politics," he said.
Lazzarini said the solution to UNRWA's chronic financial problem requires "political will" to match the support for the agency's work on behalf of Palestinian refugees.
He said UNRWA has a very strong donor base in Europe and last year the Biden administration resumed funding which was cut by the Trump administration, but he said the overall contribution from the Arab world has dropped to less than 3% of the agency's income.
Donors have also faced financial difficulties stemming from the COVID-19 pandemic, and now there's a major effort to help Ukraine in its war with Russia, he said.
"We will know better at the end of the year how much it will impact the agency," Lazzarini said.
Some donors have already warned UNRWA "that we might not have the traditional top-up at the end of the year, which would be dramatic" for the agency, he said.
Ahead of Thursday's donors conference, Israel's U.N. Ambassador Erdan Calls on countries to freeze contributions until all UNRWA teachers that it claims support terrorism and murdering Jews are fired.
Lazzarini said UNRWA received a letter from Israel's U.N. Mission Friday which he hadn't read, but he said all allegations will be investigated and if there is a breach of U.N. values and misconduct "we will take measures in line with U.N. policies."
Mexico climber dies scaling active, off-limits volcano
MEXICO CITY — A woman mountain climber in Mexico died and a climbing companion was injured when they scaled the highly active, off-limits peak of the Popocatepetl volcano.
Mexico's volunteer Mountain Rescue and Assistance Brigade confirmed Friday that the climbers fell into a gully about 1,000 feet (300 meters) from the volcano's crater, suggesting they had reached the crater or near it.
The crater of the 17,797-foot (5,426-meter) tall volcano has been belching toxic fumes, ash, and lumps of incandescent rock persistently for almost 30 years.
Civil defense authorities have strictly prohibited climbers from going within 7.5 miles (12 kilometers) of the peak since it began erupting again in 1994.
Valentín Martínez Castillo, the mayor of the nearby town of Ozumba, identified the dead woman as a 22-year-old resident of the town.
Martínez Castillo wrote in his social media accounts that the climbers fell about 150 feet (50 meters) down a gully, and that the woman's body and the surviving climbers had been successfully removed from the peak.
The Mountain Rescue and Assistance Brigade posted a notice on their social media Friday reading: "She shouldn't have died. Don't put your life or those of others at risk. The Popocatepetl volcano is closed."
The country's National Disaster Prevention Center said it "calls on people not to go near the volcano, especially the crater, due to the risk of falling ballistic fragments."
Popocatepetl is located 45 miles (72 kilometers) southeast of Mexico City, and occasionally showers ash on surrounding towns and some parts of the capital.
Bill Clinton: Supreme Court's Roe v. Wade decision has 'put our democracy at risk'
Former President Clinton is slamming the Supreme Court's ruling to overturn Roe v. Wade, saying it contributes to putting "democracy at risk" and calling the high court "radical" and "activist."
"This decision puts partisanship ahead of precedent, ideology ahead of evidence, and the power of a small minority ahead of the clear will of the people," Clinton said in a statement on Friday.
"This jarring removal of rights that had long been guaranteed, along with decisions gutting the Voting Rights Act and abolishing any judicial remedy for admittedly unconstitutional gerrymandering by state legislatures and abuses of power by federal authorities, has put our democracy at risk in the hands of a radical, activist Court," he added.
He said said voters should be electing people "who will defend, not deny, our cherished rights and liberties" in addition to confirming judges who put the importance of the Constitution over partisanship.
His wife, former Democratic presidential nominee Hillary Clinton, called the decision "a step backward for women's rights and human rights."
The development comes as the high court ruled on Friday to eliminate federal-level abortion protections, which many anticipated after a leaked draft ruling last month. 
Several states, including Missouri, South Dakota, Louisiana and Kentucky, have now effectively banned abortion. More are expected to follow.
Tags
Abortion
Abortion ruling
Bill Clinton
Hillary Clinton
Roe v. Wade
Supreme Court