Sterling-Dillashaw title fight set for UFC 279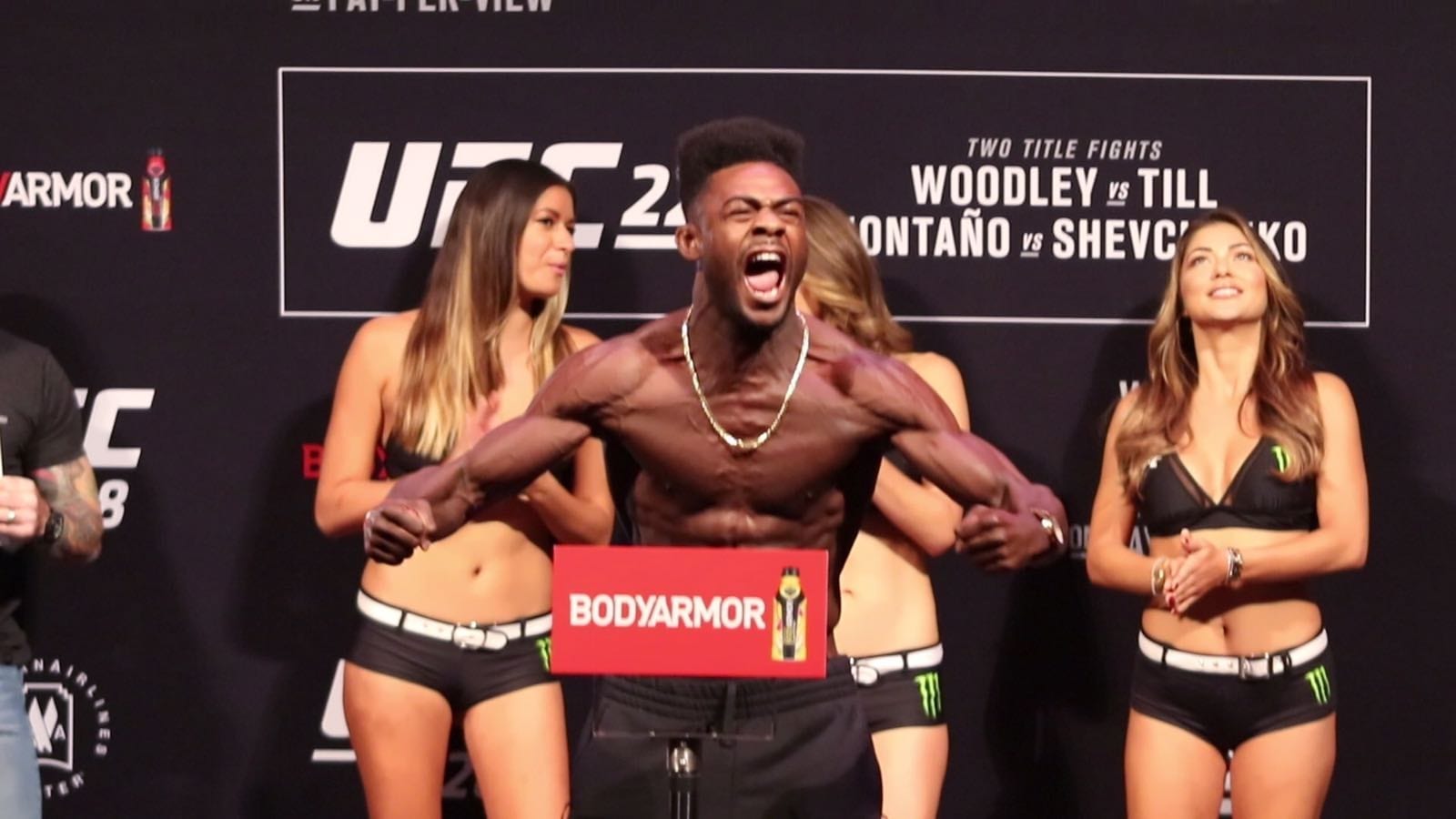 Fresh off what we can only imagine was a thoroughly satisfying win against Petr Yan, Aljamain Sterling looks to have been handed his next assignment.
According to an initial report from MMA Junkie, bantamweight champion Sterling will take on former titleholder T.J. Dillashaw at UFC 279 on September 10 next. The location of the event has not yet been set.
The fight will be Sterling's second defence of the 135-pound title after initially winning it from Russia's Yan due to disqualification in their first fight a little more than a year ago. Despite being the underdog in their rematch, Sterling won a close split decision to underscore his status as the pacesetter in the UFC bantamweight division.
The New Yorker has now won seven straight fights in the UFC.
Dillashaw, meanwhile, will be attempting to recapture the 135-pound title which was previously stripped of him after he failed a drugs test in the wake of an unsuccessful bid to win the flyweight crown from then-champ Henry Cejudo. He returned to the cage in July of last year where he won a split decision of his own against top contender Cory Sandhagen.
He suffered a knee injury in that bout which has kept him out of action since but is once again healthy and has, somewhat surpassingly to some, been handed another title opportunity just one fight removed from his two-year ban for ingesting the prohibited substance EPO.
comments
Lilly King Finishes 7th in 50m Breaststroke at 2022 World Swimming Championships

Maddie Meyer/Getty Images
Team USA's Lilly King failed to medal in the 50-meter women's breaststroke event at the 2022 FINA World Aquatics Championships in Budapest, Hungary, on Saturday.
Lithuania's Ruta Meilutyte took gold with a time of 29.70 seconds, while King finished in 30.40 seconds, settling for seventh place.
Here is a full rundown of the finishing order from Saturday's final with Meilutyte, Italy's Benedetta Pilato and South Africa's Lara van Niekerk occupying the top three spots on the podium:
1. Ruta Meilutyte: 29.70
2. Benedetta Pilato: 29.80
3. Lara van Niekerk: 29.90
4. Qianting Tang: 30.21
5. Anna Elendt: 30.22
6. Eneli Jefimova: 30.25
7. Lilly King: 30.40
8. Jhennifer Conceicao: 30.45
The 50-meter breaststroke marked the second time in four races at the 2022 world championships that King finished off the podium, as she previously finished fourth in the 100-meter breaststroke.
King isn't leaving Budapest empty-handed, however, as she won gold in both the 200-meter breaststroke and 4×100-meter women's medley relay events.
---
This article will be updated soon to provide more information and analysis.
For more from Bleacher Report on this topic and from around the sports world, check out our B/R app, homepage and social feeds—including Twitter, Instagram, Facebook and TikTok.
Deandre Ayton Rumors: Pistons May Back Off Pursuit of Suns C After Jalen Duren Trade

Barry Gossage/NBAE via Getty Images
The Detroit Pistons' rumored push for impending restricted free agent Deandre Ayton may be "less likely" following the team's successful draft night.
James L. Edwards III of The Athletic provided word on the situation Friday, a day after the Pistons had selected Purdue guard Jaden Ivey and traded for Memphis center Jalen Duren during the NBA draft:
"However, while all signs have pointed to Detroit making a serious run at Phoenix's Deandre Ayton over the last few days, that appears less likely after the Pistons walked away with two of the players highest on the organization's big board. Per sources, Detroit is eager to continue to build back toward playoff contention with the aforementioned young core, and the Pistons are expected to use the majority of their remaining cap space to add multiple veteran pieces rather than just one big swing this offseason, per sources."
Ayton, 23, has spent four seasons with the Phoenix Suns, who selected the ex-Arizona center No. 1 overall in the 2018 draft. He averaged 17.2 points on 63.4 percent shooting and 10.2 rebounds last year.
Ayton has played an instrumental part in the Suns' turnaround over the last few years from the bottom of the league to a title contender. Phoenix won the Western Conference in 2021 and posted the league's best record in 2022 before falling in the second round of the playoffs.
At his best, Ayton is an uber-efficient offensive player and rebounder.
Rumors of the Pistons' interest in Ayton seemed to fit, especially after their trade of Jerami Grant to the Portland Trail Blazers created salary-cap space. Edwards provided more information Wednesday:
"This deal opens up Ay-Ton of cap space for the Pistons. (See what I did there?) Prior to the trade, Detroit entered the season with roughly $30 million in cap space at its disposal, which was among the league leaders. After the trade, the Pistons have roughly $43 million at their disposal. Per sources, Detroit is heavily expected to pursue Phoenix Suns big man and 2018 No. 1 pick Deandre Ayton in the open market. The Pistons may also look to the trade block to make use of that cap space if Ayton stays put in Phoenix or lands elsewhere."
Edwards and John Hollinger reported in early June that Ayton had "more likely than not" played his last game with the Suns.
However, it now appears that Detroit may not be a landing spot for Ayton after it acquired Duren from the New York Knicks in a draft-day trade. Duren could be the long-term answer for the Pistons at center, and Kevin O'Connor of The Ringer wrote that the ex-Memphis star couldn't have landed in a better spot with the new backcourt of Ivey and Cade Cunningham.
Ayton shouldn't have a shortage of suitors, especially given his age and production, but Detroit may not be the place for him after all.
Rafael Nadal Says Treatment on Foot Injury Has Been 'Positive' Ahead of Wimbledon

Clive Brunskill/Getty Images
Rafael Nadal told reporters in the lead-up to Wimbledon that treatment on a chronic foot injury has been effective of late (h/t ESPN's Tom Hamilton).
"The feeling and overall feelings are positive … because I am in a positive way in terms of pain, and that's the main thing,"
Nadal, 36, has won a men's record 22 Grand Slam singles titles. He's won the first two majors this year in the Australian Open and French Open.
He's excelled this year despite suffering from Mueller-Weiss syndrome, a degenerative disease that causes foot pain, which forced him off the ATP Tour for five months in 2021.
Days have been better for Nadal of late as he manages the injury, although he said he can't be "super happy" right now with it being unknown how the ailment may affect him down the road.
"Well, is obvious that if I am here, it's because things are going better. If not, I would not be here. So quite happy about the things, how evolved. I can't be super happy because I don't know what can happen.
"First of all, I can walk normal most of the days, almost every single day. That's for me the main issue. When I wake up, I don't have this pain that I was having for the last year and a half, so quite happy about that. And second thing, practicing. I have been in overall better, honestly, no? Since the last two weeks, I didn't have not one day of these terrible days that I can't move at all. Of course, days better; days a little bit worse."
Nadal previously revealed that he needed pain-killing injections in his foot just to play in the French Open.
Eurosport @eurosport

"That's why I was able to play." 💬💉

In a Eurosport exclusive, Rafa Nadal has revealed that medical injections meant he played the French Open final with no feeling in his foot!#RolandGarros | @RafaelNadal
Ultimately, the injury is something Nadal will have to deal with for the foreseeable future. At this point, it's a matter of whether the treatment can enable him to play tennis.
"I can't tell you if I going to be in that positive moment for one week, for two days, or for three months," Nadal said. "Of course, the treatment that I did, didn't fix my injury. Not improving my injury at all but can take out a little bit the pain. That's the main goal."
Nadal is halfway to a calendar-year Grand Slam right now. He'd be the first professional tennis player to do so since Steffi Graf accomplished the feat in 1988.