Shooting Survivors Turned Activists: 'We Were the Lucky Ones'
June 22, 2022 – The temperature was nearing 80 degrees as Mia Tretta climbed the steps to the makeshift stage on the bed of a pickup truck parked outside Los Angeles City Hall for the March for Our Lives rally.
She took the crowd of 1,000 back in time to Nov. 14, 2019, when she was a freshman at Saugus High School, northwest of L.A., and described her beloved morning ritual.
"Every day, I made a beeline for the quad," she began, explaining that was the meetup point to see her best friend. "I'm pretty sure we were laughing when we heard the first bang."
Another bang followed, and Tretta was on the ground quickly. She'd been shot. She managed to get up and run to a classroom, where her teacher tried to stop the bleeding.
"Moments later, I was in an ambulance, then a helicopter and then an operating room," she said. "I had a bullet lodged inside of me, millimeters away from ending my life. But compared to my friend Dominic, I was the lucky one. In a matter of seconds, five people were shot and two were killed. Dominic was one of them."
Tretta urged listeners to join the fight for sensible gun laws, especially the issue of "ghost guns," privately made weapons without serial numbers. It's been her activist focus since she found out that was the type of weapon used by the student gunman to kill the students before killing himself. By the end of her 8-minute talk, she had the crowd cheering and waving signs, ready to make the march up to Grand Park.
The talk at the rally isn't a one-off for Tretta, who's now almost 18. Months after the tragedy, despite needing surgery and other care, she began to volunteer at the hospital where she got treatment, helping distribute "Stop the Bleed" kits, a national campaign to help people act quickly when tragedy strikes. She's active in Students Demand Action, a grassroots arm of Everytown for Gun Safety, a gun violence prevention organization. In April, she spoke in the Rose Garden after President Joe Biden announced new regulations to crack down on ghost guns.
From Trauma to Action
This year, through mid-June, at least 278 mass shootings have occurred in the United States, according to the Gun Violence Archive. And as families of the victims grieve, legions of survivors who have witnessed the carnage firsthand also struggle to heal from the trauma. Most will recover well, mental health experts say.
After that, some will go on to have what those experts call posttraumatic growth – finding a new purpose or calling. That might be a change in careers or education plans, working in a charity unrelated to gun violence, or fighting for reform of gun laws.
After these violent events, which upend lives, survivors often say they want to find or make meaning from them, says Robin Gurwitch, PhD, a psychologist and professor at Duke University and an expert on the impact of trauma.
"I think for some survivors, they make meaning for what happens to them by activism," she says. Survivors have told Gurwitch they want to "give a voice to people whose voice has been taken away." Activism, she finds, is one way to honor those killed by the violence.
People often do try to find some sense of meaning after tragedies like school shootings, agrees Joshua Morganstein, MD, a psychiatrist in Bethesda, MD, and chair of the American Psychiatric Association's Committee on the Psychiatric Dimensions of Disaster. But "that looks different for different people," he says.
Can Activism Help Recovery?
Whether something is helpful is very individual, Morganstein says. Doing work that one defines as activism – such as lobbying for policy change – may not be helpful for some, he says.
Mental health experts do know what is needed to protect and restore people's sense of well-being and foster resilience after a disaster or trauma, Morganstein says. This includes:
A sense of connectiveness, knowing there are people who will provide support
A sense of safety
Feeling able to accomplish things or make changes, both on a personal and community level
A sense of hope about the future
A sense of helplessness can set in, understandably, with trauma survivors frustrated that they couldn't stop the disaster or weren't able to protect themselves, he says.
"When I hear about someone deciding to engage in activism, like a march, or seeking an audience with a politician to lobby for various changes," it's understandable that a person might find that helpful, Morganstein says.
What's important for the activist to know, he says, is that the outcome of their efforts doesn't matter as much as the activity of speaking out and standing up. It's the act of standing up and speaking out that can help recovery, he says. As for the sense of hope, "hope is something we build," Morganstein says. "You build hope with action."
Research: The Value of Taking Action
"Trauma can shatter our sense of control over our lives," says Erika Felix, PhD, a professor of psychology at the University of California, Santa Barbara, and a psychologist. "Becoming an activist makes you realize you can have some control."
On May 23, 2014, a man not affiliated with the university attacked around the campus. Through gunfire and stabbings, he murdered six students and wounded a dozen others before killing himself. Felix polled 116 university students about 6 months after the incident to find out how the activities people do after a trauma might affect their posttraumatic growth. She had previously interviewed the students about their adjustment to college life.
After the tragedy, she assessed posttraumatic growth by a standard questionnaire on how or whether they had changed, then looked at how that growth was affected by five factors after the tragedy: mental health services, informational support, grieving and remembrance, coping activities, and taking action.
Only taking action was associated with posttraumatic growth, she found. The results, she says, suggest that campus communities might support student-led activities after a trauma that provide opportunities to take action and create change. Those activities might include fundraisers, rallies, volunteering, and other events.
Survivor: Not 'Why Me,' but 'What About Others?'
"As a survivor, you feel a certain obligation to work on this issue, because it is such an important issue," says John Owens, who was shot by a mentally ill man as he entered the offices of his former employer, the NBC affiliate in Detroit.
Owens, a producer, writer, and editor, had stopped in to pick up something he needed for a project he was working on. As he walked in the door, preparing to greet the receptionist he knew well, "she motioned me back. I didn't know why."
Then he saw another person in the entryway. "As soon as I turned around, he shot me point-blank." That was April 15, 2005. "Initially, it didn't look like much of an injury," Owens, now 70, recalled recently. But it was. His spinal cord was injured, his lung had collapsed, and he was in tremendous pain.
"Within 15 minutes, I was in the best trauma center in the city. They saved my life but also changed my life forever. I have been in constant pain, which you learn to live with because that is your only option." He learned to walk again but still needs a wheelchair.
His activism wasn't immediate. On Christmas Eve the year he was shot, he spoke at his church. Then he began speaking to other congregations – "not so much about gun safety, but sharing the story of recovery" and about guns and mental illness.
In 2015, he retired and moved with his wife to Hendersonville, NC. Now he is the co-lead for the Moms Demand Action chapter in Western North Carolina, also affiliated with Everytown for Gun Safety. He works with the Everytown Survivor Network.
"We need to work for the folks who aren't able … some are not able to do this. Their grief is too tremendous. For those people – that's why we are out here." Echoing Tretta's comments, "I consider myself one of the lucky ones," he says.
Survivors sharing their stories is key to persuading legislators to listen, Owens says. "They may not listen to you on policy, but I never met a legislator who wouldn't listen to your story."
Eyes on the Goal
Mental health advocates warn activists about burnout – and to keep what Morganstein calls a good work-life balance.
Neither Owens nor Tretta seem inclined to slow down.
"We see this as a social justice issue," Owens says of gun law reform. And he knows it will take time. He compares it to the timeline for women's rights issues and LGBTQ issues. "Look at all the setbacks those groups have faced. It takes decades of constant work to achieve what we consider to be justice." He's in for the long haul.
"I'm trying to use the voice I have been given because of what happened to make people more willing to listen," Tretta says. "Especially people in power."
A Relationship Therapist Ranked the Most Problematic Disney Romances
Disney romances have long been critiqued for being, well, entirely unrealistic. Not only have animated cartoons set some seriously unobtainable romantic standards for us all, but there are some pretty concerning themes presented in classic children's movies. Falling in love with a literal vendetta-driven Beast aside—ehm, Belle—consent and logic are often missing from the fictional relationships, not to mention a fairly standard period of getting to know each other before going all in.
So what does a relationship therapist have to say about all this?
In a recent YouTube video, relationship therapist Jonathan Decker analyzed a random assortment of Disney romantic relationships to see which are most problematic and which actually have a solid basis. Testing their partnerships in the battle-royal are animated couples Alladin and Jasmine, Cinderella and Prince Charming, Fix-It Felix and Calhoun from Wreck-It Ralph, Rapunzel and Eugene from Tangled, Simba and Nala from The Lion King, and Snow White and Prince Florian.
Out of the selected couples, Decker ranks Snow White and Prince Florian (yes, the prince as a name — and it apparently is that) as the most problematic pairing. After all, the two meet only once (without talking!) before betrothing themselves to one another with Snow White becoming so scared during that meeting that she literally runs away.
So this is love? Well, maybe not.
"Snow White, you are experiencing a chemical rush that is probably a combination of responding to his pheromones and being physically attracted to him, and the adrenaline of absolute terror," Decker says. "So those things combined can be kind of potent. Doesn't mean it's love."
That's all not to mention the little (or, rather, absolutely blatantly massive) issue of consent in their relationship — or lack thereof.
Decker says, "[Snow White] eats the poison apple, she gets knocked out, and then he sees her and is like, 'I should totally kiss that.'"
Now, remember, Prince Florian has absolutely no idea a kiss will save Snow White from the poison. As Decker says, he just stumbles upon her unconscious and thinks "now's my window."
Obviously, the vintage Disney couple is outdated and problematic by any standards — but what about the least problematic couple of the bunch? Decker says Fix-It Felix and Calhoun from Wreck-It Ralph actually have a relationship to envy, creating a dynamite team and embracing each other's personalities.
"They accept influence from each other," Decker says. "On the surface, [Calhoun] is tough, no-nonsense, leads troops into battle — and Felix seems like this really sweet, kind of derpy, doesn't-really know what he's doing guy. But she accepts influence from him, he definitely accepts it from her all throughout, and they complement each other. It's like salty and sweet."
Though the two may win all-or-nothing video games with their complemenary personalities and differing approaches, they also make each other grow and flourish in their relationship.
"She softens because of his influence, and he toughens up because of her influence," Decker says. "And there's kind of a meeting in the middle."
Curious to find out where the other couples land? Watch the full video above to see get the entire definitive ranking.
This content is created and maintained by a third party, and imported onto this page to help users provide their email addresses. You may be able to find more information about this and similar content at piano.io
Former MLB Pitcher Kyle Farnsworth Is an Absolutely Shredded Bodybuilder Now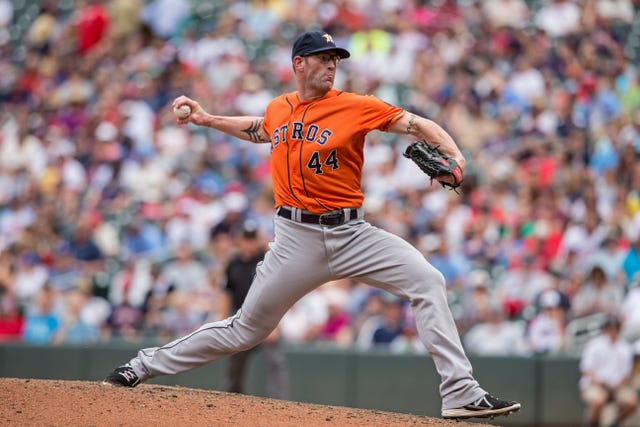 Brace HemmelgarnGetty Images
You may know Kyle Farnsworth for his 17-year Major League Baseball career spanning from 1999 to 2014. Though the 46-year-old former pitcher left the major leagues in 2014, he hasn't let his love of fitness falter. In fact, Farnsworth is now an absolutely jacked bodybuilder in his "retirement."
Once sporting a relatively-slim baseball player physique, Farnsworth recently captured headlines for his status as a bludging competitive bodybuilder. In a recent YouTube video, Athlean-X trainer Jeff Cavaliere broke down Farnsworth's incredible physical transformation—and why it may not be as surprising as it seems.
"No doubt, he looks like an absolute beast," Cavaliere says of Farnsworth's current physique. "The vascularity is sort of crazy, the size is ridiculous, the legs are absolutely shredded and humongous…Basically, Kyle Farnsworth is a big, jacked dude."
At 6'4″ and currently 240 pounds, Cavaliere says Farnsworth has always had bodybuilding potential from a genetic standpoint, adding that he was also "one of the hardest workers in the room," giving him the ability to capitalize on the hereditary leg-up.
"He was an anomaly when it came to baseball players, especially as a pitcher," Cavaliere says in the video. "His size and his overall appearance were not what you would typically see. So he was always big."
Cavaliere, who worked for the Mets from 2006 to 2008, was with the New York-based team at the same time that Farnsworth played for the Yankees. The trainer said he personally would see the pitcher "cranking out" countless leg extensions before any other players showed up on game day, showing his bodybuilding potential several years ago.
"I didn't really see that as being the best, most functional way to train for his sport. Step-ups, lunges — there are better things that he could do," Cavaliere said. "But he did a lot of leg extensions, so the fact that he's now become a bodybuilder certainly doesn't surprise me at all because I always wondered if he was more interested in bodybuilding versus pitching."
Cavaliere also mentions the possibility of performance-enhancing drugs playing a role in the transformation, though the speculation is just that — entirely speculation. Yet, the trainer says performance-enhancers were a reality of the baseball era Farnsworth played in, citing that the former pitcher was on the receiving end of some PED rumors during his major league tenure.
During his time in the major leagues, the pitcher played for several teams from 1999 to 2014. He signed with the Chicago Cubs in 1999, playing with the team until 2004. He was then traded to the Detroit Tigers in 2005, then traded again to the Atlanta Braves later that same year. Farnsworth signed with the New York Yankees in 2006, playing with the team until 2008. In 2008, he was traded back to the Tigers, but swiftly signed to the Kansas City Royals from 2009-2010. In 2010, Farnsworth was traded back to the Braves, then signed with the Tampa Bay Rays from 2011 to 2013. In 2013, he traded to the Pittsburgh Pirates, then to the New York Mets in 2014. He wrapped up his MLB career with the Houston Astros in 2014.
You can watch the entire video below:
This content is imported from YouTube. You may be able to find the same content in another format, or you may be able to find more information, at their web site.
This content is created and maintained by a third party, and imported onto this page to help users provide their email addresses. You may be able to find more information about this and similar content at piano.io
'Pam and Tommy' Originally Wanted Chris Evans to Voice Tommy Lee's Penis
If a penis could talk, what would it sound like? That's the burning question creators of Hulu's Pam & Tommy had to grapple with when creating the now-infamous talking penis scene in the biopic series.
Well, according to Sebastian Stan, who stars as Tommy Lee in the series, the show's creative team originally thought Lee's penis would sound something like Chris Evans.
In a recent interview with Awards Daily, Stan revealed that he shot the comedic yet vulnerable scene not knowing who would voice the prosthetic appendage.
"He actually wasn't there on the day," Stan told the outlet. "We didn't know who we were going to get at that point. The guys, I think, called me at one point and were like, 'What do you think? Do you think Chris Evans would do this with you?' And I was like, 'I'm not calling him, OK?'"
Just consider it: Captain America voicing Bucky Barnes' penis? What in the MCU multiverse…
Eventually, the role ended up going to Big Mouth and Brooklyn Nine-Nine actor Jason Mantzoukas, whose delightfully brash voice is inarguably perfect for Tommy Lee's sentient penis.
In a February interview with Entertainment Weekly, showrunner Rob Siegel revealed some of the inner workings of creating the oddly captivating scene with a puppet-like animatronic penis, which was created from a lifecast of Stan's actual appendage.
"I can't think of a more fun and cuddly way to get away with extended full-frontal male nudity," Siegel said. "It's a puppet, it's like Yoda."
To get a seamless look that makes it appear like Stan is standing nude and not with a puppet hanging from his member, the SFX team used a lot of glue (ouch) and paint to secure and blend the appendage.
"There were wires running between his legs from behind, and a guy crouched on the floor with joysticks, mechanically controlling what's going on," showrunner D.V. DeVincentis told Entertainment Weekly. "That animatronic guy had to look in a mirror and sort of really act with Sebastian physically, like all the gestures and the nods and looks up, and we had to actually direct that. I've never done anything quite like that."
Truly, that's not surprising.
This content is created and maintained by a third party, and imported onto this page to help users provide their email addresses. You may be able to find more information about this and similar content at piano.io