Severe covid-19 symptoms linked to more than 1300 genetic variants
Hundreds of genetic variants may influence your risk of becoming severely ill with covid-19, a discovery that could lead to more targeted treatments or even tests that assess a person's likelihood of complications
By Clare Wilson
More than 1000 genes may contribute to a person's risk of developing severe covid-19, on top of life circumstances such as their age, ethnicity and any health conditions.
Most of the genes, discovered in a study of more than 1 million people, affect the functioning of two kinds of immune cell.
If the results are confirmed, they could inform a test that assesses a person's risk of getting badly ill with covid-19, says Johnathan Cooper-Knock at the University of Sheffield, UK.
"We know there are young people who are otherwise fit that get severe covid," he says. "We are trying to get at the genetic determinants that put people at risk irrespective of the more obvious things."
Cooper-Knock's team used artificial intelligence to analyse results from a global data set called the COVID-19 Host Genetics Initiative, a genetics project run by a group of researchers and companies.
The team looked at which genetic variants were more common in about 5100 people who died or needed respiratory support because of covid-19, compared with about 1.4 million people who never tested positive for the infection. None of the participants was vaccinated against covid-19.
The research group found 1370 gene variants that were linked to covid-19 severity, with these same variants coming up again when checked against two similar data sets.
These variants accounted for three-quarters of the participants' genetic risk for severe covid-19, with the remaining one-quarter of the risk being unknown, according to the team.
Next, the team cross-checked the results with information on which genes are normally active in 19 different types of cell in healthy lungs. This showed that immune cells called natural killer cells and T-cells are key in controlling whether covid-19 becomes severe.
Before the results can be turned into a commercial genetic assay, a prototype would need to be tested further, says Cooper-Knock. "We would sequence [participants] before they have covid-19, assign them into risk groups and make predictions."
Such a test may be less accurate if used on vaccinated people, as genetic susceptibility is less relevant if you have the protection of a vaccine, says James Davies at the University of Oxford.
Nevertheless, the findings shed light on the mechanisms involved in severe covid-19, which could lead to new treatments, he says. "The main importance is in identifying new therapy options," he says.
Journal reference: Cell Systems, DOI: 10.1016/j.cels.2022.05.007

More on these topics:
genetics
coronavirus
covid-19
pandemic
sars-cov-2
Brand new Thor: Love and Thunder clip reveals Mjolnir's new power
We've known Mjolnir would be repaired ever since Marvel announced Thor: Love and Thunder nearly three years ago. Just as we've known that Jane (Natalie Portman) would return to Thor 4 where she would rock the Mjolnir hammer. But Marvel never explained how the magical hammer would find its way back to Thor, and that remains one of the biggest questions surrounding Love and Thunder.
But Marvel did show the hammer in trailers and TV commercials, going as far as to tease that Mjolnir will get a new power in Love and Thunder. And, with only a couple of weeks left to go to the premiere, Marvel confirmed the new Mjolnir power that Mighty Thor would wield. Mind you, some spoilers will follow below.
The new Mjolnir power
Thor (Chris Hemsworth) lost Mjolnir in Ragnarok in a memorable scene. His sister Hela (Cate Blanchett) caught the hammer, held onto it, and then broke it into multiple pieces.
It all happened right before the events in Infinity War, so Thor found himself without a weapon while facing Thanos (Josh Brolin). That's why he created Stormbreaker, an equally impressive hammer that Thor used for more than five years in the MCU.
The Mjolnir that Captain America (Chris Evans) got in Endgame came from a different reality. So the same Cap took it back to that timeline, leaving Thor to use Stormbreaker.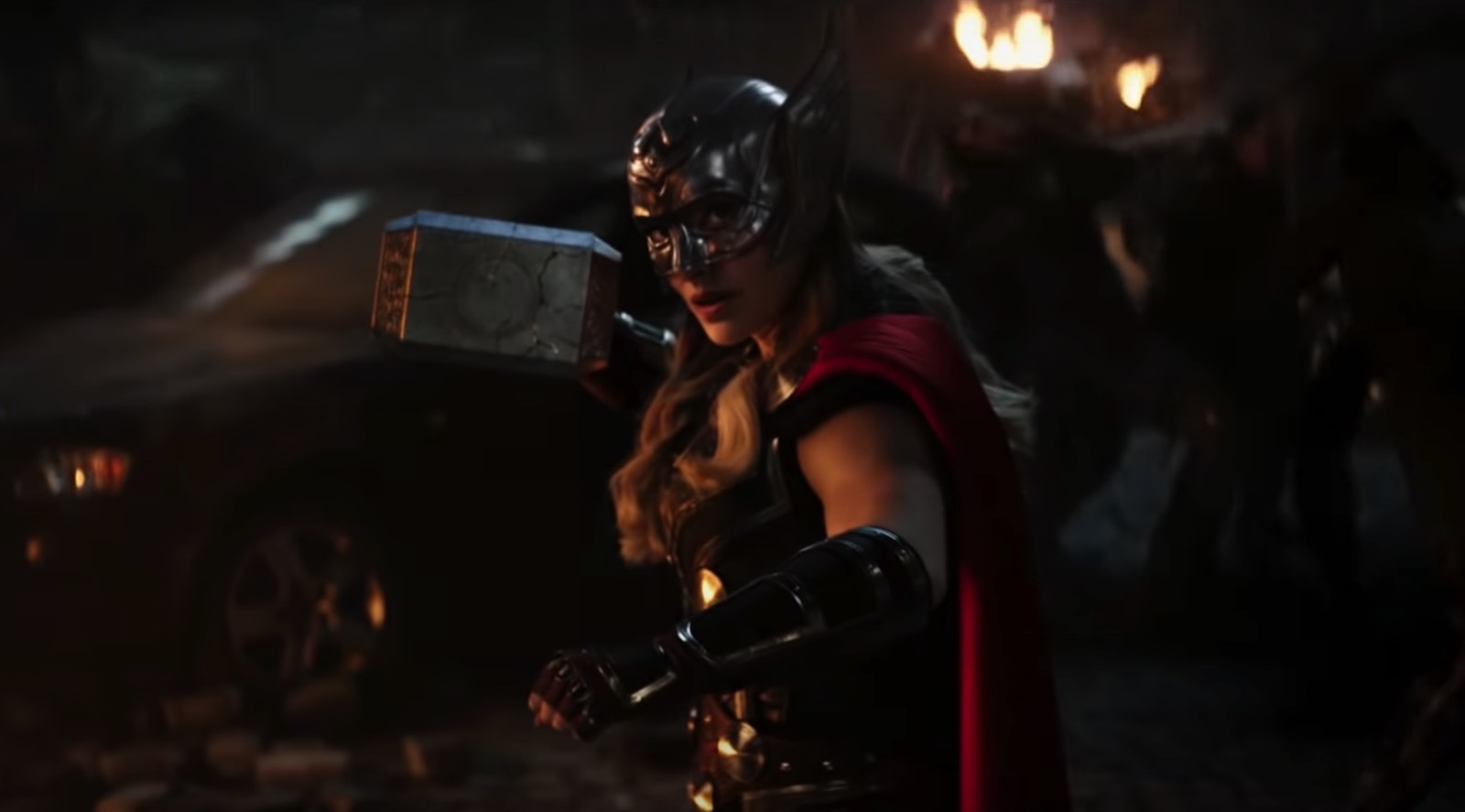 The Love and Thunder trailers made it clear so far that it's not Thor who will repair Mjolnir. He's shocked to see the hammer appear. Even more so to find out that Jane is using it while wearing armor similar to his.
We saw Jane in a bunch of fights in Love and Thunder trailers that showed familiar Mjolnir powers. She's throwing and retrieving the hammer just like Thor did. She can call on Lightning, and she can fly using the weapon.
But in one trailer, it seemed as if the hammer's various pieces could break free after you throw the hammer. Each piece would act as a stone projectile, hitting a different target. After that, the elements will return to the hammer.
That's an exciting power that we thought Marvel would not confirm while marketing the movie. But Marvel released on Thursday the following Love and Thunder clip that confirms this new Mjolnir ability.
Watch all the new Thor: Love and Thunder clips right here
As you can see above, we're looking at an actual scene from the movie, the mysterious fight where Thor senses Mjolnir and sees Jane using it. And it's in this clip we see for the first time the hideous monsters attacking what seems to be planet Earth. And Jane uses Mjolnir's new power to fight these beasts.
That's not the only Love and Thunder clip that Marvel released this week. Also, on Thursday, Marvel gave fans another great scene from the movie featuring Thor and the Guardians as they prepare to save the people on a planet who lost their gods.
Thor is giving a motivational speech that might sound exciting to the natives. But we soon find out that it's a speech that Thor often gives, one that the Guardians are more than familiar with. There's no Mjolnir in this Love and Thunder scene, however.
Finally, there's another clip that Marvel released earlier this week, one where the same Thor talks about forming the "greatest team ever" to beat the maniac who is looking to end them all. You'll see some Mjolnir action in this one, as well as the goats that Thor will end up with below:
---
More Marvel coverage: For more MCU news, visit our Marvel guide.
5 new Netflix releases everyone will be watching this weekend
One of the biggest Netflix releases of all time is back — sort of.
The Spanish-language thriller Money Heist, released back in 2017, was a twisty, action-packed drama about a stylishly-clad band of thieves — working under the auspices of a brilliant character known as The Professor — who (initially) break into the Royal Mint of Spain. There was a Robin Hood, us-against-the-system vibe to the show, a populist streak that helped turn it into a staggeringly huge Netflix original series.
In fact, three of the series' five seasons occupy individual slots on the streamer's Top 10 ranking of the biggest non-English TV shows of all time, having garnered hundreds of millions of hours viewed worldwide between them. So, having said that, can you blame the streaming giant for wanting to resurrect the now-ended series and give it a try in Korean, reworking the show into an all-new Netflix release for another massive global audience?
Money Heist: Korea
It's probably less correct, by the way, to regard the result — the just-released Money Heist Korea — Joint Economic Area — as a remake of the original than it is a "reimagining," however. A remake, for example, would imply that the main difference here is simply the language, with pretty much everything else largely the same.
Instead, the crux of the story here is completely different. This time, the series imagines a unified Korean peninsula in an imaginary future. Naturally, there would have to be a unified currency for such a new and expanded Korea, right? Voila: The need to print new money, which becomes a juicy target for our thieves.
Speaking of the thieves, they do once again don bright red jumpsuits and white face masks. There's also still a brilliant "Professor" behind it all. And the thieves take the names of cities as aliases, just like they did in the original Money Heist.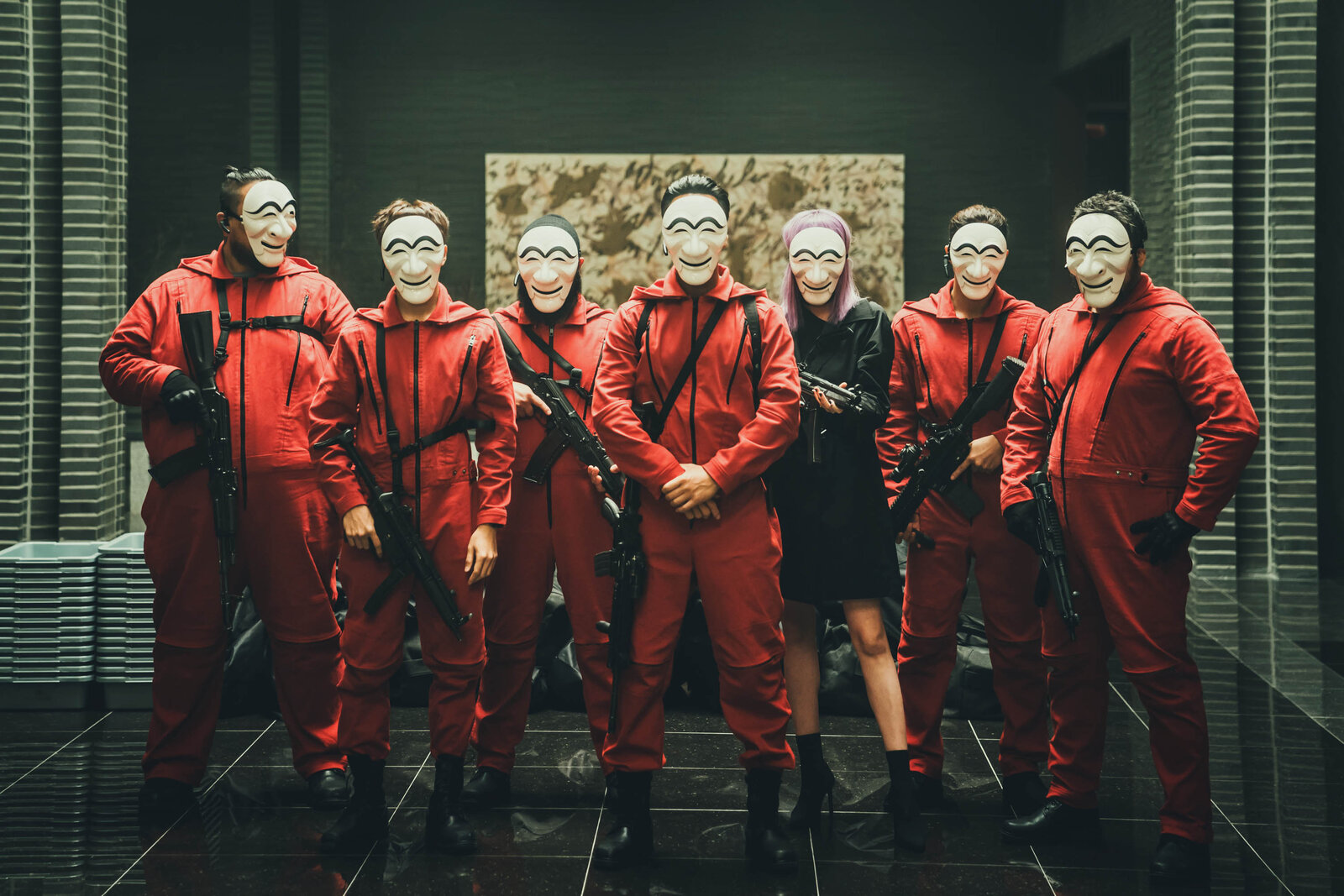 "As a border looks set to vanish," Netflix explains about this new series release, "the people of a long-divided peninsula seem about to reunite — but there are unsettling consequences."
Under the new economic union, the streamer continues, only the rich have gotten richer. "Into this ruthless new world of inequality steps a crew of thieves from North and South Korea, led by the Professor, who set out to pull off a history-making heist."
In this new retelling, Netflix continues, a "Joint Security Area" is situated between the two halves of the peninsula. And it contains a mint that becomes the focus of the story. "Amid reunification, the mint is printing a new unified currency as the groundwork to build a stable joint economy."
---
Other new Netflix releases
In terms of other new Netflix releases now available to stream, meanwhile, besides the new Money Heist? There's a new slapstick action-comedy starring Kevin Hart and Woody Harrelson to check out. Plus the long-awaited Season 3 of The Umbrella Academy, and a new reality series about super-spoiled, overly sensitive young people. Additionally, you can read more about each release, with details from Netflix, below.
The Man From Toronto: "A case of mistaken identity forces a bumbling entrepreneur to team up with a notorious assassin known as The Man from Toronto in hopes of staying alive."
Umbrella Academy — Season 3: "Reunited by their father's death, estranged siblings with extraordinary powers uncover shocking family secrets — and a looming threat to humanity."
Snowflake Mountain: "Hopelessly entitled or simply in need of tough love? Ten spoiled young adults experience nature without a parental safety net in this reality series."
A New Netflix movie to check out
We've also got one more title to mention, in our look at the latest and buzziest Netflix releases.
The #5 movie on Netflix in the US at the time of this writing, which hit the streamer just this week, is the sweet Love & Gelato — a Netflix release from writer-director Brandon Camp. It was adapted from the novel of the same name by Jenna Evans Welch. And it's easy to see why this one is so popular among many Netflix subscribers at the moment. It's got young love, the picturesque setting of Italy — what more could you want?
As for the story, Lina is a young American girl who's traveled to Rome to honor her mother's memory. "Catapulted into an unknown country," Netflix explains, "too messy and full of chaos for her serious, methodical, and even a little nerdy nature, she will find herself forced to have to deal with all her obsessions, anxieties, and fears but also to have to deal with the past of her mother who hides some surprises and some secrets.
"Immersed in magical landscapes and in unfamiliar and exciting foods, fascinated by the unique style of Italian fashion, overwhelmed by romantic unexpected events, and overwhelmed by a new and anomalous family, Lina will learn to look to the world and to herself with a finally different eye."
---
More Netflix coverage: For more Netflix news, check out the latest new Netflix movies and series to watch.
Tesla's Are Safer and Here is Proof
I did some research on Tesla safety using non-Tesla data to address the issue from the AI experts. Some AI experts criticized FSD. I used US, UK government and insurance data to show Tesla is already safer and why we should expect more safety from Autopilot and FSD. I also provided context about where and how accidents and deaths occur with cars.
Are Tesla cars safer and have they saved lives ? Spoiler Yes.
Has Tesla Autopilot saved lives? Again Yes. but I will provide data.
Is FSD beta safe? Yes,
Is Autopilot safe? How many lives would you expect to save by superior automatic lane keeping? 20-30% of traffic deaths.
Will Full FSD be safer? Yes, and safety score can help ensure it will be.
Can Safety Scoring, Insurance and FSD get more optimal usage of FSD? Yes.
All Tesla's come with safety features expected to reduce accidents by 30-50% (NHTSA analysis of those features)
Youtube videos by FSD beta users show large improvement over last 8 months. No major accidents or deaths using FSD beta with 100k users for 7 months
Insurance and government statistics in US and UK show Tesla's are among the safest cars involved in the fewest accidents. About 40% below average in US. Very Low accidents involvement in UK (10 times less than Toyota, Ford and several others of number per 10,000 cars).
UK Car Statistics
Tesls is among the manufacturers with the least number of accidents per 10,000 models?

Morris – 16

Austin – 26

Tesla – 28

Ferrari – 39

Aston Martin – 40

Lotus – 55

Bentley – 75
This is ten times less than Ford, Toyota and Mercedes in the UK.


Tesla is willing to charge 30-60% less for those with good Tesla Safety Scores. Can motivate 60% safer driving and lower accidents. Safety Scores with Real Time Insurance pricing can motivate safer driving.
Safety Scoring could be adjusted to ensure FSD monitoring behavior after FSD is fully released for general usage.
Other Nextbigfuture Tesla Videos
2024 Improved Tesla Standard Range Model 3 Will Increase Sales by 50%


Tesla AI Will Supercharge Tesla Profits


Meet Kevin and Bloomberg are Wrong, Volkswagen Will Not be Number 1 in EVs in 2025


Tesla Real Risks, FUD, Recession and Recovery


Brian Wang is a Futurist Thought Leader and a popular Science blogger with 1 million readers per month. His blog Nextbigfuture.com is ranked #1 Science News Blog. It covers many disruptive technology and trends including Space, Robotics, Artificial Intelligence, Medicine, Anti-aging Biotechnology, and Nanotechnology.
Known for identifying cutting edge technologies, he is currently a Co-Founder of a startup and fundraiser for high potential early-stage companies. He is the Head of Research for Allocations for deep technology investments and an Angel Investor at Space Angels.
A frequent speaker at corporations, he has been a TEDx speaker, a Singularity University speaker and guest at numerous interviews for radio and podcasts.  He is open to public speaking and advising engagements.