Russia seen cutting key rate by 100 bps to 10% on Friday

Please try another search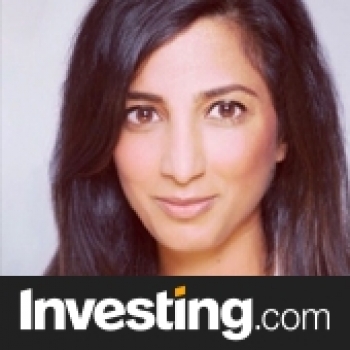 Economy2 hours ago (Jun 06, 2022 10:41AM ET)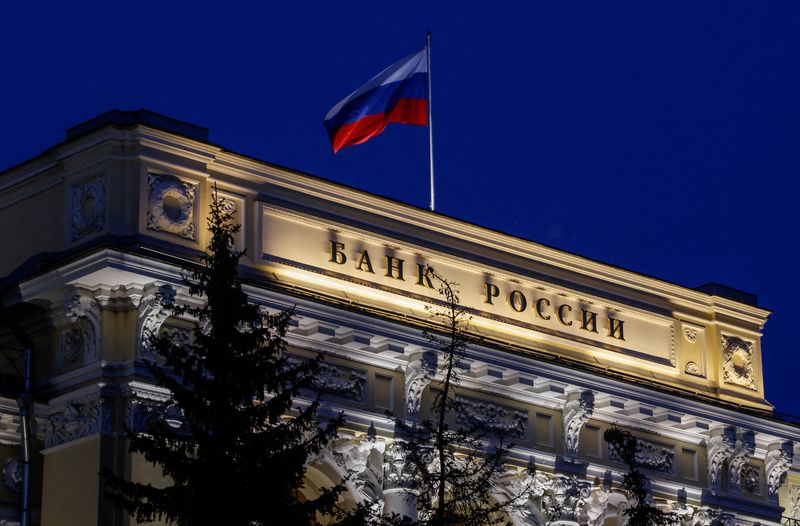 © Reuters. FILE PHOTO: National flag flies over the Russian Central Bank headquarters in Moscow, Russia May 27, 2022. REUTERS

(Reuters) – The Russian central bank is expected to cut its key interest rate by 100 basis points to 10% on Friday as it tries to make lending more affordable amid sluggish consumer demand and a pause in inflation, a Reuters poll suggested on Monday.
The bank has been gradually reversing an emergency rate hike to 20% in late February that was triggered by Russia's Feb. 24 move to send tens of thousands of troops into Ukraine and the imposition of Western sanctions in response.
Since then, the central bank slashed its key rate three times, each time by 300 basis points and said after an off-schedule meeting in May it held open the prospect of a rate cut at its upcoming meetings.
Seventeen of 26 analysts and economists polled by Reuters predicted that Russia will cut the key rate by 100 basis points on Friday.
"The central bank will act more actively, trying to stimulate the economy to the extent possible," said analysts at MKB Investments.
Russia's domestic bond market has already priced in the rate cut. Yields on 10-year OFZ treasury bonds fell to 9% on Monday, moving inversely with their prices, from around 9.5% seen after the latest rate cut on May 26.
Inflation, the central bank's main area of responsibility, gives the room for rate cuts, while the economy heads for recession.
Russia's annual inflation slowed to 17.35% in the week to May 27 from 17.51% the week before, the latest data showed. That is still far above the central bank's 4% target, but prices were steady over that week, following a modest decline the week before.
Among those who saw a different outcome than a 100 basis point cut, two economists predicted no rate change, one forecast a cut to 10.50% and one predicted a 75-basis-point cut.
"The central bank has lowered the rate enough and can take a pause," said Natalia Orlova, chief economist at Alfa Bank, one of those predicting no rate change. She said continuous rate cuts could backfire by making companies and households wait for even lower rates instead of taking loans now.
Five of the polled economists forecast rates would return to single digits, with three looking for a cut to 9.5% and two predicting a cut to 9%.
Related Articles
Binance CEO Changpeng Zhao on crypto skeptics: 'no need to ignore them'
Bitcoin has been called just about anything and virtually "nothing" by skeptics over the years.
If you did a little checking, you would note that perhaps the most bile towards the revolutionary technology maybe coming from what Binance CEO Changpeng Zhao calls "experienced and respected crypto skeptics."
So how does the crypto market "address" this group of influential personalities and experts?
In his latest blog published on Friday, Zhao says "walk a mile in their shoes", get to understand where their perspective has formed. Importantly, why take everything to heart when this is all normal and expected behavior.
"Being protective and defensive doesn't always come from a maligned place. Good-faith actors want to protect their users and community. Central banks, regulators, and financiers, in most cases, want to avoid risk and provide security. So when people ask me how I deal with trusted, respected professionals admonishing crypto, I try to walk a mile in their shoes," he wrote.
Don't take 'everything to heart', CZ says
You have heard it all, you are engaging some of them – and clearly, they seem not to understand what crypto is. Instead of 'ignoring' their criticism, try to understand their views from the perspective of "their experience and position."
This is how you end up extracting value from whatever criticism they advance.   And once you do that?
"There's no need to ignore them or take everything to heart once you've dug a little bit deeper," Zhao advises.
There is a lot one can take from the Binance chief's take on crypto critics and how to go about getting to know that what they say comes from a certain point of view.
In a nutshell, blockchain technology is disruptive technology – and like any other new technology that actually disrupts – it's more likely than not to be met with some skepticism from those who might feel threatened by it.
You can read all of CZ's argument on the Binance blog.
BIFI Price Prediction as Beefy Finance Crawls Back
The BIFI price has crawled back as yield-optimizing blockchain projects bounce back. Beefy Finance's token is trading at $0.0082, which is a few points above the intraday low of $0.0077. The current price is about 92% below the highest level in 2021. As a result, its total market cap has crashed to more than $37 million.
Yield optimizer token jumps
Beefy Finance is a leading player in the decentralized finance (DeFi) industry. Its business model is that it offers a multi-chain yield optimizer that allows users to earn compound interest on their crypto holdings. 
By comparing yields of various platforms, Beefy then selects the coin with the biggest yield. It simply maximizes returns from various liquidity pools and automated market-making projects. Beefy is compatible with the leading blockchains like Fantom, BNB Chain, Polygon, Avalanche, and Arbitrum among others.
According to DeFi Llama, the total value locked in Beefy Finance has been in a downward trend. It has crashed from an all-time high of over $1.22 billion to the current $259 million. This decline is in line with that of other DeFi protocols.
BIFI is the governance token for Beefy Finance. The BIFI token has jumped in the past few hours as other yield optimizers rebound. For example, YFII price has jumped by more than 300% in the past two days. Similarly, Yearn Finance has also jumped. Other DeFi tokens like Uniswap and AAVE have also rallied.
This performance is mostly because of the overall rebound of cryptocurrencies and US equities. The Dow Jones index has rallied by more than 3%. Another reason is that investors are simply buying the dip after the coin crashed hard in the past few months.
BIFI price prediction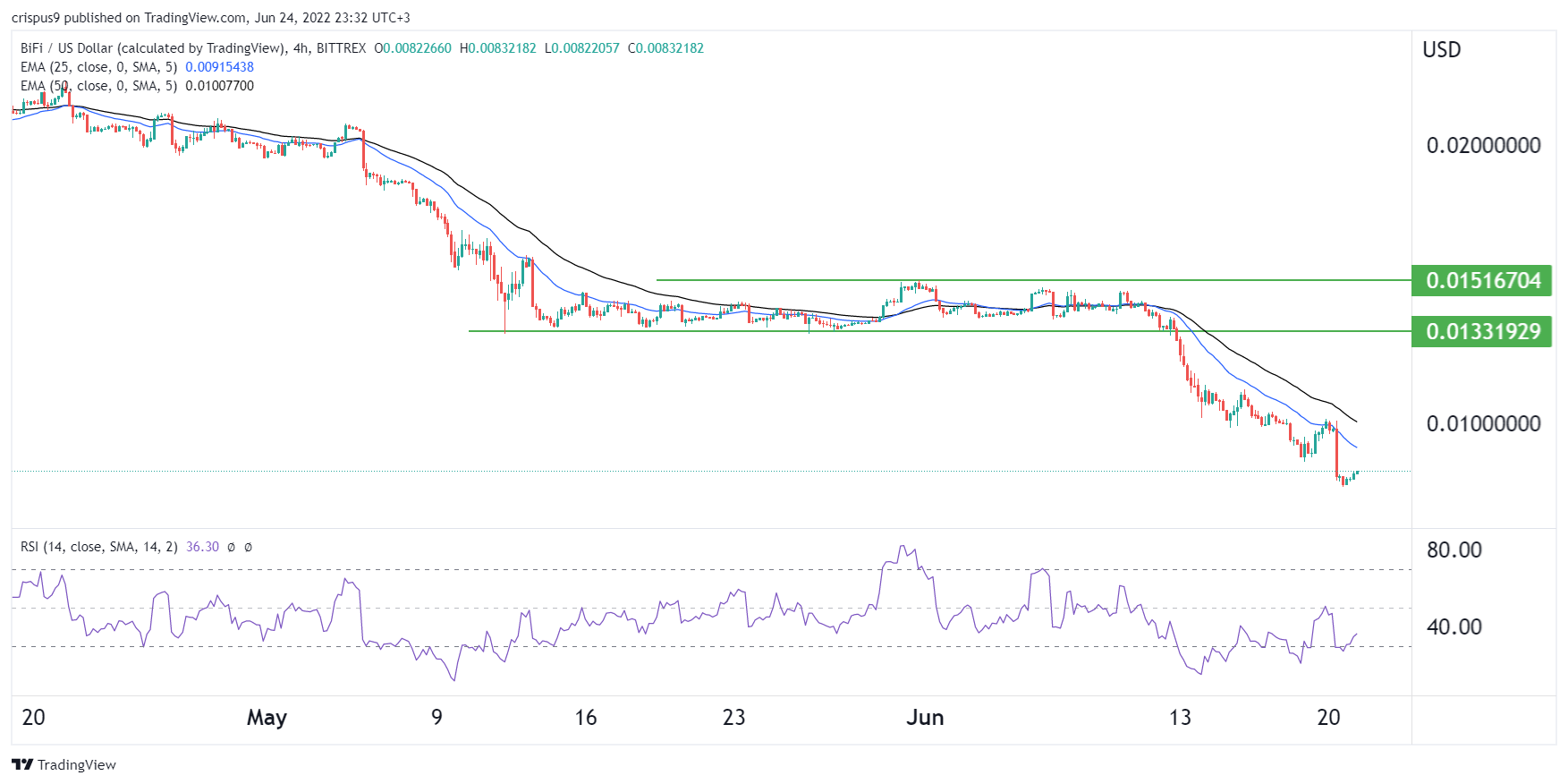 The four-hour chart shows that the BIFI price has been in a strong bearish trend in the past few months. The sell-off accelerated after the coin moved below the important support level at $0.0133, which was the lowest level in May. It has also crashed below the 25-day and 50-day moving averages.
Therefore, Beefy Finance price will likely continue falling as bears target the next key support level at $0.0070. A move above the resistance at $0.01 will invalidate the bearish view.
Should you buy Origin Protocol as it maintains above the oversold bottom?
Origin Protocol aims to enhance NFT and DeFi adoption

Origin Protocol's OGN token hit an all-time high of $3.45 in March 2021

The token is currently consolidating and has met resistance
As non-fungible tokens gained momentum in 2021, Origin protocol (OGN/USD) was expected to grow. Its native token was trading at a mere $0.13 at the start of 2021, rising to a high of $3.45 the same year. At the current trading of $0.25, OGN is a shadow of itself from last year's highs. Continued bearish weakness in crypto is contributing to the downside.
Origin Protocol is a blockchain platform that seeks to enhance mainstream adoption of NFTs and DeFi. The protocol was founded in 2017 with the objective of enabling commerce on blockchains. OGN is the governance and utility token powering the Origin Protocol. The digital asset allows holders to vote on proposals governing the underlying protocol. The number of circulating OGN tokens is 388,570,732.54 from a total supply of 1,000,000,000 and an equivalent hard cap. We believe investors should monitor OGN based on key technical aspects.
OGN consolidates close to an oversold bottom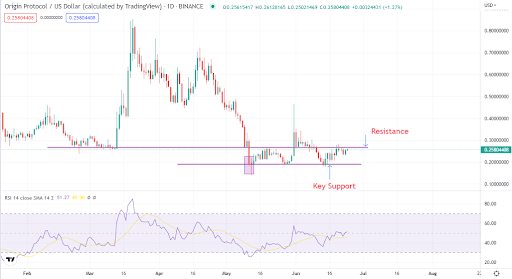 Source: Tradingview
Technically, OGN is trading at a $0.26 resistance level. The token entered the oversold zone when it hit the $0.19 support level, with an RSI reading of 24. The RSI is currently at 51, showing that the token is escaping the oversold bottom. However, it has hit the resistance zone.
From the above technical perspective, OGN remains an ideal investment in the short term. We are yet to find a lasting bullish momentum as the token remains in consolidation mode. The broader cryptocurrency market remains largely bearish, and the OGN could remain subdued. An ideal buy entry on OGN is on a retracement to the $0.19 support level or a break above the $0.26 resistance. In the meantime, investors can capitalize on the short-term opportunities within the consolidation zone.
Summary 
Origin Protocol holds a place in the NFT and DeFi space. Its native token is yet to recover after a crypto crash. Investors can take advantage of short-term opportunities as the token consolidates below the $0.19 resistance.