Russia Expert Warns of Putin Expanding War Beyond Ukraine as Donbas Pounded
As the military onslaught continues in Ukraine's Donbas region, Olga Lautman, an expert on Russia, is warning about the country's plan to expand its aggression across Europe.
Russian President Vladimir Putin raised alarms this week about his military intentions going forward when he invoked the legacy of the monarch, Peter the Great. The famed Russian leader, who reigned from 1682 to 1725, notably led a series of successful wars that helped establish the country as a major international force.
"Peter the Great waged the great northern war for 21 years," Putin said during a speech. "It would seem that he was at war with Sweden, he took something from them. He did not take anything from them, he returned [what was Russia's]. Apparently, it is also our lot to return [what is Russia's] and strengthen [the country]. And if we proceed from the fact that these basic values form the basis of our existence, we will certainly succeed in solving the tasks that we face."
In light of this comparison, the Express UK spoke with Lautman, who is also the host of the Kremlin File podcast, about what the future could hold for the country militarily. Noting that the country is already engaged in a conflict with one former Soviet Union territory, Lautman warned in an interview published Saturday that others could be at risk.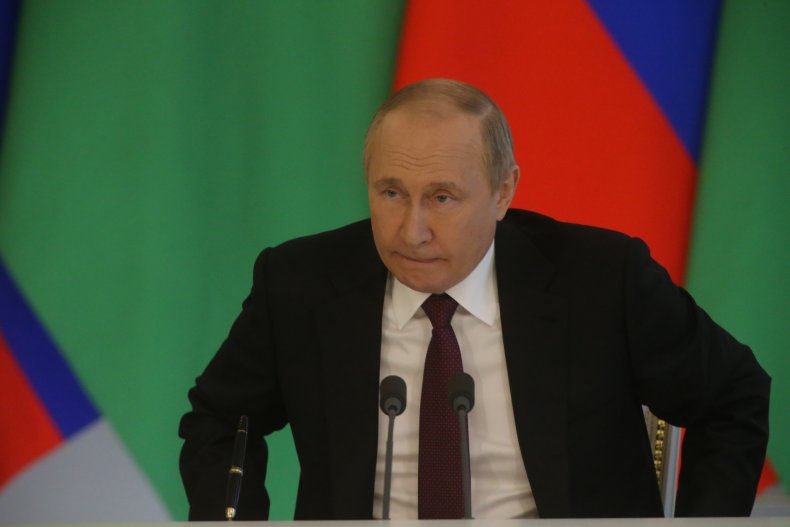 "The West must supply Ukraine with as much military support as it can, because if Russia succeeds in Ukraine they will expand their war," she said. "The war will come out of Ukraine into other parts of Europe."
Lautman specifically highlighted Russia's military build-up in Transnistria, an unrecognized breakaway region of Moldova, another former Soviet territory. The invasion of Ukraine was also precipitated by an unrecognized breakaway region, Donbas. A similar situation is also taking place in South Ossetia, a breakaway region considered to be a part of Georgia.
Putin has also been increasingly antagonistic to other European nations beyond those that used to be Soviet territories, including some that have made overtures toward joining the North Atlantic Treaty Association (NATO).
"Then of course Poland, we have heard the former Russian prime minister Medvedev's comments about Poland," Lautman added. "We have also seen the threats against Finland and Sweden because they wanted to join NATO, and you have the Baltics too."
In March, Russian Foreign Minister Sergey Lavrov previously asserted that the country has no plans to invade other nations following its operations in Ukraine. He also insisted that the country's actions in the Eastern European country are not an attack, characterizing them as a response to threats against "the safety and security of the Russian Federation."
Newsweek reached out to the Russian Ministry of Foreign Affairs for comment.
Gerrit Cole's strong outing wasted in Yankees' no-no loss
This wasn't what Gerrit Cole had in mind earlier in the week when he laughed at how being on the mound for a no-hitter has eluded him.
Cole spun a gem of a start Saturday, but wound up on the losing end because he shared the rubber with three Astros pitchers who combined on a no-hitter in a 3-0 victory over the Yankees. In a reminder of how cruel baseball can be, Cole twice took no-hitters into the middle of the game or beyond this week and wound up with a no-decision and a loss on his record (6-2).
"The cold hard truth is we got outpitched and outplayed," Cole said. "Credit to the opponent. Magical day for them."
Cole lost a no-hitter in the eighth inning Monday against the Rays, but the Yankees still won, which created a light moment when he joked he has never completed the job despite building a résumé with four All-Star selections and an ERA title. There was no such luck or levity Saturday when he would needed perfection — or better — to outduel Astros starter Cristian Javier and two relievers.
Instead, Cole settled for striking out eight and scattering four hits over seven innings.
"Gerrit's just going to keep doing that," catcher Jose Trevino said. "That's good for us in the long run."
Cole walked two, but did not allow a hit until back-to-back, two-out singles by Jake Meyers and Martin Maldonado in the fifth inning. He survived that jam unharmed, but his 101st pitch was his big mistake in the seventh inning of a scoreless game.
J.J. Matijevic turned on a low-inside fastball and deposited it into the right-field seats for a homer as his reward for showing patience laying off a first pitch in the dirt. The rookie first baseman's only two career hits have been solo home runs.
"I tried to make an adjustment and I obviously overcorrected and threw the pitch into an area that he was anticipating or he wasn't going to be late on," Cole said. "Not the side of the plate that we were trying to go to. It was honestly just a bad miss, but I don't want to take any credit away from the guy who put a good swing on it."
The solace is that Cole is pitching like an ace. He has allowed one run or fewer in five of his last six starts. Matijevic's home run snapped Cole's 21-inning scoreless streak at home.
"Right away he was getting swing-and miss-with his heater, which was big while he was finding it those first two innings," manager Aaron Boone said. "I thought his stuff was really good. Once he settled in, he was terrific."
4 wounded, including 8-year-old, in Brooklyn scooter shooting
Four people were wounded — including an 8-year-old boy — in a scooter shooting in Brooklyn on Saturday night, police said.
Two men riding on a scooter pulled up around 11:30 p.m. to a large gathering of people in front of the Stuyvesant Gardens Houses on Quincy Street in Bedford-Stuyvesant and opened fire into the crowd, cops said.
An 8-year-old boy received a graze wound in the leg. A 27-year-old male, a 35-year-old female and a 46-year-old female were also each shot in the legs.
All four victims were transported to Kings County Hospital with non-life-threatening injuries, police said.
The suspects fled on a green and white scooter in an unknown direction, according to police and sources.
Six shell casings and two live rounds were recovered at the scene, sources said.
No arrests have been made at this time as police continued to canvas the area early Sunday morning.
Man arrested for attempted murder of LAPD officers amid Roe v. Wade protests
A man was charged with attempted murder of Los Angeles police officers Friday night amid protests of the Roe v. Wade reversal, cops said.
A woman was also charged with resisting police after four officers were injured following a barrage of projectiles, fireworks and a makeshift blow torch, according to officials.
The mayhem unfolded around 8:20 p.m. in Downtown Los Angeles, the LAPD said.
Michael Ortiz, 30, is accused of throwing a makeshift flame thrower at an officer, who was treated for burns, according to a Saturday press release.
Juliana Bernado, 23, allegedly attempted to steal an officer's baton. A "less-lethal" bullet was fired at her, and she was taken into custody, police said.
"I condemn the violence against officers that occurred last night and into today," Chief Michel Moore said.
"Individuals participating in such criminal activity are not exercising their 1st Amendment rights in protest of the Supreme Court decision, rather, they are acting as criminals.  
The Department will vigorously pursue prosecution of these individuals."
Large scale protests in other cities large and small around the country were mostly peaceful.