Rory McIlroy questions validity of LIV Golf again as he prepares for US Open
Rory McIlroy has again questioned the sporting validity of the rebel LIV Golf Series, two days after taking a swipe at Greg Norman in the immediate aftermath of his Canadian Open victory.
The first event of the LIV scheme, backed financially by Saudi Arabia and fronted by Norman, took place last week in Hertfordshire. The build-up to the US Open, which begins at Brookline on Thursday, has been dominated by chatter about this great disruption plan. McIlroy remains a firm advocate of the existing ecosystem.
"It's the cloud that's hanging over golf at the minute, right?" he said. "We are at a major championship and it's what everyone wants to talk about so it's on everyone's mind.
"Those crowds on Sunday in Canada, LIV is never going to have that. It's never going to have that sense of, I don't know what the word is… but last week meant something. What they are doing over there doesn't really mean anything apart from just collecting a ton of money."
McIlroy subsequently pointed to the "competitive integrity" of seeing off Justin Thomas and Tony Finau in Toronto. McIlroy has been careful not to castigate his fellow professionals, including Phil Mickelson, who have been banned by the PGA Tour after accepting LIV's lucrative overtures but he clearly remains unimpressed by their choice. "My dad said to me a long time ago, once you make your bed, you lie in it, and they've made their bed," McIlroy said. "That's their decision, and they have to live with that."
Dustin Johnson and Bryson DeChambeau pledged allegiance to the PGA Tour early this year before performing a U-turn and signing for LIV. McIlroy had claimed the breakaway looked "dead in the water" at the point of the original position. "I took a lot of players' statements at face value," he said. "I guess that's what I got wrong.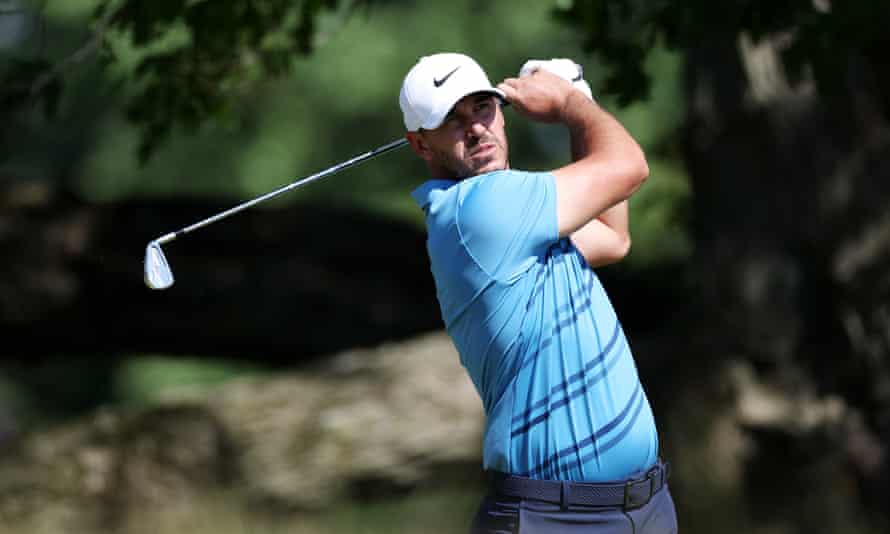 "You had people committed to the PGA Tour, and that's the statements that were put out. People went back on that, so I guess I took them for face value. I took them at their word and I was wrong."
McIlroy's expansive approach was in contrast to that of Brooks Koepka. The two-time US Open winner, whose brother Chase is part of the LIV contingent, was tetchy when asked whether there is a figure that would be sufficient to coax him towards LIV.
"I haven't given it that much thought," Koepka said. "I'm trying to focus on the US Open. I legitimately don't get it. I'm tired of the conversations. I'm tired of all this stuff.
"Y'all are throwing a black cloud on the US Open. I think that sucks. I actually do feel bad for them [the United States Golf Association] for once because it's a shitty situation. We're here to play, and you are talking about an event that happened last week."
In a letter sent to the membership, the DP World Tour chief executive, Keith Pelley, has promised to set out a formal position next Thursday relating to LIV participation. Pelley said: "During discussions last week, and through additional private correspondence, some members asked me why we simply do not follow what the PGA Tour have done and immediately suspend these players.
"While I understand the frustration, I remind you all that although we work closely with the PGA Tour, we are different organisations and our rules and regulations are therefore different too.
"From many of your messages and my conversations, I know that many of you share the same viewpoint that Jay Monahan expressed in his note to PGA Tour members, namely that the players who have chosen this route have disrespected the vast majority of the members of this Tour.
"As for what we are going to do, because of the complexity of our situation we are still evaluating an overall course of action."
Donors pledge $160 million, Palestinian refugees need more
UNITED NATIONS — Donors pledged about $160 million for the U.N. agency helping Palestinian refugees, but it still needs over $100 million to support education for more than half a million children and provide primary health care for close to 2 million people and emergency cash assistance to the poorest refugees, the agency's chief said Friday.
Briefing reporters on the outcome of Thursday's donor conference, Philippe Lazzarini said the pledges when turned into cash will enable the U.N. Relief and Works Agency known as UNRWA to run its operations through September. But "I do not know if we will get the necessary cash to allow us to pay the salaries after the month of September," he said.
"We are in an early warning mode," Lazzarini said. "Right now, I'm drawing the attention that we are in a danger zone and we have to avoid a situation where UNRWA is pushed to cross the tipping point, because if we cross the tipping point that means 28,000 teachers, health workers, nurses, doctors, engineers, cannot be paid."
UNRWA was established to provide education, health care, food and other services to the 700,000 Palestinians who fled or were forced from their homes during the war surrounding Israel's establishment in 1948.
There are now 5.7 million Palestinian refugees, including their children and grandchildren, who mostly live in camps that have been transformed into built-up but often impoverished residential areas in the Israeli-occupied West Bank, east Jerusalem and Gaza, as well as in Jordan, Syria and Lebanon. But UNRWA only helps the more than 500,000 in school and close to 2 million who have health benefits.
Lazzarini said the more than $100 million shortfall in funding for 2022 is about the same as the shortfall that UNRWA has faced every year for almost a decade, but while income has stagnated costs have increased.
In past years, UNRWA has been able to absorb the shortfall through austerity and cost control measures, he said, but today it's not possible because there is very little left to cut without cutting services.
"Today, we have some classrooms with up to 50 kids," the UNRWA commissioner-general said. "We have a double shift in our schools. We have doctors who cannot spend more than three minutes in medical consultation. So if we go beyond that, it will force the agency to cut services."
Lazzarini said UNRWA's problem is that "we are expected to provide government-like services to one of the most destitute communities in the region, but we are funded like an NGO because we depend completely on voluntary contributions."
Funding the agency's services has been put at risk today because of the "de-prioritization, or maybe increased indifference, or because of domestic politics," he said.
Lazzarini said the solution to UNRWA's chronic financial problem requires "political will" to match the support for the agency's work on behalf of Palestinian refugees.
He said UNRWA has a very strong donor base in Europe and last year the Biden administration resumed funding which was cut by the Trump administration, but he said the overall contribution from the Arab world has dropped to less than 3% of the agency's income.
Donors have also faced financial difficulties stemming from the COVID-19 pandemic, and now there's a major effort to help Ukraine in its war with Russia, he said.
"We will know better at the end of the year how much it will impact the agency," Lazzarini said.
Some donors have already warned UNRWA "that we might not have the traditional top-up at the end of the year, which would be dramatic" for the agency, he said.
Ahead of Thursday's donors conference, Israel's U.N. Ambassador Erdan Calls on countries to freeze contributions until all UNRWA teachers that it claims support terrorism and murdering Jews are fired.
Lazzarini said UNRWA received a letter from Israel's U.N. Mission Friday which he hadn't read, but he said all allegations will be investigated and if there is a breach of U.N. values and misconduct "we will take measures in line with U.N. policies."
Mexico climber dies scaling active, off-limits volcano
MEXICO CITY — A woman mountain climber in Mexico died and a climbing companion was injured when they scaled the highly active, off-limits peak of the Popocatepetl volcano.
Mexico's volunteer Mountain Rescue and Assistance Brigade confirmed Friday that the climbers fell into a gully about 1,000 feet (300 meters) from the volcano's crater, suggesting they had reached the crater or near it.
The crater of the 17,797-foot (5,426-meter) tall volcano has been belching toxic fumes, ash, and lumps of incandescent rock persistently for almost 30 years.
Civil defense authorities have strictly prohibited climbers from going within 7.5 miles (12 kilometers) of the peak since it began erupting again in 1994.
Valentín Martínez Castillo, the mayor of the nearby town of Ozumba, identified the dead woman as a 22-year-old resident of the town.
Martínez Castillo wrote in his social media accounts that the climbers fell about 150 feet (50 meters) down a gully, and that the woman's body and the surviving climbers had been successfully removed from the peak.
The Mountain Rescue and Assistance Brigade posted a notice on their social media Friday reading: "She shouldn't have died. Don't put your life or those of others at risk. The Popocatepetl volcano is closed."
The country's National Disaster Prevention Center said it "calls on people not to go near the volcano, especially the crater, due to the risk of falling ballistic fragments."
Popocatepetl is located 45 miles (72 kilometers) southeast of Mexico City, and occasionally showers ash on surrounding towns and some parts of the capital.
Bill Clinton: Supreme Court's Roe v. Wade decision has 'put our democracy at risk'
Former President Clinton is slamming the Supreme Court's ruling to overturn Roe v. Wade, saying it contributes to putting "democracy at risk" and calling the high court "radical" and "activist."
"This decision puts partisanship ahead of precedent, ideology ahead of evidence, and the power of a small minority ahead of the clear will of the people," Clinton said in a statement on Friday.
"This jarring removal of rights that had long been guaranteed, along with decisions gutting the Voting Rights Act and abolishing any judicial remedy for admittedly unconstitutional gerrymandering by state legislatures and abuses of power by federal authorities, has put our democracy at risk in the hands of a radical, activist Court," he added.
He said said voters should be electing people "who will defend, not deny, our cherished rights and liberties" in addition to confirming judges who put the importance of the Constitution over partisanship.
His wife, former Democratic presidential nominee Hillary Clinton, called the decision "a step backward for women's rights and human rights."
The development comes as the high court ruled on Friday to eliminate federal-level abortion protections, which many anticipated after a leaked draft ruling last month. 
Several states, including Missouri, South Dakota, Louisiana and Kentucky, have now effectively banned abortion. More are expected to follow.
Tags
Abortion
Abortion ruling
Bill Clinton
Hillary Clinton
Roe v. Wade
Supreme Court