Good morning, Quartz readers!
Here's what you need to know
Markets fell further into bear territory. A spike in interest rates fueled investors' recession fears, but President Joe Biden told the Associated Press a recession is "not inevitable" and pointed to the low unemployment rate as a reason for optimism.
Elon Musk met with Twitter employees. In his first Q&A with staff, he laid out his vision for the platform he's proposed to buy. Meanwhile, Tesla and SpaceX are embroiled in HR issues, and to top it all off their billionaire CEO faces a $258 billion lawsuit over dogecoin.
The WTO finally sealed a deal. The agreement includes loosening intellectual property protections for covid-19 vaccines, but critics argued the measure does not go far enough.
Florida was the only US state that did not order covid-19 vaccines for kids under 5. Governor Rob DeSantis rejected vaccinations for toddlers and infants.
Art collectors are still splurging. Several big-ticket items sold at the first Art Basel fair to be held in person since the pandemic, including a $40 million giant spider sculpture.
FIFA revealed which North American cities will host the 2026 World Cup. The games will take place in 16 locations—three in Mexico, two in Canada, and 11 in the US.
Sponsor content by PWC
Introducing the PwC Pulse podcast. In today's fast-changing landscape, successful businesses require leaders who are willing to find ways to quickly adapt, build trust and deliver value. The new PwC Pulse podcast provides insights to help listeners solve today's challenges and prepare to take on what comes next. Subscribe to PwC Pulse today.
What to watch for
The 146th Westminster Kennel Club Dog Show starts Saturday in Tarrytown, New York, and will bring thousands of pedigreed pooches and their owners together to compete for best in show, announced on June 22.
It's not clear what effect, if any, the show has on the types of pets people want. The Labrador Retriever has been America's most popular dog for 31 consecutive years, but has never won the show. Beyond criticizing dog shopping, adoption advocates argue Westminster promotes breed standards that encourage cruel practices, such as lopping off dogs' ears or tails.
The $2 billion US dog and pet breeder market has been shrinking since 2016, with the adoption push and pandemic travel restrictions playing a role. But Westminster hopefuls continue to spend up to $100,000 a year on a chance at four-legged glory.
Leaded gasoline is still being used—just in the air
Leaded gasoline was banned almost 50 years ago from American roads. But most of the 170,000 small airplanes taking off and landing in general airports across the US continue to use the toxic fuel. This is especially dangerous for the 3 million children living in the areas surrounding those airports, since any amount of lead is known to damage their brain and nervous system.
Almost 19 million people in total live near enough to a general aviation airport to be exposed to  lead. Quartz developed maps where you can check whether you live in areas with dangerous lead exposure.
But how is it still legal to use such poisonous fuel for airplanes, after it was banned for everything else? It's a tale of bureaucracy, technical challenges, and oil companies fighting to protect their profits at the detriment of millions of children's (and adults') health.
Do you even ESG?
The greenwash police have their eyes set on Wall Street. Last week, US regulators targeted their biggest potential perpetrator to date, Goldman Sachs, for possibly overstating the environmental, social, and governance (ESG) credentials of some mutual funds.
But as lawmakers crack down on financial firms for greenwashing globally, it's revealing a deeper problem in how ESG standards are being used. The next edition of the Weekend Brief will look at the future of ESG and the bureaucracies that complicate it.
✦ The Weekend Brief is only for Quartz's members. Sign up for a membership today and take 40% off.
Message from Our Partner
Next time you order calamari, ask yourself, where does this come from? Foreign Policy's latest podcast, The Catch, brings listeners behind the scenes of the global fishing industry by tracking squid—from the ocean, to processing plants–all the way to your plate. Listen to The Catch wherever you get your podcasts. Your squid will never taste the same.
Listen now
Quartz most popular
📍 Why the Fed's last 75-point hike is a bad guide for the present…
📎 … and why the agency is predicting three years of rising unemployment
😬 The biggest corporate holder of bitcoin is facing a reckoning
💰 Desperate to retain talent, Hong Kong is handing out cash to foreigners
🌶 The Sriracha shortage is coming in hot
📚 Why the books of the world's largest ed-tech firm are not in the clear
Sponsor content by PWC
Introducing the PwC Pulse podcast. In today's fast-changing landscape, successful businesses require leaders who are willing to find ways to quickly adapt, build trust and deliver value. The new PwC Pulse podcast provides insights to help listeners solve today's challenges and prepare to take on what comes next. Subscribe to PwC Pulse today.
Surprising discoveries
Meet the tiny frog that was genetically destined to crash-land each time it hops. Size matters for Brazil's pumpkin toadlets.
Pakistanis aren't happy with a government plea to stop drinking tea. Leaders of the country, which spends $600 million on tea imports each year, say the average three cups a day is too many.
Air pollution is more dangerous than cigarettes and alcohol… Breathing toxic gasses can shave off two years from a person's average life expectancy.
…but alcohol wins wars! The Canada-Denmark "Whisky War" has ended, and the peace deal was sealed with (what else?!) a bottle of booze.
Sweden's trash-talking bins have a big problem. Few people enjoy dirty talk in the street.
Our best wishes for a productive day. Send any news, comments, toadlet hats, and war-winning whisky to hi@qz.com. Reader support makes Quartz available to all—become a member. Today's Daily Brief was brought to you by Tiffany Ap, Sofia Lotto Persio, Samanth Subramanian, Annalisa Merelli, and Morgan Haefner.
Central African Republic President Reveals Crypto Hub Launch Date
Faustin-Archange Touadéra – President of the Central African Republic (CAR) – has announced that his nation's burgeoning crypto hub will launch on July 3rd. The initiative (also known as the "Sango" project) is intended to make CAR the most "progressive" economy in Africa through the use of blockchain technology.
The Genesis of Sango
President Toudéra revealed the news through a tweet on Monday, in which he reaffirmed his commitment to establishing Bitcoin as legal tender. "With Bitcoin as legal tender & inspiration, our country opens a new chapter in its inspiring journey towards a brighter future via blockchain tech," he said.
CAR caught the world by surprise in April when the President signed a crypto legal framework into law, which also established Bitcoin as an official currency. This meant that the government would treat Bitcoin like the legacy CFA franc – exempt from the capital gains tax, and usable for paying one's other tax obligations.
A month later, the President also announced the Sango project – a plan to turn CAR into a so-called "crypto hub" that attracts investors worldwide. Some of its sub-projects will include establishing a crypto national bank, creating a state-sponsored lightning wallet, and exempting crypto exchanges from taxes.
The project will also incorporate the "tokenization" of the country's natural resources, according to a translation of today's press release. More will be revealed on July 3rd at 7 pm CET during the Sango Genesis Event, which the president called the most "revolutionary" conference in the history of "blockchain technology" and "Web 3".
Mimicking El Salvador
CAR's Bitcoin adoption appears to closely follow El Salvador's playbook. In September, the Central American country also established Bitcoin as legal tender, alongside its state-sponsored wallet "Chivo".
Furthermore, El Salvador's plans to build "Bitcoin City" are mirrored by CAR's "crypto island" initiative – an ambitious project to create a unique investment location dedicated to crypto technology.
The global response to their initiatives has been similar too – which isn't necessarily for the better. Like with El Salvador, the International Monetary Fund (IMF) has disapproved of the legal tender decision, citing "legal, transparency, and economic policy" challenges.
CAR's authorities reportedly worked around both its regional Central Bank and the World Bank when it adopted Bitcoin. The latter confirmed that it will not support the Sango project with investments, though it did offer a $35 million loan to help "digitize" CAR's public sector.
SPECIAL OFFER (Sponsored)
Binance Free $100 (Exclusive): Use this link to register and receive $100 free and 10% off fees on Binance Futures first month (terms).
PrimeXBT Special Offer: Use this link to register & enter POTATO50 code to receive up to $7,000 on your deposits.
Japan says hard to confirm impact from Russia's debt default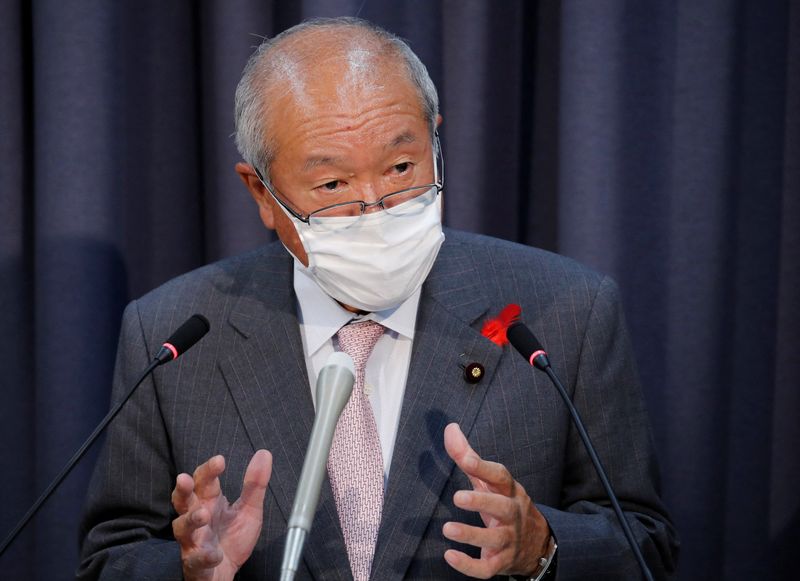 © Reuters. FILE PHOTO: Japan's new Finance Minister Shunichi Suzuki wearing a protective mask, amid the coronavirus disease (COVID-19) outbreak, speaks at a news conference in Tokyo, Japan, October 5, 2021. REUTERS/Kim Kyung-Hoon

TOKYO (Reuters) -Japanese Finance Minister Shunichi Suzuki said on Tuesday that it was "a little difficult" at present to confirm the definite impact on Japan from Russia's debt default.
Suzuki, who commented on the issue after being asked about it by reporters at a news conference following a regular cabinet meeting, added that any moves in Russian government bonds were likely to have a limited impact on Japanese investors.
"The ratio of investments in Russia as part of Japan's overall foreign bond investments is limited," Suzuki said.
"Moves in Russian government bonds are likely to result in limited direct losses for Japanese investors, including financial institutions," he said.
The White House and Moody's (NYSE:) credit agency on Monday said Russia had defaulted on its international bonds for the first time in more than a century.
The Kremlin, which has the money to make payments thanks to oil and gas revenues, has rejected the claims that it has defaulted on its external debt.
UK's Northern Ireland trade law clears first parliamentary hurdle

Please try another search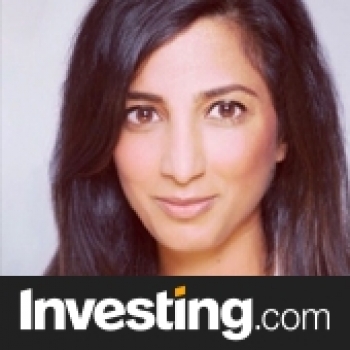 Economy 4 hours ago (Jun 27, 2022 09:30PM ET)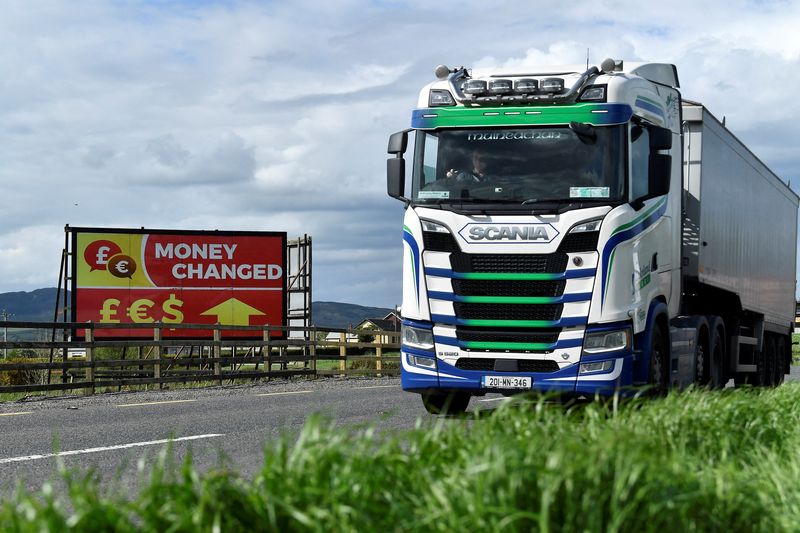 © Reuters. FILE PHOTO: A truck drives past a 'money changed' sign for euro, sterling and dollar currencies on the border between Northern Ireland and Ireland, in Jonesborough, Northern Ireland, May 19, 2022. REUTERS/Clodagh Kilcoyne

LONDON/DUBLIN (Reuters) -Legislation allowing Britain to scrap some of the rules on post-Brexit trade with Northern Ireland on Monday passed the first of many parliamentary tests, as Prime Minister Boris Johnson pressed on with plans that have angered the European Union.
Despite some fierce criticism, lawmakers voted 295 to 221 in favour of the Northern Ireland Protocol Bill, which would unilaterally overturn part of Britain's divorce deal from the EU agreed in 2020. The bill now proceeds to line-by-line scrutiny.
Tensions with the EU have simmered for months after Britain accused Brussels of insisting on a heavy-handed approach to the movement of goods between Britain and Northern Ireland – checks needed to keep an open border with EU member Ireland.
Johnson has described the changes he is seeking as "relatively trivial" and ministers insist the move does not break international law, but the EU has started legal proceedings against Britain over its plans.
"While a negotiated outcome remains our preference – the EU must accept changes to the Protocol itself," Foreign Secretary Liz Truss said on Twitter (NYSE:) after the vote.
Asked if the changes set out in the new bill could be implemented this year, Johnson told broadcasters: "Yes, I think we could do it very fast, parliament willing".
Johnson's predecessor, Theresa May, was one of several from his Conservative Party to criticise their leader.
"This bill is not, in my view, legal in international law, it will not achieve its aims and it will diminish the standing of the United Kingdom in the eyes of the world, and I cannot support it," she said.
Ahead of the vote, Irish Foreign Minister Simon Coveney said the bill would not lead to a sustainable solution and would only add to uncertainty in Northern Ireland.
"I am hugely disappointed that the British government is continuing to pursue its unlawful unilateral approach on the Protocol on Northern Ireland," he said in a statement.
Johnson has a majority to push the law through the House of Commons, though the vocal group of rebels will add to concerns about his authority following his survival in a confidence vote on June 6 and the embarrassing loss of two parliamentary seats on Friday.
The bill will face a bigger challenge when it eventually moves to the upper house, the unelected House of Lords, where the government doesn't have a majority and many peers have expressed concern about it.
Related Articles