Outside the Box: Gas prices are headed to $6 by Labor Day – here are the main reasons why
President Biden's recent letter to refiners to complain of high gasoline prices is the only positive action he can take on behalf of consumers. But it won't keep the average price at the pump in the U.S. from climbing another dollar by September and topping $6.
Here's why: shrinking U.S. refining capacity even as oil
CL.1,
-0.05%
output recovers from COVID-19 pandemic lows, and a well-known shift in European demand away from Russia has cut into U.S. stockpiles more deeply than many realize. Plus Biden's ability to act is further limited by underappreciated policy decisions that, ironically, he helped to make. 
The first big policy shift occurred in 1973 – the year Biden joined the Senate — when President Nixon removed President Eisenhower's oil import quota to fight inflation. OPEC's cheap oil began to flood the U.S. market and undercut domestic producers.   
The subsequent Arab oil embargo from October 1973 to March 1974 raised crude oil prices everywhere except the U.S., because Nixon's August 1973 price controls were in force. While domestic refiners could buy foreign oil and refine it – which they did – selling it at home was a money-loser. The gasoline that did come the domestic market was limited by the amount of price-controlled domestic crude oil. That's what led to long lines of people waiting to fill up, gas rationing in some states, and the federally mandated 55 mph speed limit.
Because domestic crude oil price controls continued in one form or another through to the Reagan administration, the U.S. became increasingly dependent on foreign supplies offset only by Alaskan oil that was not subject to either price controls or the Crude Oil Windfall Profit Tax Act of 1980.
The second major policy shift occurred in 2015, when Congress ended its 1974 ban on crude oil exports. This was the boom period in fracking, and so much lighter crude oils were pumped out of the ground that the supplies overwhelmed the ability of domestic refineries to process the lighter oils.
Other refineries were configured to process the heavier oils imported from Canada, Venezuela, Saudi Arabia and Mexico, and lifting the export ban removed any profit motive for these heavy oil refineries to retool. Today, the U.S. still imports 6 million-plus barrels of heavy crude, about one-third of overall demand.
Fast forward to 2022. With the outbreak of the Ukraine war and sanctions on Russian hydrocarbons, there's more demand for oil-related products from the U.S. Europe is replacing Russian supply with purchases from the global market. The U.S. is one source of those sales, and this would not have been possible had the export ban remained in place. As a result, U.S. inventories of refined products and crude are below five-year averages.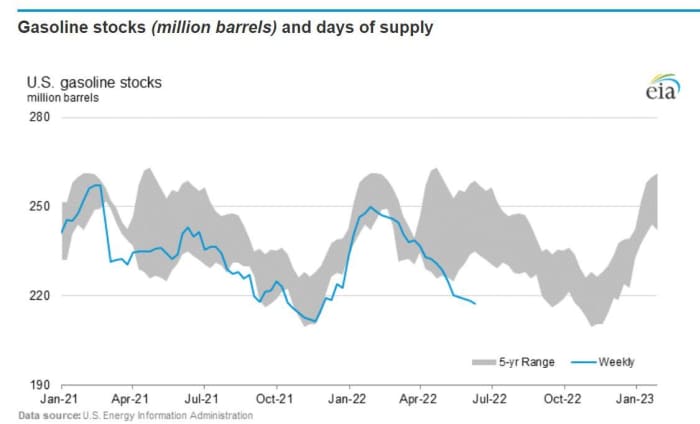 The third major policy shift was the pullout from Afghanistan, thereby ending the "blood for oil" trade begun by President George W. Bush with the invasion of Iraq and continued through President Trump. Former Federal Reserve Chairman Alan Greenspan in his book "The Age of Turbulence" stated: "I am saddened that it is politically inconvenient to acknowledge what everyone knows: the Iraq war is largely about oil." President Biden doesn't have the military in the Middle East, protecting Saudi Arabia, as a bargaining chip for lower oil prices.
The math doesn't work for refineries to expand
As Biden correctly points out, refinery capacity in the U.S. has dropped. Several have closed in recent years simply because of high operating costs, conversion to renewable fuels, (e.g. Bakersfield, Calif., one in San Francisco, several in the mid-continent, are underway now) mounting environmental restrictions, and damage from hurricanes. One exploded. Some have been on the market for years with no buyers because of low margins and large environmental liabilities.
U.S. refinery closures
Capacity, barrels per day
Date
Reason
PES, Philadelphia, PA
            335,000
June 2019
Explosion; bankruptcy
HollyFrontier Cheyenne, WY
              52,000
June 2020
Conversion to renewable fuels
Calcasieu Refining, Lake Charles, LA
            135,500
August 2020
Low demand
Marathon Petroleum, Martinez, CA
            161,000
August 2020
Conversion to renewable fuels
Marathon Petroleum, Gallup, NM
              27,000
August 2020
Low demand
Shell Convent, St. James, LA
            240,000
November 2020
Unprofitable
PBF Energy, Paulsboro, NJ
            180,000
November 2020
Low demand; partial operations
Limetree Bay, St. Croix, USVI
            210,000
May 2021
Unprofitable
Phillips 66 Alliance, Belle Chase, LA
            255,000
November 2021
Storm damage
Phillips 66 Rodeo, California
            120,200
May 2022
Conversion to renewable fuels
LyondellBasell, Houston, TX
            263,776
April 2022
Close on or before 12/23
Source: Laura Sanicola (Reuters) and company announcements
That's before taking into account the push for renewable fuels and electric cars. Profit margins are a minuscule 1.5%, and a greenfield refinery can take five years – if all goes smoothly – and more than $20,000 per barrel of capacity to build. Exxon Mobil is three years into a reported $1.5 billion, 250,000-barrels-per-day expansion at its Beaumont, Texas, refinery.
The payout for building new refineries or expansions is too uncertain in the long run, especially for companies like Marathon Petroleum
MPC,
-5.10%,
Valero
VLO,
-5.31%,
and Phillips 66
PSX,
-6.21%
that only are in the refining business. Notably, all three have announced renewable fuels ventures.
But before oil can get to the refinery, it must be found and produced. There again, the industry hasn't fully recovered from the pandemic. Baker Hughes reports that the U.S. rig count, the barometer for drilling, has increased this year by 270 to 740, but below the pre-pandemic number of 794 of January 2020. On top of that, well costs are up; one that would have cost $9 million to drill five years ago now costs $13 million. Tens of thousands of workers have left the oil patch and are not going back. Together, Trump's steel tariffs and supply shortages have doubled the cost of tubulars. 
It's not just a U.S. problem. Baker Hughes reports that the Middle East rig count is at 817, still down more than 25% from pre-pandemic level of 1,104. Middle East wells are much more productive than the U.S. shale wells and, lest we forget, the reason that OPEC could wage an extended price war against the U.S. producers a decade ago that pushed oil below $40 a barrel in 2014.
The Middle East was hit hard by the global pandemic shutdown. Revenue plummeted. It is a fiction that OPEC nations have excess supply to deliver to the world market. At these prices, EVERYONE should be producing. 
Reports are that Russian crude oil production has dropped since U.S. and European oil companies and oilfield service companies have exited the country. At the same time, Russia's military needs more oil for the war in Ukraine. These two actions combine to reduce the net supply available to the world market and place further upward pressure on price. 
European nations are unlikely to re-embrace Russia's hydrocarbon supplies after the war. Because it will take some number of years for Europe to adjust completely, the U.S. will continue to sell more refined products and oil to Europe. U.S. consumers are bidding for gasoline against buyers in Berlin. 
Biden's frustration is evident. He continues to release 1.0 million barrels per day from the nation's Strategic Petroleum Reserve, but the impact on price has been minimal. Some goes overseas as Americans subsidize fuel prices across the world. The stockpile is limited, and in this competitive game, OPEC has more staying power.     
The bottom line is there are no quick fixes for Biden or Congress. Short-term policy actions in the name of midterm elections and expediency will fail to help consumers. A recession could stop an overheated U.S. economy to drive down demand for gasoline, but the political costs would be even higher.
Anyone who claims to have a fix is just playing politics.
Ed Hirs is an inaugural University of Houston Energy Fellow. Follow him on Twitter @edhirs.
SBA Administrator Releases Statement on Reversal of Roe v Wade
Small Business Administrator Isabella Casillas Guzman said that last week's Supreme Court ruling overturning the 1973 Roe v Wade decision would "jeopardize the civil liberties of millions of women."
Guzman said that the reversal would create ripple effects across communities and our economy, "particularly for women entrepreneurs pursuing the American dream of business ownership."
Guzman reasoned that deciding when to start a family is important to women entrepreneurs and reiterated that the SBA is committed to doing all it can to support women.
---
---
SBA Administrator Issues Statement on SCOTUS Dobbs Decision
The landmark Roe v. Wade Supreme Court ruling in 1973 established a woman's right to seek an abortion for an unwanted pregnancy.
Since 1973, according to statistics provided by LinkedIn, women's participation in the workforce has increased from 40% to 60%. But can that gain be attributed to Roe v. Wade? Or an evolving economic climate?
Where Will Roe v. Wade Reversal Have Greatest Impacts?
Politics at State Level – The abortion rights issue is returned to the states, where people's elected representatives will decide which path a state will take. Current estimates say that about half the states would ban abortions. Candidates and those already in office will be pressed to state their standing on the subject.
Human Resources Decisions – Small business owners will have major decisions to make in employee benefit plans. Will an employee health plan include benefits to help employees seek abortions in other states (if not available in their home states)? Large companies including Tesla, Patagonia, Amazon, Levi Strauss and Co, Yelp and others have already indicated that they will do so. Most employee benefit plans do cover reproductive health services, including birth control and/or pregnancy leave. Employers and employees should review existing plans.
Women Entrepreneurs – Entrepreneurs and other self-employed individuals attain health insurance through Healthcare.gov and other insurance companies. Some insurance companies cover "reproductive services" but may not cover the costs of an abortion. According to statistics from April 2022, the average cost nationally for an abortion in the first trimester is $600 and in the second trimester, $900.
Little Common Ground
Emotions and opinions are strong, with little common ground, as evidenced in Michigan. The issue appears split strictly on party lines. The Roe v. Wade reversal is condemned by abortion rights supporters and praised by Pro Life supporters.
Democratic Michigan Governor Gretchen Whitmer said "How we personally feel about abortion – not politics – should drive important medical decisions."
Michigan's Republican National Committee Chairwoman Ronna McDaniel said, "Life wins! Debate not returns to states."
Get the latest headlines from Small Business Trends. Follow us on Google News.
Image: Depositphotos
---
6 Proven Ways to Create a Company Culture Worth Bragging About
By Beth Doane, an award-winning writer, speaker and entrepreneur. She is the CEO of Main & Rose.
Over the past two years, we've undergone a reckoning, attitudes toward work shifted and values changed. As companies grapple with returning to offices old practices aren't working. 
We spend one-third of our lives working, and people want that time to matter, not be sacrificed for a paycheck that comes at the expense of their happiness. This has catalyzed a mass exodus from the workforce. The number one reason for quitting–culture. 
Now, there are more open jobs than at any other time in United States history. To attract the best people, you need to create a workplace that isn't only focused on output but thrives from the inside.
At Main & Rose, we've spent almost a decade building our culture, learning what our team needs to feel fulfilled, and making sure our values are ingrained in the DNA of everything we do. Here are some of my insights into building culture at your business.
1. Clearly define and share your company values.
Your company's values are critical for your culture. They provide a guide and a measuring post for all employees, impacting how they treat others, their work, and themselves. Clearly define those values and share them with everyone, and don't settle for what some other brand could claim. They should be specific to you–why you exist and what you care about. It's okay if they're hard to write and require revisions, this will make your culture stronger.
At Main & Rose, we have a strict "no ego policy"–there are absolutely no exceptions to this rule, and all of our team members know that. The policy starts at the top, and leading by example is crucial to establishing a positive workplace culture that celebrates its values and team members. We go into every space and meeting with an open mind, an eagerness for feedback, and respect for all voices.  
2. Encourage healthy conversations.
Most of us like to hear that we're doing a good job. Positive affirmations and reinforcement have been proven to boost a team's morale and confidence. 
Address any issues that may arise, whether interpersonal conflicts or a decreased quality of work. Tackle them when they emerge and do so privately. Show everyone respect and give them an opportunity to speak for themselves. 
Healthy conversations don't look the same for everyone. They can be uncomfortable. We all have different communication and conflict resolution styles. Personality tests are an effective way to learn more about your team members and can help reveal various triggers and motivations to effectively guide discussions.
3. Incorporate mindfulness into the everyday.
More than 75 percent of workers have experienced burnout. And 61 percent of remote workers say they find it difficult to "unplug" after work hours. Especially if you're a remote company, you're more at risk of employees feeling over-stressed and under-motivated. But your team is only strong because of those individuals, so prioritize them.
Encourage people to step away from the desk. Normalize setting a Slack status to "getting some fresh air."
Host monthly mindfulness or breath work sessions.
Provide subscriptions to mindfulness apps–like Headspace or Calm–or fitness services. 
4. Offer mental health days, no questions asked.
As advocates of mental health, we aspired to create a company that rebelled against traditional "agency life," where self-care was an afterthought to productivity. Whether an employee is having one bad day or dealing with an ongoing struggle, we work with them to take a mental health day or even a mental health week. 
In a study by the American Psychological Association, 68 percent of workers said their mood was more positive after taking time off. It invites them to pause, get off email and reconnect with their motivation when they're back.
5. Implement Get Stuff Done days.
We implemented Get Stuff Done(GSD) days a few months ago and they're universally beloved at our agency. Fridays have no calls, no meetings and no distractions, so our team can finally tackle everything on their to-dos lists and reach a stress-free place before the weekend.
To help sustain productivity and focus on days without anything on the calendar. We created a GSD playlist for our team, where everyone could contribute their favorite songs. We also provide access to time management strategies and resources.
6. Ensure there's really an open-door policy.
In a remote workplace, promoting clear, transparent communication becomes even more important. Our leadership is easily available via Slack, even just to chat or offer advice. Our team members check in with their managers at least once a week to discuss any issues or concerns, as well as what's going well and each team member's goals. We encourage people to write out talking points ahead of time. 
Your company is your people. You're only going to find the right fit when you treat them with respect and compassion and offer growth opportunities–and if you don't, someone else will.
What Is a Business Credit Score?
Small business credit scores are similar to personal credit scores – except they are specifically ratings for businesses. A small business credit score is important to a business owner, and to the businesses which interact with that small business, such as vendors and suppliers.
---
---
What Are Business Credit Scores?
Small business credit scores put a number value on credit worthiness. Lenders, vendors, suppliers, customers, and others can check business credit scores. They often do so before deciding to conduct business with a company.
There are three main business credit reporting agencies: Dun & Bradstreet, Experian and Equifax. Small business owners can check their business credit reports, as well as the business credit scores of other entities. Vendors and suppliers often check business credit scores before extending credit, especially to a new customer.
How Do Business Credit Reports Differ From Personal Credit Reports
You keep your personal and business finances separate. Business credit scores and personal credit cards are also separate, with one exception:
FICO SBSS (Small Business Scoring Service)
The FICO SBSS uses business credit reports and an owner or owners personal credit report, and additional financial data, to determine credit worthiness. The FICO SBSS is required by the Small Business Administration (SBA), as well as banks, credit unions and other lenders. You need it to get an SBA 7 (a) loan. If you're going to apply for the SBA 7 (a) loan, you'll need a personal credit score of 600 or better. The FICO SBSS will be a number from 1-300, with 140 needed for the SBA 7 (a) loan.
Why Does a Business Credit Report Matter?
Credit scores are hugely important in the business world. Here are places where good business credit scores have an impact:
Getting financing – you can get a higher loan and a better interest rate with good credit.
Getting credit extended from vendors' and suppliers' credit reports.
Businesses can check the business credit scores of other businesses.
Insurance providers evaluate your credit risk, which is another reason to build strong business credit.
READ MORE: Better Credit Gets Your Business Up to 20 Times the Loan Money, Report Says
What Factors Affect a Business Credit Score?
The same factors that affect personal credit scores affect business credit scores. You can keep your personal score in the high/good range by keeping your personal finances in line. As a small business owner, you can keep your business credit file in the good/low-risk range and get a good business credit score with these practices.
Good Payment History
Build your business's credit. Pay bills early or no later than the due date. That includes any business loan, your business insurance bill, and your business expenses, such as utilities.
Use Credit
Use various types of credit, such as small loans and business credit cards, to establish separate credit records with a mix. Build business credit but don't over-extend your credit limit. Small businesses need to keep tabs on the ratio of what's owed versus how much is available to borrow.
Establish Trade Credit
Small business owners should start to build a good history with vendors and suppliers with small purchases that are paid off early or on time.
Keep Personal Credit Scores Good
Your business's financial history isn't impacted by your personal credit scores, except with the FICO SBSS rating, as previously discussed. That's when the personal FICO scores range impacts a business owner's FICO SBSS rating.
Stay Out of Legal Trouble
If you have any reported tax issues, such as failure to pay state taxes and/or employment taxes, that could impact your business credit report. The big three business credit bureaus look at a business's payment history and other financial records, and also look at public records. If there are tax issues or legal matters such as liens on a property, that will impact a business owner's credit and the business credit risk score.
What Is a Good Credit Score for a Small Business?
Business credit reports have a few key differences. Personal credit scores range from 0 to 1000; a business credit profile will typically have a score of 0 to 100.
Business credit scores differ by the value of the number assigned. Typically, business credit scores range on a scale from 0 to 100, with 0 to 10 a business failure score. The FICO SBSS score will be a number from 0 to 300.
Dun & Bradstreet assigns a Paydex rating from 0-100. When a business pays bills on time or early, the business credit history would be 80 points and higher. If a business pays 60 days or more late, the rating would be from 0-49.
Experian uses business data to establish a business risk factor called Intelliscore Plus, also on a 0 to 100 scale. Business credit grades higher than 76 are considers "low risk" for lending or extending credit. Scores 1 to 10 are considered "high risk" and poor.
The FICO SBSS score is on a scale of 0 to 300. To get the SBA 7 (a) small business loan, you'll need a score of 140 or higher. Other small business lenders will want a score of at least 160.
In short, when you're looking at your own or other business credit scores, you need to know what the number means. How is the business credit score calculated and what does it mean? A successful business will have a credit rating – to matter what the number – that translates to a "good" rating.
READ MORE: Why Your Business Credit Score Matters When Applying for a Small Business Loan
How to Check Your Business Credit Score?
You can check your business credit score by going to any of the big three – Dun & Bradstreet, Experian and/or Experian. You can also check your FICO score. All of that can be done with no fee.
If you want to check another business, you'll pay a nominal fee.
How to Build Your Business Credit Score?
Building business credit takes attention to detail, especially keeping track of due dates for bills. With a bad payment history, you'll have a tough time getting business loans and building your business.
Build your business credit score by making timely payments and establishing credit. Keep your personal score high by making timely payments if you have a personal loan, such as a car or credit card payment.
In short, build good credit habits in both business and personal finances.
READ MORE:
8 Business Credit Cards Without Personal Guarantee Required
How to Get a Business Loan with Bad Credit
Image: Envato Elements
---