Office building listed in ETH as an NFT; Price dips by $12M
You are here: Home / News / Office building listed in ETH as an NFT; Price dips by $12M
The owner Chris Okada says the building will be relisted in the coming days for adjusting the 40% price drop of Ether.
A New York City office building went on sale 2 weeks ago for $29 million with a Web 3 twist. The rights to purchase the property were sold as an NFT on OpenSea.
The price of the listing was set in Ether, which plummeted over 40 % since the start of June, taking the listing price of the building down with it.
The dollar value of the NFT has got down from $29 million to $16.8 million. However, its owner Chris Okade says the price will soon be adjusted.
In an interview with CoinDesk earlier this week, Chris Okada said "We are going to relist the sale at $29.5 million". And when asked if he would stay with ETH or go with USDC, Chris said that if he goes with ETH it will be closer to 26,500 ETH. It is currently listed for 15000 ETH.
Chris Okada is the CEO of Okada & Co, a commercial Real Estate company that owns 43 buildings in Manhattan and is now dealing with blockchain to make clientele strong.
In a recent interview, Okada says, "There are crypto billionaires and crypto millionaires out there but they have no real utility instead just keeping them in their wallet," He also said about his listing of buildings in NFT that he sees this as a marriage of his real estate knowledge and NFT interest.
Linking real estate business with NFT
Okada said that his company is trying its best to link its real estate business with technology such as blockchain. They were excelling in it but ran into a legal complication with the Securities and Exchange Commission (SEC) recently.
Future Plans
Future plans for the Blockchain-based real estate sales will include rentable office space and co-working desk, a similar concept exercised by the SOHO neighborhood of New York City just 2 months ago.
Binance CEO Changpeng Zhao on crypto skeptics: 'no need to ignore them'
Bitcoin has been called just about anything and virtually "nothing" by skeptics over the years.
If you did a little checking, you would note that perhaps the most bile towards the revolutionary technology maybe coming from what Binance CEO Changpeng Zhao calls "experienced and respected crypto skeptics."
So how does the crypto market "address" this group of influential personalities and experts?
In his latest blog published on Friday, Zhao says "walk a mile in their shoes", get to understand where their perspective has formed. Importantly, why take everything to heart when this is all normal and expected behavior.
"Being protective and defensive doesn't always come from a maligned place. Good-faith actors want to protect their users and community. Central banks, regulators, and financiers, in most cases, want to avoid risk and provide security. So when people ask me how I deal with trusted, respected professionals admonishing crypto, I try to walk a mile in their shoes," he wrote.
Don't take 'everything to heart', CZ says
You have heard it all, you are engaging some of them – and clearly, they seem not to understand what crypto is. Instead of 'ignoring' their criticism, try to understand their views from the perspective of "their experience and position."
This is how you end up extracting value from whatever criticism they advance.   And once you do that?
"There's no need to ignore them or take everything to heart once you've dug a little bit deeper," Zhao advises.
There is a lot one can take from the Binance chief's take on crypto critics and how to go about getting to know that what they say comes from a certain point of view.
In a nutshell, blockchain technology is disruptive technology – and like any other new technology that actually disrupts – it's more likely than not to be met with some skepticism from those who might feel threatened by it.
You can read all of CZ's argument on the Binance blog.
BIFI Price Prediction as Beefy Finance Crawls Back
The BIFI price has crawled back as yield-optimizing blockchain projects bounce back. Beefy Finance's token is trading at $0.0082, which is a few points above the intraday low of $0.0077. The current price is about 92% below the highest level in 2021. As a result, its total market cap has crashed to more than $37 million.
Yield optimizer token jumps
Beefy Finance is a leading player in the decentralized finance (DeFi) industry. Its business model is that it offers a multi-chain yield optimizer that allows users to earn compound interest on their crypto holdings. 
By comparing yields of various platforms, Beefy then selects the coin with the biggest yield. It simply maximizes returns from various liquidity pools and automated market-making projects. Beefy is compatible with the leading blockchains like Fantom, BNB Chain, Polygon, Avalanche, and Arbitrum among others.
According to DeFi Llama, the total value locked in Beefy Finance has been in a downward trend. It has crashed from an all-time high of over $1.22 billion to the current $259 million. This decline is in line with that of other DeFi protocols.
BIFI is the governance token for Beefy Finance. The BIFI token has jumped in the past few hours as other yield optimizers rebound. For example, YFII price has jumped by more than 300% in the past two days. Similarly, Yearn Finance has also jumped. Other DeFi tokens like Uniswap and AAVE have also rallied.
This performance is mostly because of the overall rebound of cryptocurrencies and US equities. The Dow Jones index has rallied by more than 3%. Another reason is that investors are simply buying the dip after the coin crashed hard in the past few months.
BIFI price prediction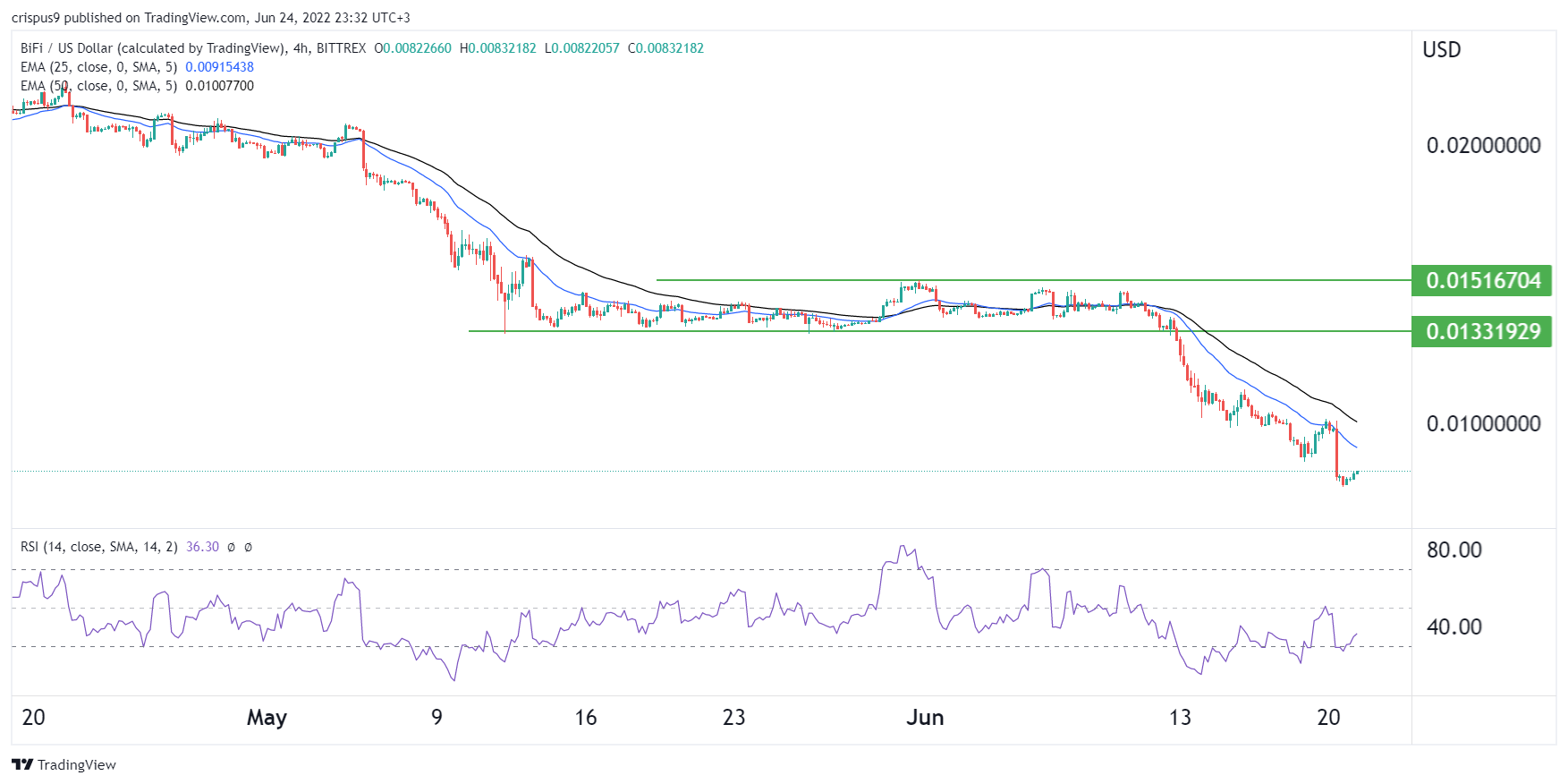 The four-hour chart shows that the BIFI price has been in a strong bearish trend in the past few months. The sell-off accelerated after the coin moved below the important support level at $0.0133, which was the lowest level in May. It has also crashed below the 25-day and 50-day moving averages.
Therefore, Beefy Finance price will likely continue falling as bears target the next key support level at $0.0070. A move above the resistance at $0.01 will invalidate the bearish view.
Should you buy Origin Protocol as it maintains above the oversold bottom?
Origin Protocol aims to enhance NFT and DeFi adoption

Origin Protocol's OGN token hit an all-time high of $3.45 in March 2021

The token is currently consolidating and has met resistance
As non-fungible tokens gained momentum in 2021, Origin protocol (OGN/USD) was expected to grow. Its native token was trading at a mere $0.13 at the start of 2021, rising to a high of $3.45 the same year. At the current trading of $0.25, OGN is a shadow of itself from last year's highs. Continued bearish weakness in crypto is contributing to the downside.
Origin Protocol is a blockchain platform that seeks to enhance mainstream adoption of NFTs and DeFi. The protocol was founded in 2017 with the objective of enabling commerce on blockchains. OGN is the governance and utility token powering the Origin Protocol. The digital asset allows holders to vote on proposals governing the underlying protocol. The number of circulating OGN tokens is 388,570,732.54 from a total supply of 1,000,000,000 and an equivalent hard cap. We believe investors should monitor OGN based on key technical aspects.
OGN consolidates close to an oversold bottom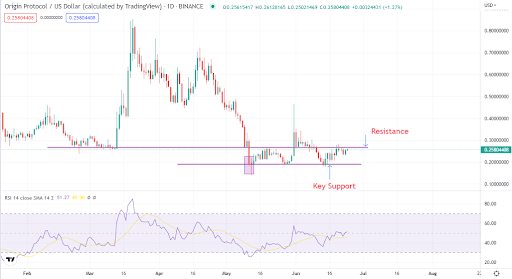 Source: Tradingview
Technically, OGN is trading at a $0.26 resistance level. The token entered the oversold zone when it hit the $0.19 support level, with an RSI reading of 24. The RSI is currently at 51, showing that the token is escaping the oversold bottom. However, it has hit the resistance zone.
From the above technical perspective, OGN remains an ideal investment in the short term. We are yet to find a lasting bullish momentum as the token remains in consolidation mode. The broader cryptocurrency market remains largely bearish, and the OGN could remain subdued. An ideal buy entry on OGN is on a retracement to the $0.19 support level or a break above the $0.26 resistance. In the meantime, investors can capitalize on the short-term opportunities within the consolidation zone.
Summary 
Origin Protocol holds a place in the NFT and DeFi space. Its native token is yet to recover after a crypto crash. Investors can take advantage of short-term opportunities as the token consolidates below the $0.19 resistance.