Monoprice 28-inch CrystalPro review: An affordable 4K USB-C monitor with quirks
At a glance
Expert's Rating
Pros
Sharp, bright image quality
USB-C with 65 watts Power Delivery
Four video inputs
Cons
Stand adjustment is not smooth 
Confusing and frustrating menu
Barely-there HDR
Our Verdict
The Monoprice 28-inch CrystalPro costs less than most other 4K monitors and it provides USB-C to boot. Unfortunately, it lacks some of the features you'll find in competing products that offer more value for the money.
Best Prices Today: Monoprice 28-inch CrystalPro
$359.99
Free
USB-C with Power Delivery is often the best way to connect a laptop to your monitor. The Monoprice 28-inch CrystalPro offers USB-C alongside 4K resolution while also undercutting the competition on price. This makes it an appealing choice, but a few frustrations hold the monitor back.
Monoprice 28-inch CrystalPro: The specs
4K resolution and USB-C video connectivity were premium features a few years ago, but monitors like the Monoprice 28-inch CrystalPro bring them to more affordable price points. Coming in at $359, this 28-inch monitor is sure to appeal to anyone looking for a crisp daily driver. 
Display size: 28-inch
Native resolution: 3840×2160
Panel type: IPS
Refresh rate: 60Hz
Adaptive sync: None
HDR: HDR compatible
Ports: 2x HDMI 2.0, 1x DisplayPort 1.2, 1x USB-C with DIsplayPort Alternate Mode and 65 watts Power Delivery, 2x downstream USB-A, 3.5mm audio out
Stand adjustment: Height, tilt, swivel, pivot
VESA mount: Yes, 75x75mm
Speakers: Stereo speakers
Price: $359.99 MSRP
4K and USB-C aside, however, the monitor's feature set is slim. It doesn't offer an enhanced refresh rate or adaptive sync, and while HDR compatible, it isn't certified to promise a standard level of performance. The CrystalPro is more suited to Word than World of Warcraft.
Monoprice 28-inch CrystalPro: Design
Most monitors that cross my desk aren't modern art, but the Monoprice 28-inch CrystalPro is the very definition of basic. Clad in matte-black plastic, the monitor's single design touch is a tiny Monoprice logo centered on the bottom bezel. It's the same story around back. The rear panel bears no markings or texture aside from a few vents.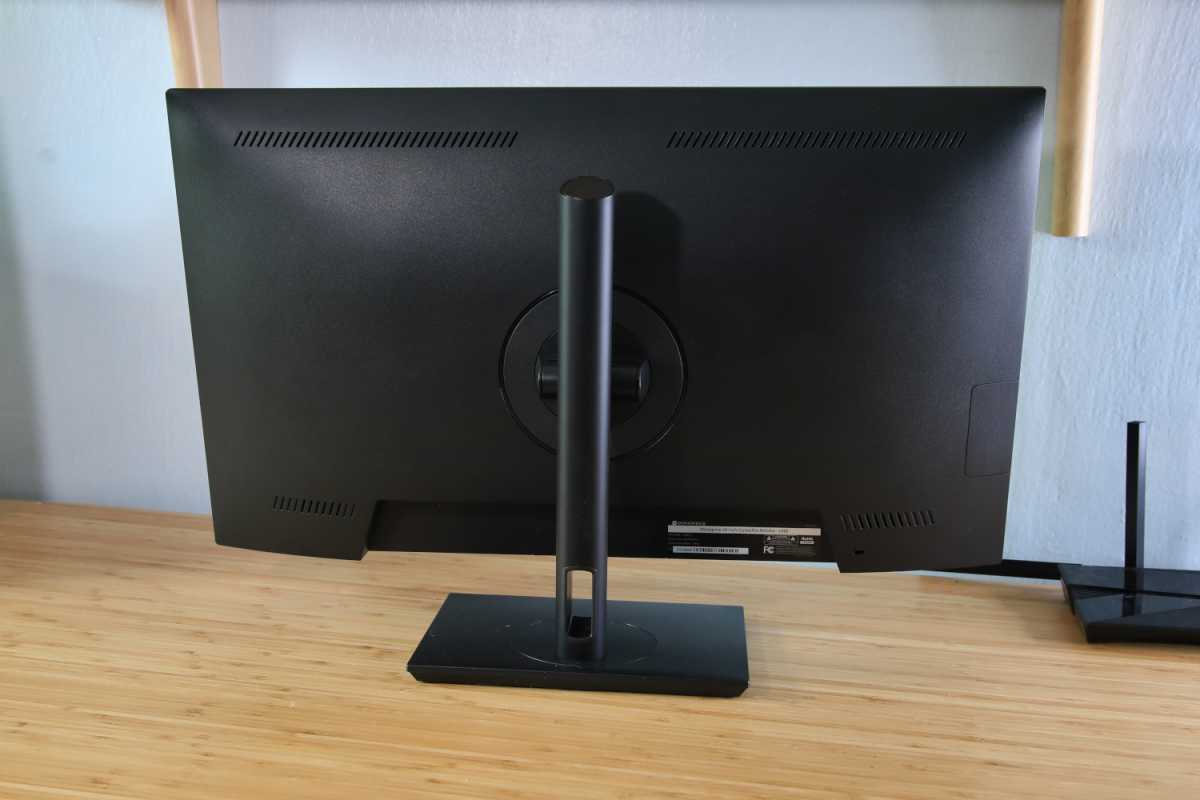 Matt Smith
That's fine. BenQ, Dell, and Samsung monitors are more distinctive, but I doubt anyone shopping for a budget 4K USB-C monitor cares how it looks when turned off. Build quality is a similar story. There's some creak and flex in the plastics when the monitor is handled but nothing feels fragile or brittle. 
The stand is a miss. I like that it can adjust for height, tilt, swivel, and even pivot into landscape mode, but its operation felt grainy and tough. This made fine adjustments to the monitor's position a chore. A 75x75mm VESA mount is available for adding a third-party stand or monitor arm.
Monoprice 28-inch CrystalPro: Features and menu
Connectivity is excellent. The Monoprice 28-inch CrystalPro has USB-C with 65 watts of Power Delivery and DisplayPort Alternate Mode. This is great for use with a thin-and-light USB-C laptop, since you can charge and output video over one cable. 
Monoprice throws in two HDMI ports and one DisplayPort for a total of four video inputs. That's a lot for an affordable monitor, and more than Dell's S2722QC or Samsung's S80A.
Though it has USB-C, this monitor isn't a good USB-C hub. It includes two USB-A ports for connected wired peripherals, but they are paired with a USB-B upstream port. The USB-A ports are on the rear panel and awkward to access. There's no ethernet or DisplayPort-out.
The connectivity can be hard to use in any case because the monitor's menu system is a disaster. I spent several minutes trying to puzzle it out. It turns out the buttons don't always work as labeled in the menu. The menu and exit buttons were reversed in some cases. 
Putting aside that error, settings are still strangely arranged and poorly labeled. Backing out of any adjustment returns you to the top of the menu tree, not the prior step, which makes every step take just a bit more time. Not that there's much to adjust. The monitor offers a long list of preset image modes but no precise gamma or color temperature adjustment. RGB color adjustments are available. 
Matt Smith
Stereo speakers are included. They're not bad, providing decent quality and volume for general use, but they're too thin and shallow for entertainment. Most people will want to add external speakers or a headset.
Monoprice 28-inch CrystalPro: SDR image quality
Though affordable for its feature set, the Monoprice 28-inch CrystalPro is not a budget monitor and faces some stiff competition. Many mid-range 4K monitors offer good-to-excellent image quality. The CrystalPro keeps up in most areas.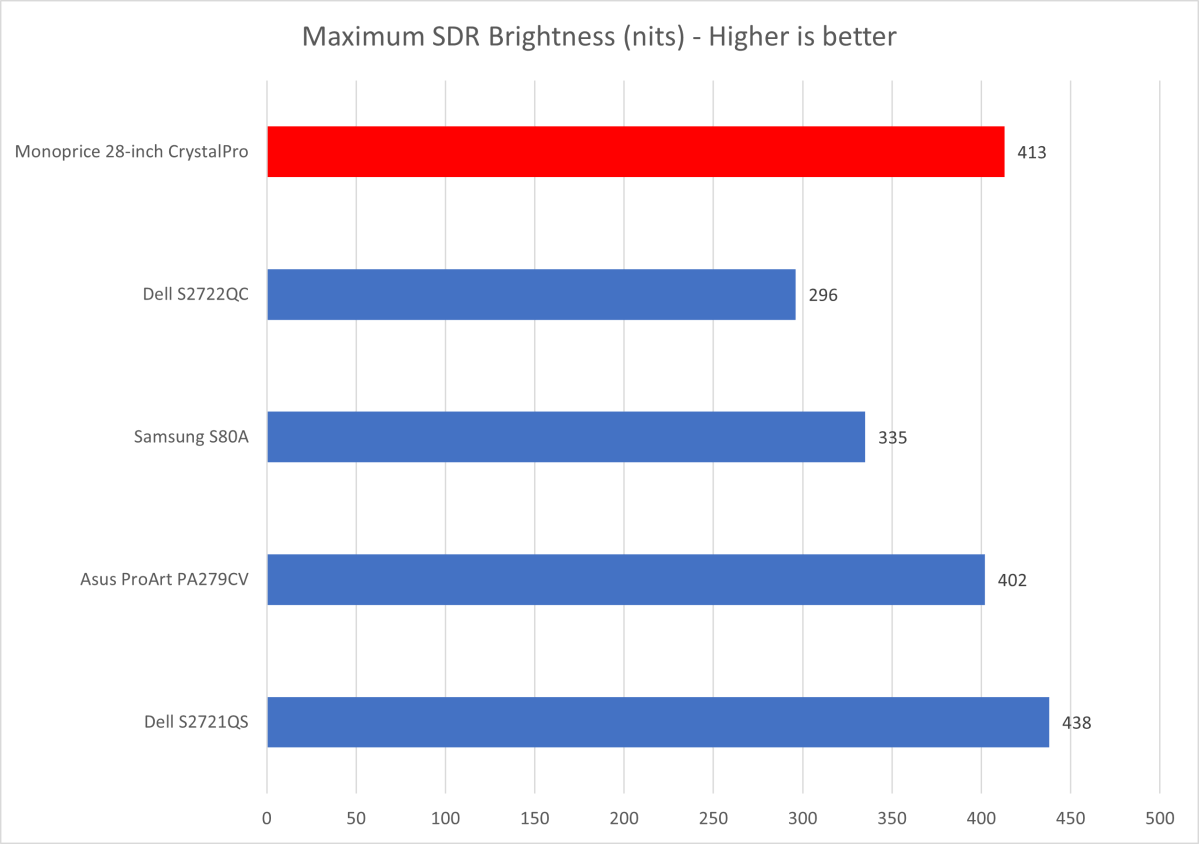 Matt Smith
The monitor's maximum SDR brightness of 413 nits is nothing to laugh at. This is more than most competing monitors and much higher than Dell's S2722QC. The CrystalPro is a good choice for use in a bright room.
Matt Smith
Contrast is good, with a maximum contrast ratio of 1,150:1. This is about as high as you'll find in any IPS panel monitor with an edge-lit LED backlight. 
The CrystalPro looks clear and contrast-rich in a bright room and when displaying bright content but can look hazy in dark scenes. This is due to poor black-level performance. Areas of a scene that should be entirely lacking light instead show a dull, gray glow. 
Most of the CrystalPro's competitors effectively match it in contrast ratio, though Dell's S2722QC notably underperformed when in SDR.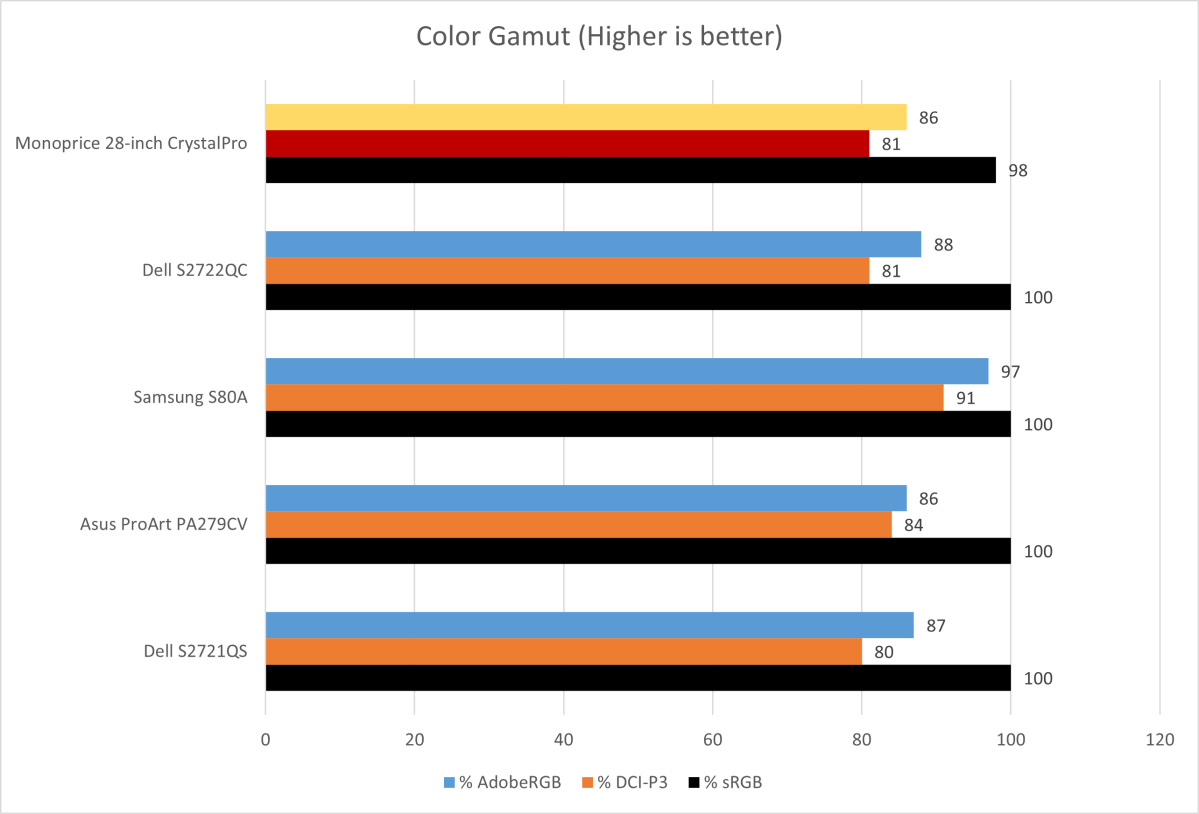 Matt Smith
The CrystalPro can display only 98 percent of the sRGB color gamut, along with 86 percent of DCI-P3. This is an unusual result, as the majority of mid-range 4K monitors can display the full sRGB gamut (or very, very close to it). 
However, the CrystalPro's coverage of DCI-P3 is just as high as more expensive competitors like the Asus ProArt PA279CV, so the somewhat narrow color gamut is not obvious. 
Technically, it means you could miss out on colors other displays can show, but this isn't a concern in day-to-day use. If you're a content creator, however, it might be a problem. 
This is not a wide color gamut monitor, so the CrystalPro can't display as many colors overall as some more expensive alternatives. The Samsung S80A is the standout in this category with a punchy, saturated look that leaps off the screen.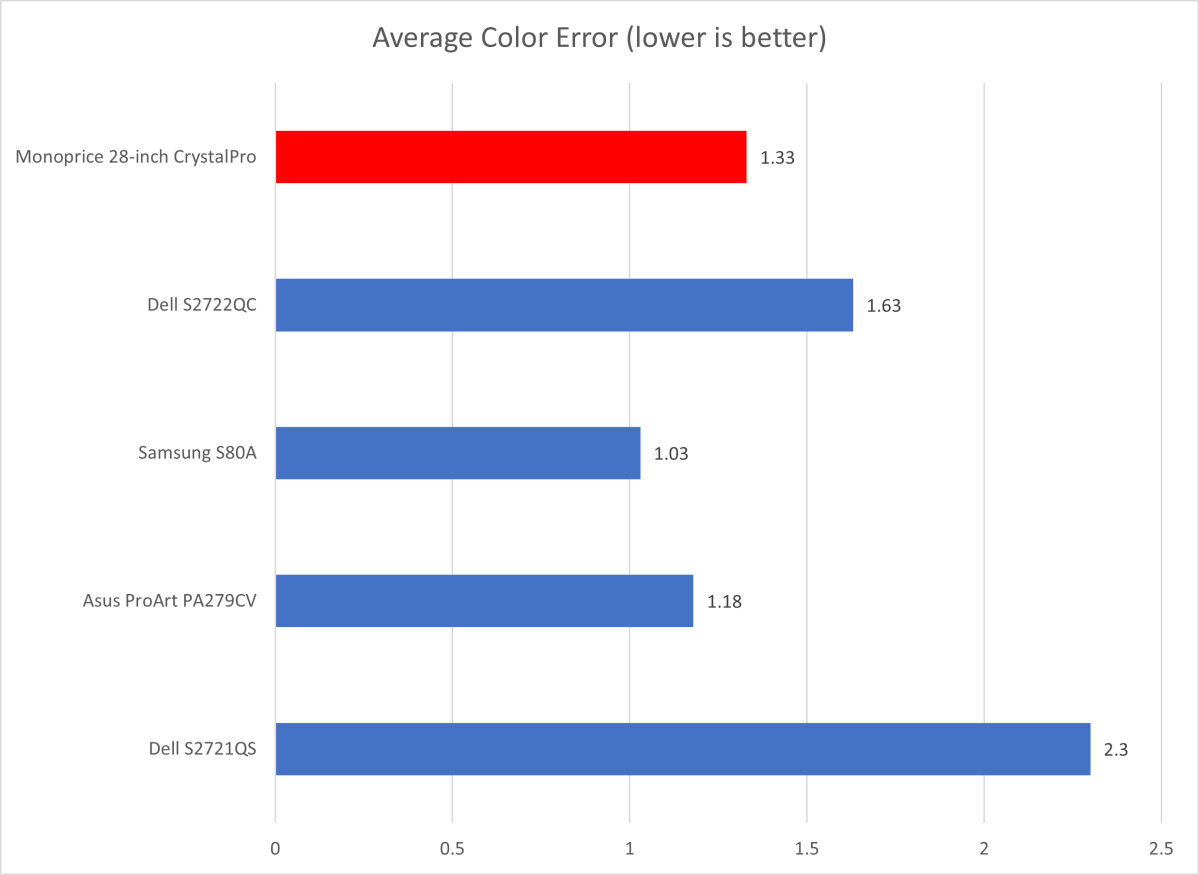 Matt Smith
Color accuracy is good with an average color error of 1.31. This is not the best available but it comes close to the Asus ProArt PA279CV, which is sold specifically for demanding creators. Default color temperature was 6200K, reasonably close to my target of 6500K. 
The CrystalPro's gamma could be better, however. I measured a gamma curve of 2.3 and, to my eyes, it's close to veering into a result of 2.4. This means the monitor's image is often darker than intended. 
This is a 28-inch 4K monitor, which works out to a pixel density of about 160 pixels per inch. That's excellent for an external monitor and provides superb sharpness. Fonts are crisp, high-resolution video is tack-sharp, and games show excellent detail. 
The Monoprice 28-inch CrystalPro looks best when you don't look at it too closely. It is generally crisp, bright, and vivid, but it does have limitations in color gamut and gamma performance. The CrystalPro is good for everyday use, entertainment, and gaming, but not ideal for demanding users like photographers or video editors.
Monoprice 28-inch CrystalPro: HDR image quality
The Monoprice 28-inch CrystalPro has official HDR support, though, unlike many competitors, it does not have a VESA DisplayHDR certification. It's instead sold as "HDR compatible."
That is an accurate label. The CrystalPro will display an HDR signal but doesn't do much to enhance it. Brightness is barely higher in HDR, at a sustained maximum of 443 nits. Color gamut and accuracy fall right in line with the SDR figures. 
There are significant tone-mapping issues when HDR is on. Ramping up HDR brightness in Windows 11 destroys detail in lighter shades of gray. If an Excel spreadsheet is open, for example, the borders between cells become invisible. This is a common problem in less-capable HDR monitors.
The monitor also failed to detect an HDR signal and turn on HDR mode automatically. I had to turn it on and off manually.
Monoprice 28-inch CrystalPro: Motion performance
Refresh rate is capped at 60Hz on the Monoprice 28-inch CrystalPro and adaptive sync is not available. It's common for 4K monitors in this price range to skip an enhanced refresh rate and adaptive sync. 
Motion clarity is fine for a 60Hz display. Ghosting is obvious behind fast-moving objects. Panning across a scene in a game creates blur, but large objects remain legible. Clarity won't be an issue unless you want to play fast, competitive games—and if that's the case, a 1080p 240Hz monitor is a much better choice.
Final thoughts
The Monoprice 28-inch CrystalPro monitor is among the least-expensive 4K USB-C monitors available with 65 watts of Power Delivery. That's good news for budget buyers who want that useful feature. The CrystalPro has flaws, including a frustrating menu system and barely-there HDR, but it also has perks, like a solid contrast ratio and great color accuracy.
Still, the CrystalPro is hard to recommend. Like Dell's S2722QC, another affordable 4K USB-C display, the CrystalPro's price is too close to superior monitors. Samsung's S80A offers far better image quality for $40 more. Or if you just want 4K, and don't care about USB-C, Dell's aging S2721QS is better value.
Note: When you purchase something after clicking links in our articles, we may earn a small commission. Read our affiliate link policy for more details.
Zero-trust market shows signs of maturity at RSA 2022
We are excited to bring Transform 2022 back in-person July 19 and virtually July 20 – 28. Join AI and data leaders for insightful talks and exciting networking opportunities. Register today!
---
Zero trust needed a crucible to burn away the hype and leave the essence of what every cybersecurity vendor has to offer, and the pandemic did that. Akamai, Appgate, Cisco, CrowdStrike, Delinea, Ivanti, Palo Alto Networks, Zscaler and many others either announced their next generation of zero-trust solutions or demonstrated their latest releases at RSA 2022. 
Where zero trust is maturing 
While many in the cybersecurity vendor community still treat zero trust as a series of product features, not an architecture or framework, this year's RSA proves vendors are maturing their platforms by choosing to solve more challenging problems. CrowdStrike taking on the challenge of providing real-time telemetry data and long-term data archiving with Humio for Falcon and their launch of Asset Graph, which shows the vendors understand zero trust is about architectures and frameworks first. Real-time telemetry data is invaluable in building a zero-trust architecture.
Cisco is introducing the Cisco Security Cloud, demonstrating Cisco Secure Access by Duo and Box, as well as their unified Secure Access Service Edge (SASE) solution Cisco+ Secure Connect Now, which reflects how rapidly zero-trust vendors are maturing. 
In addition, Ericom's partnership with Cyber Guards to deliver Zero Trust Network Access (ZTNA) to midsize businesses and SMBs brings SASE to businesses who need ZTNA support the most but are often the most budget-constrained.
Ericom's ZTEdge SASE platform reflects how quickly zero-trust solutions are maturing in the mid-market and for SMBs. Its many innovations in Remote Browser Isolation (RBI) extend to Web Application Isolation (WAI), which enables organizations to allow third party unmanaged device and bring your own devices (BYOD) access to corporate apps, while protecting their data and apps using web-based RBI-based technologies, is another proof point. 
ZTEdge Web Application Isolation (WAI) air gaps public and private web and cloud apps in an isolated, secure cloud environment, where organizations can enforce granular app access and data use policies. Ericom's been able to deliver this without requiring contractors to install apps or browser extensions, make configuration changes to third-party devices, or use special "corporate" browsers.
John Kingervag created zero trust while at Forrester and currently serves as senior vice president of Cybersecurity Strategyat ON2IT Cybersecurity. An interview he gave during RSA provides guardrails for getting zero trust right. 
"So, the most important thing to know is, what do I need to protect? And so I'm often on calls with people that said, 'Well, I bought widget X. Where do I put it?' Well, what are you protecting? "Well, I haven't thought about that." Well, then you're going to fail," Kingervag said during the interview. 
Signs avendor understand zero trust 
Separating the vendors who understand zero trust is becoming easier, given how quickly the landscape is maturing. The vendors who get it realize their systems and solutions are part of an integrated zero-trust architecture. Enterprises don't "buy" zero trust; it's an architecture integrated into a given business's unique workflows. 
During RSA, two standards were released that provide vendors with the guardrails and guidance needed to help serve enterprises. First, the National Institute of Standards and Technology's (NIST) National Cybersecurity Center of Excellence (NCCoE) published Implementing a Zero Trust Architecture. The NCCoE is planning to release two additional guides in July and August. 
Kindervag and Chase Cunningham, chief strategy officer at Ericom Software, were among several industry leaders who wrote The President's National Security Telecommunications Advisory Committee (NSTAC) draft on Zero Trust and Trusted Identity Management. The report defines zero-trust architecture as "an architecture that treats all users as potential threats and prevents access to data and resources until the users can be properly authenticated, and their access authorized."  
The NSTAC Draft on Zero Trust and Identity Management and the new NCCoE guidelines can help enterprises plan their zero-trust initiatives while helping vendors move away from feature sprawl and deliver streamlined, effective solutions. The NTSAC document provides a five-step process that = Kindervag briefly discussed in his interview at RSA.  
A few key aspects that show a cybersecurity vendor understands zero trust solutions with value and minimal feature sprawl include: 
Multirole and multicloud support in Identity Access Management (IAM). RSA 2022's watermark for zero trust maturity is delivering and implementing IAM support for multiple roles, personas and hybrid cloud configurations. IAM vendors doubling down on how to get this right are advancing zero-trust adoption across enterprises today because their customers can use their solutions in more use cases. Zero-trust vendors are innovating rapidly in this area, making it one of the best-kept secrets at RSA 2022. CISOs went to RSA looking to understand how to control multicloud access across AWS, Google Cloud Platform, Microsoft Azure and others on the same IAM platform. Organizations need cloud-based multifactor authentication (MFA) platforms that can support multiple roles or personas at the same time. AWS Identity and Access Management, BeyondTrust, Ivanti, Microsoft, SailPoint and others all support multirole IAM.   
Resilience improves in every release. One of the main messages of Gartner's top cybersecurity predictions for 2022–23 is that enterprises need to focus more on building resilient tech stacks than attempting to shut down the most prevalent threat of the day. Cybersecurity vendors delivering the most value with their zero-trust solutions already have a track record of delivering resilience in their platforms and systems. Vendors showing maturity in this area include Absolute Software with its continual improvements to Absolute Resilience, Absolute Ransomware Response and a new series of partnerships announced during RSA for its Absolute Application Persistence-as-a-Service (APaaS).  Utopic and WinMagic rely on Absolute's firmware-embedded technology to monitor and automatically heal their mission-critical security solutions across their customer bases. Akamai, Cisco, Illumio, Ivanti, Palo Alto Networks and Symantec Enterprise Cloud are zero-trust vendors whose product releases over the last two years reflect how each is designing in greater resilience at the tech stack level. 
Achieving scale with integrations. The more adoption any enterprise software gains, the greater the demand for broader integration. Every enterprise's tech stack is unique, making integration options a challenge. Another of the best-kept secrets of this year's RSA is how abundant the activity is in this area. It's a leading indicator of which zero-trust vendors have the most active, varied sales cycles. Absolute Software's announcement before RSA that they're partnering with BlackBerry to enable their shared customers to strengthen CylancePROTECT with Absolute Application Persistence capabilities reflects how each achieves greater scale with integrations. The partnership aims to enable joint Absolute Resilience customers to extend Absolute's firmware-embedded, self-healing endpoint device connections to BlackBerry's Endpoint Protection Platform (EPP). Box also announced more thorough integrations with Cisco, Relativity, Theta Lake and Splunk. New security enhancements to its core platform were also introduced at RSA that will help admins and security teams protect the flow of content inside and outside the organization and across multiple devices.
Maturity in the zero-trust sector is growing
From a marketing blitz in 2020 to a show of force in 2022 by vendors who understand zero trust and are contributing to their customers' cybersecurity and risk management, RSA has also moved forward. Fewer vendors, less feature sprawl and more focus on solving complex security challenges were a key part of the show. Enterprises are overcoming their inertia of implementing zero trust, as Kindervag alluded to in his RSA interview. 
"What we've done is figured out how to break a massively complex problem called cybersecurity into very small pieces called protect surfaces. And as one friend of mine said, 'We argued for longer than it took us to build the first zero-trust environment that we built.' So stop arguing about it and do it," he said.   
VentureBeat's mission is to be a digital town square for technical decision-makers to gain knowledge about transformative enterprise technology and transact. Learn more about membership.
Google Hangouts is shutting down this fall
Hangouts holdouts will have to finally say goodbye to Google's most resilient chat app later this year. On Monday, the company it would start migrating consumer Hangouts users to Chat before the former is no longer available after November 2022. If you still use Hangouts on mobile, you'll see a prompt starting today to move to either the standalone Chat app or the Chat experience in Gmail. "Hangouts has been replaced by Google Chat," the company declares in the notification.
Over on Gmail, Google won't begin prodding Hangouts users to switch over until July. The will remain available until November, and the company says users will have "at least" one month of warning before the platform's webpage begins automatically redirecting to the Chat website instead. If you're still actively using Hangouts, Google promises your conversations will automatically transfer to its newer app. That said, you can also use the company's to download a copy of your data.
Google has been gradually phasing out the Hangouts brand in favor of its newer messaging services for some time now, so it's not surprising the company has finally decided to sunset the platform. And while it never enjoyed the popularity of some instant messaging apps, Hangouts had its devout fans.
All products recommended by Engadget are selected by our editorial team, independent of our parent company. Some of our stories include affiliate links. If you buy something through one of these links, we may earn an affiliate commission.
Overwatch 2 Beta Begins Tomorrow: Start Time and What to Expect
Overwatch 2 starts its second beta on Tuesday for PC and console players. The beta begins at 2 p.m. ET/11 a.m. PT and runs through July 18. Sign-ups are still open for a chance to participate, and you can still get guaranteed access if you're willing to spend some cash.  
The next beta will be our first look at Junker Queen, a new tank hero who first appeared in posters on the Junkertown map that was released in 2017. Fans have been hoping to play her ever since, and five years later, we're finally getting the chance. The new beta also adds a new hybrid map, Paraiso. The developers have laid out their goals for the beta, which include testing server capacity and hero balance. 
Overwatch 2 is the sequel to Blizzard's class-based shooter, featuring two teams of five players fighting over objectives. Overwatch devs announced in June that the game will be free to play and will launch in early access on Oct. 4. The first beta injected a frantic pace into the game, which was a welcome change from the slower, more grinding pacing that's plagued Overwatch in recent years. The free-to-play PvP element will bring the game more in line with other competitive shooters, like Valorant and Apex Legends.
How to sign up for the Overwatch 2 beta
Anyone can sign up for Overwatch 2's second beta, but it's not technically an open beta. The game will add people gradually as it ramps up server capacity, and the first big wave of beta access will happen July 5, according to the beta FAQ page. Even if you were in the previous beta, you'll need to sign up again. 
Here's how to sign up:
1. Go to the Overwatch 2 beta site.
2. In the top right corner, log in to your Blizzard Account.
3. At the bottom of the Overwatch 2 beta page, choose your platform (and region for PlayStation players).
4. Then hit Request Beta Access.
If you want guaranteed beta access on June 28, you can purchase the Watchpoint Pack ($40). In addition to beta access on day one, you'll also get two legendary character skins, a unique player icon and enough digital currency to buy the first two battle passes.
How do I download the Overwatch 2 beta?
Blizzard hasn't released details on downloading the second beta, but it should follow the same process as the first beta. Here's how that worked:
1. Log in to your Battle.net account and navigate to Overwatch on the game launcher.
2. In the bottom left, click the Game Version drop-down.
3. Select Overwatch 2 Tech Beta to install.
4. When the download is complete, hit the blue Play button to start.
Junker Queen abilities
The new beta finally gives fans a chance to play as Junker Queen, a hero we've all been excited about and/or thirsting over since she was first teased on the Junkertown map. Here's what we know about Junker Queen's abilities, from the Overwatch Twitter account:
New Hybrid Map: Paraiso
The beta also adds Paraiso, a new hybrid map that explores Lucio's home, including the DJ's Clube Sinestesia. As with all hybrid maps, players will start by attacking or defending a control point, and if the attackers succeed, players will spend the rest of the map attacking or defending a payload. 
For more Overwatch 2 news, check out everything we learned from the Overwatch 2 reveal event.