Kim Kardashian & Kanye West Attend Daughter's Basketball Game Together
Kim K & Kanye
Attend North's Basketball Game
… No Pete In Sight
6/18/2022 1:44 PM PT

Kim Kardashian and Kanye West seem to be on much better terms than some might think — especially amid Pete Davidson's continued integration — because the exes reunited again.
Check out these photos, obtained by TMZ, which we're told were shot Friday at a multi-purpose gym facility near Thousand Oaks, CA … where their eldest daughter, North, was playing in a league basketball game for kids around 7 PM.
There's mom and dad in the stands … looking on as North does her thing with her team. They weren't even that far apart — just a row back from one another, in very close proximity.
Eyewitnesses tell us they did speak from time to time throughout the evening, and appeared to be cordial. Neither parent made a big scene by cheering or much of anything else … we're told they looked like they were just trying to lay low and just watch North together.
This is definitely a good sign of successful co-parenting, which Kim and Kanye had already shown they can do without issue. Remember, they did this exact sort of thing back in March when they hit up Saint's soccer game in the same crew. There, too, they looked OK.
That was during a time when Kanye was raging online as Pete and Kim's relationship was getting more serious … but since then, he's calmed down a lot and been mostly silent.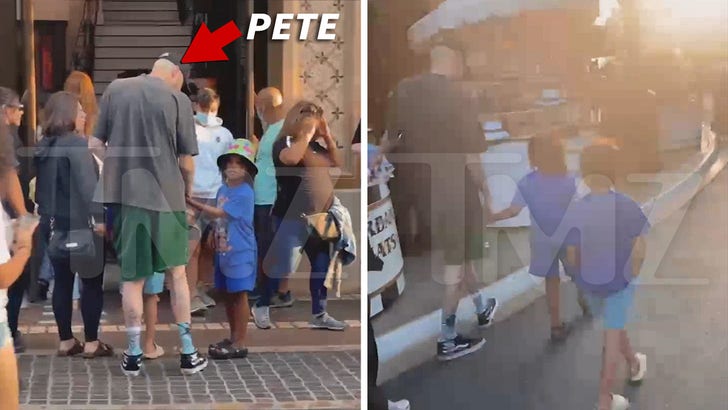 6/4/22
TMZ.com
Of course, much has changed in the months that have followed … including the undeniable fact that PD has not only met Kim and Kanye's kids, but has gotten pretty close with them as well — evidenced in a recent one-on-one outing he had with their son at The Grove.
When people saw this … they figured Ye might flip his lid again, but based on this latest outing between the two parents, something tells us everyone's on the same page now.
Mishael Morgan becomes first Black artist to win Best Actress Daytime Emmy
Mishael Morgan won the Best Lead Actress Daytime Emmy Award on Friday. Photo courtesy of CBS
June 25 (UPI) — The Young & the Restless star Mishael Morgan became the first Black artist to win a Daytime Emmy Award in the Best Lead Actress category in Pasadena Friday night.
"I was born on a tiny island in the Caribbean, and I'm now standing on an international stage and I am being honored regardless of the color of my skin, regardless of my passport, for being the best at what I do," Morgan said as she accepted her statuette.
"Now there are little girls around the world and no matter what the industry, the vocation … they can strive to be the best."
The actress also thanked viewers for their support since she joined the soap opera in 2013.
"I am so immensely proud of our generation," she said. "We are breaking glass ceilings left right and center and I am so honored to be a vessel and to experience this moment. Everybody out there today, we can do this thing called equality and unity together."
BTS' 'Proof' tops U.S. album chart
1/5
BTS' "Proof" is No. 1 on the Billboard 200 album chart. File Photo by Oliver Contreras/UPI | License Photo
June 25 (UPI) — K-pop group BTS' Proof is the No. 1 album in the United States this week.
Coming in at No. 2 on the Billboard 200 chart dated Saturday is Bad Bunny's Un Verano Sin Ti, followed by Harry Styles' Harry's House at No. 3, Post Malone's Twelve Carat Toothache at No. 4 and Future's I Never Liked You at No. 5.
Rounding out the top tier are Morgan Wallen's Dangerous: The Double Album at No. 6, Kendrick Lamar's Mr. Morale & The Big Steppers at No. 7, Olivia Rodrigo's Sour at No. 8, SZA's Ctrl at No. 9 and Carrie Underwood's Denim & Rhinestones at No. 10.
Shooting at Oslo, Norway, gay bar leaves 2 dead
Police investigate the scene after several shots were fired outside the London Pub in the center of Oslo, Norway, on Saturday. Photo by Javad Parsa/EPA-EFE
June 25 (UPI) — Oslo, Norway, canceled its gay pride parade and raised its terror threat to the highest level Saturday after a shooting at an LGBTQ nightclub left two people dead and 21 injured, authorities said.
The shooting took place at 1:14 a.m. Saturday at the London Pub, a second bar and a fast-food restaurant. Police arrested a suspected gunman who they believe acted alone.
Of those injured, 10 were in serious condition.
Police haven't identified the suspected shooter, but described him as being a 42-year-old Norwegian citizen of Iranian descent, according to Norwegian newspaper Aftenposten. CNN reported he was "known to police" and had minor previous convictions.
Authorities said they seized two weapons from him upon the arrest.
Roger Berg, the head of Norway's domestic intelligence and security service, said the shooting was being investigated as an act of "extreme Islamist terror," according to The Washington Post.
The suspect was being held on charges of murder, attempted murder and terrorism, police official Christian Hatlo said.
The attack happened hours before the city's planned gay pride parade. Organizers said pride events scheduled for Saturday have been canceled upon police advice.
Despite the cancellation, thousands of people joined an impromptu parade outside the nightclubs where the shooting took place. Many waved gay pride flags, while others shouted slogans of support for gay rights.