Jeremy Stephens shaves head to make weight for fight with Irishman Myles Price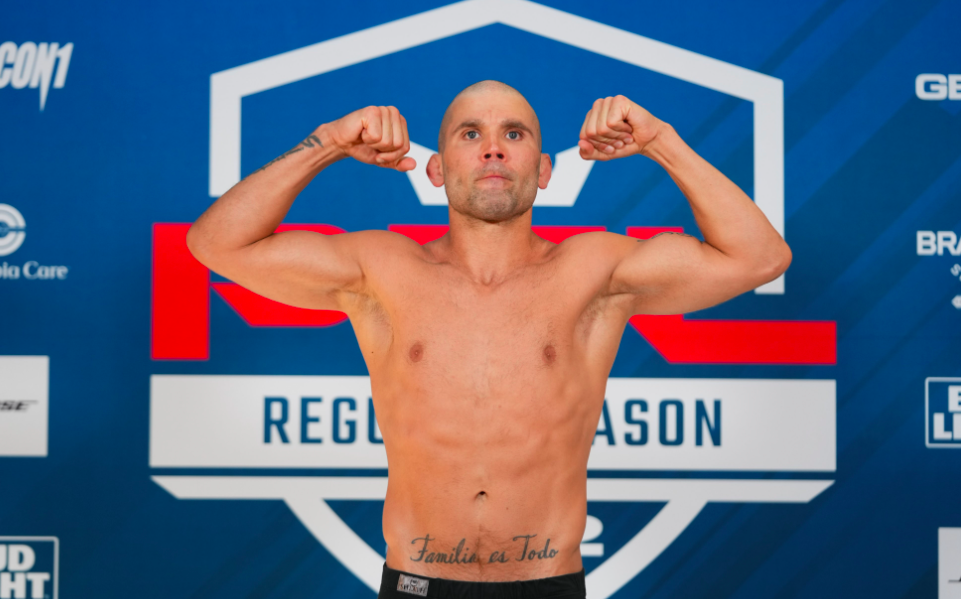 If you couldn't tell "who the f*** is that guy" before, you will likely have even more trouble now.
Former UFC fighter Jeremy Stephens has been winless in the cage dating back seven fights to 2018 but will have an opportunity to get back in the win column at Friday's PFL show in Atlanta, Georgia when he takes on Ireland's Myles Price, who was recently defeated by Anthony Pettis in his first bout for the organisation.
But if Stephens wins, he will do so without his trademark beard after he was forced to trim both his facial hair and locks to successfully make weight for the Price fight after arriving to the pre-fight weigh-ins with just ten minutes remaining in the window — and also requiring the towel to be used as he weighed in at 156-pounds for the fight.
Regardless of his recent record, Stephens is the bookies' favourite to get the win against Price, who has fought just once since early 2019.
Stephens will be hoping to move up the PFL divisional ladder with what would be his first win in their unique leaderboard scenario in what is the second round of fights in the lightweight competition. The event will be headlined by Clay Collard and Alex Martinez, both of whom were successful in their first bouts.
Check out Stephen's new look below:
Clean Shaven @LiLHeathenMMA hits the lightweight limit. #2022PFL4

⚖️ 156 lbs

Stephens vs Price is official for tomorrow night! pic.twitter.com/YmbpJPYZ1m

— PFL (@PFLMMA) June 16, 2022
–
comments
ESPN FC Women's Rank: The best 50 players in the world
What a year for women's soccer.
It's hard to look past the achievements of Barcelona. They set the game's attendance record, drawing 91,648 to the Camp Nou for a European tie against Wolfsburg. They won Spain's Primera Division Femenina by winning 30 games in the 30-game season. They made it a domestic double by adding the Copa del Reina, winning six of six in that competition. And they treated us to one of the most entertaining and unpredictable Champions League finals you'll ever see.
Unfortunately for the Blaugrana, it won't remembered fondly in the Catalan capital. That's because Lyon, winners of six of the previous seven European Cup finals, sprang a surprise by upsetting their heavily favored opponents.
The headlines weren't all positive. In the National Women's Soccer League (NWSL), it's been a year of reckoning. Of the 10 teams that participated in the 2021 season, eight have been roiled by allegations of sexual misconduct, verbal and emotional abuse, harassment and retaliation — all in the past 12 months.
There were victories that were larger than the game, too. U.S. Soccer agreed collective bargaining agreements (CBAs) with the United States men's and United States women's national teams that for the first time include equal pay.
And 2022 stands to get better. In less than a week, one of the most exciting months in women's soccer will begin. July will mark the start of the Africa Women Cup of Nations, the CONCACAF W Championship, the Oceania Women's Nations Cup, the Women's European Championship and the Copa America Femenina.
To mark a year of achievement we present ESPN FC Women's Rank 2022. This spring, we polled 26 of the brightest minds in women's soccer — from coaches to executives to journalists — about their standout performers across the 2021-22 season, and we arrived at the definitive ranking of the top 50 women's players in 2022.
– Soccer on ESPN+: FC Daily | Futbol Americas

– Don't have ESPN? Get instant access
This year's voting panel includes: former USWNT captain Julie Foudy, USWNT manager Vlatko Andonovski, Netherlands women's manager Mark Parsons, NJ/NY Gotham FC GM Yael Averbuch, director of women's football for the Swiss FA Tatjana Haenni, former Republic of Ireland goalkeeper Emma Byrne, former Australia international Alicia Ferguson, former member of the FIFA Council Moya Dodd, Orlando Pride manager Amanda Cromwell (voted before she was placed on administrative leave by her club), ESPN editor Caitlin Murray, ESPN commentator Sebastian Salazar, ESPN commentator Cristina Alexander, ESPN contributor Jeff Kassouf, ESPN editor Lindsay du Plessis, ESPN contributor Sophie Lawson, BBC journalist Jo Currie, Telegraph journalist Tom Garry, ESPN contributor Marissa Lordanic, Australian Associated Press journalist Anna Harrington, Beyond 90 co-founder Cheryl Downes, ESPN contributor Cesar Hernandez, Mexican Soccer Show podcast host Amelia Lopez, Globo Esporte producer Cintia Barlem and women's football journalist Romain Balland.
It should come as no surprise, considering how this introduction started, that Barcelona are well represented at the top of the order. There's no shortage of representation from Lyon, either.
One interesting development came at the sharp end of the order, where players ranked Nos. 1 and 2 received 20 of 26 first-place votes. Curiously, the player who finished second in the voting received the most first-place votes, but our winner consistently finished higher on our voters' ballots.
Perhaps the most noticeable trend to emerge after all the ballots had been counted was the decline of American players. Last year's edition featured 11 members of the USWNT, including our No. 1 and three in the top 10. This year, that number is down to six, with just one making our top 10. Does that reflect a fading footballing power, or a more international voter panel?
Without further ado: These are the 50 best players in women's soccer today.
Sophie Lawson reveals the league she thinks is pulling in the best women's talent from around the world.
---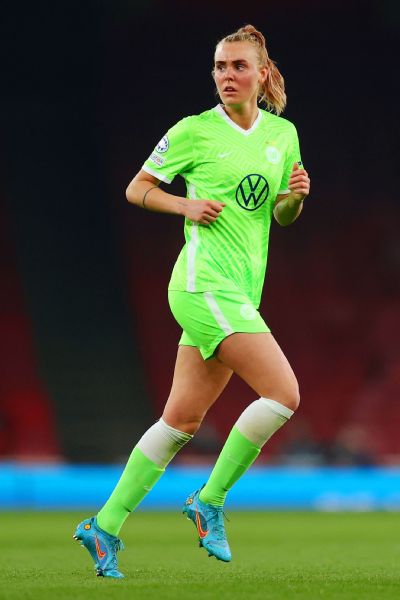 50. Jill Roord
Country: Netherlands

Club: Wolfsburg

Age: 25

Position: Midfielder

2021 Rank: Not ranked
After two years, Roord returned to German pitches, and there is nothing the midfielder could have done better. Wolfsburg's style, the role she fits into and how often she can be in front of the goal make Roord the perfect attacking midfielder. She has become a player who can score in the biggest matches, with the flexibility of playing anywhere in midfield or attack, and she is not afraid of the pressure to score in front of 90,000 spectators at Camp Nou. — Sjors Grol
---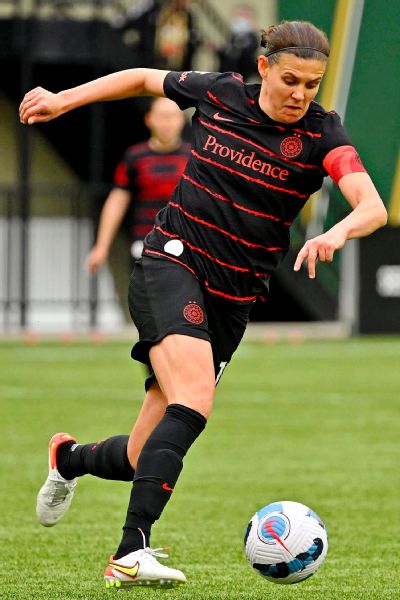 49. Christine Sinclair
Country: Canada

Club: Portland Thorns

Age: 39

Position: Forward

2021 Rank: Not ranked
Sinclair led Canada to a shiny gold medal in the Tokyo Olympics last summer. She more recently scored her 189th goal for Canada in her 310th appearance. The 39-year-old forward also reached 150 games in her NWSL career wearing the Portland Thorns jersey with pride. — Cristina Alexander
---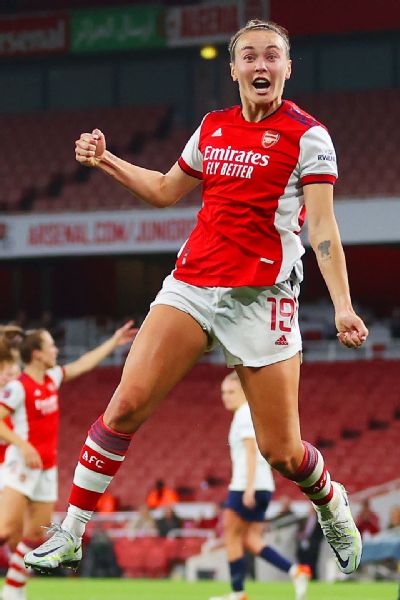 48. Caitlin Foord
Country: Australia

Club: Arsenal

Age: 27

Position: Forward

2021 Rank: Not ranked
Foord's second half of the season for Arsenal was nothing short of excellent. While her production was down on last season's efforts, her influence was undeniable. There were moving parts around her up front for the Gunners, but Foord was a constant presence and threat. With four goals and three assists from 16 appearances, the Matildas forward made sure she couldn't be ignored. While her work at national team level sometimes gets overshadowed by Sam Kerr, Foord is an integral attacking option in her own right. — Marissa Lordanic
---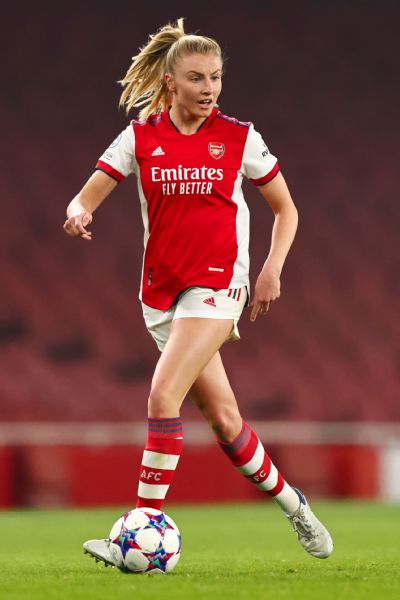 47. Leah Williamson
Country: England

Club: Arsenal

Age: 25

Position: Defender

2021 Rank: Not ranked
To be Williamson in this moment is to carry a heavy burden. After a stellar season for Arsenal, she will succeed the indomitable Steph Houghton as England captain for this summer's Euros. It's a task she has welcomed, the highlight of her career. A versatile player — she primarily plays defense for Arsenal but commands the field as a defensive midfielder for England — she is poised to showcase capabilities as a player and a leader on the international stage this summer. — Connor O'Halloran
---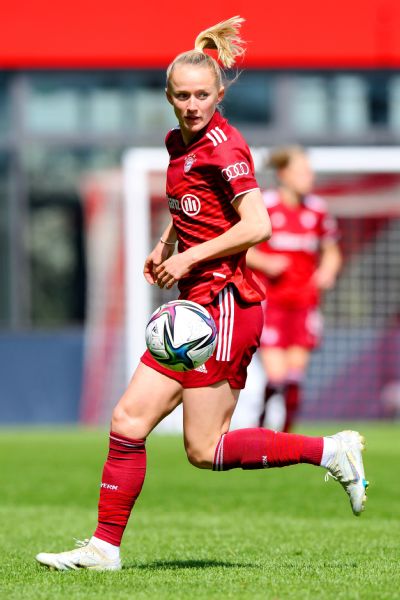 46. Lea Schuller
Country: Germany

Club: Bayern Munich

Age: 24

Position: Forward

2021 Rank: Not ranked
Schuller is the reigning Germany Player of the Year and one of the talents they hope will end their big-tournament bad luck streak at this summer's European Championship. In 2021, she scored a quarter of all of Germany's goals. The Bayern Munich striker also topped the Frauen Bundesliga scoring chart with 16 goals. — Kathleen McNamee
---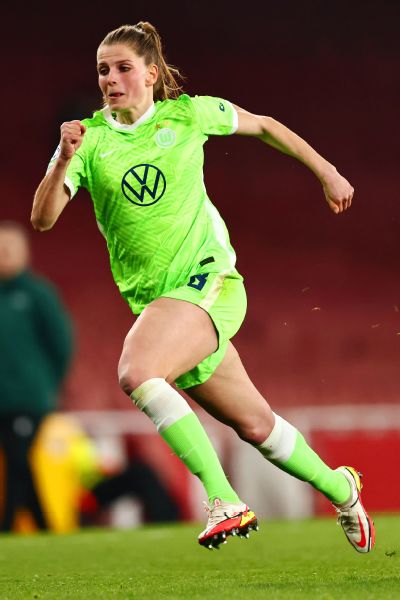 45. Tabea Wassmuth
Country: Germany

Club: Wolfsburg

Age: 25

Position: Forward

2021 Rank: Not ranked
An accomplished goal scorer with Hoffenheim before making the switch to Wolfsburg ahead of the season, Wassmuth got the chance to impress in the Women's Champions League in the 2021-22 campaign. Needing a little extra time to settle into the new-look Wolfsburg team, she found her best early form in European competition, where she tallied 10 goals across 11 matches, seven of which came against English opposition. With a blistering turn of pace, Wassmuth has rounded out her game since moving to Lower Saxony but stands out for her goals; her 13 for the She Wolves in the Frauen Bundesliga season was the second-best tally (tied with Selina Cerci) in the league. — Sophie Lawson
---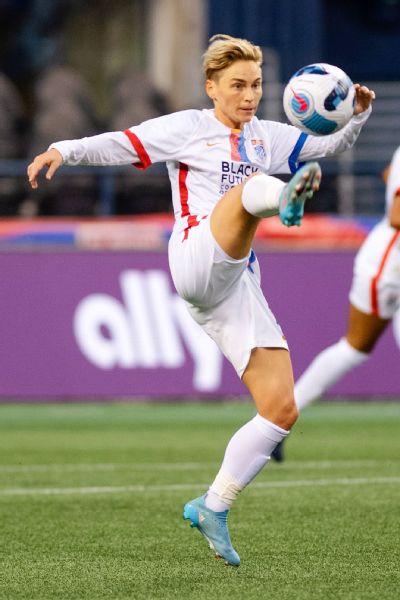 44. Jess Fishlock
Country: Wales

Club: OL Reign

Age: 35

Position: Midfielder

2021 Rank: Not ranked
Fishlock continued to show the class and tenacity that have made her a fan favorite for years — the kind of player you'd love to have on your team. But the magic of Fishlock isn't solely her audacious long-range shots and ability to hit the ball on a dime, it's the doggedness and work rate. In what was a strong NWSL campaign, her 2021 MVP award was a testament to her work in the season as well as a nod to nearly 10 years of highlights. — Marissa Lordanic
---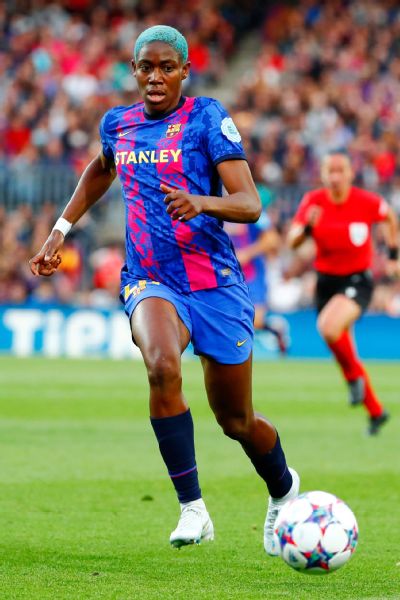 43. Asisat Oshoala
Country: Nigeria

Club: Barcelona

Age: 27

Position: Forward

2021 Rank: 27
Oshoala is regarded as one of Africa's finest players because of her speed, strength on the ball and prolific scoring rate. A four-time African women's player of the year, she was the leading scorer in Spain's top flight this past season with 20 goals, despite spending two months out injured, and led Barcelona to yet another domestic double. Nigeria's Super Falcons had a lean patch as far as fixtures go this past year, but Oshoala managed four international goals and will aim to add more at the Africa Women Cup of Nations. — Lindsay du Plessis
---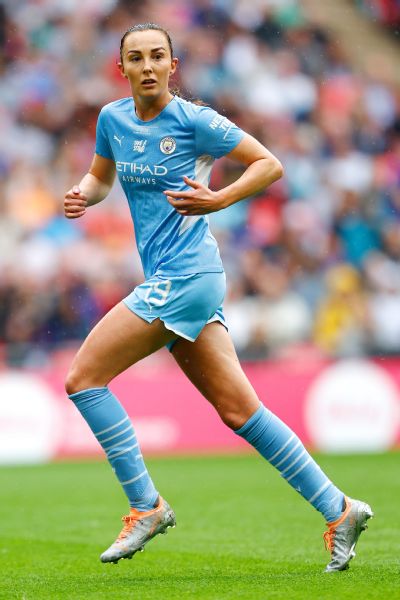 42. Caroline Weir
Country: Scotland

Club: Free agent

Age: 26

Position: Midfielder

2021 Rank: 25
After four glittering years at Manchester City, during which she was twice nominated for the FIFA Puskas Award, the Scotland international is a free agent. The Telegraph reported last month that she is set to join Spanish giants Real Madrid. Whichever club she signs for will be getting one of the most entertaining players in world football, someone who can fire a strike from range just as easily as she can deliver a delicately chipped shot. — Connor O'Halloran
---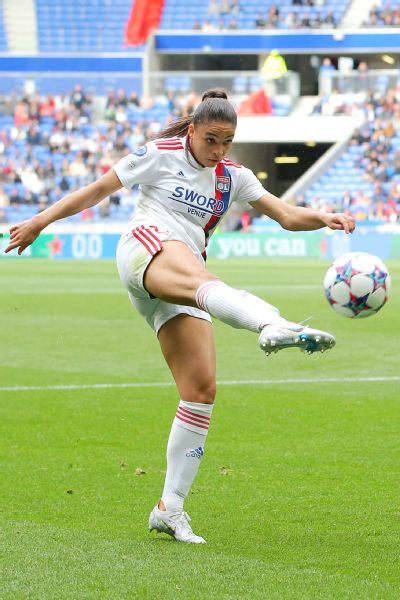 41. Delphine Cascarino
Country: France

Club: Lyon

Age: 25

Position: Midfielder

2021 Rank: 21
Cascarino has dropped 20 places from last year's rankings, but that is possibly more a representation of how good she was in 2020 than a comment on her performances this year. She was the fastest player on record in the Champions League and it was her attacks from down the wings that gave players like Ada Hegerberg, Catarina Macario and Melvine Malard the service they needed to shine. Her dribbling is second to none, as is her decision-making. In this spring's UWCL final, she was explosive in the counterattack against Barcelona, who had little response to her speed. She deserved a goal from her tight effort after the 50-minute mark for the shift she put in. — Kathleen McNamee
---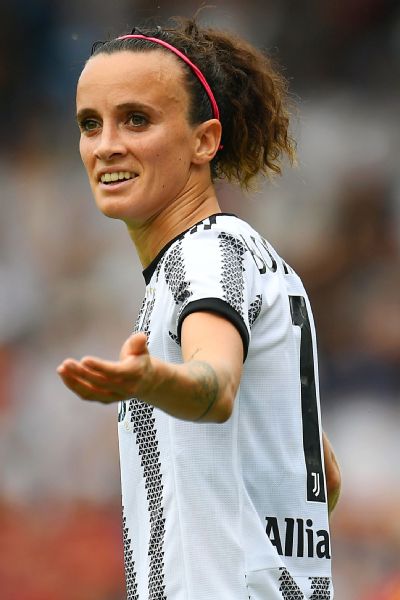 40. Barbara Bonansea
Country: Italy

Club: Juventus

Age: 31

Position: Forward

2021 Rank: Not ranked
Despite her lengthy injury history, she is still ranked third in all-time appearances for Juventus, her commitment to the club earning her a new contract in May. She was also inducted into Italy's football hall of fame at the end of this season for her pioneering role leading women's football in the country. — Kathleen McNamee
---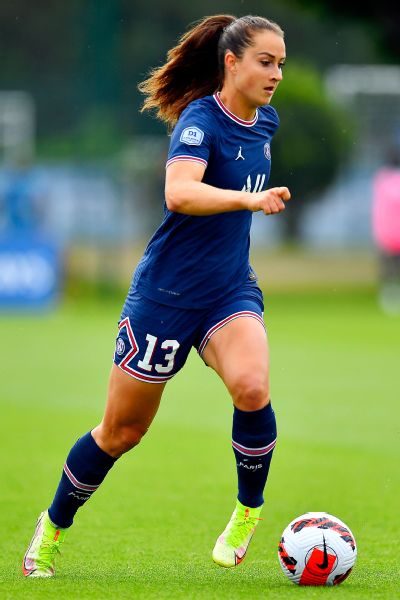 39. Sara Dabritz
Country: Germany

Club: Lyon

Age: 27

Position: Midfielder

2021 Rank: Not ranked
Dabritz will play for European champions Lyon next season after moving from Paris Saint-Germain, where she had played since 2019. With PSG this past season she won the Coup de France Feminin and finished runners-up to Lyon for the league title. She scored eight league goals with nine assists, while in the Champions League she bagged a goal and four assists as PSG fell to her new club in the semifinals. With only three international appearances in 2022, Dabritz will hope to impress for Die Nationalelf at the Women's Euros. — Lindsay du Plessis
---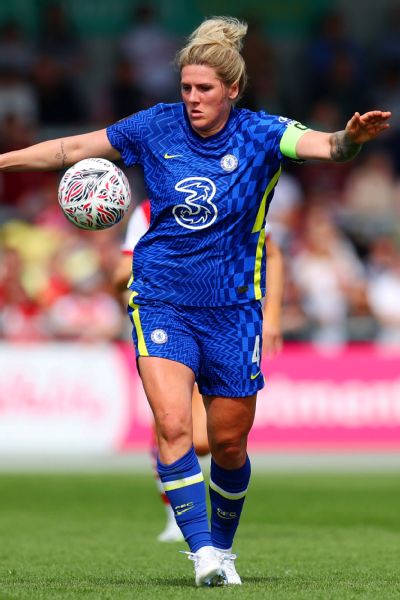 38. Millie Bright
Country: England

Club: Chelsea

Age: 28

Position: Defender

2021 Rank: Not ranked
After Magdalena Eriksson suffered an ankle injury in December, Chelsea had to figure out who would help fill the gap vacated by their stalwart Swedish captain. Who was going to lead this dynasty in the interim? Well, it was Bright who stepped forward, guiding Chelsea to an impressive winning streak and a third consecutive Women's Super League (WSL) title. Her presence in defense is intimidating and invaluable, and her experience at one of the game's biggest clubs will serve to settle English nerves as they bid to deliver on lofty expectations this summer. — Connor O'Halloran
---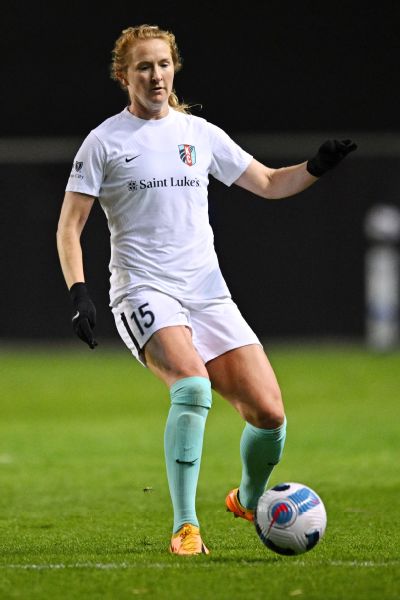 37. Sam Mewis
Country: United States

Club: Kansas City Current

Age: 29

Position: Midfielder

2021 Rank: 1
Going from No. 1 in 2021 to No. 37 is a considerable drop, but it can be largely explained by injury. Mewis underwent knee surgery last August, and was meant to miss just six to eight weeks, but the 29-year-old will miss the CONCACAF W Championship while she continues her recovery. She has played just 135 minutes since her operation 10 months ago. Once she returns to fitness, though, her extensive experience — 92 games in the NWSL and 21 goals — will go a long way to lifting the Current from their position near the bottom of the table. — Cristina Alexander
Kathleen McNamee tells Sebastian Salazar why only one U.S. player made the top 10 in the ESPN FC Women's Rank.
---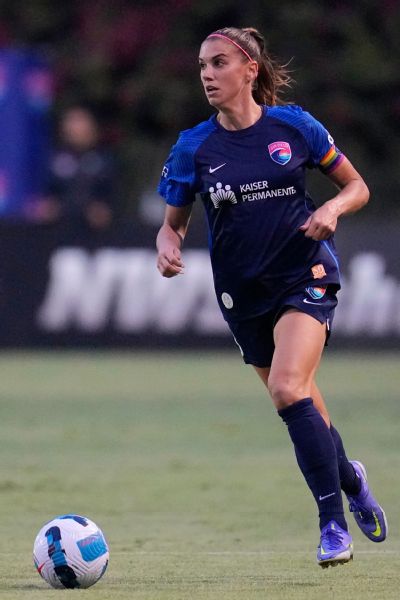 36. Alex Morgan
Country: United States

Club: San Diego Wave

Age: 32

Position: Forward

2021 Rank: 38
There's always a lot to say about the USWNT co-captain. Morgan returned to the West Coast to join the newest NWSL franchise, the San Diego Wave, and has been killing it ever since. Scoring 15 goals in 16 games suggests that the 32-year-old is feeling at home with her California crew. She also secured a spot in the national team to pursue yet another World Cup and Olympics bid in the CONCACAF W Championship this summer. — Cristina Alexander
---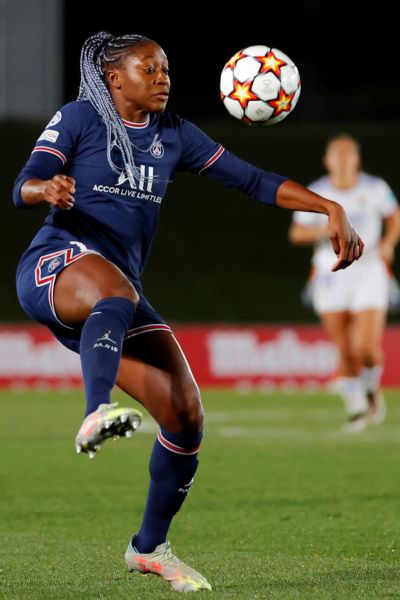 35. Kadidiatou Diani
Country: France

Club: Paris Saint-Germain

Age: 27

Position: Forward

2021 Rank: 36
An unpredictable attacker who refuses to be pushed off the ball, "Kady" Diani forms a third of PSG's formidable attack with Marie-Antoinette Katoto and Sandy Baltimore, the 27-year-old usually found on the right side of the front three. With speed to burn, Diani's agility separates her from others in her position, as she happily weaves around defenders, turning them inside out without relinquishing the ball, or as teammate Sakina Karchaoui says, she is "sturdy." A regular for Corinne Diacre's France, Diani remains one of the more creative outlets in the team, not quite scoring with the same regularity for her national side as her club team, but she is sure to delight at the Euros. — Sophie Lawson
---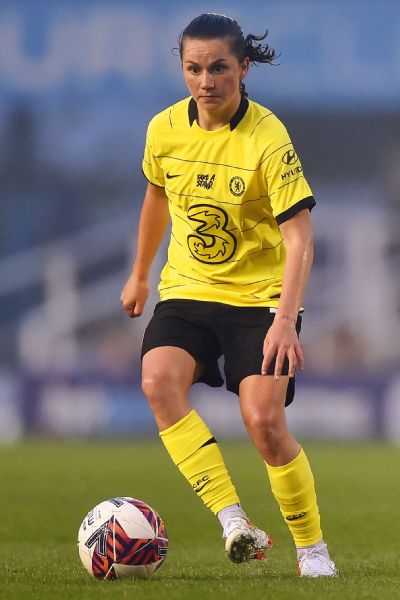 34. Jessie Fleming
Country: Canada

Club: Chelsea

Age: 24

Position: Midfielder

2021 Rank: Not ranked
A midfielder with the instincts of an attacker, Fleming's adaptability is just one of the strings on her accomplished bow. With another WSL title and two FA Cups in the locker for the league season, Fleming also demonstrated her importance for Canada at last summer's Tokyo Olympics. The team's perennial No. 17 was on hand to convert penalties in both the semi and final in Japan, her calmness under intense pressure a marker of her game, the studious player a natural leader on the pitch. — Sophie Lawson
---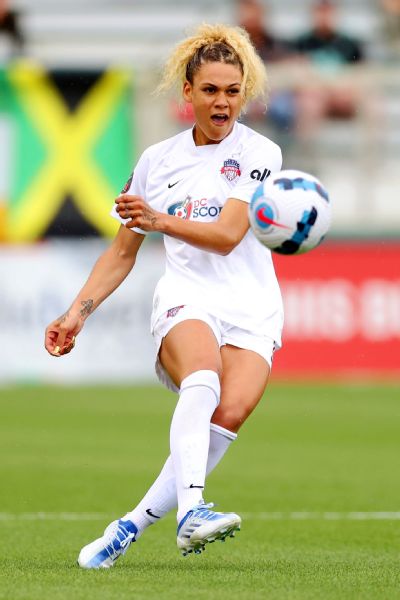 33. Trinity Rodman
Country: United States

Club: Washington Spirit

Age: 20

Position: Forward

2021 Rank: Not ranked
After one full year as a professional, Rodman has proved to be one of the most exciting young prospects in the game anywhere. Her speed and intensity are immediately obvious, but she's at her best when she isn't predictable and just tries stuff.
As the league leader in assists, she led the Washington Spirit to a championship last fall and was named the NWSL's Rookie of the Year. The Spirit as such locked her in with a four-year contract that made her the NWSL's highest-paid player, and she topped ESPN's ranking of the top U21 prospects in the game. Her famous father, Basketball Hall of Fame Dennis Rodman, still tends to get mentioned alongside her, but these days it's only to point out that Trinity is cutting through the hype and making a name for herself. — Caitlin Murray
---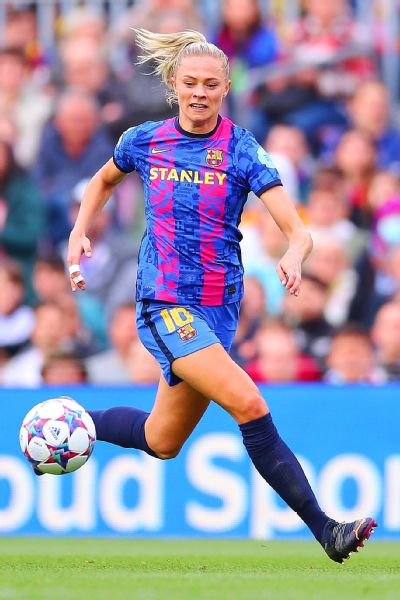 32. Fridolina Rolfo
Country: Sweden

Club: Barcelona

Age: 28

Position: Defender

2021 Rank: Not ranked
When Barca signed Rolfo from Wolfsburg, few expected to see her at left-back in a Champions League final. Perhaps it's disingenuous to call her a left-back, given she managed 12 goals and 17 assists across the league and the Champions League, but that is where she appears on the team sheet in Jonatan Giraldez's 4-3-3 formation. It has added another dimension to Barca's game to have the Sweden international surging down the wing, allowing the forward ahead of her to occupy the half space inside and creating all sorts of problems for opponents. She has proved one of the signings of the season. — Sam Marsden
---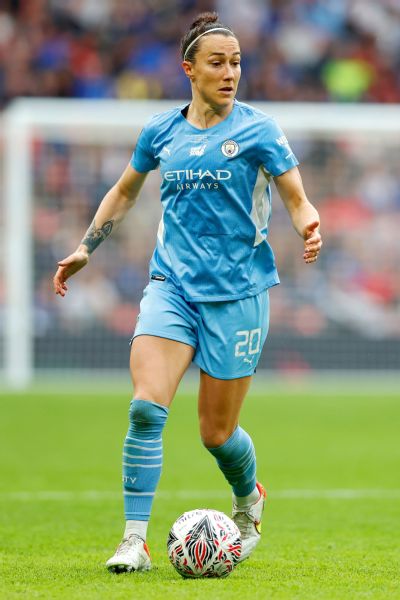 31. Lucy Bronze
Country: England

Club: Barcelona

Age: 30

Position: Defender

2021 Rank: 5
This ranking almost seems harsh. There is a reason Barcelona signed Bronze, the 2020 FIFA The Best award winner. Her pedigree is unrivalled in the English game, and her drop in our rankings, from No. 5 to No. 31, can be explained by her lack of football in the first half of last season as she recovered from a fifth career knee operation. Expected back for Euro 2022 and with the Camp Nou awaiting her arrival, she's got every chance of returning to her former glory in 2023. — Connor O'Halloran
---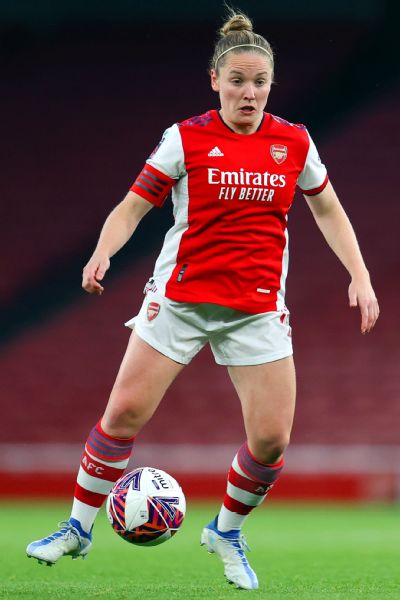 30. Kim Little
Country: Scotland

Club: Arsenal

Age: 31

Position: Midfielder

2021 Rank: 39
Little's recent loan move from Arsenal to NWSL side OL Reign will reunite her with her former Seattle club, and Reign fans will hope she brings her WSL form with her, having helped push Chelsea to the limit in a title race that went down to the final day. Little, who retired from international football in 2021, was named in the PFA WSL team of the year after her six goals for the Gunners during the league season. No one above her on the scoring charts had a better shot-to-goal conversion rate, as she netted 77% of her attempts. — Lindsay du Plessis
---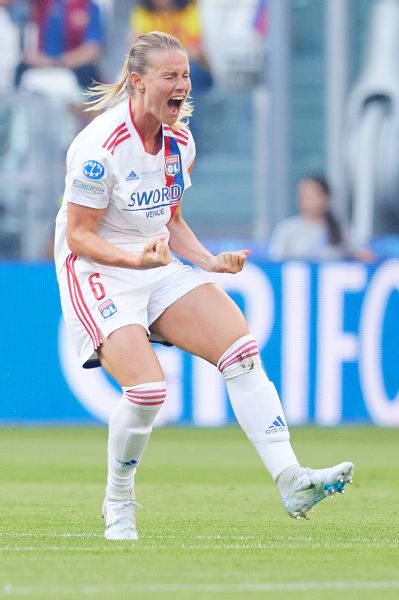 29. Amandine Henry
Country: France

Club: Lyon

Age: 32

Position: Midfielder

2021 Rank: 16
The 2021-22 season will always be remembered for the incredible long-range goal Henry scored in the Champions League final to open the scoring for Lyon against Barcelona. It capped a season in which the 32-year-old got back to her best, despite losing her place in the France squad. She showed she could clearly still deliver despite being written off by the likes of France manager Corinne Diacre. — Julien Laurens
---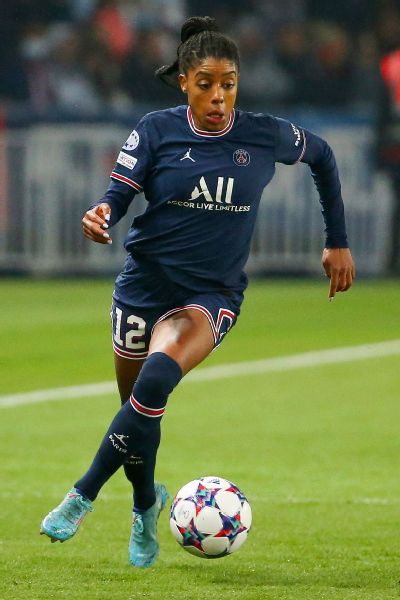 28. Ashley Lawrence
Country: Canada

Club: Paris Saint-Germain

Age: 27

Position: Defender

2021 Rank: Not ranked
Six years with PSG, nine with the powerful Canadian national team — Lawrence's brilliant career speaks for itself. The full-back is a consistent starter in Paris, where she won the French Cup for the second time in her career. The 27-year-old has also been critical to the capital club's valiant efforts to reel in Lyon in the league, winning the 2020-21 title and securing a runner-up finish this season. — Cristina Alexander
---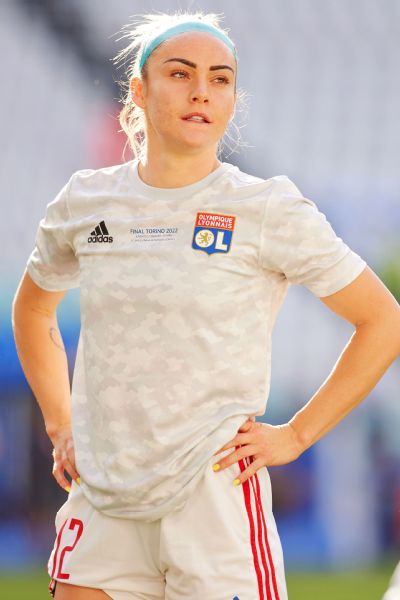 27. Ellie Carpenter
Country: Australia

Club: Lyon

Age: 22

Position: Defender

2021 Rank: Not ranked
If Sam Kerr is the first name on any Australian team sheet, Carpenter's is second. The 22-year-old has proved to be invaluable and irrepressible, though Lyon and the Matildas will be hoping she isn't irreplaceable after the full-back suffered an ACL injury in the UEFA Women's Champions League final. Carpenter is the perfect archetype of the modern full-back: lightning speed, defensive solidity and an insatiable desire to attack. The two-time Women's Champions League winner will be looking to return to her best for the World Cup on home soil in 2023. — Marissa Lordanic
---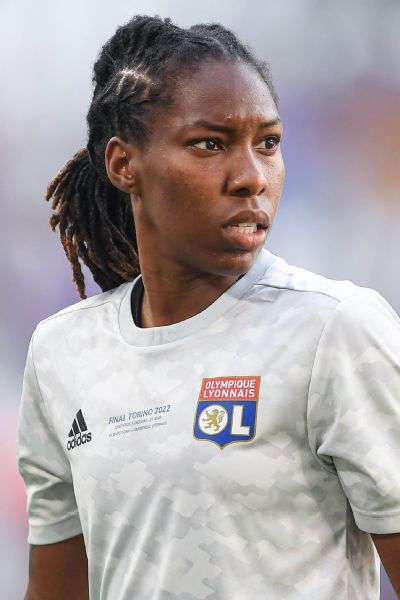 26. Kadeisha Buchanan
Country: Canada

Club: Chelsea

Age: 26

Position: Defender

2021 Rank: 33
An Olympic gold medal winner with country and a UEFA Women's Champions League winner with club, Buchanan's season can only really be summed up as golden. She played every second of Canada's historic gold-medal run at Tokyo 2020, partnering Shelina Zadorsky and Vanessa Gilles in the heart of defense. She was just as crucial for Lyon as the powerhouse club returned to the summit of both French and European football. A good defender can't be understated, especially now when the focus is so often on midfield maestros and goal tallies, and that's exactly what Buchanan is. — Marissa Lordanic
---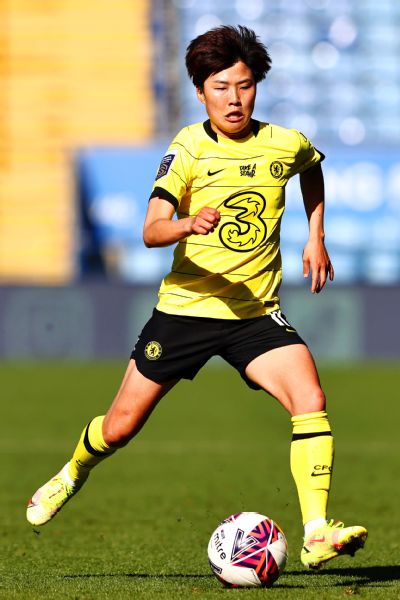 25. Ji So-Yun
Country: South Korea

Club: Suwon FC

Age: 31

Position: Midfielder

2021 Rank: 18
The news that Ji was leaving Chelsea to return home was met with disappointment from fans across the Women's Super League. While you might not have wanted to see her dancing through your side's defense, watching Ji was always an absolute pleasure.
A midfield maestro, she was often pulling the strings to make sure the Chelsea machine hummed its perfect rhythm. Overlooked at times for just how good she is, she has given Chelsea eight of her best years. Emma Hayes has even said if it was in her control, she would give her "magician" a statue. She has helped Chelsea to each of their 11 major trophies during the WSL era, and while Erin Cuthbert is seen as a worthy future to their midfield, it's hard to see how they won't miss Ji this coming season. — Kathleen McNamee
---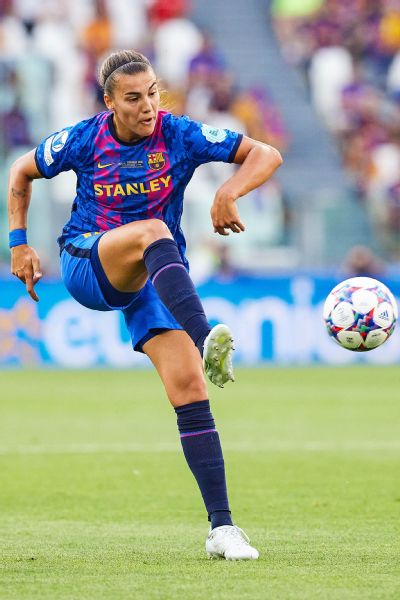 24. Patri Guijarro
Country: Spain

Club: Barcelona

Age: 24

Position: Midfielder

2021 Rank: Not ranked
Guijarro is perhaps the most underrated player in Barcelona's side, although recognition for her importance is growing. At the base of the midfield, her first task is to break up play and start attacks, but she has an excellent eye for a pass and is increasingly contributing in the final third. She almost scored the goal of the season in the Champions League final, hitting the bar from the halfway line. — Sam Marsden
---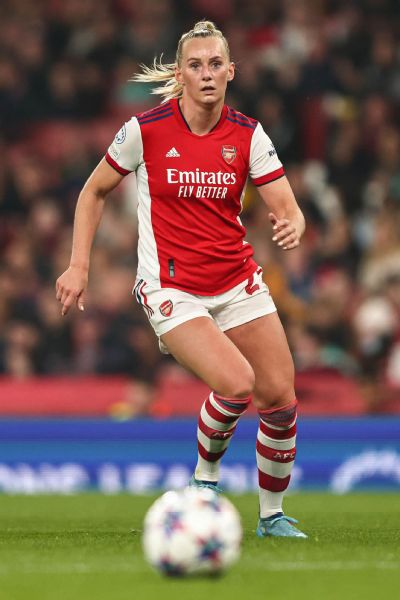 23. Stina Blackstenius
Country: Sweden

Club: Arsenal

Age: 26

Position: Forward

2021 Rank: Not ranked
Arsenal managed to see off several competitors to the signing of Blackstenius in January as they brought her to the WSL on a free transfer from Sweden's BK Hacken. The Swedish striker has since formed a seamless partnership with Vivianne Miedema up front to establish themselves as one of the most ruthless duos in world club football.
She arrived at Arsenal at the turn of the year having finished top scorer in the Swedish top flight with 17 in 21 last term. The Arsenal boss Jonas Eidevall was delighted to secure what he labelled a "world-class talent" and it's clear to see why from her exploits for Sweden. She was integral to their silver medals at Rio 2016 and Tokyo 2020, where in Japan she scored two key goals against the USWNT and one against Canada in the final. She has garnered a reputation for being able to break through high-pressing defenses through her own tricky and deft footwork. Fans of Sweden and Arsenal will be hugely thankful she ended up following her football dreams, instead of pursuing a career in handball — a sport she was equally adept at and played until she was 17 years old. — Tom Hamilton
---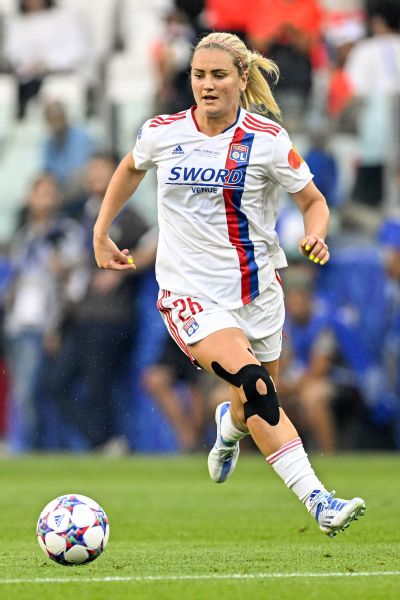 22. Lindsey Horan
Country: United States

Club: Lyon

Age: 28

Position: Midfielder

2021 Rank: 23
With a game as well-rounded as Horan's, it's can sometimes feel insufficient to label her as a mere box-to-box midfielder. She's a ball winner, transition stopper, goal scorer, chance creator and tough tackler all rolled into one. That can sometimes be a blessing and a curse: when her team isn't clicking, she can try to do everything herself, partially because she can do everything herself. But since arriving in France in January, she's often been the glue to keep the midfield intact so Lyon's other star players can go for it. — Caitlin Murray
Kathleen McNamee and Sophie Lawson make their predictions for players to take the ESPN FC Women's Rank by storm in 2023.
---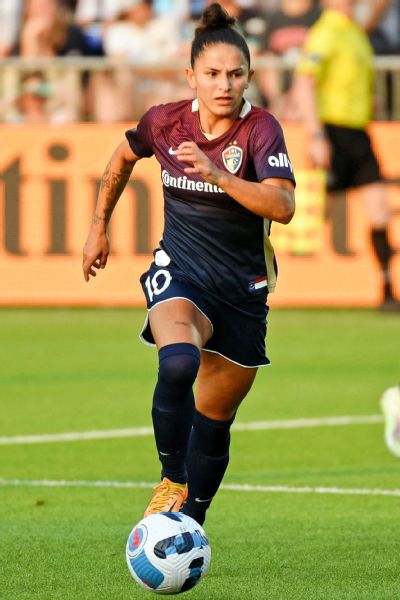 21. Debinha
Country: Brazil

Club: North Carolina Courage

Age: 30

Position: Forward

2021 Rank: 10
Debinha does it all: scary skills, fancy footwork, dizzying dribbling. The Brazilian forward added another MVP award to her list of achievements, this time in this spring's NWSL Challenge Cup, where she notched a five-match scoring streak along the way to helping the North Carolina Courage to their first title in the competition. There's no rest for the 30-year-old, who has logged a total of 5,226 minutes over the course of an international career that has seen her capped 119 times, sixth most in Brazil's history. — Cristina Alexander
---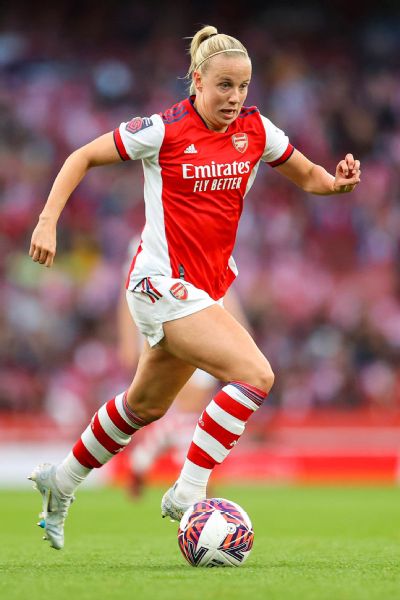 20. Beth Mead
Country: England

Club: Arsenal

Age: 27

Position: Forward

2021 Rank: Not ranked
Mead has had a turbulent 12 months. She suffered the brutal disappointment of missing out on a spot in Team GB's Olympics team, but channeled that into playing some of her best football to date for Arsenal and England across the 2021-22 campaign. She was bizarrely left off the PFA Player of the Year shortlist despite finishing the season with eight assists — the joint most in the WSL — and 14 goals in the league for Arsenal, but she did scoop the club's Player of the Season award (no mean feat when you have Vivianne Miedema for a teammate).
Mead can play in any of the front three positions and is as equally adept from long distance as she is in the six-yard box. Her packed highlight reel includes some stunning free kicks and long-range strikes — like her thunderbolt against Aston Villa in May — but keep an eye out for her more nuanced work. She has this ability to pluck out teammates with perfectly weighted, bisecting crosses while she also causes defenses to backpedal with her mazy runs that usually end up with an unstoppable shot to the far post. — Tom Hamilton
---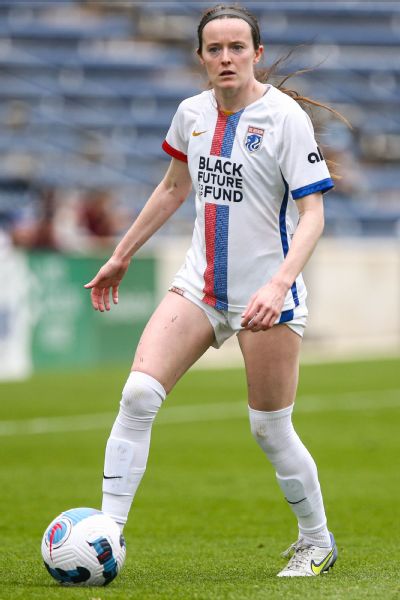 19. Rose Lavelle
Country: United States

Club: OL Reign

Age: 27

Position: Midfielder

2021 Rank: 15
Lavelle has slipped four spots from last year's list, but she is arguably playing better soccer now. That's because in England's WSL she was often played out of her best, central position. She left Manchester City shortly after last year's list was announced to head stateside for OL Reign, where coach Laura Harvey has been giving her the freedom to find and impact the game.
Lavelle will probably go down in U.S. women's national team history as one of the most creative No. 10s the team has ever had, and her ability to unlock defenses has made her one of the NWSL's top-ranked players in chances created and passing completion in the final third. Perhaps surprisingly, she is among the top NWSL players in ball recoveries and tackles, showing just how complete her game really is on both sides of the ball. — Caitlin Murray
---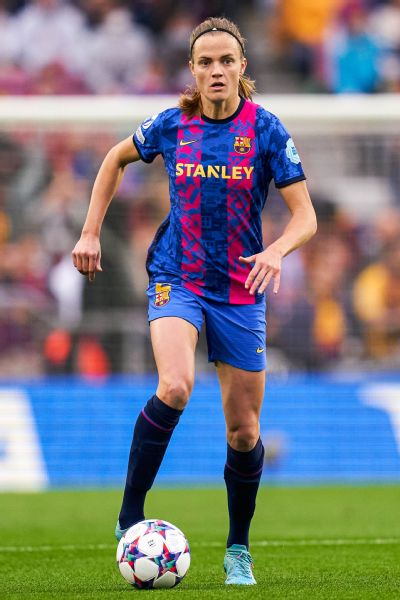 18. Irene Paredes
Country: Spain

Club: Barcelona

Age: 30

Position: Defender

2021 Rank: Not ranked
Paredes joined Barca's Treble-winning side from Paris Saint-Germain last summer and has looked effortlessly at home from day one. Such a calm presence on the ball, she perfectly complements her partner at the back, the more visually energetic Mapi Leon. Unfortunately, Paredes picked the Champions League final to have a rare off day in what was otherwise an impeccable first season in Catalonia. — Sam Marsden
---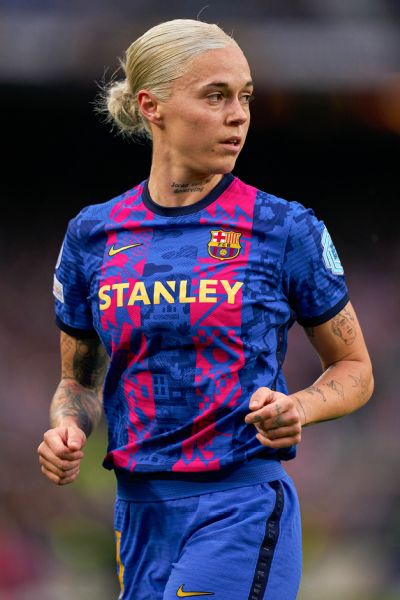 17. Mapi Leon
Country: Spain

Club: Barcelona

Age: 27

Position: Defender

2021 Rank: Not ranked
If you allow yourself to blink, Leon will take the ball off you. She is an aggressive defender who plays on the front foot, leaping forward at any chance to intercept passes and pressure attackers. She has been at Barcelona for five years now and has played an important role in three successive league titles while also helping the Blaugrana reach back-to-back Champions League finals. — Sam Marsden
---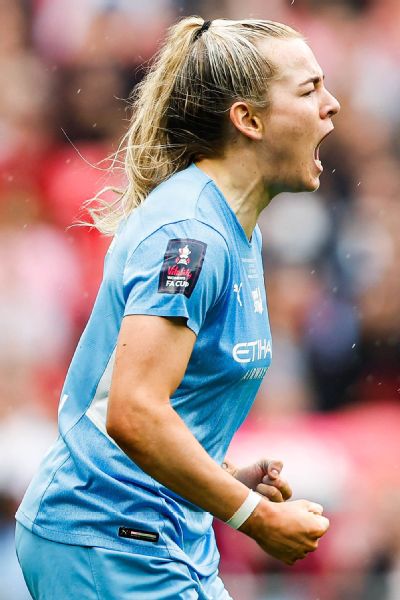 16. Lauren Hemp
Country: England

Club: Manchester City

Age: 21

Position: Forward

2021 Rank: Not ranked
Hemp will be one of the stars of the Euros this summer. Ideally suited to playing off the left wing, you can imagine her causing all sorts of difficulty for the opponent's right-back as she weaves her way through the defense. She scooped the PFA Young Player of the Year award in June, making it a record fourth triumph in five years for the Man City star. She chipped in with 21 goals and 10 assists for City this year and made the PFA WSL Team of the Year for the past two seasons.
For a classic Hemp moment, look no further than the goal she scored in the FA Cup final in May. She collected the ball on the left of Chelsea's box, cut inside past her England teammate Millie Bright and then floated a delightful shot over Anne-Katrin Berger's head and into the far post. It was outstanding, and all that at just 21 years old.
"Lauren is a top player, she knows she's taken her game to really high levels," said Man City manager Gareth Taylor in April. "What she brings with the ball is fantastic — she's got high energy, and we're always looking to help her with decision-making." — Tom Hamilton
---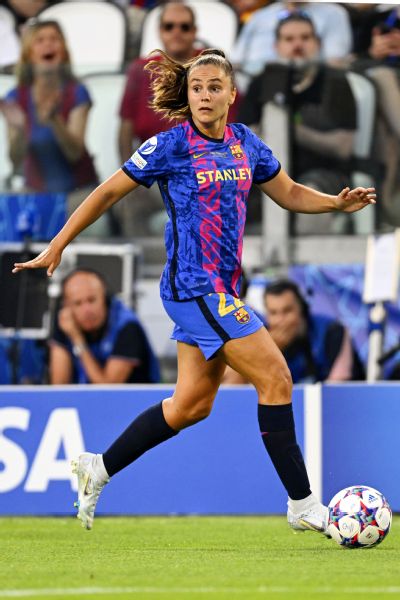 15. Lieke Martens
Country: Netherlands

Club: Paris Saint-Germain

Age: 29

Position: Forward

2021 Rank: 28
If not for a series of injuries, Martens was on her way to another silverware-laden season. The hamstring issue that set in in March prevented her from being decisive again in the Champions League final. That was about the only competition she did not win this season in what must otherwise be called sporting perfection, lifting trophies in the Primera Division, the Copa de la Reina and the Supercopa Femenina. Crowned best player in the world in 2017 after a fabulous European Championship, Martens is keen on another continental crown this summer at the Euros, not least because a new season and new team await her with a free transfer to Paris Saint-Germain completed. — Sjors Grol
---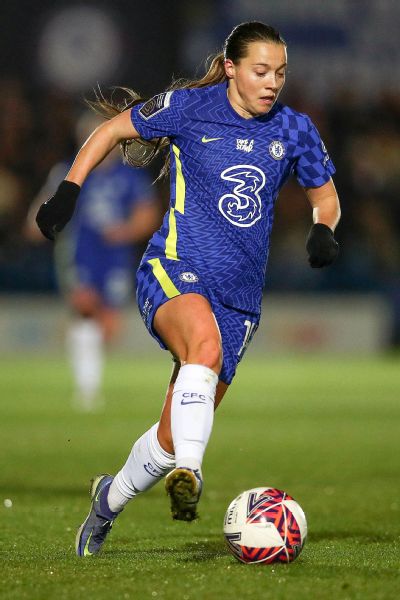 14. Fran Kirby
Country: England

Club: Chelsea

Age: 29

Position: Forward

2021 Rank: 12
Kirby is one of the world's most exciting forwards and capped the 2021-22 season by winning the domestic league and cup double with Chelsea, but the year has not been without its challenges. Kirby has been sidelined since February with fatigue, but installing an oxygen tank in her house helped her recovery and she has been named in England's squad for this summer's home Euros and will be one of their key players as they look to secure a home triumph.
She is ruthless up front — equally adept on the flanks or through the middle, Kirby has formed a brilliant partnership with Sam Kerr at Chelsea and finished the WSL season with the best rate of assists per 90 minutes with 0.63, and third overall for goals and assists per 90 with 1.26. She has overcome an immense amount of adversity in her life, which is to her eternal credit, and that fire helps her continue to push standards on and off the pitch. — Tom Hamilton
---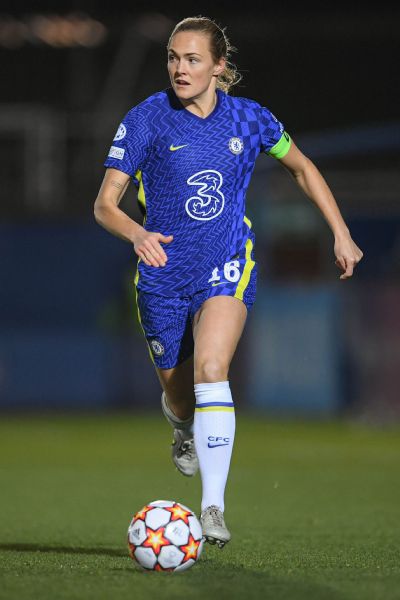 13. Magdalena Eriksson
Country: Sweden

Club: Chelsea

Age: 28

Position: Defender

2021 Rank: 34
Maybe it says something that Eriksson spent three months on the sidelines last season with an ankle injury yet still managed to climb 21 places from last year's rank, now the second-highest defender on the list after Lyon's dominating captain Wendie Renard. Both were named in the FIFPro Women's World XI in January and stand as the most feared defenders in women's football. Eriksson's task this summer is to take Sweden, who have won back-to-back Olympic silver medals, all the way to the Euro title. — Connor O'Halloran
---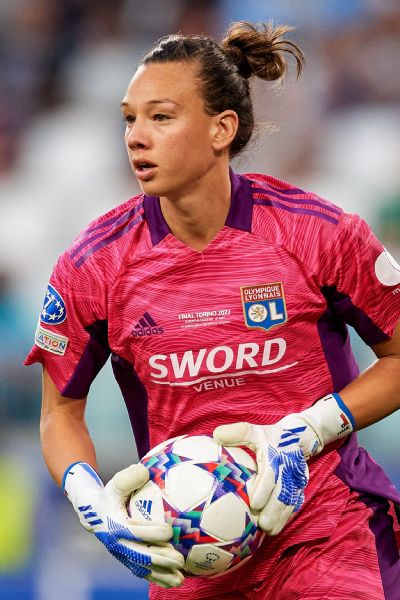 12. Christiane Endler
Country: Chile

Club: Lyon

Age: 30

Position: Goalkeeper

2021 Rank: 30
Endler was unparalleled between the posts during the Champions League this season, as her side romped to the title with a 3-1 win over Barcelona in the final. She conceded seven goals in 10 outings in the competition, added to the 10 clean sheets she recorded in 14 fixtures in the French Division 1 Feminine. Lyon won that, too. In 2022 so far, Chile have won three of four matches under Endler's veteran guidance, and will hope to continue that as they contend the Copa America Femenina in July. — Lindsay du Plessis
---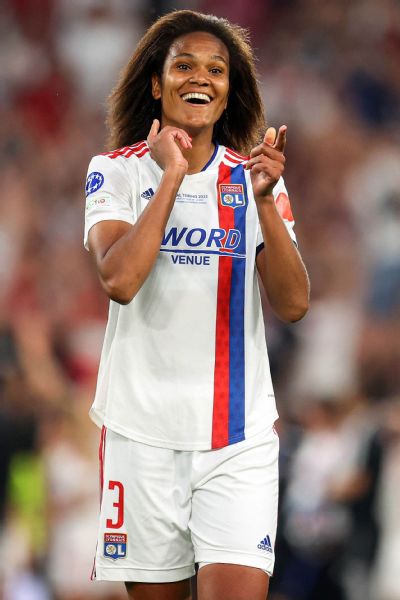 11. Wendie Renard
Country: France

Club: Lyon

Age: 31

Position: Defender

2021 Rank: 11
Despite an injury at the start of the season, Renard led Lyon to a superb Division 1 Feminine-Champions League double. She was dominant in most of the big games, especially the Champions League semifinal and final against PSG and Barcelona, respectively. At 31, she is not showing any signs of decline, and the charismatic leader and captain now wants a first trophy with Les Bleues at the Euros. — Julien Laurens
---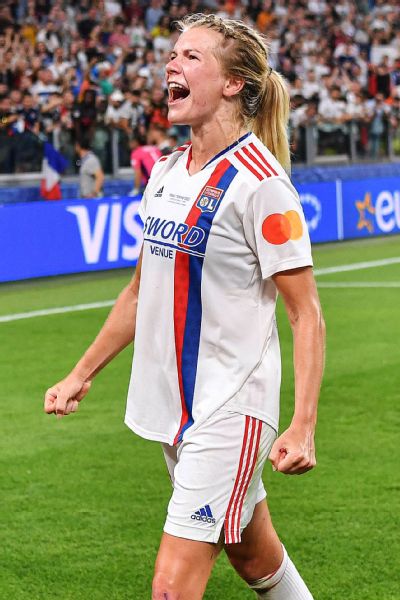 10. Ada Hegerberg
Country: Norway

Club: Lyon

Age: 26

Position: Forward

2021 Rank: Not ranked
When Hegerberg ruptured her ACL in January 2020, no one could have expected that it would be the start of a 21-month absence from the sport for one of the undisputed stars of the game. With her ACL recovery hampered by the COVID-19 pandemic, the attacker was dealt another blow when she fractured her tibia not long after returning to training.
For any player, even one at their peak, no one knows quite what to expect when they return after such a prolonged absence, but Hegerberg fast fell back into step with Lyon and by November, she was back on the scoresheet. The goals began to flow as she found the rhythms and rekindled the partnerships with her teammates, her goal in the Champions League final a perfect demonstration of her ability in the box.
The time out of the game also gave Hegerberg time to reflect, and after more than four years of declining national team call-ups, she returned to the Norway fold with the assurances that the country's FA was addressing her concerns that women in Norway did not receive the same opportunities as men's players. Just like with Lyon, the driven attacker fast found the back of the net with her national team, scoring a hat trick on her return. — Sophie Lawson
Aitana Bonmati sees positive change in the women's game since she grew up idolising men's players.
---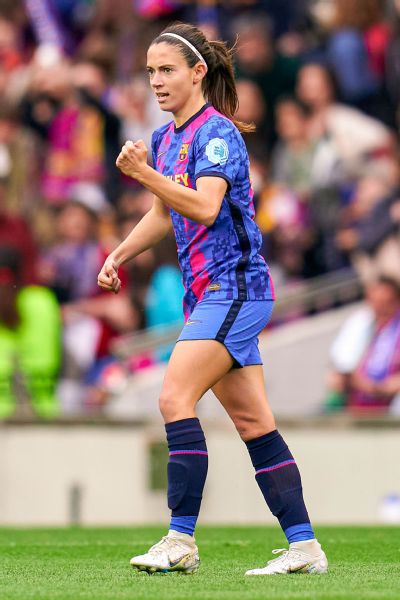 9. Aitana Bonmati
Country: Spain

Club: Barcelona

Age: 24

Position: Midfielder

2021 Rank: Not ranked
Bonmati is a typical Barcelona midfielder. What she lacks in size, she makes up for in technique. She can twist her way out of anything and her link-up play with fellow midfielders Putellas and Guijarro is perhaps the best thing about this Barca side when they are on song. The one-touch passing, positioning and movement have bamboozled some of the best teams in the game this season, including Arsenal and Wolfsburg.
If that wasn't enough, Bonmati has matured in the final third as well. Across the Primera Division and the Champions League, she scored 17 goals this season, in addition to providing six assists. — Sam Marsden
---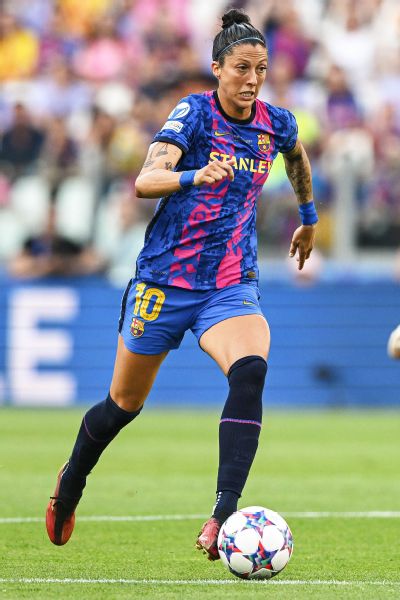 8. Jennifer Hermoso
Country: Spain

Club: Pachuca

Age: 32

Position: Forward

2021 Rank: 17
Even in failing to match the goal-scoring feats that propelled Barca to a treble and a first-ever Champions League triumph in 2020-21, Hermoso's numbers in the past 12 months would still be the envy of many players. She netted 16 times as Barca won the league unbeaten and added another five as they reached the Champions League final, losing to Lyon.
However, after scoring 37 times in those two competitions last season, it felt like a step back for Barca's record goal scorer. The Spain striker, who has evolved into more of a No. 10 than a No. 9, faces a new adventure in Mexico. After her contract with Barca expired this month, she signed with Liga MX Femenil outfit Pachuca as a free agent. — Sam Marsden
---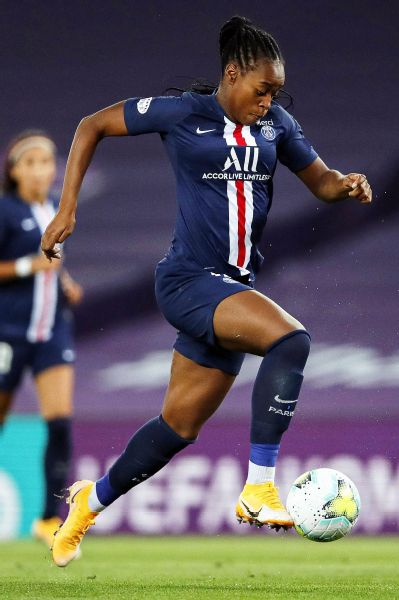 7. Marie-Antoinette Katoto
Country: France

Club: Paris Saint-Germain

Age: 23

Position: Forward

2021 Rank: 19
At the start of February, at the age of 23, Katoto surpassed Marie-Laure Delie to become Paris Saint-Germain's all-time leading goal scorer with 132 goals in 148 matches. That is possibly all anyone needs to know to understand the sheer depth of her ability in front of goal, the rangy striker all but built to score.
With an understanding of when to time her runs, where to make her decisive moves and how best to get the better of her opposition, there is a touch of the ease to all that Katoto does, a natural ability that is at once effective and entertaining. Eyebrows were raised when Corinne Diacre opted to leave the striker (then 20) out of France's squad for their home World Cup; however, Katoto has rarely been absent since, the attacker with 24 goals in 28 caps for Les Bleues. — Sophie Lawson
---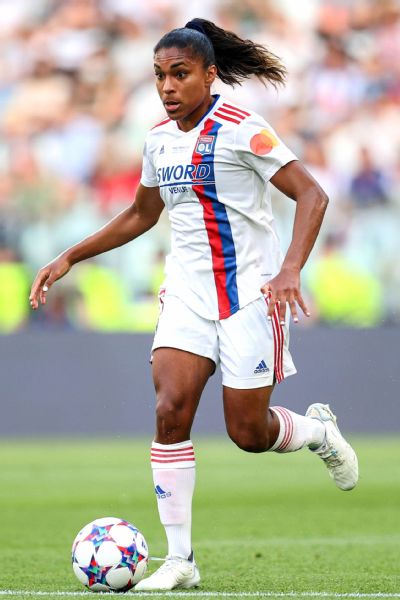 6. Catarina Macario
Country: United States

Club: Lyon

Age: 22

Position: Midfielder

2021 Rank: Not ranked
After missing out on last year's list entirely, Macario skyrockets to debut at No. 6 following a sensational season for club and country. She has been hailed as the future of the U.S. women's national team, but it looks like the future is here — at least once Macario recovers from an ACL injury she suffered in early June, which will keep her sidelined for several months.
In her first full season in France's top flight, she was Lyon's top scorer, netting 23 goals in 35 matches across all competitions, including nine goals and two assists in the Champions League. For the U.S. she's also found her breakthrough, leading the generational shift that saw the USWNT win the SheBelieves Cup. USWNT coach Vlatko Andonovski (also a voter in our panel) has made it clear the team will be building around Macario's talent, which means she can feature in the midfield or up top and play a key role. — Caitlin Murray
---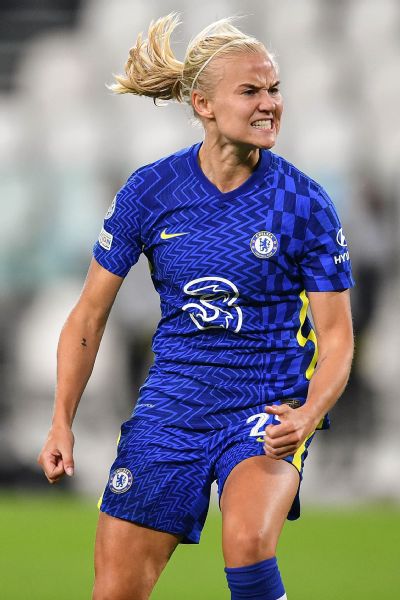 5. Pernille Harder
Country: Denmark

Club: Chelsea

Age: 29

Position: Forward

2021 Rank: 4
A knee injury meant that we perhaps didn't see as much of Harder as we would have liked this season, but she was in excellent form when she was on the pitch, especially toward the end of the campaign when Chelsea needed her most. She has dropped one place since last year, but if anything, her form has improved as she has settled into her role at Chelsea. Her goal against Manchester United in September is one of the best examples of this. She went on a solo run down the wing from the halfway line and chipped the ball perfectly over Mary Earps' head.
Rivals will be worried as the two-time UEFA Women's Player of the Year is still getting better and better. It was disappointing not getting to see more of her in the Champions League — a competition in which she has flourished — after Chelsea crashed out in the group stage, and had she had that opportunity, she could have been ranked higher. — Kathleen McNamee
---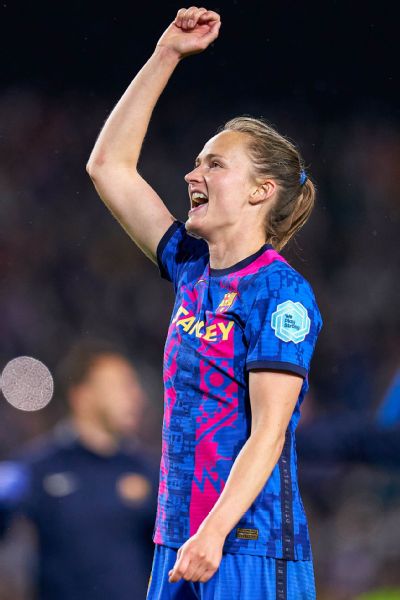 4. Caroline Graham Hansen
Country: Norway

Club: Barcelona

Age: 27

Position: Midfielder

2021 Rank: 9
Graham Hansen was bizarrely omitted from all the major individual awards throughout last season, but she climbs to fourth in ESPN's rankings after another superb campaign at Barca. Most of the goals scored by Putellas & Co. would not be possible without the deft work of Graham Hansen on the right.
The Norway winger feints to go inside and before you know it she's gone outside, reached the byline and pulled the ball back for a teammate. She also has goals in her repertoire — check out the one she scored against Wolfsburg in the Champions League semifinal — and her decision-making is usually second to none, aided by her fascination with chess. She set up 13 goals in the Primera Division, more than anyone else, and another four in Europe. The fact Barca have won nine of a possible 12 trophies since she joined in 2019 demonstrates Hansen's talents and impact on the club. — Sam Marsden
Players, pundits and fans come together to explain the brilliance of Vivianne Miedema, Sam Kerr and Alexia Putellas.
---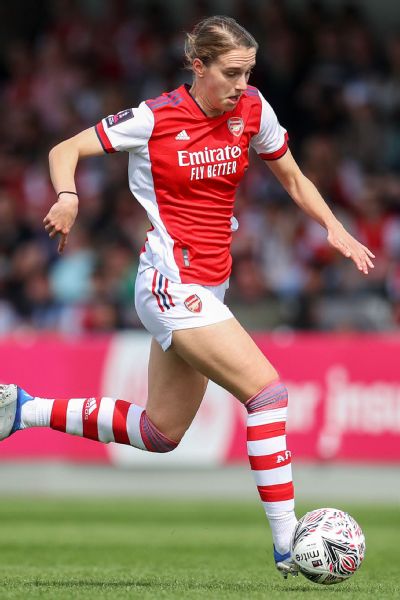 3. Vivianne Miedema
Country: Netherlands

Club: Arsenal

Age: 25

Position: Forward

2021 Rank: 3
It is impossible not to include Miedema in a list of the best strikers who ever lived. In June, she became the first player to be involved in 100 goals in the FA Women's Super League. In addition to having a goal-scoring record that almost no one on this earth can come close to, she could also be more selfish, as she averages an assist every two games. Miedema is like a reliable machine that rarely falters.
She remained loyal to Arsenal despite the fact that trophies are growing concentrated at clubs like Barcelona, Lyon and Chelsea, but silverware in north London appears to be worth more to her. She is also increasingly aware of her colossal influence in the world, using her platform to call attention to the importance of mental health. — Sjors Grol
---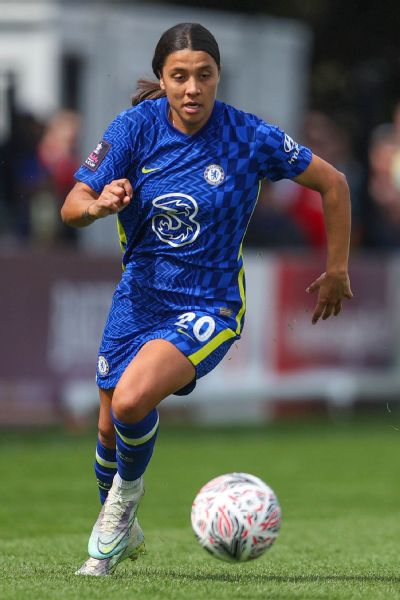 2. Sam Kerr
Country: Australia

Club: Chelsea

Age: 28

Position: Forward

2021 Rank: 2
Just when it feels like there is nothing left to write about Kerr, the Australian striker finds new levels and new ways to astound fans and best defenses. The 2021-22 season was one of great personal success sprinkled with team success. Her Instagram resembled a digital trophy case, with photo after photo of FA Cups, league titles and of player-of-the-season awards.
She became Australia's all-time leading goal scorer in what was an otherwise disappointing Asian Cup for the Matildas while continuing to add to her Golden Boot collection in club land. Kerr built on what was an already impressive first full campaign in Chelsea blue, continuing to find goals, make assists and trouble defenders, but this season, she showed off her taste for flair and drama. — Marissa Lordanic
---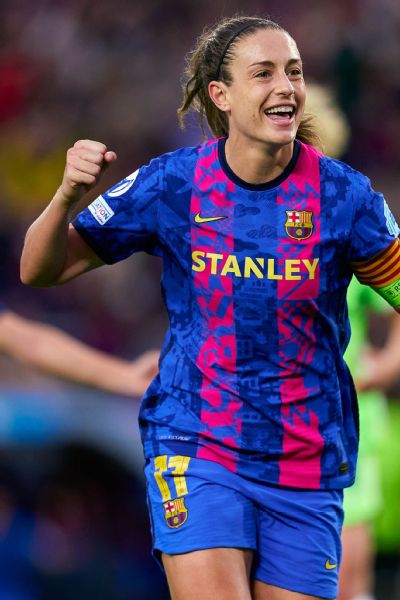 1. Alexia Putellas
Country: Spain

Club: Barcelona

Age: 28

Position: Midfielder

2021 Rank: 22
Putellas follows up winning the Ballon d'Or and being named The Best FIFA Women's Player by topping ESPN's ranking. She not only leads Barca on the pitch but is also the image of the team off it. It is her face that has replaced Lionel Messi's on advertising boards around the city. It is her name that young girls wore on their shirts at Camp Nou as Barca broke the attendance record in women's football not once, but twice this season. That is a consequence of her hard work.
She has grown with Barcelona throughout the past decade, helping them win another three trophies this season — the Champions League defeat to Lyon will fuel her to go one better again next season — and appearing in all the big moments. She scored in both of the Camp Nou sellouts — against Real Madrid and Wolfsburg — and grabbed the goal that almost kick-started a comeback against Lyon. She scored a competition-high 11 Champions League goals and another 18 in the league, all from midfield. — Sam Marsden
Ranking the fights at UFC 276: Two title fights plus Sean O'Malley prepares to put on a show
A pay-per-view event headlined by two championship bouts used to be a special occasion. Now it's practically a business model. UFC 276, which takes place Saturday in Las Vegas (10 p.m. on ESPN+ PPV), will be the company's fourth straight PPV with a pair of fights with belts on the line.
Middleweight champ Israel Adesanya defends his title in the main event, taking on Jared Cannonier. Right before that, men's featherweight champ Alexander Volkanovski faces former champ Max Holloway in a trilogy fight.
This event follows another recently established tradition, as both champs are coached by Eugene Bareman of City Kickboxing in Auckland, New Zealand. In November 2021, it was coach Trevor Wittman in that position — and then some. At UFC 268, Wittman was head coach and chief corner for welterweight champ Kamaru Usman in the main event, then-strawweight champ Rose Namajunas in the co-main and Justin Gaethje in a lightweight No. 1 contender bout that opened the main card.
This weekend's event at T-Mobile Arena has an appeal that extends well beyond the title bouts. There are rising stars and other fighters with the potential to catch that wave. There are legends of the sport looking to wring every drop of magic out of a career to remember. There are solid professionals seeking to disrupt any star-making plans that overlook them. It should be a stellar night of fisticuffs.
Here is one man's ranking of the top five bouts:
1. Alexander Volkanovski vs. Max Holloway 3
We've seen this movie before. We've even seen the sequel. Both had the same ending. So what drama could possibly remain? It's there, all right, wrapped up in the breathtaking moments that always seem to happen when these two, the elite of the elite at featherweight, get together.
Volkanovski (24-1) won the title from Holloway with a clear-cut decision victory in December 2019, but he had to eke out a split-decision win in the rematch seven months later. He has won 21 fights in a row, with his last defeat coming nine years ago. Holloway also is on a run of success extending back to 2013. Aside from the losses to Volkanovski, he has not dropped a fight at 145 pounds since he was a 21-year-old on the wrong end of a decision against Conor McGregor.
Volkanovski and Holloway have lapped the rest of the field in the division, and that preeminence is never more evident than when they share the cage. So if this meeting lives up to the last two — and here's a not-so-bold prediction: it will — and if they're not tired of each other, we'll gladly watch these guys tangle again and again.
---
2. Israel Adesanya vs. Jared Cannonier
Adesanya might be the most entertaining champion in the UFC, and this is the kind of bout that will shine a light on what makes "The Last Stylebender" a special performer. Cannonier will bring the fight to the champ and get right in his face with feisty pressure. And what more could Adesanya ask for?
Cannonier is a 3-to-1 underdog, so the odds are stacked against him. But he has made it to this middleweight title challenge on the strength of a solid run in the division. Since making his 185-pound debut in 2018, he has won five of six bouts, with the lone loss coming against former champion Robert Whittaker. Slimming down from light heavyweight has benefited Cannonier in a big way.
But the challenger, sturdy as he is, will have his hands full with Adesanya, just as the champ has been a handful for every middleweight he has faced. And yet there's a higher expectation of Adesanya. Maybe it's because three of his four title defenses have gone the distance. Will this be the night he pulls off the spectacular finish we've been waiting for?
---
3. Jim Miller vs. Donald Cerrone
From a pound-for-pound top-10 list to a weighted listing of an evening's fights, rankings are, at their essence, nothing more definitive than a list of opinions. There is no right or wrong. I point this out right here because I suspect that a lot of fans would not slot this fight ahead of the one I've ranked right below it. But I'll take accomplishments over bluster any day. And Miller, despite not ever having colored his hair rainbow colors, has been there, done that. This will be his 40th UFC fight, the most of anyone. He is tied with two others for the UFC wins record (23).
One of those tied with Miller is Saturday's opponent, Donald Cerrone. And this will be the 38th UFC fight for "Cowboy." Cerrone is 39 years old, Miller 38. So the matchup would seem to make sense for both men. Honestly, there are not many such fights out there for Cerrone, who is winless in his last six and has been a shadow of his old self. That old Cerrone knocked Miller into the shadow world back in 2014, but eight years later, Miller is the fighter in a better place, with knockout wins in his past two appearances.
"Cowboy" is a late-replacement opponent, and he adds luster to a Miller fight that might otherwise have been lost under the radar. But Miller, a career lightweight, will be competing at welterweight because of Cerrone's short notice. That's a small price to pay (I know, easy for me to say) to put this fight under some wattage of spotlight, where it belongs.
---
4 . Pedro Munhoz vs. Sean O'Malley
While even the biggest O'Malley fan would acknowledge that he has yet to live up to his fame, even the biggest critic — "Suga Sean" has plenty of both — would have to concede that this is a defining test of O'Malley's slow roll toward bantamweight relevancy. O'Malley's stylish brashness has drawn attention for years, but style points add up only when accompanying — and even factoring in — positive results against an ascending level of competition. McGregor's gift of gab wouldn't have vaulted him to the top of the game if he couldn't back up the big talk with big performances.
Munhoz has fallen on hard times, with four losses in his past five fights. But the losses came against Aljamain Sterling, Frankie Edgar, Jose Aldo and Dominick Cruz — all champions. If O'Malley can add himself to that list, he will have taken a step forward in beginning to live up to his hype.
---
5. Sean Strickland vs. Alex Pereira
It's no coincidence that Pereira is fighting on the same card as Adesanya. I'm even a little surprised it has taken the UFC this long — Pereira's third Octagon appearance — to book him in proximity to the champ. Adesanya and Pereira have an inhospitable history from their days as professional kickboxers, with Pereira owning two victories over Adesanya, one by knockout. Could this fight set up Chapter 3, but this time in four-ounce gloves?
Strickland will have something to say about that. (He has something to say about everything, right?) He will test the MMA-related additions to Pereira's skill set. And while the focus will be on Pereira's potential title shot — yup, after just three fights in the Ultimate Storytelling Championship — Strickland will not let the night pass without trying to make a case for a championship opportunity of his own. Who'll make his case for a date with Izzy? And will it even be Izzy at the top of the mountain at the end of the night?
Who were the surprise standouts from offseason NFL workouts? Here's a pick for all 32 teams
6:35 AM ET
NFL NationESPN
In order for an NFL player to be considered an offseason surprise, he probably hasn't met expectations to this point. Or, in the case of rookies from the 2022 draft class, they probably weren't picked until at least the third round, maybe lower.
Every team needs its players to progress. Even the good ones. Teams improve when their average players become good, and their good ones push toward being great.
We asked our NFL Nation reporters to pick a surprise offseason standout from each of the teams they cover. The answers vary, from veterans who signed one-year contracts for new teams this offseason (wide receiver Jamison Crowder in Buffalo), to young players who haven't hit their ceilings (wide receiver Laviska Shenault Jr. in Jacksonville) to Day 3 rookies who could make an early impact (offensive tackle Braxton Jones in Chicago).
All 32 of these players have caught the eyes of our reporters — and their teams — this offseason, showing that they could play a bigger role than expected in 2022.
Jump to a team:

ARI | ATL | BAL | BUF | CAR | CHI | CIN

CLE | DAL | DEN | DET | GB | HOU | IND

JAX | KC | LAC | LAR | LV | MIA | MIN

NE | NO | NYG | NYJ | PHI | PIT | SF

SEA | TB | TEN | WSH

AFC EAST

Buffalo Bills
WR Jamison Crowder
While speedy Isaiah McKenzie appears to have an early lead in the battle to take over Cole Beasley's slot receiver role, Crowder looked solid during offseason work in his first offseason with the Bills. After finishing his time with the Jets dealing with injuries (despite having 833 receiving yards in his first season with the team in 2019), Crowder might have found a good fit in Buffalo. The competition between McKenzie and Crowder for playing time at slot receiver will be one to watch in training camp. — Alaina Getzenberg
---

Miami Dolphins
OL Connor Williams
Signed from the Cowboys as a free agent this offseason, Williams was initially slated to take over at left guard for the Dolphins in 2022. However, after cross-training at center, he established himself as the leader in the clubhouse as the team's starter in said position. He will have to beat out incumbent starter Michael Deiter, but it appears to be Williams' job to lose. — Marcel Louis-Jacques
---
New England Patriots
WR Tre Nixon
The 2021 seventh-round pick caught two deep passes from Mac Jones — one of which he pinned to his chest with his right hand while covered tightly — to earn himself an unexpected trip to the post-practice interview podium. Nixon, who drove to the stadium every day last season with Jones as they took their COVID tests together before entering the facility, spent 2021 on the practice squad. He faces a crowded WR depth chart headlined by DeVante Parker, Jakobi Meyers, Nelson Agholor, Kendrick Bourne and 2022 second-round pick Tyquan Thornton, but he has made an early case as a player to watch when training camp begins. — Mike Reiss
---
New York Jets
WR Jeff Smith
Known for special teams — specifically, a gunner on the punt team — Smith impressed with his production at wide receiver. He capped a strong offseason with a terrific, one-handed touchdown catch on a long pass by Zach Wilson. A former undrafted free agent who began his college career as a quarterback, Smith is an improving receiver (26 career catches). He can play wideout in a pinch while continuing as a mainstay on special teams. — Rich Cimini

AFC NORTH

Baltimore Ravens
TE Isaiah Likely
The fourth-round pick was the second tight end taken by the Ravens this year, but he has impressed this offseason with his ability to get open and his large catch radius. "Watch out for this guy," safety Tony Jefferson said. "He's going to be really good." Likely, who is from Coastal Carolina, was the star of the final day of minicamp, when he caught several touchdown passes during red-zone drills including a spectacular one-handed grab.
"It was a tremendous catch," quarterback Lamar Jackson said. "So, the sky's the limit." — Jamison Hensley
---

Cincinnati Bengals
WR Kwamie Lassiter II
The rookie undrafted free agent had an impressive offseason. The wide receiver even earned some first-team reps on offense. If Lassiter can work his way into the special teams rotation, he might have a shot at making the 53-man roster. — Ben Baby
---

Cleveland Browns
S Grant Delpit
The former second-round pick has battled injuries, including an Achilles tear his rookie season in 2020. But now a projected starter, Delpit has really surged this offseason, intercepting Deshaun Watson on more than one occasion in drills. In Delpit and John Johnson III, safety could prove to be a major strength for Cleveland this season. — Jake Trotter
---
Pittsburgh Steelers
TE Connor Heyward
It's hard to be truly under the radar as Cam Heyward's younger brother, but the rookie Heyward impressed in offseason workouts and showed a chemistry with first-round quarterback Kenny Pickett in a nice snag during a two-minute drill in minicamp. Heyward, selected in the sixth round, figures to be in a hybrid tight end/fullback role in an offense that values versatility in its skill players. Because he has been working mostly with tight ends and receivers, Heyward probably won't be competing for the fullback roster spot with Derek Watt, making it likely both find roles on the 2022 team. — Brooke Pryor

AFC SOUTH
Houston Texans
WR Nico Collins
Quarterback Davis Mills pointed to the second-year receiver as a player who has stood out this spring. Mills said Collins has a "good grasp of this offense" and "his talent is off the charts." Collins had 33 catches for 446 yards and one touchdown last season, and Mills said Houston needs to "find ways to get [Collins] the ball" in 2022. — Sarah Barshop
---
Indianapolis Colts
WR Parris Campbell
Maybe, just maybe, 2022 is the season Campbell can stay healthy. He spent a good portion of offseason workouts working with the first unit, starting opposite of Michael Pittman Jr. as the second receiver while looking comfortable with quarterback Matt Ryan. The key for Campbell — as it has been since he was drafted in 2019 — is staying healthy. He has played 15 out of a possible 49 games in the first three seasons of his NFL career. If healthy, the Colts can use Campbell in a number of different ways, including in the slot and in motion. — Mike Wells
---
Jacksonville Jaguars
WR Laviska Shenault Jr.
Shenault had a rough 2021 — he ranked second in the NFL with eight drops and had trouble with routes — but seems to have bounced back this spring. He has been sure-handed in the OTAs open to the media. His confidence is high despite the fact he's on his fifth offensive coordinator in as many seasons (three with the Jaguars and two at Colorado). Shenault also has been working as a returner. The team asked him to try that with Jamal Agnew recovering from a hip injury. Special teams coordinator Heath Farwell has been impressed.
"He is dynamic," Farwell said. "There is speed and power that you do not see from really across all positions, but especially the returner position." — Michael DiRocco
---
Tennessee Titans
TE Chigoziem Okonkwo
The rookie fourth-round pick quickly picked up what the coaching staff asked of him and is already showing his versatility by lining up across the formation like he did in college at Maryland. Okonkwo caught a total of four touchdown passes in two days of minicamp practice. One of them was a diving catch in the corner of the end zone on a pass from Ryan Tannehill.
"Just physically," Tannehill said. "To see his size, his strength, his speed, how he's able to play through contact, he definitely gives us another weapon." — Turron Davenport

AFC WEST
Denver Broncos
CB Michael Ojemudia
You would be hard-pressed to find a player, this side of quarterback Russell Wilson anyway, who has drawn more praise than Ojemudia during OTAs and minicamp. Ojemudia, who got tossed into the starting lineup as a rookie because of injuries to others in 2020, played sparingly on defense last season after suffering a severe hamstring injury in the preseason. He quickly grabbed the attention of a new defensive staff and worked with the starters when the Broncos took a precautionary approach to Ronald Darby's shoulder injury in OTAs. The Broncos played Ojemudia in practices like he is CB4 after Pat Surtain II, Darby and K'Waun Williams. — Jeff Legwold
---
Kansas City Chiefs
S Juan Thornhill
Thornhill is healthy perhaps for the first time since tearing the ACL in his left knee as a rookie in 2019 and was impressive during offseason workouts. The Chiefs will ask more of him now that Tyrann Mathieu is gone, and Thornhill said he will respond with an All-Pro season. "I'm committed to doing that," he said. — Adam Teicher
---
Las Vegas Raiders
OL Alex Leatherwood
The oft-maligned 2021 first-round pick, who was moved from right tackle to right guard after just four games last season, spent a lot of time back at right tackle this offseason. He was drafted to be a tackle and, as coach Josh McDaniels said, Leatherwood would be given every opportunity to win the gig back. So getting that much time on the outside should do wonders for his confidence, as well as put him on track to reclaim his old job. Whether that's a positive development for the offensive line as a whole remains to be seen. — Paul Gutierrez
---

Los Angeles Chargers
WR Jalen Guyton
Coach Brandon Staley didn't hesitate when asked at the conclusion of the offseason program which player was a surprise standout. "Jalen Guyton was fantastic in the offseason," Staley said. "This guy made a lot of big plays for us in the spring. He came in, physically, just in great shape. He's moving great. I thought that he was able to move around. He really did a nice job on special teams." A fourth-year pro, Guyton caught 59 passes for 959 yards and six touchdowns over the last two seasons. — Lindsey Thiry

NFC EAST

Dallas Cowboys
WR T.J. Vasher
Signed as an undrafted free agent last year, Vasher did not practice because of a knee injury, but he has used this offseason to get himself into the receiver conversation. With Michael Gallup working through knee rehab and CeeDee Lamb, James Washington and Noah Brown missing time with minor injuries, Vasher got a lot of work in the OTAs and minicamp. "He's made some really big-time flash plays, splash plays," coach Mike McCarthy said. "He's had some really, particularly in the red zone, which you can see his ability down there. Big plays in scramble drills and things like that. I just think like any young player, particularly in his development, it's getting the details of the everyday situations." — Todd Archer
---

New York Giants
TE Daniel Bellinger
The rookie fourth-round pick got plenty of opportunities with the first team this spring and caught the ball well. It seems likely, given his hands and the way he was moving at OTAs and minicamp, he was underutilized at San Diego State. It bodes well for Bellinger's chances to make an impact as a rookie. The Giants certainly have an opening at the position, and it appears Bellinger made a strong first impression. — Jordan Raanan
---

Philadelphia Eagles
WR Quez Watkins
The third-year wideout made some splash plays this spring, including a 40-plus yard touchdown catch during OTAs that prompted quarterback Jalen Hurts to break out in dance. The bulk of the buzz on Watkins, though, is coming from the coaching staff and management. They talk him up every chance they get, believing he has the tools to be a highly productive receiver. Finding targets for him could be the biggest issue with A.J. Brown, DeVonta Smith and Dallas Goedert all needing the rock, but Watkins is going to be in the mix. — Tim McManus
---
Washington Commanders
CB Benjamin St-Juste
Last year's third-round pick has worked mostly in the slot in the nickel package. But, for a 6-foot-3 corner, St-Juste plays with good footwork, and that allows him to handle the slot duties. He has looked good going against rookie receiver Jahan Dotson. St-Juste also uses his length well. He was playing a lot last season until injuries — specifically concussions — became an issue and limited him to nine games. — John Keim

NFC NORTH

Chicago Bears
OT Braxton Jones
The fifth-round pick quickly emerged with the first-team offensive line at left tackle during spring practices and supplanted Teven Jenkins, who moved to right tackle with the second-team unit. Jones admitted he was "a little bit surprised" he was competing with the ones this early but understands the importance of the reps he has gotten, which have helped him create a pre-snap process, learn different cadences and move faster. — Courtney Cronin
---
Detroit Lions
WR Trinity Benson
After last season, Benson approached coach Dan Campbell directly during his exit meeting to ask for advice on how to come back better. So far, he has taken all of that advice as Campbell praised him during minicamp as one of the guys who is "having a hell of a spring." Benson has learned the playbook and elevated his confidence by adding speed to his skill set. He'll still have fight for a spot among a competitive receiving corps that has added talent. — Eric Woodyard
---
Green Bay Packers
OLB Rashan Gary
In an offseason in which the Packers did almost no full-speed 11-on-11 work, no one was given much of an opportunity to stand out. Gary, however, had as good a spring as anyone. He looked lean and muscular coming off a career-best season with 9.5 sacks and 28 quarterback hits. And he was one of the few starters who stuck around through the end of OTAs, saying, "I'm just here trying to get better." — Rob Demovsky
---

Minnesota Vikings
LB Brian Asamoah
Asamoah's sideline-to-sideline speed was plainly evident in non-contact practices, as was his confidence. He joked with an assistant coach that he wanted $5 every time he ran past someone. "I'm a rich man now," he said, "because I keep passing them." — Kevin Seifert

NFC SOUTH

Atlanta Falcons
LB Nate Landman
This is admittedly a deep cut in terms of the Atlanta roster, but the undrafted rookie was active in 7-on-7 drills — the only heavy action in the OTA period — and seemed to have a knack for finding the ball. It's probably still a tough road for Landman to make the roster as an inside linebacker, but he might have jumpstarted himself at least into being in the conversation if he builds on his OTAs during training camp. — Michael Rothstein
---

Carolina Panthers
WR Terrace Marshall Jr.
Last year was a struggle for the 2021 second-round pick, but running back Christian McCaffrey said he saw a "massive leap" in improvement from Marshall in OTAs and expects big things. Marshall spent most of OTAs a year ago working on the side as the Panthers nursed him back from a lower leg and foot injury at LSU. He had 17 catches and finished the season on IR. This year, the explosiveness appears back and he could be a player who emerges on a team without a lot of proven talent behind DJ Moore and Robbie Anderson. — David Newton
---
New Orleans Saints
DB Bryce Thompson
The second-year DB is the one player who earned his way onto my 53-man roster projection based on how often he flashed during OTA and minicamp practices — and how the Saints were working him into packages with both the first- and second-string defenses. Thompson also had a strong summer as an undrafted rookie last year, but he began the season on injured reserve before being signed to the practice squad and appearing in two games on special teams. His versatility as a safety/nickel/corner could earn him a role. — Mike Triplett
---
Tampa Bay Buccaneers
WR Deven Thompkins
Thompkins, a rookie undrafted free agent, caught the eye of coach Todd Bowles, who singled him at the end of mandatory minicamp. "I would love to see what Thompkins does in training camp," Bowles said. "He's quick, he's fast, he's explosive off of the ball, and he's made some good catches. So, we want to see how he continues to learn and how he does in training camp and preseason. I'll be looking at him."
At his pro day, he clocked a 4.35 40-yard dash and had the second-most receiving yards in college football with 1,704 yards and 10 touchdowns. But he faces tall odds to make the Bucs' 53-man roster at 5-foot-7 and 155 pounds and at a position that already has Mike Evans, Chris Godwin and Russell Gage. His ticket would likely come in the form of kick and punt returns, which hasn't been a strong spot for the Bucs. — Jenna Laine

NFC WEST

Arizona Cardinals
RB Eno Benjamin
The door has opened for the 2020 seventh-round pick to get the reps he needs to show what he can do, and he has been taking advantage of it. He has married his quickness, pass protection and receiving ability into a player who can end up being James Conner's backup. He caught the eye of coach Kliff Kingsbury, who has raved about Benjamin. With Chase Edmonds leaving in free agency, Benjamin, who said he feels like it has taken longer to see the field than he expected, will be the front-runner to be Conner's backup when camp starts. It'll be up to him to continue his offseason pace and keep the job. — Josh Weinfuss
---
Los Angeles Rams
WR Tutu Atwell
The 2021 second-round pick's improvement this spring was pointed out by both quarterback Matthew Stafford and wide receiver Cooper Kupp during minicamp. Stafford said he's noticed that "everything" Atwell does "seems to be that much more intentional." Atwell played 10 offensive snaps last season but had a role on special teams before he injured his shoulder and was placed on injured reserve in November. The Rams' top three receivers (Kupp, Allen Robinson II and Van Jefferson) are set to start the season, but Atwell could play a role in 2022. — Sarah Barshop
---

San Francisco 49ers
WR Jauan Jennings
It wasn't until Week 14 that Jennings began to emerge as an option in the Niners' pass game last season, but once he did, he became one of their most reliable targets on third down and in the red zone. Jennings had 16 catches for 212 yards over the final five games with 11 of those receptions going for a touchdown or a first down. That momentum has carried into the offseason where Jennings and quarterback Trey Lance have displayed an easy chemistry that has made Jennings one of Lance's favorite red zone targets. Coach Kyle Shanahan said Jennings has had his best offseason since he entered the league, a good sign his role will only continue to grow in 2022. — Nick Wagoner
---

Seattle Seahawks
DE/DT L.J. Collier
You usually don't think of former first-round picks as surprise standouts, but Collier qualifies given the underwhelming start he has had to his career. Seahawks defensive coordinator Clint Hurtt said during OTAs that Collier, the 29th overall pick in 2019, was having one of the best springs of any Seattle defender. Collier will be fighting for playing time in a defensive-line rotation that's a little crowded after the offseason acquisitions of Shelby Harris and Quinton Jefferson. — Brady Henderson