Iran turns off two U.N. monitoring cameras at nuclear site
Iran says it has turned off two U.N. cameras monitoring its nuclear work, just as the United States and European governments were poised to rebuke Tehran over the regime's failure to cooperate with an international probe of its nuclear program.
The move cast fresh doubts on efforts to restore a 2015 nuclear deal designed to prevent Iran from developing nuclear weapons and underscored rising tensions between Tehran and Washington.
Iran announced the step through state television and other media outlets, saying two cameras from the International Atomic Energy Agency had been deactivated, but did not specify which nuclear site was affected or offer further details.
Behrouz Kamalvandi, spokesperson for the Atomic Energy Agency of Iran, said 80 percent of IAEA's surveillance cameras were still operating, state media reported.
Kamalvandi also said Iran's cooperation with the IAEA was purely voluntary and that the cameras were not part of Tehran's obligations under the Nuclear Nonproliferation Treaty (NPT) safeguards agreement.
The news came as the 35-nation IAEA board was expected to vote Thursday on a proposal to rebuke Iran for its lack of cooperation with the IAEA's investigation into its nuclear activity.
The IAEA's director general, Rafael Mariano Grossi, earlier this week said Iran had failed to provide credible explanations about the origins of undeclared nuclear material found at three locations. 
Grossi also said this week that Iran was close to having enough enriched uranium to produce an atomic bomb.
In a statement delivered Wednesday at the IAEA board of governors, the U.S. ambassador to the agency, Laura Holgate, accused Iran of failing to cooperate with the IAEA and called its decision to turn off two monitoring cameras "regrettable."
"If accurate, reports that Iran plans to reduce transparency in response to this resolution are extremely regrettable and counterproductive to the diplomatic outcome we seek," Holgate said.
The U.S. ambassador also said the U.S. was not seeking to raise tensions by backing a censure resolution against Iran, but that Washington had an obligation to hold Tehran accountable given its stance toward the IAEA.
"We are not taking this action to escalate a confrontation for political purposes. We seek no such escalation. The Director General's report to this Board was crystal clear about the status of the outstanding issues. Based on that report, it is also clear that Iran's insufficient cooperation — and the longstanding deficit in verification assurance this has created — requires us all to act," she said.
A State Department spokesperson said that Iran's actions would only further complicate efforts to resurrect the 2015 nuclear accord. Last month, the chief US negotiator for the negotiations, Robert Malley, said the prospects of reviving the nuclear deal were "tenuous" at best.
"Iran's response should be to fully cooperate with the Agency, not further expansion of its nuclear activities and reduction of transparency," the spokesperson said.
Iran's U.N. mission did not immediately respond to a request for comment.
Iran says its nuclear program is for purely peaceful purposes.
Britain, France and Germany said in a statement Tuesday to the IAEA board they were deeply concerned about Iran's nuclear activity that has blown past the limits set out in the 2015 deal. The governments also cited reports from the IAEA that Iran has withheld camera footage from 2021.
"The I.A.E.A. has been without crucial access to data on centrifuge and component manufacturing for a year and half now," said the statement by Germany, France and Britain. "This means that neither the agency, nor the international community, know how many centrifuges Iran has in its inventory, how many were built, and where they may be located."
The 2015 nuclear accord, known as the Joint Comprehensive Plan of Action or JCPOA, imposed restrictions on Iran's nuclear program in return for an easing of U.S. and international economic sanctions on Tehran. 
In 2018, then President Donald Trump withdrew the U.S. from the deal, reimposed sanctions and introduced new sanctions. Since President Joe Biden entered office, the United States and other world powers have tried to revive the accord in negotiations in Vienna. But the talks have become bogged down in recent months.
The 2015 deal includes an IAEA inspections regime to allow U.N. experts to monitor if Iran was undertaking work that could be used for a possible nuclear weapon. 
Dan De Luce is a reporter for the NBC News Investigative Unit. 

Abigail Williams
Abigail Williams is a producer and reporter for NBC News covering the State Department.
Supreme Court 'Misleadingly Quotes Me' in Abortion Ruling: Law Professor
Laurence Tribe, a Harvard professor of constitutional law, accused the conservative Supreme Court majority of "misleadingly" utilizing his quotes in its controversial Friday decision to overturn Roe v. Wade.
Conservative Associate Justice Samuel Alito wrote the majority opinion in Dobbs v. Jackson Women's Health Organization. The ruling in that case brought an end to nearly five decades of Supreme Court precedent—overturning the landmark 1973 Roe decision and bringing an end to woman's constitutionally protected right to an abortion.
"Roe was egregiously wrong from the start. Its reasoning was exceptionally weak, and the decision has had damaging consequences," Alito argued in his opinion.
Four of the top court's justices concurred with Alito's opinion, while Chief Justice John Roberts concurred with upholding the 15-week abortion ban of Dobbs, but took issue with fully overturning Roe. The Court's three liberal justices together issued a dissenting opinion.
Tribe, who has been harshly critical of the Supreme Court's decision, said the conservative majority opinion misused his quotes to justify its arguments overturning Roe.
"The Dobbs majority misleadingly quotes me on pages 50 and 54 in straining to justify a decision the dissent rightly calls an exercise in 'power, not reason.' Don't be fooled. The writings from which the Court cherry-picked my quotes were totally supportive of the result in Roe," the constitutional law expert wrote in a Friday evening Twitter post.
On page 50, the conservative majority opinion states: "As Professor Laurence Tribe has written, '[c]learly, this mistakes 'a definition for a syllogism.' Tribe 4 (quoting Ely 924). The definition of a 'viable' fetus is one that is capable of surviving outside the womb, but why is this the point at which the State's interest becomes compelling?"
On page 54, it quotes Tribe again, stating: "Laurence Tribe wrote that 'even if there is a need to divide pregnancy into several segments with lines that clearly identify the limits of governmental power, 'interest-balancing' of the form the Court pursues fails to justify any of the lines actually drawn."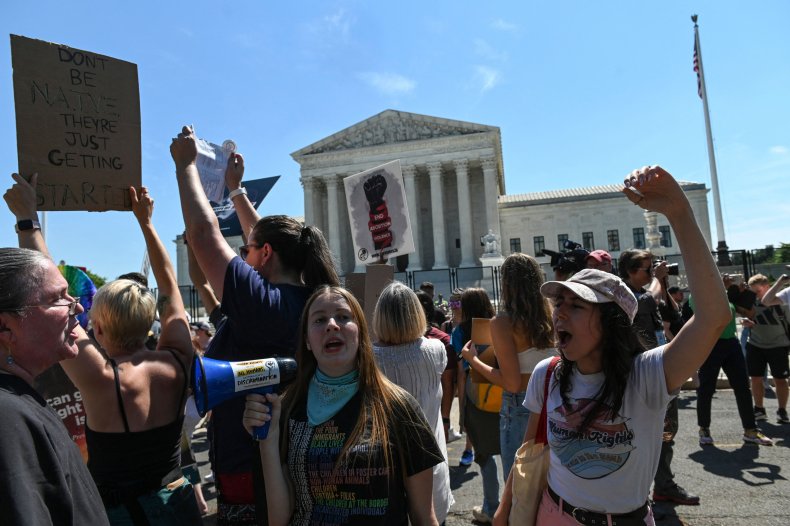 Newsweek reached out to the Supreme Court's press office for comment.
"Three men — Presidents GHW Bush (Justice Thomas), GW Bush (Justices Alito, Roberts), Trump (Justices Gorsuch, Kavanaugh, Alito) — two of whom won with a minority of the popular vote — have done this to tens of millions of women and to the rule of law. This must be undone," Tribe wrote in a follow-up Friday evening Twitter post.
Protests have broken out across the country in the wake of the controversial ruling. Multiple states quickly implemented so-called "trigger laws," which were in place and ready to go the moment Roe was overturned. Meanwhile, states that have already protected legal abortions have taken steps to make them easier to access to women traveling across state lines.
Former President Donald Trump hailed the decision and took credit, describing the ruling as "the biggest WIN for LIFE in a generation" in a statement. He said it was "only made possible because I delivered everything as promised, including nominating and getting three highly respected and strong Constitutionalists confirmed to the United States Supreme Court."
Meanwhile, President Joe Biden slammed the decision.
"Now, with Roe gone, let's be very clear: The health and life of women in this nation are now at risk," Biden said in a Friday address at the White House. The president went on to say that the nation's top court "has done what it has never done before: expressly take away a constitutional right that is so fundamental to so many Americans that had already been recognized."
Russia Hits Ukraine With Air Strike From Belarus for First Time: Kyiv
Ukraine said Saturday that Russia fired missiles from Belarus "for the purpose of further dragging Belarus into the war against Ukraine."
In a statement posted to Facebook, the Main Intelligence Directorate of the Ministry of Defense of Ukraine said that "a massive missile and bomb attack" was launched across the country, and that "Russian bombers 'worked' directly from the territory of Belarus."
The Ministry of Defense said that six aircraft launched 12 missiles, and that the "blow was carried out in Kyiv, Chernihiv and Sumy regions."
"This is the first case of an air strike across Ukraine directly from the territory of Belarus. Today's shelling is directly related to the efforts of the Kremlin authorities to drag Belarus into the war in Ukraine as a direct participant," the ministry stated.
Newsweek has reached out to the Russian Foreign Ministry for comment.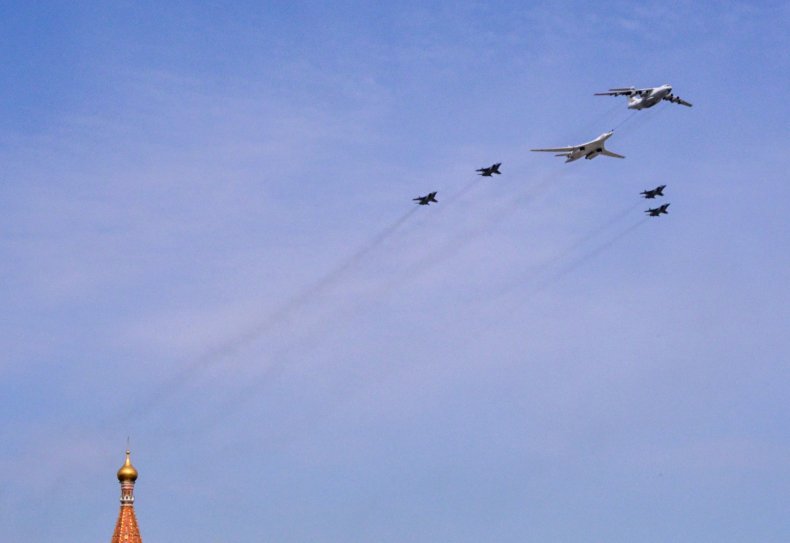 Mykhailo Podolyak, an adviser to Ukrainian President Volodymyr Zelensky, said that 48 cruise missiles were fired in total on Ukraine last night.
"Exclusively on civilian targets… Russia is still trying to intimidate Ukraine, cause panic and make people be afraid of Z-monsters… Ukraine knows everything and ready for anything. And it will punish for all the evil…" he tweeted Saturday.
Journalist Olga Tokariuk also tweeted Saturday that a "record number of missiles was fired by Russia on Ukraine this night and morning: more than 60, according to the latest figures."
"Many were launched from the territory of Belarus. They targeted Kyiv, Lviv, Zhytomyr, Chernihiv, Khmelnytskyi, Dnipro, Mykolayiv, Kharkiv regions," she added.
Belarus Proves to Be Strong Russian Ally
Earlier this month, Mark Voyger of the Transatlantic Defence and Security Program at the Center for European Analysis, who is an expert on Russia, raised concerns about how Belarus' military is scheduled to hold training exercises this month near the Ukrainian border.
"These drills will cause serious concern because, unfortunately, Russia and its allies have consistently been using military drills as a mask to cover their aggressive actions," he told Express UK.
Voyger added that Russian President Vladimir Putin "has been trying to put pressure on [Belarusian President Alexander] Lukashenko and force him to take a more aggressive stance to launch more aggressive actions out of Belarus, involving Belarusian troops."
Belarus has been one of Russia's closest allies during the invasion of Ukraine.
Just before the invasion in late February, Russia held joint military drills with Belarus, which raised concerns from U.S. officials.
In a letter to United Nations Secretary General António Guterres in May, Belarusian President Alexander Lukashenko warned that international efforts to supply weapons to Ukraine could lead to World War III. At the time, he said Belarus "calls on the countries of the world to unite and prevent the regional conflict in Europe from escalating into a full-scale world war!"
The Belarusian president urged countries to "refrain from arms supplies, from information warfare and any provocations, from inflating hate speech in the media, from promoting racism and discrimination on the grounds of national, cultural, linguistic and religious affiliation, from legalizing and sending mercenaries."
This month, Lukashenko announced that Putin would be providing Belarus with $1.5 billion for its participation in import substitution programs.
Teen Girl Charged With Kidnapping, Trafficking of 13-Year-Old: Police
Police on Wednesday morning rescued a 13-year-old girl who was kidnapped by another teenager, in what authorities currently believe was a human trafficking situation.
The incident occurred in Canton, Georgia, just after 10:20 a.m. when officers of the Canton Police Department approached a 2014 Dodge Caravan that had been reported stolen. A young woman was seen driving the car while using a cellphone, while a younger girl was also observed, Fox 11 News reported Friday. Once pulled over, the teen driver was unable to provide any license or registration for the vehicle.
Upon searching the car, officers found 13 THC vape cartridges, three vape pens, a THC-laced candy themed after Nerds Rope, and numerous pieces of lingerie. The officers were eventually able to ascertain that the 16-year-old driver was planning to transport the younger girl over state lines, leading them to suspect a human trafficking scenario.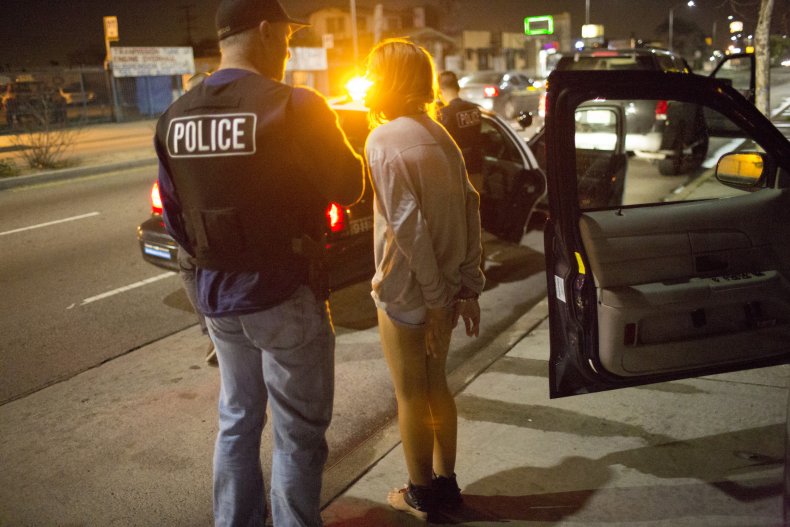 Police were able to reunite the 13-year-old with her family. Meanwhile, her captor was arrested, booked at the Regional Youth Detention Center, and hit with numerous charges, including trafficking of persons for labor or sexual servitude, kidnapping, giving a false name, address, or date of birth, theft by receiving stolen property, unlawful use of a wireless device, and drug possession. As a minor, her name has not been disclosed to the public.
"I would like to express my gratitude for the exceptional work of our Officers and Detectives in this case," Canton Police Chief Stephen Merrifield said in a statement about the arrest. "By taking a routine traffic stop and conducting an exceptional investigation, members of the Canton Police Department forever changed a young girl's life for the better."
Canton is located roughly 40 miles north of Atlanta.
Newsweek reached out to the Canton Police Department for comment.
Four Charged In Another Attempted Sex Trafficking Incident in Georgia
Last December, investigators with the Georgia attorney general's office were able to charge four individuals from Fulton County for allegedly trafficking a 14-year-old girl who had been located and rescued 10 months earlier.
"It was a 14-year-old girl from College Park who, unfortunately, had been missing for about seven weeks when she was rescued," Georgia Attorney General Chris Carr said in a statement.
The four individuals charged were Jody Netter, Raphel Olivia Sewer, Courdale Thayer, and Jahaundria Seabron. All were charged with human trafficking for sexual servitude, which could potentially carry a life sentence.
Netter was additionally charged with rape, child molestation, and cruelty to children, while Thayer was also charged with cruelty to children, false imprisonment, and aggravated assault. Their charges could collectively result in sentences of life plus 40 years.