Intel Arc A380 gaming performance disappoints in early review
Why it matters: Intel may have wanted to exploit a window of opportunity with its Intel Arc GPUs, but the company has had to delay their release and even limit the initial availability to the Asian market. Now that the first independent review of a desktop Arc graphics card is out, Intel's lack of confidence in its discrete GPUs seems warranted.
We have yet to see any Intel Arc GPUs outside of South Korea and China, despite the company's initial promise that it would flood the market with a wide range of desktop and laptop models. However, judging by early benchmarks and the relatively slow driver development around Team Blue's discrete GPUs, the company may have decided to take a slower approach to releasing them on the global market.
Last month, Intel said its desktop Arc A-series graphics cards would be China-exclusive for a few months. The first model to hit the market was the Arc A380, an entry-level GPU that launched a week ago with a price tag of 1,030 yuan, or a little more than $150.
The new graphics card is hardly impressive in terms of cooling, video outputs, or the overall aesthetic. However, Intel claims it is up to 25 percent faster than the similarly-priced Radeon RX 6400 from AMD. If you look at the specs, the Arc A380 does have some things going for it such as six gigabytes of GDDR6 memory connected over a 96-bit bus, a PCIe 4.0 x8 interface, and three DisplayPort 2.0 ports.
That said, an early independent review published by Bilibili user Shenmedounengce suggests the Intel part doesn't perform that well outside of synthetic benchmarks, where it does slot in between the Radeon RX 6500 XT and Nvidia's RTX 3050. If you fire up the 3DMark Port Royal and Timespy tests, you'll even get the impression that the A380 has some ray-tracing chops when compared to AMD's entry-level offerings.
In real-world gaming tests, the Arc A380 proved to be less powerful than AMD's Radeon RX 6400, and that includes popular titles like PUBG, GTA 5, Shadow of the Tomb Raider, League of Legends, Forza Horizon 5, and Red Dead Redemption 2. In fact, Intel's entry-level graphics card seems to perform worse than Nvidia's GTX 1650 across DirectX 11, DirectX 12, and Vulkan titles.
It wouldn't be easy to find an excuse for such poor performance against a GPU that Nvidia launched back in 2019, especially since the card was paired with an Intel Core i5-12400 CPU — which is an excellent gaming CPU.
This raises the question of whether Intel is trying to buy more time to perfect the drivers for Intel Arc, but the performance of the A380 GPU is disappointing unless you consider its relatively low price. Higher-end models may paint a different story, but we'll have to wait and see.
The Enormous Black Hole At The Heart Of Our Galaxy Is Flickering – Why It Matters
At the heart of our galaxy lies a monstrous black hole named Sagittarius A*. Almost all galaxies have such supermassive black holes at their centers, and our particular black hole had its moment of fame in May 2022 when the Event Horizon Telescope project managed to take an image of it as part of an international cooperation. This image doesn't actually show the black hole itself, which is invisible as it absorbs light. Instead, the image shows the gas around the black hole, which knocks together around the black hole's event horizon and gets hot, therefore giving off energy that can be seen by telescopes.
The glow of the gas around this black hole isn't steady, however. In fact, it flickers, and scientists are investigating this flicker to learn more about the black hole's structure. As detailed in a paper published in the Astrophysical Journal Letters, researchers used this flicker to build up the most accurate model of Sagittarius A* so far (via Institute of Advanced Studies). They were able to learn about how gas moves around and into the black hole, finding that rather than eating away at nearby gas swirling around the black hole, much of the material being ingested is traveling from a significant distance away. "Black holes are the gatekeepers of their own secrets," said lead researcher Lena Murchikova. "In order to better understand these mysterious objects, we are dependent on direct observation and high-resolution modeling."
Working with the flicker
The recent paper combines the expertise of three experts who have worked on research into different aspects of Sagittarius A*. By combining large-scale observations of how nearby stars are affected by the gravity of the black hole with more detailed models of what happens to the gas close to the , they could see that the traditional understanding of black holes wasn't correct. "For a long time, we thought that we could largely disregard where the gas around the black hole came from," Murchikova said. "Typical models imagine an artificial ring of gas, roughly donut-shaped, at some large distance from the black hole. We found that such models produce patterns of flickering inconsistent with observations."
In order to explain the flickering they did see, the experts had to allow for the gas that falls into the black hole to have come from nearby stars and not just from the gas orbiting close to it. The stars near the center of the galaxy give off this gas, which is then drawn toward the black hole and eventually past the event horizon. "When we study flickering, we can see changes in the amount of light emitted by the black hole second by second, making thousands of measurements over the course of a single night," co-author Chris White said. "However, this does not tell us how the gas is arranged in space as a large-scale image would. By combining these two types of observations, it is possible to mitigate the limitations of each, thereby obtaining the most authentic picture."
How Astronomers Are Investigating This Nebula Where Stars Are Being Born
It might have a spooky-sounding name, but the nearby Tarantula Nebula is a thing of exquisite beauty. This cloud of dust and gas is located in the Large Magellanic Cloud — a satellite galaxy of our Milky Way — and is famous for being one of the first targets imaged by the now-retired Spitzer Space Telescope when it launched in 2003 (via NASA).
Now, astronomers are once again studying the Tarantula Nebula, also known as 30 Doradus, to understand how stars form there. Observations using the Atacama Large Millimeter/submillimeter Array (ALMA) in Chile are showing the nebula in new detail, by combining both infrared and radio data into one image (via ESO).
Around 170,000 light-years away, the nebula is a bustling region and plays host to the largest-known stars in our galaxy. Some are up to 150 times the mass of our sun. It is also one of the busiest regions for star formation, making it an ideal place to study how they are born.
Stars forming from dust and gas
Stars are born when clouds of dust and gas form into clumps, and these clumps attract more material because of their gravity. Eventually, when enough material has fused together, the knot collapses under its own gravity and gets hot, becoming a protostar. This becomes the core of a star, which evolves from it (via NASA).
That's why nebulae, which are clouds of dust and gas, are often hotbeds of star formation. But it's not only the case that nebulae create stars – the stars which are born can affect the structure of a nebula in turn as well.
In the case of the Tarantula Nebula, the researchers mapped the cold gas of the nebula to see how it was affected by star formation. According to ESO, the images, which combine the ALMA radio data overlaid over previous infrared observations from the European Southern Observatory's Very Large Telescope and ESO's Visible and Infrared Survey Telescope for Astronomy, show wisps of gas which are likely the remnants of star formation. 
The spidery shape of the Tarantula Nebula's gas clouds show cold, dense gas that has the potential to collapse and form new stars, according to the data collected by ALMA (via ESO).
Why You Need To Change Your TV's Motion Processing Setting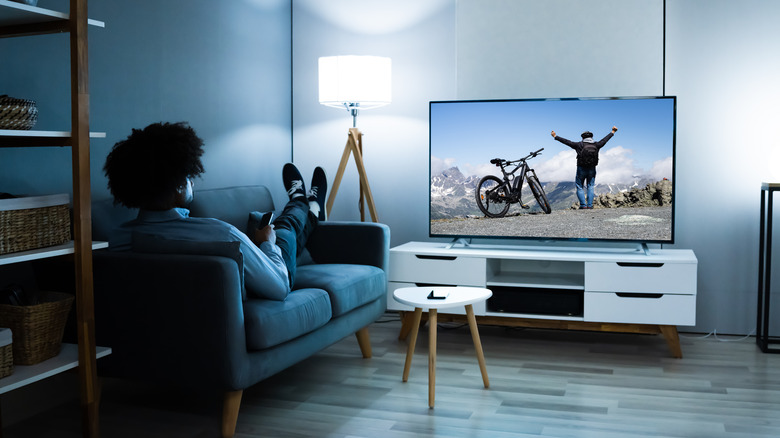 Andrey_Popov/Shutterstock
If you've ever noticed that some movies or shows look a bit off on your TV screen, you're probably not imagining it. Some televisions these days use something called "motion smoothing," or image interpolation. This is a technology meant to make up for the discrepancy in frame rates between film and modern television, making things appear smoother and clearer. However, what it actually tends to do is make movies and shows all look like soap operas. That is, played at a higher frame rate and cheaply done. Since image interpolation is meant to make movies appear smoother, it needs to increase the frame rate to the same rate the television has the ability to run at. Most films are shot at 24 frames per second, while most modern TVs can play up to 60 or 120, according to Variety. When viewing films shot at 24 FPS on these TVs, it can cause what's known as a "judder effect," where things may appear to jump and transition isn't smooth. The added frames from image interpolation is meant to mitigate this.
You may notice a problem here. Where are all the extra frames coming from? Well, when image interpolation is used, new frames are added by artificially creating them based off of past frames. This is meant to make things look smooth in theory, but in practice this can cause some glitching.
Issues with motion smoothing, and how to turn it off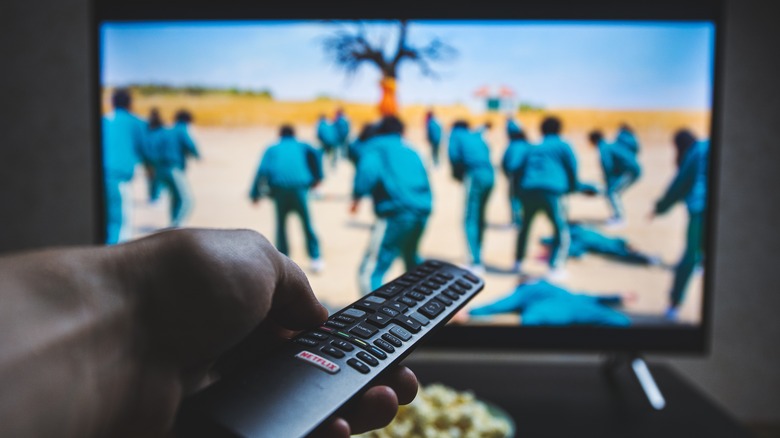 Rokas Tenys/Shutterstock
Since image interpolation requires that new frames are produced, you may wonder how they are added into a video. Image interpolation analyzes the video in order to produce matching frames, but this process can cause things to look off. The process isn't perfect, and when producing new frames, you can sometimes get visual errors or pixels where they shouldn't be. This can be especially true with fast-paced video where it's more difficult to accurately generate new frames. When trying to enjoy your favorite movies, this can have a distracting effect. Unfortunately, most modern TVs come out of the box with motion smoothing on by default, but there's usually a way to turn it off. 
If you want to turn motion smoothing off on your TV, you can usually find this option in the settings. Look for "Picture" settings, and from there you'll want to find a setting that mentions "Motion," as the exact name of the motion smoothing feature is different across televisions. You may also need to look under "Expert" or "Advanced" settings to find where you can turn motion smoothing off.