Infinity Ward leaders: Call of Duty: Modern Warfare 2 won't have gratuitous moments
Interested in learning what's next for the gaming industry? Join gaming executives to discuss emerging parts of the industry this October at GamesBeat Summit Next. Learn more.
---
Activision Blizzard's Infinity Ward studio unveiled Call of Duty: Modern Warfare II today, with presentations on the title's campaign missions and multiplayer design. While the game tries to push gameplay forward, it isn't trying to push the controversial edges of war violence in a video game.
We saw the presentations at an event at Infinity Ward's headquarters in Los Angeles and saw developers play some of the missions. Then I spoke with various leaders about the title, which is a sequel to the record-setting Call of Duty: Modern Warfare from 2019, which was a reboot of the original Call of Duty 4: Modern Warfare from 2007.
I noticed in the presentations that the game didn't have any extremely controversial moments, such as the military-versus-civilian encounters from the 2019 game that raised a lot of concerns, my own included. In that game, there was a level where soldiers had to clear a townhouse, bringing them into conflict with both terrorists and civilians. I ultimately gave that game a good review after I finished playing it, and it went on to be on of the biggest sellers to date in a series that has generated more than $27 billion in revenues to date.
The new game doesn't have the "No Russian" scene where an operative has to play along while terrorists gun down civilians at a Russian airport, from what I've been told, in the original Modern Warfare 2 game.
The game is inspired by real world events that shape the world we are in, but it is in the end an "entertainment adventure," said Patrick Kelly, head of Infinity Ward, in a presentation. The leaders I interviewed echoed that notion.
Infinity Ward is the lead studio among nine Activision Blizzard studios working on the game. I spoke with Jack O'Hara, game director at Infinity Ward, and Mark Grigsby, studio animation director. We talked about a variety of topics related to the game, but we left some material for later revelations.
The game debuts on October 28 on the consoles and the PC. Here's an edited transcript of our interview.
GamesBeat: When Patrick was talking about staying on the side of entertainment, what did that mean to you as far as executing on that?
Mark Grigsby: From an animation perspective, we have military advisors. We speak to them about, say, what would they specifically do in a certain situation? Sometimes it works and sometimes it feels like we could probably nudge it toward something more like an entertainment, Hollywood style. We take those findings and say, "Well, there's something cool we saw in the movies, too," and implement that there. To me that's the entertainment side.
GamesBeat: I was just playing the multiplayer, with the snapshot grenades. That's fun, but it definitely falls on the side of fun as opposed to something hyper-real. Would you say that means you lean toward something less gritty in the overall storyline, or is there some other thing that affects the narrative and stirs it more toward entertainment?
Jack O'Hara: The best way to summarize it is we don't want to put something in unless it's a meaningful part of the story. We're not looking to be gratuitous anywhere, to just do something for shock value. It has to be part of the story. It has to be logical in the world at that moment, as you play through it. When we look at that, we're asking, "How is this entertaining to someone in that moment?" And they can feel a range of emotions. But overall they should come away entertained, and not the opposite, basically.
In some moments, if we were to make it so close to the real world, it might no longer be fun. That's why multiplayer, for example, makes you – for lack of a better word – a super-soldier. You run faster than a normal person could. You don't get tired. One time I remember an animator put a strip on the ground and was trying to show how fast a Call of Duty character runs versus a real human being. We were trying to race them.
GamesBeat: It felt like you get over a pain point if you all start using the same engine on the Call of Duty franchise.
O'Hara: Absolutely.
Grigsby: Just not reinventing the wheel every time.
O'Hara: And, to be quite frank, being more ambitious. That's the part that I love the most. We have folks looking at it now. We have folks looking at six months down the line, a year down the line. That many smart people working on it all at the same time together, it's a lot of firepower.
GamesBeat: Does it feel similar to something like the launch of the Xbox One era, where you had to straddle two different generations? I wonder how long you might think about addressing two generations of hardware, because at some point the older platform holds things back.
O'Hara: Anything like that, where you have a broad range of hardware, is always tough. The difference between now and the transition we had at the time is that a lot of the architectures of the consoles are very similar. Similar technologies. For us it's a scaling problem. When we use, for example, photogrammetry to record our assets, from the moment that we're doing that photogrammetry, we're capturing and creating different levels of detail that will go into PS5, PS4, high-end PCs, low-end PCs. We start from the ground up where the engine has to be scalable. That lets us start from a place of, "Here's how it looks here, and here it looks even better."
GamesBeat: Vanguard had some advances in destruction, but are you maybe dialing that back for this one?
O'Hara: We're definitely dialing it back in multiplayer in the sense that we're–you heard Geoff talk about it. Philosophically we like a little bit more of the consistency. We'd love to go to a world where everything is destructible, but from a design language perspective, it just gets a lot more complex. We do have some stuff that we'll probably go into more detail around in a few months. There's a system called the persistent damage layer we're looking at, which adds a way of having some very minor cosmetic stuff. It looks great and carries forward the story of how some combat has happened in this space. But we can dial that up and down without necessarily impacting gameplay directly.
GamesBeat: Is there a temptation now to go toward making only modern games and nothing World War II, given the sales we've seen recently?
O'Hara: For us, for Infinity Ward, Modern Warfare is part of our DNA. We'll just start with this and see what happens.
GamesBeat: It felt like single-player does have some contrast to multiplayer. Everything in single-player seemed pretty dark and gritty.
O'Hara: It's a balance between both. In multiplayer you always have a balance to find between what looks really great, looks really contrast-ey, and what gets in your way in terms of gameplay. A lot of it, though, is just when we look at spaces, approximations of the spaces that we find in the real world, we look at what the lighting would be like in the real world as well. It's always a balance.
GamesBeat: If people say, "I'm a big Modern Warfare fan and I'm glad they didn't change it much," do you have a reaction to that versus people who say, "I'm bored with this, I wish they'd changed a lot more"? How much do you want to keep fans happy with something that was extremely popular versus tweaking it if you find enough things that will draw them into the new one?
Grigsby: The saying goes, if it's not broke, don't fix it. That's appropriate in certain popular things, especially when the majority of fans liked it. I'm a big proponent of that, coming from the animation perspective. I always let the team know, yes, enhance things, make things better. You don't want to change it just to change it, but if it's awesome, find ways to improve it. That's the way we operate. It's always looking at what's the next evolution of the things we work on, but not destroying what people loved.
O'Hara: It's definitely an innovator's dilemma kind of thing. You're trying to build upon what you did. We always want to build something people love. We want them to come back and feel familiar, yet feel like there's new things to discover.
GamesBeat: Does the addition of Mexico bring something, a different sensibility?
O'Hara: In anything we create, we always want to be aware of any sensitivities and make sure we're taking everything into account. When you talk to the narrative folks, they'll be able to give you, for lack of a better word, a lot more of the backstory that makes this an important part of the campaign. And especially a better look at some of the characters, which we're very enamored with. We feel like they're a strong addition to our pantheon of characters, essentially.
GamesBeat: The CIA character, what does she bring into the missions?
O'Hara: Laswell has always been more in retreat, a bit, than necessarily on the front line. I'm trying to remember what you saw today. But there are definitely parts where you'll see her come into the world a bit more. She's a CIA person, so she's in the shadows.
GamesBeat: Does it feel like you had as much time as you could possibly have to make a Call of Duty game?
O'Hara: I've never worked on a single game where I thought, "This is the perfect amount of time." That's simply because, by the nature of it–somebody comes in with a new idea every week. We'll be a couple of weeks to ship and someone will have a great idea.
Grigsby: "That's the best idea in the world!"
O'Hara: But that's just the nature of the job. Since we shipped the last game, we've definitely been able to establish this one and make what we want.
GamesBeat: If there is coordination with Warzone, what would you say [you are doing so you aren't] reinventing any wheels as well?
O'Hara: A lot of it starts in the same place, where we look at–here are the vehicles we're going to make. This is the way we want them to drive. These are the dynamics we want. These features, getting out on the rooftop to shoot, or popping the tires and spinning out. When we do that we start from the perspective of–okay, this is going to be in both games. We want it to shine in both games. What are the features that are important for both games? We look at where the overlap is and where there might be some differences. But most of the time it's full overlap. You just want to make the best thing you can. You make it fun, basically.
Geoff talks about this a lot. When you start thinking about the way we set up combat spaces and things, in a lot of ways it's a lot of the same shared DNA. You're talking about engagement distances. Close range, medium range, long range. In Warzone you add another layer of extremely long range. How do you want players to approach moving across a space?
GamesBeat: Can you hijack a helicopter?
O'Hara: We're hotly debating that one right now. You can grab onto the skids. Do we want to push that further? We're debating it. I'm on the side of, you should be able to hijack it. You can throw a charge on there and then the pilot has to jump out. That's been a lot of fun in playtesting. "Oh, time to get out!"
GamesBeat: It seems like you would want to take the vehicles out of the more linear missions that you have. Do you do that a lot in other parts of the game?
O'Hara: You're chasing down someone in what you saw today, so they dictate where you're going by virtue of needing to stop that person. But yeah, in other modes you can basically–I chase Grigsby down in a car all the time.
Grigsby: That's the fun part of it. You can make your own fun, your own narrative with those vehicles. It's awesome.
GamesBeat: When you throw a decoy down, it seems like that's something you have to very carefully look out for.
O'Hara: It deflates and goes away. That's your sign. Joe's team looks at it like–you make a thing, and then you want to make it resilient to where the players can use it however they want. You also want it to–the best way to describe it is something that works logically.
Every piece of equipment they make–if you throw the mine down in the water, it deploys with the floaters and floats. They make things resilient. We do it in playtests. You just try something out and think, "I expected it to do this." From there we just make sure it does that. That way, when the players are playing they'll just be able to do all kinds of magical things.
GamesBeat: "No Russian" was the big issue with Modern Warfare 2 last time. Did you want to deliberately go away from that particular kind of mission this time?
O'Hara: To me, we're very deliberate about what we're putting in. If we feel like it serves the story, or it serves what we're trying to do, we'll put something in, something that might be more edgy. But if we don't, then there's no need to be gratuitous with that kind of thing. There's always a part of it where we want people to think about the story. We don't want them to just be on a ride, essentially. Right now there's nothing that I would say matches "No Russian," though, in terms of what we're trying to do.
GamesBeat's creed when covering the game industry is "where passion meets business." What does this mean? We want to tell you how the news matters to you — not just as a decision-maker at a game studio, but also as a fan of games. Whether you read our articles, listen to our podcasts, or watch our videos, GamesBeat will help you learn about the industry and enjoy engaging with it. Learn more about membership.
Apple's Mixed Reality Headset May Be Packing An M2 Chip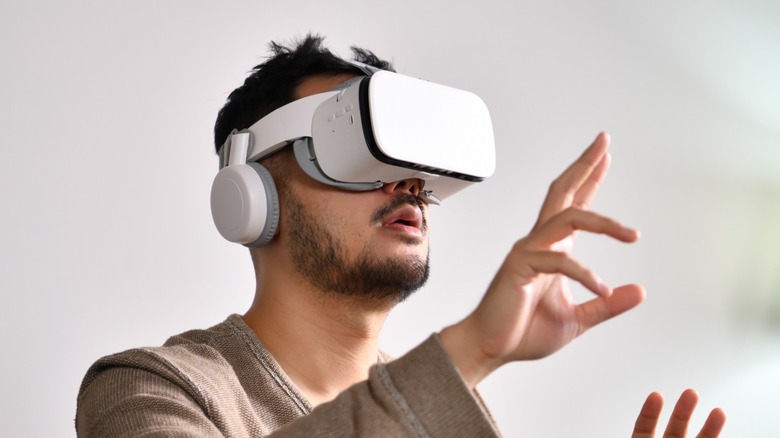 amenic181/Shutterstock
If it lives up to the hype, Apple's mixed reality headset could be the most powerful AR/VR device on the market, and one of the most complex pieces of hardware the company has ever built. There's a possibility a lot of that power could come from Apple's new M2 chip, which was unveiled at WWDC 2022 and promises huge upgrades over the tech giant's previous generation of silicon. The chip is set to debut in the 2022 incarnations of Apple's MacBook and MacBook Pro notebooks which hit the shelves in July.
Apple's M2 chip comes with up to 24GB of LPDDR5, an eight-core CPU, a ten-core GPU, and 100GB/s of memory bandwidth. The chip's 16-core neural engine can perform up to 15.8 trillion operations per second — and the M2's chip is said to be 18% more powerful than Apple's M1 silicon while still consuming the same amount of power. The difference is even clearer when compared to the Intel chips Apple previously used in their devices, with performance boosts of over 30% in some cases. Apple claims their new silicon's powerful media engine is capable of handling multiple 4K and 8K streams simultaneously. This capacity could make the M2 ideal for AR/VR headset use.
Initial benchmarks for the chip showed Apple's claims that the M2 is a significant improvement on the previous generation of Apple Silicon have merit. While Geekbench's benchmark clocked the M2 as around 12% faster than the M1 chip in terms of single-core performance, the multi-score test showed a 20% improvement with the M2. The GPU's chip also showed massive improvements.
Apple's latest silicon could make it into their new headset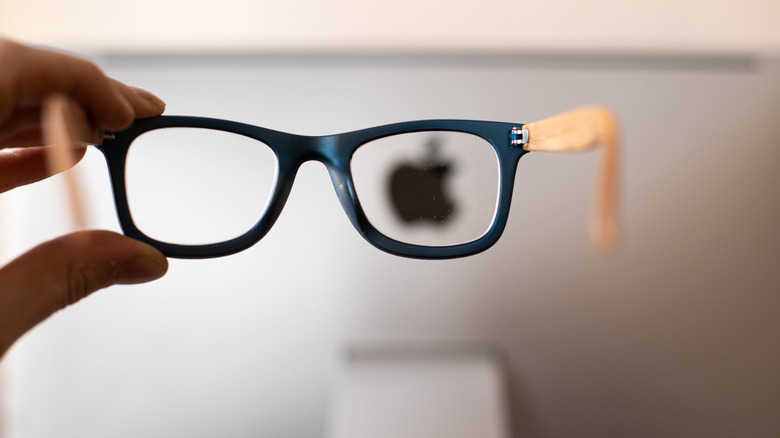 Girts Ragelis/Shutterstock
Bloomberg's Mark Gurman predicts the chip's use won't be restricted to notebooks. Gurman claims to have been told that: "the latest internal incarnations of the device run the base M2 chip along with 16 gigabytes of RAM." The writer also says Apple is already working on the chip's successor, the M3, with a goal of using it in next year's updated MacBooks. With Apple's headset reveal predicted to take place in January, there's a good chance that their new device won't have Apple's "latest" silicon in it when it eventually launches.
However, that may not matter. The M2 is already a very powerful chip, and if it is combined with 16 GB of RAM as Gurman predicted, it will be the most powerful stand-alone headset on the market by a long way. This isn't the first time someone has predicted Apple will be going all out in terms of specs with their first headset. In January, notable Apple analyst Ming-Chi Kuo predicted that the headset might "require the same level of computing power as the MacBook Pro," will "offer performance much higher than that of the latest iPhones," and "may feature not just one, but two processors: One 4nm chip and one 5nm chip."
How The Boring Toyota AE86 Became An Exciting JDM Legend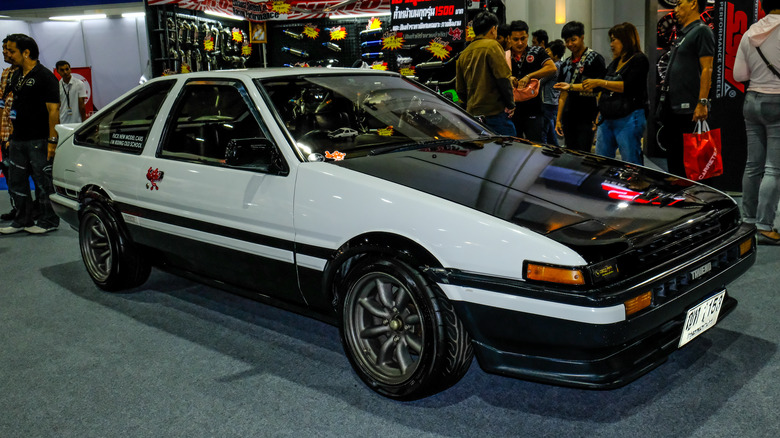 Creative Stock Studio/Shutterstock
The Toyota AE86 wasn't always known as a JDM legend. It went largely unnoticed until a sudden turn of events sent it skyrocketing to pop-culture stardom. There were a number of notable Toyota sports car models in the '80s, namely the Celica Supra, MR2 coupe, and the Corolla. While the Corolla's rear-wheel variant, the AE86, wasn't exactly as sleek as the rest of Toyota's sporty fleet, it still became a cultural icon decades after its release. So, how exactly did the dark horse manage to outshine the rest of the herd?
It all started with a man known as the "Drift King," Keiichi Tsuchiya. Aside from being an accomplished pro racer, Tsuchiya also popularized drifting, a driving technique that involves oversteering through a sharp turn resulting in a controlled skid and the maintaining of speed where deceleration would otherwise be necessary to stay on the track or avoid a collision.  
Tsuchiya later became a technical supervisor for the widely popular racing show "Initial D" (via MotorTrend). For those unfamiliar, the series features Touge racing, which involves drifting through windy mountain roads — it seemed only natural for the sport's pioneer to be involved. Tsuchiya's personal ride — a panda-colored Toyota AE86 Sprinter Trueno — was the one that served as inspiration for the series' hero car, thus giving birth to a major cult following.
The making of a JDM icon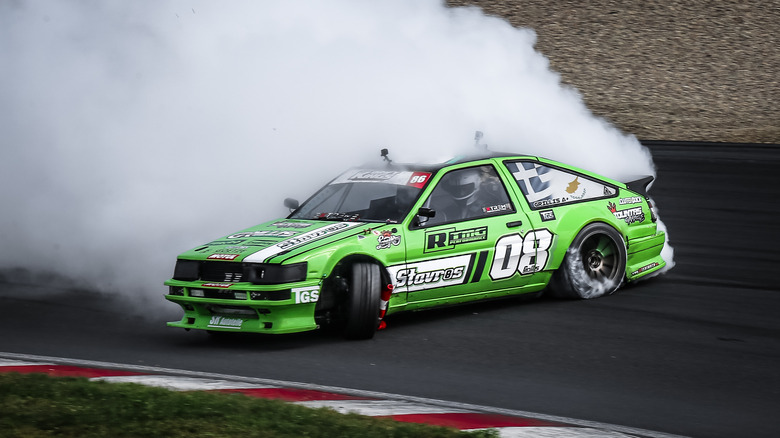 Michele Morrone/Shutterstock
The AE86 and its RWD configuration was quite an oddity in racing back in 1984, a time when FWD Corollas were becoming the norm. For Tsuchiya, however, the "Hachi-Roku," or 86, was instrumental in driving him to win. In a YouTube video interview, the Drift King revealed how badly he wanted to drive the AE86, which served as a motivating factor earlier in his career. Before Tsuchiya was even allowed to race in one, his team managers told him he would first need to win in a Toyota Starlet. He did just that and more, even winning the Fuji Freshman Series six consecutive times while driving an AE86, inspiring numerous aspiring racers in the process.
One of these inspired drivers was Japanese GT racer Manabu "Max" Orido, who said in the interview that driving an AE86 became a status symbol that represented the Drift King. Although Tsuchiya was already racing in an AE86 in the mid-80s, he still couldn't afford one of his own. His path to personal ownership included buying two crushed AE86 units and Frankensteining the parts to build one himself. 
The Initial D car that boosted the AE86's popularity
The television show "Initial D" debuted in 1995, and as the series progressed, it portrayed the AE86 as a car that could beat virtually any ride it was pitted against. The series showed an AE86 starting as a simple tofu-delivery car, but its driver's skill and tenacity turned it into a legend capable of beating much faster vehicles. Before the "Initial D" car effortlessly slid down the notoriously tight corners of Mt. Akina, Tsuchiya was already doing something similar in real life. According to his website, the Drift King honed his skills by driving down windy roads in mountain passes around Nagano Prefecture for lack of a more appropriate track to practice.
His AE86 and signature driving style eventually became synonymous with mountain pass racing and drifting in general, both of which developed equally large fanbases over time. This paved the way for numerous popular shows and competitions including "Initial D," D1 Grand Prix, and Formula D. Tsuchiya credits the AE86 for turning him into a professional, per his interview. While the AE86 is a JDM legend to many, Tsuchiya suggested that he sees it as a reminder of how he started. 
Whether you're a fan of the "Initial D" car and Touge racing, or simply inspired by Tsuchiya's iconic ride and real-life accolades, the AE86 will always leave an impression that says big things can definitely come from small packages.
Every Type Of Mechanical Keyboard Switch Explained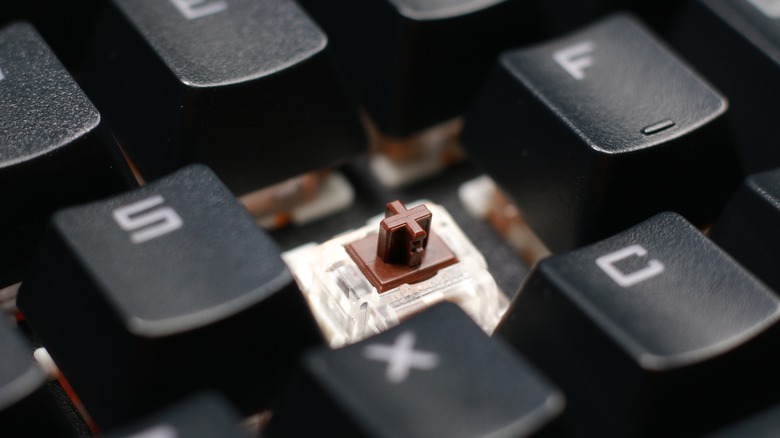 nishandx/Shutterstock
Mechanical keyboards are all the rage among working professionals, gamers, and casual typists alike. There's something incredibly satisfying about getting feedback from every key you push down and hearing the click-clack of your keys as you're working or gaming. Plus, on top of feeling and sounding amazing, many mechanical keyboards come with some kind of backlighting or fancy RGB capability so you can customize the keyboard's backlight. 
Some people don't like the extremely loud mechanical keyboards, but that's the beauty of mechanical keyboards. There are different mechanical key switches to choose from, depending on how much physical and auditory feedback you want while you're typing. And if a mechanical keyboard is hot-swappable? Even better! Then, you can test out multiple switches until you find your perfect match. 
Here is the rundown on what mechanical keyboards are, how mechanical keyboards work, and the best options for your personal setup at home or office.
What are mechanical switches?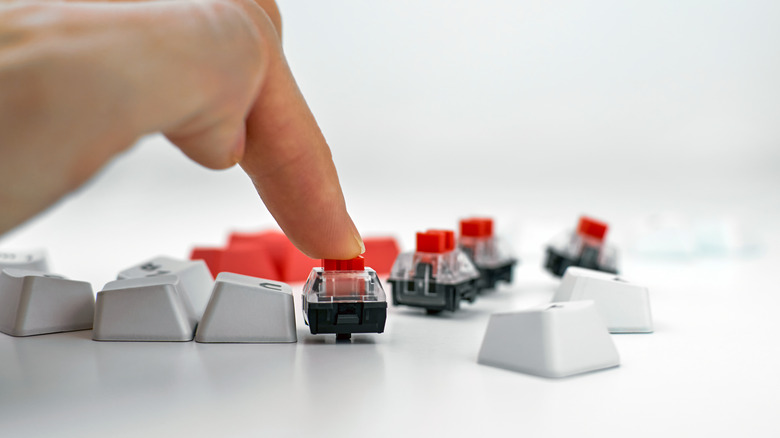 Om.Nom.Nom/Shutterstock
If you've ever seen a computer keyboard marketed as a "mechanical keyboard," all that means is that it has mechanical switches under the keycaps. Many inexpensive options or laptop keyboards are membrane keyboards, which typically have more of a soft, rubbery feel to them due to the way they're constructed. Mechanical switches, on the other hand, are more intricately designed and have more working components. 
You won't typically meet someone who's indifferent about mechanical switches. You either love them, or you hate them. Mechanical switches on a keyboard provide users with more tactile feedback, a recognizable clicky sound, and a wider range of personal customization than membrane keyboards offer. Because of these special features, keyboards with mechanical switches are traditionally more expensive than membrane keyboards; however, they're starting to become more affordable as they gain popularity.
But how exactly do mechanical switches work to provide users with this unique typing feedback? Let's check it out.
How do mechanical keyboard switches work?
When you have a mechanical keyboard and a membrane keyboard right in front of you, it's easy to tell the differences between the two. One option clearly gives you more tactile and auditory feedback, while the other has soft, almost squishy keys with minimal feedback. But if you're trying to decide between the two without trying keyboards out in person, it's difficult to understand the differences on paper. 
Beneath the keycap that you see on the surface, there are five components of a mechanical switch. If you pop the keycap off, you can see the stem that the keycap is attached to and the switch's external housing that holds everything together. Inside the switch housing, which consists of an upper and a base housing part, there's a coil spring and a metal or gold crosspoint contact piece. 
The resistance of the spring determines how much pressure you need to apply before your key press registers. The spring also helps guide the switch back to its original position after you've pressed a key. Then, the metal or gold crosspoint contact piece is responsible for communicating between your key press and the correct symbol showing up on your computer. 
When looking at mechanical keyboards, you'll see a few unique terms thrown around, like actuation force, bottom-out, reset point, and travel distance. Actuation force is the amount of pressure needed from a user to depress a key and register a keystroke. Bottom-out refers simply to pressing a key all the way down. The reset point is the distance a key has to spring back in order for the switch to reset. Then, travel distance is a measure of the total distance a switch can depress. 
The three main types of mechanical switches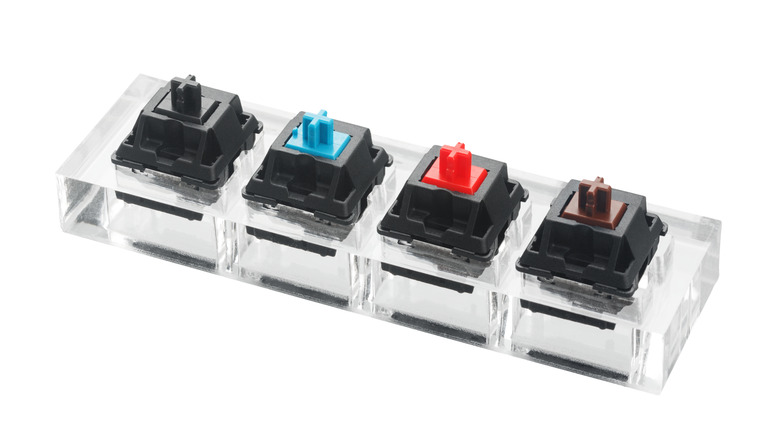 BonD80/Shutterstock
If you search for mechanical keyboards or switches, you'll be met with a ton of options. However, all mechanical switches can be divided into three main categories: linear, tactile, and clicky. Here's a brief overview of what each category feels and sounds like. 
Linear switches typically don't offer any tactile feedback by way of a bump on each key when typing. Instead, linear keys glide down and up smoothly and register keystrokes when the key bottoms out. Among the three types, linear keys are the quietest. 
Tactile switches are for people who don't love linear switches but also aren't fond of clicky switches. Tactile keys are quieter than their clicky counterparts and offer a bump about halfway down at the actuation point. Since the key doesn't have to go all the way down as linear switches do before the keystroke registers, you can type a bit faster on tactile switches.
Clicky switches are usually the loudest of the three options. As the name implies, there's a stronger click sound with every keystroke as well as a recognizable bump when you depress each key. If you've ever typed on an old typewriter, imagine that clicky mechanical switches are the modern version of a typewriter.
Most popular mechanical switch brands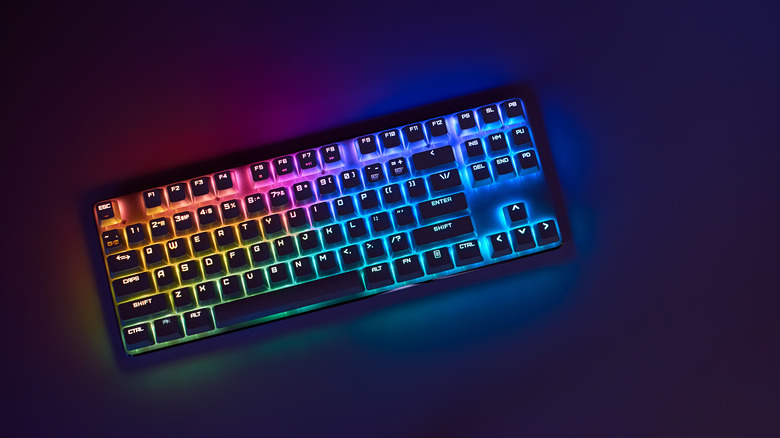 Om.Nom.Nom/Shutterstock
When mechanical switches first became a popularized option for keyboards, one brand sat behind every switch option: CHERRY. While other brands have emerged to compete with CHERRY, the company practically pioneered the mechanical switches we know and love today and still excels at making quality products. 
If you're looking around on Amazon for a mechanical keyboard or for mechanical switches, you'll see a slew of options, from both established brands and unrecognizable brands. Always do your research before you buy, and make sure you're getting a mechanical keyboard that'll do what it promises and last you a while. 
For anyone new to mechanical keyboards, CHERRY switches are a great place to start. At its most basic level, CHERRY's linear switches are red, tactile switches are brown, and clicky switches are blue. This company knows what it's doing, and with the number of unique switches it offers, you're bound to find something that works for you. 
However, if you've tried CHERRY switches before and know you don't like them, you've got plenty of other choices. A few of the most popular brands include Razer, Steelseries, Logitech, and HyperX. While many other brands follow CHERRY's color models for its switches, a few don't; so be sure to pay attention to a switch's description and not the color. 
CHERRY MX Red switches
CHERRY's MX Red switches are perfect for anyone who's new to mechanical keyboards. While many people might graduate from linear switches to one that offers more feedback, like tactile or clicky switches, linear switches are the perfect place to start and gauge your personal preferences. 
These linear red switches have no click or bump, that you can feel when you depress a key. Then, there's 45 cN of operating force, which is the amount of force needed in order for the keystroke to register with your device. The pre-travel, or how much the key must be pressed before it actuates is two millimeters, and the total travel is 4 millimeters. These red switches also have a short bounce time, which makes for faster typing. 
While these numbers and measurements might seem pointless if you don't have experience with mechanical switches, it'll help when comparing switches online to know exactly where the differences lie, no matter how small. CHERRY's MX Red switches, as well as all of CHERRY's other switches, are equipped with its exclusive gold-based crosspoint contact technology, which protects the electrical contact enclosure against corrosion and allows for self-cleaning within the enclosure. This exclusive tech allows each key to survive for a whopping 100 million keystrokes. 
CHERRY MX Black switches
One of the other linear mechanical switches that CHERRY offers are the MX Black switches. These perform similarly to the CHERRY MX Reds, but they're heavier. In other words, it takes more force from your fingers to depress each key. Inside the MX Blacks, there's a stronger spiral spring that's responsible for more force before the key bottoms out. 
CHERRY's MX Black switches are perfect for people who like the two main features of linear switches—the quietness and the lack of a distinct bump with every keystroke—but want to get more physical feedback than the MX Red switches can offer. Whereas the MX Reds have a defined operating force of 45 cN, the MX Blacks have an operating force of 60 cN.
Between the MX Reds and Blacks, you'll see the same 2-millimeter pre-travel distance and 4-millimeter total travel distance. Plus, as CHERRY's other switches, the MX Blacks can last for over 100 million actuations due to the exclusive gold-plated Crosspoint contact technology.
CHERRY MX Brown switches
The MX Brown switches are the classic tactile option from CHERRY, characterized by noticeable feedback with every keystroke. There's not much auditory feedback; instead, the feedback is tactile, in the form of a small bump every time you depress a key.
There's a bulge on the surface inside the mechanical switch enclosure that the mechanism has to cross over every time you press a key down. When you're typing, you'll feel that bump on every key and know exactly where the actuation point is.
The MX Brown switches also have 55 cN of operating force, a bit more than the traditional linear switches, the MX Reds. However, you'll see a similarity in travel distance; the MX Browns have a pre-travel distance of two millimeters and a total travel distance of 4 millimeters. Then, there's CHERRY's guarantee of 100 million keystrokes due to its gold-based crosspoint contact that's in every one of its switches.
CHERRY MX Clear switches
Similar to its linear switches, CHERRY offers a lighter tactile switch, the MX Browns, and a heavier tactile switch, the MX Clears. The only real difference between the MX Brown switches and the MX Clear switches is the operating force. 
The MX Clears have an operating force of 65 cN, 10 cN more than the MX Browns. This increase in operating force means that it'll require more pressure to push a key down until it registers as a complete keystroke. A higher operating force is ideal for users who find heavier keys to be more satisfying while typing because it's clearer when a key is pressed. 
In all other aspects, the MX Clears are identical to the MX Browns. The MX Clears have a pre-travel distance of 2 millimeters and a total travel distance of 4 millimeters, no audible click, and a noticeable, tactile bump with every keystroke.
CHERRY MX Blue switches
The CHERRY MX Blue switches are the perfect choice for users who love auditory and tactile feedback. Clicky switches, like these, are reminiscent of a typewriter because of the satisfying auditory feedback with every keypress. The MX Blues have an operating force of 60 cN and an audible click in addition to the tactile bump users feel each time they depress a key.
The switching slide inside a clicky switch consists of two parts, whereas the switching slide in linear and tactile switches is a single part. One part is responsible for the tactile bump users feel when typing, and the other part is responsible for the acoustic feedback, or the noticeable click. The pre-travel distance on the MX Blues is 2.2 millimeters, and the total travel distance is 4 millimeters.
Just like tactile switches, clicky switches let you know exactly where the trigger, or actuation point, is beneath your keycaps. This makes it easier to type accurately and quickly because you can feel whether or not you truly pushed a key down and the keystroke was registered.
CHERRY MX Green switches
The MX Green switches from CHERRY are the heaviest switches the company offers, with an operating force of 80 cN. The MX Greens are a slight variation of the MX Blues, and the only real difference between the two is the actuation force. While an extra 20 cN of operating force might not seem like a lot, it makes a world of difference for users who want keys that require more effort to depress.
Just like CHERRY's other clicky switches, the MX Greens switching slide is made up of two components. There's one part responsible for the tactile bump, and one part responsible for the acoustic feedback, or the clicky sound. The pre-travel distance is the same as the MX Blues at 2.2 millimeters, and the total travel distance is the same at 4 millimeters. This is a great option for typists who stroke the keyboard with gusto.
CHERRY MX unique switches
In addition to its classic linear, tactile, and clicky switches, CHERRY also has a few mechanical switches that are special variations for users who want an even more personalized feel to their keyboard. The three most notable specialty switches from CHERRY are the MX Red Silents, MX Black Silents, and MX Speed Silvers.
The MX Red Silent switches are essentially the MX Reds with a twist. These switches are still linear, and also have an operating force of 45 cN. The MX Red Silents are, well, silent, which is awesome for anyone working in an office or anyone who just doesn't like the sound of loud, clacky keys. These switches have a slightly shorter pre travel distance, at 1.9 millimeters, and total travel distance, at 3.7 millimeters, than the MX Reds which allows the keystroke to register slightly faster.
Similarly, the MX Black Silent switches are a silent version of the MX Blacks, but still have an increased spring force that results in an operating force of 60 cN. CHERRY implements its patented noise reduction technology in both the MX Black Silents and MX Red Silents
Lastly, there are the MX Speed Silver switches, which are CHERRY's fastest mechanical switch model to date. These switches have a pre travel distance of 1.2 millimeters, total travel distance of 3.4 millimeters, and an operating force of 45 cN. It has a straight surface, so it's a linear-style switch with no noticeable feedback with each keypress.
Razer yellow, orange, and green switches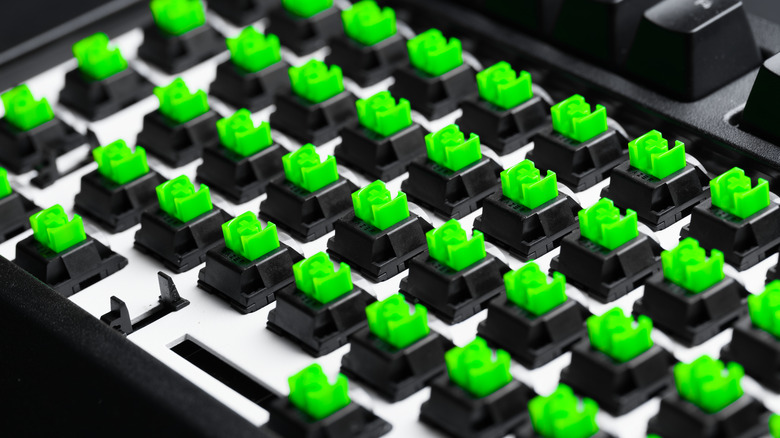 SvedOliver/Shutterstock
Razer is a huge brand in the world of gaming tech, with products including computer mice, speakers, and, of course, mechanical keyboards. While CHERRY is a more established brand, Razer's mechanical switches are still a popular option among gamers and other computer users.
Razer's Mechanical switches have an 80 million keystroke lifespan, 20 million fewer keystrokes than CHERRY offers, but nothing to sneeze at. Also, Razer's mechanical switches are soldered onto its keyboards, whereas CHERRY sells switches individually so that they can be swapped them out. With Razer's switches, you need to be sure of your choice before you make your purchase.
Razer's tactile switches are orange, and you'll experience a noticeable bump with no audible click. These orange switches have an actuation force of 45 G, which is a different measurement than CHERRY uses, but nearly the same cN, the measurement CHERRY uses. The total travel distance is 4 millimeters and the actuation point is 1.9 millimeters.
The yellow switches from Razer are linear and silent and have an actuation force of 45 G, just like Razer's orange switches. With a total travel distance of 3.5 millimeters and an incredibly fast actuation point of 1.2 millimeters.
The green switches are Razer's clicky switches for anyone who wants to feel and hear every single keypress. There's a distinct tactile bump and auditory click with every keypress, and an actuation force of 50 G, slightly more than the yellow and orange switches. The total travel distance is 4 millimeters, and the actuation point is 1.9 millimeters.
HyperX red, aqua, and blue switches
Mechanical switches from HyperX are more similar to Razer's switches than to CHERRY's switches. HyperX switches offer an 80 million keystroke lifespan and come soldered onto HyperX branded mechanical keyboards, so it's difficult and tedious to swap your switches if you change your mind on the sound and feel you want.
Linear switches from HyperX are red, just like CHERRY's linear MX Reds, and have a similar operating force of 45 G. The HyperX Red switches have a total travel distance of 3.8 millimeters, and their actuation point is at 1.8 millimeters. They're much quieter than the aqua and blue switches from HyperX and don't provide any tactile feedback.
HyperX Aqua switches are tactile, with an operating force of 45 G and a slight bump in its travel path so you can feel exactly when a keypress registers. Then, HyperX blue switches are clicky, with an operating force of 50 G, a much more substantial tactile bump, and audible feedback. Both the Aqua and Blue switches share the same total travel distance and actuation point as the Red switches from HyperX.