Getting Cancer Care in Rural America
If you've been diagnosed with cancer and are among the 1 in 5 Americans who live in a rural area, you may face challenges in getting the care you need because of where you live.
The first step is to work with your primary care doctor to find specialists with experience in treating your type of cancer at the stage at which it was diagnosed.
Once you know who could treat your cancer, then come other considerations:
How you will get to appointments
Where you will stay when you're at a cancer facility for treatment
How you will ensure you get proper follow-up care and handle daily life while you're recovering
Anytime travel is involved, there are a lot of costs. Assistance is available to help rural cancer patients overcome barriers to treatment. This includes lodging grants, help with airfare, and rides provided by volunteers to take you to oncology centers. These services, along with a helpline that operates 24 hours a day, are available through the American Cancer Society.
More options for at-home follow-up care are now available in some areas. This happened when the pandemic prompted state and federal agencies to lift restrictions on telehealth usage. The Centers for Medicare & Medicaid Services also allows hospitals more freedom to care for cancer patients at home following surgery, radiation, and chemotherapy treatment through video appointments and nurse visits.            
"It really was a silver lining of the health crisis," says Kathi Mooney, PhD, RN, a co-leader in cancer control and population sciences at the Huntsman Cancer Institute at the University of Utah.
"Everybody agreed we don't want more people in the hospital and cancer patients are more vulnerable," Mooney says, "so it forced people who weren't early adopters of hospital at home to try it."
Bridging the Gap
The Institute started its Huntsman at Home program in 2018 for adults with cancer. They can't get certain treatments at home. But the program can help cancer patients with symptoms such as nausea, vomiting, or dehydration at home – as well as providing supportive care, palliative care, and hospice to patients in their homes.
Mooney's research shows that the program effort reduced hospitalizations for cancer patients by dispatching nurses to address issues such as dehydration and chronic pain early in the home. It began by serving people within a 20-mile radius of the Huntsman Cancer Institute and has since branched out to also include three rural counties in southeastern Utah.
The program is part of a push by hospitals and advocates to reduce disparities in treatment between urban and rural cancer patients as the nation's population ages. (Many cancers become more common later in life.)
Lack of Oncologists in Rural Areas
Location makes a big difference in how available cancer care is.
About 2 of every 3 counties in the U.S. have no oncology providers whose primary practice site is within that county, according to a 2019 analysis published in JCO Oncology Practice.
Limited access to providers in rural areas – along with low recruitment to clinical trials – means that people are more likely to be diagnosed at later stages, less likely to get adequate treatment and follow-up services, and have poor health outcomes afterward, a second report concluded.
But the research also shows that when people living in rural areas get similar care to those who live in or closer to urban areas, those gaps close.
Hospitals across the U.S. are working to fill gaps in treatment between those living in cities and their neighbors in the country. These include a network of 71 cancer centers designated by the National Cancer Institute (NCI) in 36 states. These NCI-designated cancer centers work on clinical trials involving thousands of people with cancer, as well as providing cancer treatment.
Momentum is building to expand such efforts, including those that focus on strategies to improve access to screening for all types of cancer, says Karen Knudsen, PhD, chief executive officer of the American Cancer Society and the American Cancer Society Cancer Action Network.
"Without question, we have made significant advances in cancer treatment," Knudsen says. "We've seen a 32% reduction in mortality since 1991 because of breakthroughs in the way we manage some 200 diseases we call cancer."
"It's more important than ever to catch cancers early," Knudsen says. "We need to determine what are disruptive models that can give earlier access to detection, prevention, and oncology care — a different model is needed."
Medical professionals are working to advance screening methods that can detect cancer cells in someone's bloodstream and to develop wearable devices that may also find the disease early, Knudsen says.
There are also oral chemotherapy medications that could mean less travel. For some cancers, these may be important in your treatment. But they are very strong medications that have special instructions and require monitoring, as they can have serious side effects. Oral chemotherapy can be expensive, so check with your insurance company to see what it covers and what you would pay.
Telehealth's Challenges
Going to a doctor's appointment can happen online. But access to telehealth may also be a challenge for rural residents who cannot afford a computer, cell phone, or WiFi connection, Knudsen says. Broadband service is often unavailable, or unreliable, in many rural areas. 
What's more, some things are best done in person.
"There is nothing like visiting patients in their home to understand the context of what it means for them to have cancer and to have to seek cancer treatment," Mooney says. "We have seen the need to more closely work with food banks to make sure the dietary needs of cancer patients receiving cancer therapy are met."
After further evaluation of the Huntsman at Home program in southeastern Utah communities, Mooney hopes to expand it in Utah and to Nevada, Idaho, Wyoming, and Montana.
Besides technology, there are other issues.
Funding for innovative hospital at-home programs that expanded during the pandemic may not continue if the CMS waiver – which allowed for reimbursement of services provided to Medicare patients at home — is not extended, Mooney says. The CMS waiver is set to expire in July.
When it comes to private insurance, the current fee-for-service model doesn't adequately address the cost of providing acute care in the home. And there are many regulations on how many nursing visits patients can have per "episode of illness." These things must be addressed to help the hospital at home program expand in other states, Mooney says.
"The whole dialogue needs to be about, if this is a more value-based service, how do we pay for it?'" Mooney says. "We have to get families who have experienced it to say, 'This is the kind of care we want,' and employers to say, 'This helped our employees recover and get back to work.'"
Lululemon Is Moving Tons of Summer-Ready Apparel to Sale Right Now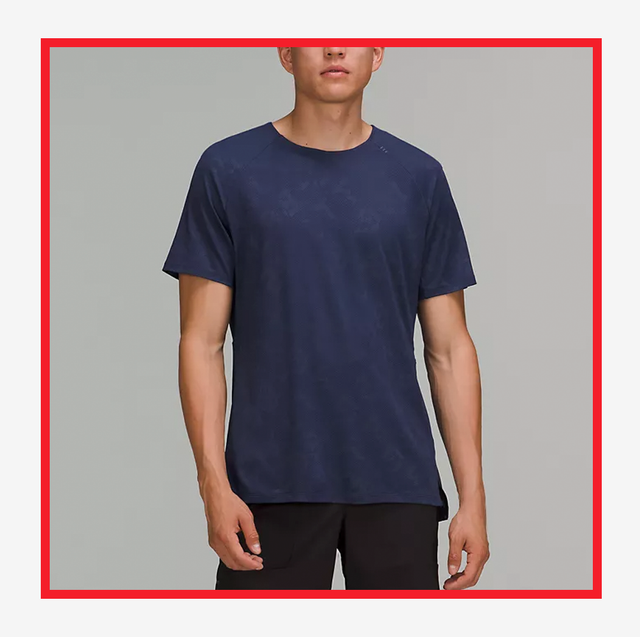 Courtesy of Retailer
When it comes to curating a sale that us guys actually want to shop, Lululemon is one of the best at making it happen. Recently, the legacy performance wear brand added tons of summer-ready apparel to its We Made Too Much sale section. While supplies last, you can shop up to 50% off some of Lululemon's best-selling styles in shorts, tees, swimwear, and more.
Venture Long Sleeve Shirt
Lululemon

Read More

Airing Easy Short Sleeve Buttondown
Lululemon

Read More

Metal Vent Tech Short Sleeve Shirt 2.0
Lululemon

Read More
While there's a ton of gym wear in this sale, our favorite aspect is the surprising amount of casual pieces you can find. Because Lululemon has some of the best lightweight and breathable fabric blends around, you can pick up sleek garments like the Venture Long Sleeve Shirt (50% off) and ABC Jogger (30% off) and wear them out to your summer dinners without feeling too dressed-down. And if you're looking for casual clothes with versatility—like pieces you can wear to play golf or to a ball game—you can find several colors on sale in styles like the Airing Easy Short Sleeve Buttondown (27% off) and the City Sweat Short (43% off).

The best deals are the ones you get to first, so make sure to act fast on these new sale styles. Whether you're looking for new gym gear or everyday apparel, we've got you covered on all the latest sale restocks from Lululemon!
SAVE NOW
Venture Long Sleeve Shirt
Airing Easy Short Sleeve Buttondown
Metal Vent Tech Short Sleeve Shirt 2.0
License to Train Linerless Short 7″
Textured Training Short Sleeve Shirt
License to Train Men's Hat
Textured Training Tank Top
Relaxed-Fit Training Short Sleeve Shirt
John Thompson
Gear and Commerce Editor
John Thompson is the Gear and Commerce Editor at Men's Health, where he covers fashion, grooming, gear, and technology.
This content is created and maintained by a third party, and imported onto this page to help users provide their email addresses. You may be able to find more information about this and similar content at piano.io
Everything We Know About Umbrella Academy Season 4
Warning: This article contains spoilers for Umbrella Academy Season 3.
---
The Umbrella Academy family has been through a lot. They've traveled through time, stopped the apocalypse twice, and done it all in a matter of days, if we're tracking their achievements in real time. Still, the team's unexpected superhero days are far from over.
At the end of Season 3, we didn't get many answers, just more questions. Now that our world is destroyed, where did everyone end up? How are Allison's daughter and Ray together in the same timeline? Where's Sloane? And what is the Sparrow Academy's Ben doing on that train? Is there any way to return the world to how it was?
That's not even mentioning Reginald Hargreeves. Despite how he came off to Klaus throughout most of Season 3, Reginald is still as devious as ever. But from the Season 3 finale, it looks like we'll finally get some clarity on what all his secret planning was for. It looks like he has a woman named Abigail standing with him in the new reality he destroyed the world to create. And if his willingness to trick his children and the Umbrella Academy into doing his bidding is any indication, he'll do anything to get what he wants. The remaining Sparrows and the Umbrella Academy may all have to band together to defeat Reginald.
The only thing we know for sure is that there's a clear set-up for a Season 4 of The Umbrella Academy. Here's everything we know about a potential Season 4 of The Umbrella Academy. We'll update this space with the latest news.
Will There Be a Season 4 of The Umbrella Academy?
Since the show's Season 3 just premiered, it could be too soon for Netflix to give it a green light. How many people tune into the new season could be the data the streaming service uses to determine whether or not The Umbrella Academy gets a renewal.
Steve Blackman, who created the Netflix adaptation of The Umbrella Academy, told Men's Health he already has plans for what he wants to do for the next season, and will answer many of the unanswered questions left after the Season 3 finale, including that mysterious post-credits scene.
"I can only tell you it is the Ben from the Sparrow timeline," Blackman says. "It is the Ben you've seen all season long. I can't tell you why he's there, or what the glasses are all about, but that is the Ben from the Sparrow Academy. Everything else will be answered next year."
He also revealed to The Wrap that he initially pitched the show to last for four seasons, but there's been no word yet on if it'll actually be the end for the superpowered family.
"I think if we got to Season 4, it would be a great ending for the run of the show," he told the publication. "I'm not saying I couldn't do more, but you know, I think that would be very satisfying for the audience, four seasons."
Having said all that, Netflix only has one more season of Stranger Things, and after that, The Umbrella Academy may just be its most popular genre show. It would be shocking if we didn't see the Umbrellas (and the remaining Sparrows) back for more.
When Will Season 4 of The Umbrella Academy come out?
Until we get official confirmation of another season, we can't say anything for sure. But in the meantime, get clarity on some of the major twists in Season 3, like who the mysterious old man is, or a breakdown of the Sparrow Academy, and check out our interview with creator Steve Blackman.
This content is created and maintained by a third party, and imported onto this page to help users provide their email addresses. You may be able to find more information about this and similar content at piano.io
Fit Kids More Likely to Stay Mentally Sharp with Age: Study
June 27, 2022 – Physical activity helps kids build strong muscles and bones and lowers the risk of things like heart disease and diabetes later in life. Now, there's yet another reason to encourage your child to move: It may help them stay mentally sharp for decades.
A new study done by researchers in Australia followed 1,200 people for 30 years and revealed a link between childhood fitness and mental performance in middle age.
The study began in 1985. It looked at people between the ages of 7 and 15 at the time, who were assessed for heart and lung fitness, power, and endurance, and measured for waist-to-hip ratio. More than 30 years later, those with the highest fitness scores and lower waist-to-hip ratios as kids tended to score better in tests of their thinking skills.
The results, published in the Journal of Science and Medicine in Sport, underline the importance of exercise not just for a healthy body but for a healthy brain. And to reap the full benefit, we may need to start as far back as early childhood.
Fit Body, Fit Brain
Previous research has linked adult fitness with better thinking skills and a lower risk of dementia later in life, though this study is the first to link childhood fitness to those outcomes.
That link remained even after controlling for things like academic performance, social and economic status, smoking, and alcohol consumption, says Michele Callisaya, PhD, a study co-author and associate professor from the National Centre for Healthy Ageing at Peninsula Health and Monash University in Melbourne, Australia. (Researchers from the University of Tasmania also worked on the study.)
High fitness levels help new neurons, connections, and blood vessels form in the brain, Callisaya says, which may explain the protective effect. What's more, healthy behaviors may be more likely to stick if we start when we're young, she says.
One surprising finding: While being fit as a kid was linked to higher scores in things like processing speed and attention, it had no impact on memory.
"This might be because the cognitive functions of processing speed and attention start to decline in midlife," Callisaya says. "Memory generally starts to decline later."
Tips for Parents
Children over 6 should get at least 60 minutes of moderate to vigorous activity every day, according to the U.S. physical activity guidelines. That's in line with Australian guidelines as well, Callisaya notes.
"It's important to remember this can be doing fun things like running around the park," she says. "Making physical activity a positive experience and fun is important."
And be sure you get in there and run around with them: Setting a good example is a key way to help prevent health problems, she says.
And here's another strategy: Try cutting back on screen time. A separate study from Denmark suggests this may be a good way to get kids moving more. In fact, kids whose screen time was limited to 3 hours a week had an average of 45 minutes more daily physical activity than those not given a limit.
Surprisingly, screen limits had no impact on the physical activity of parents who also took part in the study, the researchers noted – maybe because children are more spontaneous in their physical activity, compared to adults.
In other words, persuading children to be more active could simply mean encouraging kids to be just that: kids.