LinkedIn has introduced a new feature: LinkedIn creator mode. This makes your LinkedIn profile easy to track and also makes your content easier to find. What are the benefits of this new feature? How to activate the creator mode?
The LinkedIn Creator mode is a new feature of LinkedIn, and the platform provides all its users with the opportunity to become a true "Linkedin Fluencer". Therefore: Do you want to increase your followers and interact more with your target group? Then, the creator mode can just make you happy LinkedIn profile updates. What are the benefits of this new feature? How to activate the creator mode? Let's catch up.
Creator mode is Recent profile updates LinkedIn announced at the end of March. the goal? Show content more prominently and encourage others to follow you. why? In this way, every LinkedIn user can (possibly) become a true "LinkedIn creator".
The exact meaning of the platform LinkedIn creator? "Members who regularly share content with professional communities to showcase their expertise, spark conversations about ideas and experiences, and build communities around common interests." In other words: LinkedIn users who excel in a particular field (for example, entrepreneurship) share inspiring content and then focus on that particular content multiple times to build a community.
According to LinkedIn, anyone who wants to become a creator of LinkedIn. The creator mode should make it easier to "break through" the platform. After activating the creator mode (see the step-by-step plan under the "How to" heading), you will be able to use some new features. They are all set up to make your profile easier to find and "trackable".

When you activate LinkedIn creator mode, this change:

You can find "Creator Mode" in your profile dashboard, and you can easily turn it on or off. The steps to activate LinkedIn creator mode are as follows:
Note: This new feature will be rolled out to all LinkedIn users next month, so it may take some time before everyone can use it.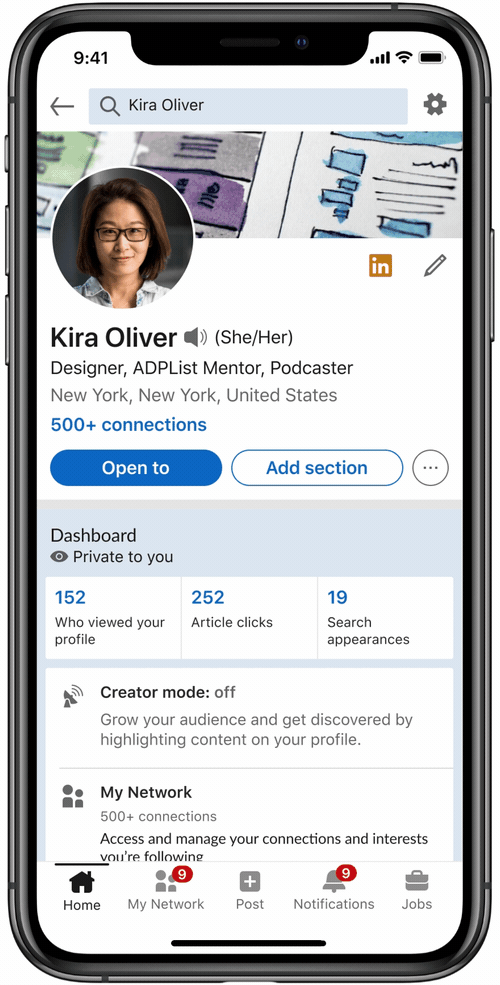 Are you interested in the LinkedIn creator model or interested in you? In short, the advantages:
Following platforms such as Instagram and Facebook, LinkedIn also hopes to provide users with the opportunity to become content creators (with a large number of followers/communities). However, there is a difference. LinkedIn creators are not necessarily known for the most beautiful photographs (Instagram), the most engaging stories (Facebook) or vivid videos (TikTok), but they are known for their expertise. The creator mode is one of the functions that helps to highlight this expertise. This is what LinkedIn said: "We are the first step in creating a dedicated experience and toolset for the creator community."
In the future, the platform hopes to provide more tools for users who use the "creator mode" to develop. For example, tips, tricks, and cases will be exclusive access to the content soon.

As a social media expert, I think the LinkedIn creator model is a positive development. Every LinkedIn user can claim to be an inspiration.From Thought leader We already know the bakery around the corner, and of course the same is true for you. Everyone has a story to tell.
About the author: Joyce Nafzger Yes Social media expert and social director Qontent matters
Want to keep up to date with the latest news in your field? Follow Emerce socially: LinkedIn, Twitter on Facebook.