For Mike Pence, Jan. 6 began like many days. It ended like no other.
National

He came within 40 feet of an angry mob, spent nearly five hours in a loading dock, and was called a "wimp" and worse by the president.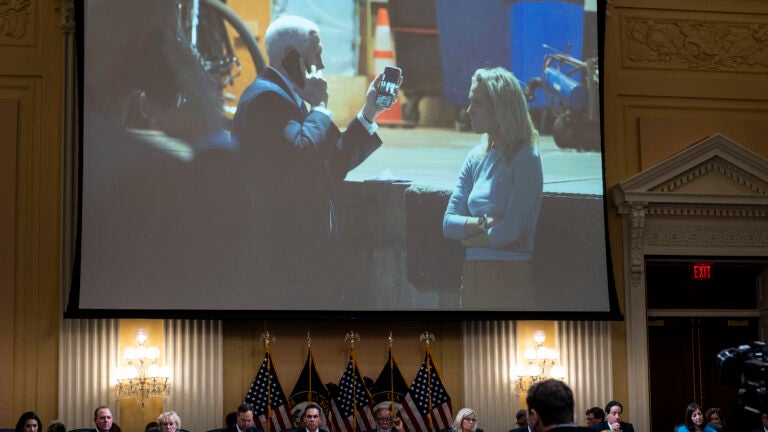 By Annie Karni and Maggie Haberman, New York Times Service

WASHINGTON — He started the day with a prayer.

Vice President Mike Pence, preparing to withstand the final stage of a relentless campaign by President Donald Trump to force him to illegally try to overturn the results of the 2020 election, began Jan. 6, 2021, surrounded by aides at his official residence at the Naval Observatory, asking God for guidance.

The group was expecting a difficult day. But what followed over the next 12 hours was more harrowing than they imagined.

An angry mob with baseball bats and pepper spray chanting "hang Mike Pence" came within 40 feet of the vice president. Pence's Secret Service detail had to hustle him to safety and hold him for nearly five hours in the bowels of the Capitol. Trump called Pence a "wimp" and worse in a coarse and abusive call that morning from the Oval Office, Trump's daughter and former White House aides testified.

And a confidential witness who traveled to Washington with the Proud Boys, the most prominent of the far-right groups that helped lead the assault on the Capitol, later told investigators the group would have killed Pence — and House Speaker Nancy Pelosi — if they got the chance.

Those were among the extraordinary new details that emerged during the third public hearing held Thursday by the House Select Committee to Investigate the Jan. 6 Attack on the United States Capitol.

Pence's day dawned as it often did. The vice president, whose evangelical faith was a selling point for adding him to the presidential ticket in 2016 but often a source of skepticism for Trump, was joined by three people in prayer: his chief counsel, Greg Jacob; his chief of staff, Marc Short; and his director of legislative affairs, Chris Hodgson.

Pence and the team had been subjected to a barrage of demands from Trump that the vice president refuse to certify Joe Biden's Electoral College victory in a joint session of Congress — an unconstitutional action never before taken in the 2 1/2 centuries since the nation's founding.

"We just asked for guidance and wisdom, knowing the day was going to be a challenging one," Short said in videotaped testimony played by the committee.

While Pence was at the Naval Observatory, Trump was in the Oval Office with aides and family members trickling in and out, including Donald Trump Jr., Eric Trump, Lara Trump, Kimberly Guilfoyle and Ivanka Trump. He had already sent two Twitter posts further pressuring Pence, the first at 1 a.m. The second, at 8 a.m., concluded, "Do it Mike, this is a time for extreme courage!"

At 11:20 a.m., Trump called Pence, who stepped away from his aides to take the call.

The group in the Oval Office could hear Trump's side of the call but paid little attention to what seemed to start as a routine conversation. But as Trump became increasingly heated that Pence was holding firm in his refusal to give in, the call became hard to ignore.

"I remember hearing the word 'wimp,'" Nick Luna, an aide to Trump, said in videotaped testimony. "'Wimp' is the word I remember."
Ivanka Trump, the president's older daughter and a former top White House adviser, said in her videotaped testimony that "it was a different tone than I heard him take with the vice president before."

Ivanka Trump's chief of staff, Julie Radford, appeared in videotaped testimony to say that Ivanka Trump told her shortly after the call that Donald Trump had an "upsetting" conversation with Pence. The president, Radford said, used "the P word." (The New York Times reported previously that Trump had told Pence, "You can either go down in history as a patriot or you can go down in history as a pussy," according to two people briefed on the conversation.)

Over at the Naval Observatory, Pence returned to the room after taking the call looking "steely," "determined" and "grim," Jacob told the committee.

Trump in the meantime revised a speech that he delivered later that day to throngs of supporters on the Ellipse. An early draft of the speech, the committee said, included no mention of Pence. But after the call, the president included language that video footage showed riled up the mob.

"I hope Mike is going to do the right thing," Trump said in his speech. "I hope so. I hope so. Because if Mike Pence does the right thing, we win."

"All Vice President Pence has to do is send it back to the states to recertify, and we become president, and you are the happiest people," Trump continued, referring to one of his demands that Pence send the election results back to the states, a delaying tactic that he hoped would ultimately keep him in office. If Pence failed to comply, Trump told the crowd, "that will be a sad day for our country.''

He added, "So I hope Mike has the courage to do what he has to do. And I hope he doesn't listen to the RINOs and the stupid people that he's listening to," using the term for "Republicans in name only."

Trump directed his supporters to march to the Capitol and make themselves heard.

By the time Pence arrived at the Capitol with his wife, Karen Pence, and their daughter Charlotte, an angry mob was already massing outside.

Inside, as the joint session began, Mike Pence's aides released a memo to the public laying out the vice president's view that he did not have the power over the certification that Trump and his lawyer, John Eastman, insisted he did.

Shortly after 2:10 p.m., the proceedings were interrupted by loud noises. The mob was swarming into the building. At 2:24 p.m. — when Democrats on the committee said Trump was aware that the Capitol had been breached — the president posted to Twitter that "Mike Pence didn't have the courage to do what was necessary."

At that point, the Secret Service had moved Pence from the Senate chamber to his office across the hall. His advisers said the noise from the rioters had become audible, leading them to assume they had entered the building. Yet there was not yet a pervasive sense of alarm.

Once in his office, Pence sat with his family, including his brother, Rep. Greg Pence, R-Ind., and top aides as Short ducked downstairs to grab some food. Karen Pence drew the curtains to keep the rioters from looking in.

Short made his way back to the office. By then, Tim Giebels, the lead Secret Service agent for Mike Pence, had made a few attempts to nudge Pence and his family to move to a different location. But soon he was no longer making a suggestion. Pence, he said, had to get to safety.

The entourage began to make its way down a stairway toward an underground loading dock — the point at which they came within 40 feet of the rioters. Pence and his aides did not know at the time just how close they were to the mob, some of whom were threatening to kill him.

"I could hear the din of the rioters in the building," Jacob said Thursday at the hearing. "I don't think I was aware they were as close as that."

From the loading dock, Pence handled calls to congressional leaders who had been evacuated from the Capitol complex and ordered the Pentagon to send in the National Guard. The Secret Service directed him to get into a car and evacuate, but he refused to leave the building.

"The vice president did not want to take any chance that the world would see the vice president of the United States fleeing the United States Capitol," Jacob said Thursday, noting that Pence did not want to give the rioters the satisfaction of disrupting the proceedings more than they had already done. "He was determined that we would complete the work that we had set out to do that day."

One person he never spoke with again that day was Trump, who did not call to check on Pence's safety. Neither did the White House chief of staff, Mark Meadows.

Just after 8 p.m., the Senate chamber opened again, after the rioters had been cleared from the complex.

"Today was a dark day in the history of the United States Capitol," Pence said as the proceedings began again. He was greeted with applause when he said, "Let's get back to work."

Back at the White House, egged on by some of his advisers, Trump told aides he wanted to bar Short from entering the West Wing from then on.

At 3:42 in the morning, it was all over. Biden's victory had been certified.

At 3:50 a.m., as Pence and Short went their separate ways, Short texted his boss a passage from the Bible.

"I have fought the good fight, I have finished the race, I have kept the faith," the message read.

This article originally appeared in The New York Times.
President Biden Signs Bipartisan Gun Safety Bill into Law
On Saturday, President Joe Biden signed a bipartisan gun control bill into law.
According to USA Today, the law, called the Safer Communities Act, urges states to create "red flag" laws that would prevent people deemed dangerous from being able to legally obtain a firearm. It further eliminates the "boyfriend loophole" by adding "dating partners" to the list of violent domestic abusers banned from purchasing a gun and increases background checks of 18 to 21-years-olds seeking to buy a firearm.
Additionally, it includes "the first-ever federal law that makes gun trafficking and straw purchases distinct federal crimes."
"At a time when it seems impossible to get anything done in Washington, we are doing something consequential," Biden said at the White House.
"While this bill doesn't do everything I want, it does include actions I've long called for that are going to save lives," he added before calling the bill the "most significant [gun control] law to be passed" over "the last 30 years."
Noting that people have been calling on lawmakers to do something since the Columbine mass shooting in 1999, Biden said their cries have now been answered.
"From Columbine to Sandy Hook, to Charleston, Orlando, Las Vegas, Parkland, El Paso, Atlanta, Buffalo, Uvalde, and for the shootings that happen every day in the streets that are mass shootings — and we don't even hear about them, the number of people killed every day in the streets — their message to us was: 'Do something.' How many times have we heard that? 'Just do something,'" he said. "Well, today, we did."
The new law came after a string of deadly mass shootings last month, including a shooting at an elementary school in Uvalde, Texas, where 19 children and two adults were killed, and another at a Buffalo, New York, supermarket where 10 were killed, and three were wounded.
As Christian Headlines previously reported last Thursday, the Senate voted 64 to 34 in favor of the bill. The House then passed the bill on Friday with a 234 to 193 vote, sending it to Biden's desk.
Fourteen Republican representatives joined all House Democrats in passing the bill.
Related:
U.S. Senate Pushes Forward Bipartisan Gun Control Bill
Bipartisan Group of Senators Reach Agreement on Framework for New Gun Control Legislation

Photo courtesy: ©Getty Images/jirkaejc
---
Kayla Koslosky has been the Editor of ChristianHeadlines.com since 2018. She has B.A. degrees in English and History and previously wrote for and was the managing editor of the Yellow Jacket newspaper. She has written on her blog since 2012 and has also contributed to IBelieve.com and Crosswalk.com.
'Just an Innocent Man': Texas Pastor Shot, Killed in Suspected Road Rage Incident
A beloved pastor in Houston, Texas, was shot and killed in a suspected road rage incident on Friday afternoon.
The Reverend Dr. Ronald K. Mouton Sr., who led East Bethel Missionary Baptist Church for 30 years, was shot and killed by another driver at around 4:19 pm while he was driving on the Gulf Freeway.
Rep. Sheila Jackson, R-Texas, and Crime Stoppers of Houston have released a $5,000 reward regarding information leading to an arrest of the suspected shooter, who remains at large as of Monday. According to Click 2 Houston, police say the suspect was believed to be driving a black sedan.
Surveillance video from Pusch and Nguyen Injury Lawyers showed what happened before Mouton was killed.
As reported by The Christian Post, Mouton's church and friends are aggrieved over his death.
"Dr. Mouton was known and loved by many. If you knew him, you would know him to be a gracious servant, a leader, and a friend. As we begin to cope with the reality of his passing, we ask that you would respect our family's privacy during this time," East Bethel Missionary Baptist Church wrote on Facebook.
"I am deeply saddened by the loss of Pastor Mouton. I got to know him when he worked with my late husband, Lonal Robinson, as he developed youth sports programs in the '90s. His benevolence was meaningful to the children of the community," one church member wrote.
Lee, a longtime friend of Mouton, remembered the reverend as a loving man who loved to serve others.
"This was just an innocent man traveling on a road near his church where he worked all the time," the congresswomen said. "He loves ministry. He was just doing the work of a pastor."
Mouton, a graduate of Baylor University and Stephen F. Austin State University, leaves behind his wife of nearly 40 years, four children, 10 grandchildren, a twin brother, and other siblings.
Photo courtesy: ©Getty Images/Stephen Barnes
---
Milton Quintanilla is a freelance writer. He is also the co-hosts of the For Your Soul podcast, which seeks to equip the church with biblical truth and sound doctrine. Visit his blog Blessed Are The Forgiven.
Christian Leaders Celebrate the Overturning of Roe but Caution: 'Our Work Is Just Beginning'
Christian leaders across the denominational spectrum on Friday celebrated the overturning of Roe v. Wade but cautioned that much work – in states and in local communities – remains to be done.
The court's overruling of Roe sends the issue back to the respective 50 states, where legislatures and governors now will decide – and in some instances already have decided – what to do.   
Here are how seven Christian leaders reacted to Friday's opinion:
Lila Rose, President and Founder of Live Action
"Roe v. Wade is over. Children will live because of this decision to overturn the constitutional fiction of Roe v. Wade," Rose said. "… This decision is an important step forward for the protection of innocent life in our nation, but the work of the pro-life movement is just getting started. While overruling Roe is a necessary first step, giving states the prerogative to regulate abortion is not a final victory. While this decision will give states the right to protect their youngest citizens, many of our nation's largest states, such as California, Illinois, and New York will still legalize and even subsidize the killing of our youngest children. We will not have true justice until the Supreme Court acknowledges the truth that under our Constitution, every American – born or preborn – has an inherent right to life protected by the 14th Amendment. 
"Science conclusively proves that a unique and biologically distinct human life begins at the moment of fertilization," Rose added. "Every child regardless of their age, should be protected from the horrors of abortion and the abortion industry. Going forward, the pro-life movement must advocate for the Supreme Court to grant equal protection under the law to all humans, even from the very beginning of every human's life. Starting today, every single state in our nation must act swiftly to codify protections for preborn children into state law and resource mothers and fathers to ensure the American family is healthy and ready to flourish without the grave violence of abortion."
Rose wrote in a tweet, "Our work is just beginning."
Our work is just beginning

— Lila Rose (@LilaGraceRose) June 24, 2022
Roland Warren, President and CEO of Care Net
"For all who value the sanctity of human life, today marks a monumental day in our efforts to protect the unborn. In upholding Mississippi's pro-life law and overturning Roe v. Wade, the Supreme Court has paved the way for states to make laws regulating abortion based on the values of their own citizens," Warren said. "But changed laws don't equal changed hearts, and the Supreme Court can't outlaw unplanned, unexpected, and unexpectedly complicated pregnancies. Accordingly, regardless of how the laws of our land play out over the next several years, women and men will continue to face tough pregnancy decisions. In an environment in which abortion is more difficult to access, Care Net's work has become more critical than ever.
"Care Net will continue to support our network of more than 1,200 affiliated pregnancy centers, a national hotline, and a growing network of churches in their irreplaceable efforts to offer compassion, hope, and help to women and men at risk for abortion."
Franklin Graham, President of Samaritan's Purse and the Billy Graham Evangelistic Association
"Roe v. Wade, passed 49 years ago, has resulted in the deaths of over 63 million innocent children in this country. Sadly, this decision is not an end to abortion — it pushes the battle back to the states," Graham said.
"My prayer is that every state will enact protections for children in the womb and that our nation will value life and recognize the rights of our most vulnerable," Graham said.
Karen Swallow Prior, Author and Professor at Southeastern Baptist Theological Seminary
"Our work now is just starting: we must help and support moms, dads, and babies. Love them all – and in so doing making abortion unimaginable," Prior said.
Our work now is just starting: we must help and support moms, dads, and babies. Love them all—and in so doing making abortion unimaginable. #RoeVsWade

— Karen Swallow Prior (Notorious KSP) (@KSPrior) June 24, 2022
Bart Barber, President of the Southern Baptist Convention
"Southern Baptists rejoice at the ruling that the United States Supreme Court has delivered today in Dobbs v Jackson Women's Health Organization," Barber said. "Since 1980, the Southern Baptist Convention has passed more than 20 resolutions on the question of abortion. 
"… As we stated just days ago in a resolution at our 2022 Annual Meeting, in a post-Roe United States, 'We commit to stand with and pray for abortion-vulnerable women, to eliminate any perceived need for the horror of abortion, and to oppose Planned Parenthood and other predatory organizations or institutions who exploit vulnerable women for profit.' State-by-state, mother-by-mother, heart-by-heart, we will continue our sacred work toward this goal."
Kristen Day, Executive Director of Democrats For Life of America
"DFLA is excited about the political opportunities this decision creates for pro-life Democrats," Day said. "We have made significant contributions to advancing justice for the preborn and their mothers, and will continue to do so. Today is a wonderful day and we enthusiastically recommit ourselves to the mission of protecting all human life from womb to tomb."
Day urged states to assist women facing an unplanned pregnancy. 
"What are they going to do to support those women who no longer can [have an] abortion in those states?" Day told NBC. "How are we going to provide them with the opportunity and the support to parent, feed their families, keep their jobs and … have affordable health, health care, affordable childcare? … Let's put women and children first and let's provide the support, compassion to help them with a real choice to become parents." 
A news release said Democrats for Life "celebrates" the overturning of Roe.
Roe Overturned!!! Read the DFLA Press Release here! https://t.co/7Ist7G15PN

— Kristen Day (@ProLifeDem) June 24, 2022
Alveda King, Founder of Speak for Life and Niece of the late Martin Luther King Jr. 
"For 49 years, 'we the people' have had to endure a flawed and unconstitutional ruling from the Supreme Court that allowed unelected judges to create a national right to abortion that ultimately led to extreme actions, like late-term abortions, against the unborn," King said. "Today, the Supreme Court has rightfully overturned that decision, sending the power to regulate abortion back to the elected officials at the state level. I have longed for and prayed for this day. And I will continue to fight for human dignity for everyone – from the womb to the tomb."
Photo credit: ©Getty Images/Pool
---
Michael Foust has covered the intersection of faith and news for 20 years. His stories have appeared in Baptist Press, Christianity Today, The Christian Post, the Leaf-Chronicle, the Toronto Star and the Knoxville News-Sentinel.