Democrats Can Break the "Midterm Curse"
Conventional wisdom holds that Democrats are doomed to defeat in this year's midterm elections. It is an article of faith that the party that controls the White House automatically loses seats in the next election, so much so that members of the Biden administration are already hiring lawyers in anticipation of needing to fend off investigations by a Republican-led Congress. But such an outcome is not a foreordained law of nature, and Democrats have previously defied the odds—most notably in 1998. The lessons from that contest offer valuable insight about how to maintain Democratic control of the House of Representatives this year.
During Bill Clinton's second term as president, Democrats shocked the pundits (and, quite possibly, themselves) by increasing their numbers in Congress instead of losing seats. That outcome rocked the Republican Party, with The New York Times writing that the GOP was "stunned by the Democratic resurgence in the midterm elections," adding, "The Democratic victories were even more remarkable in a year marked by the monthslong scandal over President Clinton's affair with Monica S. Lewinsky."
What 1998 proved—and what has been regularly re-affirmed over the past two decades—is that midterms are decided by which party does a better job of getting its supporters to the polls. This data-driven truth runs counter to the popular narrative that fickle swing voters tend to turn their wrath on the incumbent party as a way of showing dissatisfaction with the economy and unpopular public policy choices.
The incorrect understanding of voter behavior was distilled in a FiveThirtyEight article earlier this year titled, "Why The President's Party Almost Always Has A Bad Midterm." That piece posited that "the most compelling explanation for the midterm curse is the 'presidential penalty,' whereby some voters change their minds and vote against the president's party." Barack Obama and his top advisors subscribed to this flawed understanding of voter behavior in the 2010 midterms, with Obama describing his party's catastrophic losses as "a shellacking." One of his top strategists, David Axelrod, wrote in his book Believer that Obama's advocacy for the Affordable Care Act "had ignited a blazing grassroots opposition that would cost him his House majority."
All of that makes for a nice narrative—which is why the media so hungrily embraces the provocative storyline—but it is absolutely not what happened. Democrats did not lose the House in 2010 because the voters recoiled against Obamacare and punished the president's party—while plenty of people did hate the idea of people of color being able to afford health care, those haters did not constitute a majority of Americans. What happened in 2010 is that after turning out in record numbers to elect the country's first Black president, Democratic voters thought their job was done and stayed home in record numbers, leaving the polling places to the rabid Republicans. This chart shows just how dramatically Democratic voter turnout plummeted in 2010.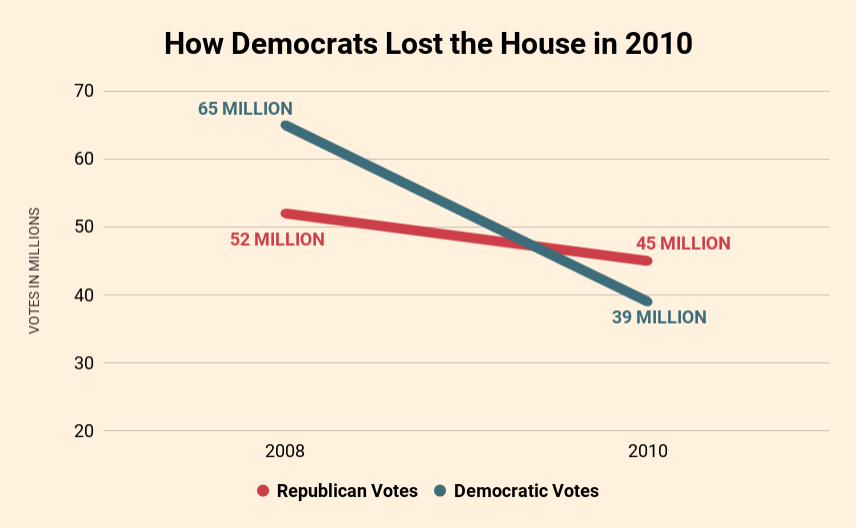 The importance of voter turnout is also the primary takeaway from the 1998 election. That year, the Democratic Party increased its ranks by four seats, ousting four Republicans. (Technically, they flipped five seats, but the fifth was in a Democratic district that was temporarily held by the Republicans as a result of a fluke in a special election.) The most notable data point from the 1998 contest is that in the seats that changed parties, a higher percentage of Democrats came back out to vote than did members of the Republican Party. The chart below shows the same pattern and tells the same story as the 2010 election—voter turnout determines electoral outcomes.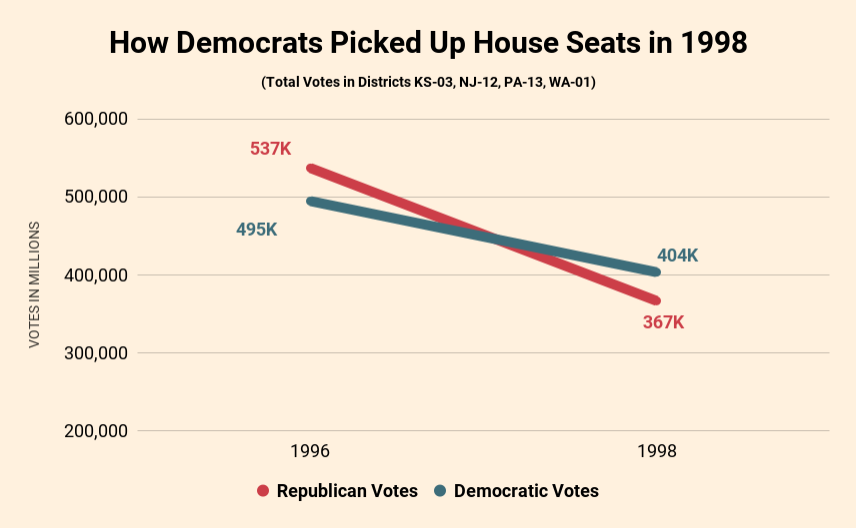 It is possible that the Republican witch-hunt that resulted in Clinton's impeachment over lying about a sexual encounter played a role in the political environment, but not in the way many thought. Then-Speaker of the House Newt Gingrich suspected that Republicans had underestimated "the degree to which this whole scandal became just sort of disgusting by sheer repetition."
But as the data shows, there is little evidence of people switching their support to back Democrats. What is far more likely is that the ferocity of the Congressional Republican attacks sated the bloodlust of their voters, resulting in the kind of complacency that would plague Democrats in 2010. Satisfied that they didn't need to send a message, they stayed home. In turn, the attacks on Clinton may well have motivated Democrats to turn out in larger numbers to defend the man they had just re-elected two years earlier. The degree of Democratic motivation and mobilization in response to the impeachment attacks was reflected in the grassroots surge that resulted in the founding of the online activist organization MoveOn. (The very name of the organization comes from their petition, signed by hundreds of thousands of people in 1998, urging Congress to "Censure President Clinton and Move On to Pressing Issues Facing the Nation.")
Therein lies the most important lesson for Democrats. In order to win in the midterms, they must sound the call to arms and summon their supporters to join the fight. The Republicans are waging all-out political war at the state level against pretty much anybody who isn't a cis straight white Christian male, and Democrats respond by essentially ignoring the attacks or issuing meek and mild expressions of disapproval. What they should be doing is responding in kind, issuing full-throated defenses of the policies flowing from the conviction that this is a multiracial democracy and not a white nation.
If they do so, they will win and hold their majority in the House of Representatives, where they need 218 votes to maintain control. Biden won the most votes in 227 of those districts, nine more than a majority. But Democrats must inspire those voters to come back and vote in the midterms, and they must invest massive amounts of money in the civic engagement organizations with the best track records of mobilizing voters to the polls. The default position of spending hundreds of millions of dollars running defensive television ads trying to reassure swing voters is a losing strategy rooted in an incorrect understanding of voter behavior. What the 1998 midterms showed is that maximizing turnout is the path to winning in the midterms, and it is not too late to learn that lesson and course correct.
President Biden Signs Bipartisan Gun Safety Bill into Law
On Saturday, President Joe Biden signed a bipartisan gun control bill into law.
According to USA Today, the law, called the Safer Communities Act, urges states to create "red flag" laws that would prevent people deemed dangerous from being able to legally obtain a firearm. It further eliminates the "boyfriend loophole" by adding "dating partners" to the list of violent domestic abusers banned from purchasing a gun and increases background checks of 18 to 21-years-olds seeking to buy a firearm.
Additionally, it includes "the first-ever federal law that makes gun trafficking and straw purchases distinct federal crimes."
"At a time when it seems impossible to get anything done in Washington, we are doing something consequential," Biden said at the White House.
"While this bill doesn't do everything I want, it does include actions I've long called for that are going to save lives," he added before calling the bill the "most significant [gun control] law to be passed" over "the last 30 years."
Noting that people have been calling on lawmakers to do something since the Columbine mass shooting in 1999, Biden said their cries have now been answered.
"From Columbine to Sandy Hook, to Charleston, Orlando, Las Vegas, Parkland, El Paso, Atlanta, Buffalo, Uvalde, and for the shootings that happen every day in the streets that are mass shootings — and we don't even hear about them, the number of people killed every day in the streets — their message to us was: 'Do something.' How many times have we heard that? 'Just do something,'" he said. "Well, today, we did."
The new law came after a string of deadly mass shootings last month, including a shooting at an elementary school in Uvalde, Texas, where 19 children and two adults were killed, and another at a Buffalo, New York, supermarket where 10 were killed, and three were wounded.
As Christian Headlines previously reported last Thursday, the Senate voted 64 to 34 in favor of the bill. The House then passed the bill on Friday with a 234 to 193 vote, sending it to Biden's desk.
Fourteen Republican representatives joined all House Democrats in passing the bill.
Related:
U.S. Senate Pushes Forward Bipartisan Gun Control Bill
Bipartisan Group of Senators Reach Agreement on Framework for New Gun Control Legislation

Photo courtesy: ©Getty Images/jirkaejc
---
Kayla Koslosky has been the Editor of ChristianHeadlines.com since 2018. She has B.A. degrees in English and History and previously wrote for and was the managing editor of the Yellow Jacket newspaper. She has written on her blog since 2012 and has also contributed to IBelieve.com and Crosswalk.com.
'Just an Innocent Man': Texas Pastor Shot, Killed in Suspected Road Rage Incident
A beloved pastor in Houston, Texas, was shot and killed in a suspected road rage incident on Friday afternoon.
The Reverend Dr. Ronald K. Mouton Sr., who led East Bethel Missionary Baptist Church for 30 years, was shot and killed by another driver at around 4:19 pm while he was driving on the Gulf Freeway.
Rep. Sheila Jackson, R-Texas, and Crime Stoppers of Houston have released a $5,000 reward regarding information leading to an arrest of the suspected shooter, who remains at large as of Monday. According to Click 2 Houston, police say the suspect was believed to be driving a black sedan.
Surveillance video from Pusch and Nguyen Injury Lawyers showed what happened before Mouton was killed.
As reported by The Christian Post, Mouton's church and friends are aggrieved over his death.
"Dr. Mouton was known and loved by many. If you knew him, you would know him to be a gracious servant, a leader, and a friend. As we begin to cope with the reality of his passing, we ask that you would respect our family's privacy during this time," East Bethel Missionary Baptist Church wrote on Facebook.
"I am deeply saddened by the loss of Pastor Mouton. I got to know him when he worked with my late husband, Lonal Robinson, as he developed youth sports programs in the '90s. His benevolence was meaningful to the children of the community," one church member wrote.
Lee, a longtime friend of Mouton, remembered the reverend as a loving man who loved to serve others.
"This was just an innocent man traveling on a road near his church where he worked all the time," the congresswomen said. "He loves ministry. He was just doing the work of a pastor."
Mouton, a graduate of Baylor University and Stephen F. Austin State University, leaves behind his wife of nearly 40 years, four children, 10 grandchildren, a twin brother, and other siblings.
Photo courtesy: ©Getty Images/Stephen Barnes
---
Milton Quintanilla is a freelance writer. He is also the co-hosts of the For Your Soul podcast, which seeks to equip the church with biblical truth and sound doctrine. Visit his blog Blessed Are The Forgiven.
Christian Leaders Celebrate the Overturning of Roe but Caution: 'Our Work Is Just Beginning'
Christian leaders across the denominational spectrum on Friday celebrated the overturning of Roe v. Wade but cautioned that much work – in states and in local communities – remains to be done.
The court's overruling of Roe sends the issue back to the respective 50 states, where legislatures and governors now will decide – and in some instances already have decided – what to do.   
Here are how seven Christian leaders reacted to Friday's opinion:
Lila Rose, President and Founder of Live Action
"Roe v. Wade is over. Children will live because of this decision to overturn the constitutional fiction of Roe v. Wade," Rose said. "… This decision is an important step forward for the protection of innocent life in our nation, but the work of the pro-life movement is just getting started. While overruling Roe is a necessary first step, giving states the prerogative to regulate abortion is not a final victory. While this decision will give states the right to protect their youngest citizens, many of our nation's largest states, such as California, Illinois, and New York will still legalize and even subsidize the killing of our youngest children. We will not have true justice until the Supreme Court acknowledges the truth that under our Constitution, every American – born or preborn – has an inherent right to life protected by the 14th Amendment. 
"Science conclusively proves that a unique and biologically distinct human life begins at the moment of fertilization," Rose added. "Every child regardless of their age, should be protected from the horrors of abortion and the abortion industry. Going forward, the pro-life movement must advocate for the Supreme Court to grant equal protection under the law to all humans, even from the very beginning of every human's life. Starting today, every single state in our nation must act swiftly to codify protections for preborn children into state law and resource mothers and fathers to ensure the American family is healthy and ready to flourish without the grave violence of abortion."
Rose wrote in a tweet, "Our work is just beginning."
Our work is just beginning

— Lila Rose (@LilaGraceRose) June 24, 2022
Roland Warren, President and CEO of Care Net
"For all who value the sanctity of human life, today marks a monumental day in our efforts to protect the unborn. In upholding Mississippi's pro-life law and overturning Roe v. Wade, the Supreme Court has paved the way for states to make laws regulating abortion based on the values of their own citizens," Warren said. "But changed laws don't equal changed hearts, and the Supreme Court can't outlaw unplanned, unexpected, and unexpectedly complicated pregnancies. Accordingly, regardless of how the laws of our land play out over the next several years, women and men will continue to face tough pregnancy decisions. In an environment in which abortion is more difficult to access, Care Net's work has become more critical than ever.
"Care Net will continue to support our network of more than 1,200 affiliated pregnancy centers, a national hotline, and a growing network of churches in their irreplaceable efforts to offer compassion, hope, and help to women and men at risk for abortion."
Franklin Graham, President of Samaritan's Purse and the Billy Graham Evangelistic Association
"Roe v. Wade, passed 49 years ago, has resulted in the deaths of over 63 million innocent children in this country. Sadly, this decision is not an end to abortion — it pushes the battle back to the states," Graham said.
"My prayer is that every state will enact protections for children in the womb and that our nation will value life and recognize the rights of our most vulnerable," Graham said.
Karen Swallow Prior, Author and Professor at Southeastern Baptist Theological Seminary
"Our work now is just starting: we must help and support moms, dads, and babies. Love them all – and in so doing making abortion unimaginable," Prior said.
Our work now is just starting: we must help and support moms, dads, and babies. Love them all—and in so doing making abortion unimaginable. #RoeVsWade

— Karen Swallow Prior (Notorious KSP) (@KSPrior) June 24, 2022
Bart Barber, President of the Southern Baptist Convention
"Southern Baptists rejoice at the ruling that the United States Supreme Court has delivered today in Dobbs v Jackson Women's Health Organization," Barber said. "Since 1980, the Southern Baptist Convention has passed more than 20 resolutions on the question of abortion. 
"… As we stated just days ago in a resolution at our 2022 Annual Meeting, in a post-Roe United States, 'We commit to stand with and pray for abortion-vulnerable women, to eliminate any perceived need for the horror of abortion, and to oppose Planned Parenthood and other predatory organizations or institutions who exploit vulnerable women for profit.' State-by-state, mother-by-mother, heart-by-heart, we will continue our sacred work toward this goal."
Kristen Day, Executive Director of Democrats For Life of America
"DFLA is excited about the political opportunities this decision creates for pro-life Democrats," Day said. "We have made significant contributions to advancing justice for the preborn and their mothers, and will continue to do so. Today is a wonderful day and we enthusiastically recommit ourselves to the mission of protecting all human life from womb to tomb."
Day urged states to assist women facing an unplanned pregnancy. 
"What are they going to do to support those women who no longer can [have an] abortion in those states?" Day told NBC. "How are we going to provide them with the opportunity and the support to parent, feed their families, keep their jobs and … have affordable health, health care, affordable childcare? … Let's put women and children first and let's provide the support, compassion to help them with a real choice to become parents." 
A news release said Democrats for Life "celebrates" the overturning of Roe.
Roe Overturned!!! Read the DFLA Press Release here! https://t.co/7Ist7G15PN

— Kristen Day (@ProLifeDem) June 24, 2022
Alveda King, Founder of Speak for Life and Niece of the late Martin Luther King Jr. 
"For 49 years, 'we the people' have had to endure a flawed and unconstitutional ruling from the Supreme Court that allowed unelected judges to create a national right to abortion that ultimately led to extreme actions, like late-term abortions, against the unborn," King said. "Today, the Supreme Court has rightfully overturned that decision, sending the power to regulate abortion back to the elected officials at the state level. I have longed for and prayed for this day. And I will continue to fight for human dignity for everyone – from the womb to the tomb."
Photo credit: ©Getty Images/Pool
---
Michael Foust has covered the intersection of faith and news for 20 years. His stories have appeared in Baptist Press, Christianity Today, The Christian Post, the Leaf-Chronicle, the Toronto Star and the Knoxville News-Sentinel.