China's Alien-Hunting Telescope Is Finding Wealth of Mystery Signals
China's enormous Five-Hundred-Meter Aperture Spherical Telescope (FAST) has hit the headlines this week after state media reported it had found mysterious signals from space.
There was speculation that the signals may represent evidence of alien life, though scientists involved have said it is more likely that the signals were just interference from Earth.
In any case, the world's largest filled-aperture radio telescope, with its 1,600 ft dish, has made a number of important discoveries before. Earlier this year astronomers announced that it had discovered a rare repeating radio signal coming from deep space, and they're not quite sure what it is yet.
The fast radio burst, or FRB, is called 20190520B and was detected with the FAST radio telescope in China as part of a survey in 2019. The FRB was first detected as part of a 24-second scan, and the signal was identified many more times in follow-up observations in 2020.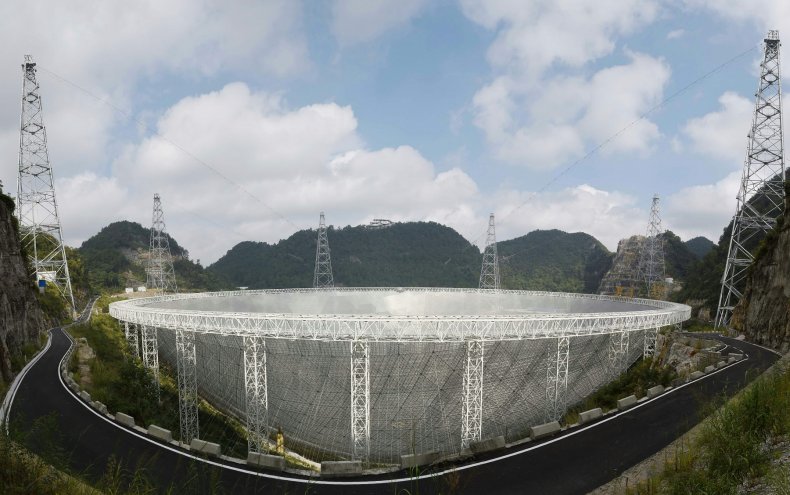 FRBs are intense bursts of radio signals that can last just milliseconds and emit more energy in this time than our sun does in a year. Their origins are the subject of ongoing research, though exotic and extremely energetic types of stars known as magnetars are leading candidates.
The source of the signal has been traced to a dwarf galaxy around 3 billion light-years away from Earth. Observations have also suggested that the source of the signal is small.
In some ways the signal is similar to another repeating FRB detected in 2016 called FRB 121102, the very first FRB whose position was determined. Both signals demonstrate repeating bursts and persistent radio emissions between these bursts that come from a compact region.
"Now we have two like this, and that brings up some important questions," said Casey Law, a radio astronomy scientist at Caltech, in a National Radio Astronomy Observatory (NRAO) press release.
The fact that some FRBs repeat themselves and others don't suggests that there may be two different mechanisms at play that produce these signals, or that the objects producing them act differently at different stages.
Part of the scientific interest surrounding FRBs is that they can be used as tools to study the space between them and the Earth, since scientists can study the effect that this intervening space has on the signal.
However, that has proven not to be the case with FRB 190520. Though its location is estimated to be in a galaxy 3 billion light years away, the burst's signal suggests it should be more like 8 to 9.5 billion light years.
"This means that there is a lot of material near the FRB that would confuse any attempt to use it to measure the gas between galaxies," said Kshitij Aggarwal, a graduate student at West Virginia University in the NRAO press release. "If that's the case with others, then we can't count on using FRBs as cosmic yardsticks," he added.
One theory is that the source of the FRB is a neutron star surrounded by gas left behind by a supernova explosion. Either way the signal isn't the first to puzzle scientists.
FRBs aside, FAST has also played its part in detecting hundreds of pulsars, which are fast-spinning neutron stars left behind by the demise of massive stars that explode in a supernova.
Neutron stars are extremely dense stars that can be merely city-sized despite having a mass higher than that of the sun. It's sometimes said that a teaspoon of neutron star material would weigh a billion tons.
By the year 2010 approximately 1,800 pulsars had been found through radio detection while a further 70 had been found via gamma radiation according to Space.com.
The FAST telescope, despite becoming fully operational as recently as January 2020, has detected 509 new pulsars, according to the Chinese Academy of Sciences in December last year.
The telescope is also used by the alien-hunting SETI Institute to look for evidence of alien life among the stars via tell-tale radio signatures. Whilst the telescope is yet to find definitive proof of aliens, it's certainly helping out in other areas of astronomy.
Inverted perovskite-silicon tandem solar cell with 29.3% efficiency
Researchers in Saudi Arabia have built an inverted perovskite-silicon tandem device with a 1 nm thick interlayer based on magnesium fluoride (MgFx). They claim it can stop voltage losses and increase power conversion efficiency, while retaining 95.4% of its initial efficiency after 1,000 hours.
Emiliano Bellini
Researchers at King Abdullah University of Science and Technology (KAUST) have developed an inverted perovskite-silicon tandem solar cell with a 1 nm thick interlayer based on magnesium fluoride (MgFx) placed between the perovskite layer and the hole transport layer (HTL), in order to reduce voltage losses.
"The long-term research goal of the KAUST's KPV-LAB is to develop a realistic high-efficiency photovoltaic solution for sunny and hot climates and our device is in line with this goal," researcher Erkan Aydin told pv magazine.
The cell has a p-i-n structure and relies on an interlayer that provided high transparency, high stability, and good thickness control.
"We demonstrated that the charge transport and recombination interfaces could be carefully tuned with MgFx interlayers, enabling a certified efficiency of 29.3%," the scientists said.
Currently, the most powerful perovskite/silicon tandem solar cell is a 29.8% device that was recently developed by scientists at Helmholtz-Zentrum Berlin (HZB) in Germany.
The Saudi scientists fabricated the cell with a sub-cell based on crystalline silicon wafers with double-side texture, which they say reduces front reflection while improving light trapping. They also placed the MgFx interlayer at the electron-selective top contact.
They used buckminsterfullerene, a molecule which is also known as C60, for the fabrication of the HTL, and added a tin(IV) oxide (SnO2) layer and an indium tin oxide (IZO) top contact. The Sno2 layer acts as a buffer against damage from the sputtering of the IZO top contact. This IZO-perovskite structure, according to the researchers, supported a very slow carrier decay process and improved charge extraction.
The scientists tested an encapsulated solar cell built with this architecture at the CalLab of the Fraunhofer Institute for Solar Energy Systems (Fraunhofer ISE) in Germany. The device achieved a steady-state power conversion efficiency of 29.3% and a reverse-scan efficiency of 29.4%. It also achieved an open-circuit voltage of 1.85 V, a short-circuit current of 19.8 mA/cm2, and a fill factor of 77.9%.
"The device statistics corroborated that the power conversion efficiency improvement was mainly the result of enhanced open-circuit voltage and fill factor," they explained.
The cell went through damp-heat testing and was able to retain 95.4% of its initial efficiency after 1,000 hours.
"The open-circuit voltage even improved slightly, indicating that the perovskite itself and the interfacial layers were sufficiently tolerant to thermal stress," the research team said.
The academics presented the cell in "Efficient and stable perovskite-silicon tandem solar cells through contact displacement by MgFx," which was recently published in Science.
"Looking forward, our overall goal is to enhance the efficiency and stability as much as possible and drive down the [levelized cost of electricity] below the current mainstream crystalline silicon solar cells," Aydin said.
In December 2021, the same research group achieved a power conversion efficiency of 28.2% for a tandem solar cell with an area of around 1 square centimeters, based on an n-i-p perovskite stacked on top of a silicon heterojunction. The performance was achieved through a novel strategy to suppress halide segregation and reduce nonradiative recombination loss. The method involves the use of carbazole, a nitrogen-containing heterocyclic molecule, as an additive for the cell perovskite precursor.
This content is protected by copyright and may not be reused. If you want to cooperate with us and would like to reuse some of our content, please contact: editors@pv-magazine.com.