Children as young as 6 months eligible for Covid shots in U.S., vaccinations to begin Tuesday
A child is administered a dose of the Pfizer-BioNTech coronavirus disease (COVID-19) pediatric vaccine.
Mayela Lopez | Reuters
The Centers for Disease Control and Prevention on Saturday backed Pfizer's and Moderna's Covid-19 shots for children as young as 6 months, with vaccinations expected to begin in earnest after the holiday weekend.
The CDC's committee of independent vaccine experts voted unanimously to recommend the shots for infants through preschoolers after two days of public meetings. CDC Director Dr. Rochelle Walensky accepted the committee's recommendation and gave the final go-ahead on Saturday.
The White House has said vaccinations for children under age 5 would begin in earnest on Tuesday, after the Juneteenth federal holiday. Appointment availability might be limited initially but every parent who wants to get their child vaccinated should be able to do so in the next few weeks, according to Dr. Ashish Jha, who oversees the Biden administration's Covid response.
The federal government has initially made 10 million vaccine doses available to its local partners. There are nearly 20 million children 6 months through 5-years-old in the U.S.
The CDC is encouraging parents to reach out to their family doctor, local pharmacy, health department or visit vaccines.gov to find out where the shots are available for their kids.
Nearly everyone in the U.S. is now eligible for Covid vaccination less than two years after the first shots were authorized for the elderly in December 2020.
"I am fully confident that vaccines should be recommended," said Dr. Grace Lee, chairperson of the CDC's vaccine committee. "We can clearly prevent hospitalizations and deaths. And I believe we have the potential to prevent long-term complications of infections that we don't yet understand."
The American Academy of Pediatrics, in a statement Saturday, strongly recommended that parents get their kids vaccinated and bring any questions or concerns they may have to their family doctor.
Covid risk for kids
Although Covid is normally less severe in children than adults, the virus can be life threatening for some kids. Covid is the fifth leading cause of death for children ages 1 to 4, according to CDC data. More than 200 children ages 6 months to 4-years-old have died from Covid since January 2020.
More than 2 million children in this age group have been infected with Covid during the pandemic, and more than 20,000 have been hospitalized, according to CDC data.
Hospitalizations of children under age 5 with Covid spiked during the winter omicron wave, hitting the highest level of the pandemic for this age group. The overwhelming majority of them, 86%, were admitted primarily due to the impact of Covid on their health, according to CDC data. In other words, they were not picked up in the data because they tested positive for the virus after admission for another health reason.
More than 50% of kids under age 5 who were hospitalized had no underlying medical conditions, according to CDC data. Nearly a quarter of kids hospitalized in this age group ended up in the intensive care unit.
Nearly 2,000 kids under age 5 developed multisystem inflammatory syndrome, or MIS-C, after Covid infection. MIS-C is a condition in which multiple organ systems – the heart, lungs, kidneys, brain, skin, eyes or digestive organs – become inflamed. Nine kids under age 5 have died from MIS-C.
"These very clear data just decimate the myth that this infection is not life threatening in this age group," said Dr. Sarah Long, a committee member and pediatrician at St. Christopher's Hospital for Children in Philadelphia.
Pfizer, Moderna vaccine differences
Pfizer's vaccine is administered in three doses for children 6 months to 4 years old. The shots are dosed at 3 micrograms, one-tenth the level of what adults receive. Three shots were about 75% effective at preventing mild illness from omicron in 6-month- to 2-year-olds and 82% effective in 2- to 4-year-olds.
However, the data on the vaccine's effectiveness is preliminary and imprecise because it is based on a small population of 10 kids, with estimates ranging from 14% to 96% protection against omicron. Dr. Bill Gruber, head of Pfizer's vaccine research, said the antibody response observed in children post dose three, which was higher than people ages 16 to 25 who received two shots, should provide reassurance that the vaccine is effective.
"In the interest of sort of full transparency to parents, it's to me appropriate to acknowledge the uncertainty around that," committee member Dr. Matthew Daley said of the vaccine efficacy estimate.
It is crucial that parents who opt for Pfizer make sure their kids get the third shot to have protection against the virus. Two doses were only about 14% effective at preventing infection for kids under age 2, and 33% effective for those ages 2 to 4.
"I don't want parents to get the impression that two doses is sort of good enough," said Daley, a pediatrician who investigates vaccine safety.
Moderna's vaccine is administered in two doses for children 6 months to 5 years old. The shots are dosed at 25 micrograms, one-fourth the level that adults receive.
Moderna's vaccine was about 51% effective at preventing mild illness from omicron for kids 6 months to 2 years old, and about 37% effective for kids ages 2 to 5 years old. However, the company expects the vaccine to provide strong protection against severe illness because the kids had higher antibody levels than adults who received two doses.
Moderna is studying a booster dose that targets omicron for children in this age group with data expected on the shot's safety and immune response expected in the fall, according to Dr. Rituparna Das, who leads Moderna's Covid vaccine development.
The most common side effects from the vaccines were pain at the injection site, irritability and crying, loss of appetite and sleepiness, according to the FDA. Few children who received either shot developed a fever higher than 102 degrees Fahrenheit, and there were no cases of myocarditis, a type of heart inflammation, in Pfizer's or Moderna's trials.
'Romney Republican' now GOP primary attack…
SALT LAKE CITY (AP) — Mitt Romney isn't up for reelection this year. But Trump-aligned Republicans hostile toward the Utah senator have made his name a recurring theme in this year's primaries, using him as a foil and derisively branding their rivals "Mitt Romney Republicans."
Republicans have used the concept to frame their primary opponents as enemies of the Trump-era GOP in southeast Michigan, Ohio and Pennsylvania. The anti-tax group Club For Growth, among the most active super PACs in this year's primaries, used "Mitt Romney Republican" as the central premise of an attack ad in North Carolina's Senate primary.
But nowhere are references to Romney Republicanism as common as they are in Utah. Despite his popularity with many residents here, candidates are repeatedly deploying "Mitt Romney Republican" as a campaign trail attack in the lead-up to Tuesday's Republican primary.
"There are two different wings in the Republican Party," Chris Herrod, a former state lawmaker running in suburban Utah's 3rd Congressional District, said in a debate last month.
"If you're more aligned with Mitt Romney and Spencer Cox," he added, referring to Utah's governor, "then I'm probably not your guy."
The fact that his brand has become potent attack fodder reflect how singular Romney's position is in U.S. politics: He's the only senator with the nationwide name recognition that comes from running for president and the only Republican who voted to impeach former President Donald Trump twice.
"It's kind of a puzzlement, actually," said Becky Edwards, an anti-Trump Republican running in Utah's Senate primary.
As one of the most famous members of the Church of Jesus Christ of Latter-day Saints, Romney is revered by many in Utah, where the church is a dominant presence in politics and culture. He won praise for turning around Salt Lake City's 2002 Winter Olympics after a bribery scandal. After moving to Utah full-time more than a decade ago, he breezed to victory in the state's Senate race in 2018. He did not respond to requests for comment on this story.
Herrod, who went to Las Vegas to campaign for Romney in 2012, said in an interview that referring to Romney was effective shorthand — a way to tell voters about his own belief system as well as that of incumbent Republican Rep. John Curtis. Herrod has attacked Curtis for his positions on energy policy and for founding Congress' Conservative Climate Caucus.
"In the midst of a campaign, it's kind of tough to draw a line. I just put it in terms I thought people would understand," Herrod said.
The Curtis campaign said the congressman was more focused on legislation and passing bills than branding. "Congressman Curtis doesn't spend his time labeling himself or other Republicans," his campaign manager, Adrielle Herring, said in a statement.
Much like Herrod, Andrew Badger, a candidate running in northern Utah's 1st Congressional District, frames his primary campaign as a "tug of war" between two competing factions within the Republican Party. He describes one as the moderate, compromise-friendly wing embodied by Romney and the other as the conservative wing embodied by Utah Sen. Mike Lee, a frequent guest of FOX News who is often the Senate's lone "no" vote.
Both Badger and Herrod acknowledge attacking Romney may turn off some voters, four years after he easily defeated a right-wing state lawmaker in Utah's Republican primary and a Democrat in the general election. But they question the durability of his support given how the last six years have broadly transformed Republican politics.
"There's a lot more frustration, and it's only building. I don't think he would win in a vote today, certainly not in a Republican primary," Badger said.
Badger in his campaign has focused on simmering outrage stemming from the 2020 election and anger over coronavirus mandates and how race, gender and sexuality are taught in K-12 schools. He has attempted to draw a direct line between Romney and his opponent, incumbent Rep. Blake Moore, by attacking Moore for being one of 35 House Republicans to vote to create an independent commission to investigate the Jan. 6 insurrection.
In a district where support for Trump remains strong, he's likened Moore's vote to Romney's two votes in favor of impeachment.
"These folks like Mitt Romney and Blake Moore, they always cave to the left when the pressure gets turned on them," Badger said. "We're not going to compromise for the sake of compromise."
Moore did not vote for impeachment. After the Senate scuttled the commission, Moore, along with all but two House Republicans, voted against the creation of the Jan. 6 select committee that ultimately convened.
In response to Moore being labeled a "Mitt Romney Republican," Caroline Tucker, the congressman's campaign spokesperson, said he could be best described a "Big Tent Republican" who doesn't think the process of lawmaking requires abandoning his conservative principles.
Jason Perry, director of University of Utah's Hinckley Institute of Politics, said the label "Mitt Romney Republican" may appeal to some Republican primary voters, but given Romney's popularity, it likely won't work in Utah, he said.
"They're appealing to a segment of the Republican Party but probably do not have the numbers on that far-right side to be successful," Perry said.
Pro-life is not just opposing abortion, Vatican says after U.S. ruling
Register now for FREE unlimited access to Reuters.com
June 25 (Reuters) – Anti-abortion activists should be concerned with other issues that can threaten life, such as easy access to guns, poverty and rising maternity mortality rates, the Vatican's editorial director said on Saturday.
In a media editorial on the United States Supreme Court's ruling to end the constitutional right to abortion, Andrea Tornielli said those who oppose abortion could not pick and choose pro-life issues. read more
"Being for life, always, for example, means being concerned if the mortality rates of women due to motherhood increase," he wrote.
Register now for FREE unlimited access to Reuters.com
He cited statistics from the Centers for Disease Control and Prevention showing a rise in maternity mortality rates overall and that the rate was nearly three times higher for black women.
"Being for life, always, means asking how to help women welcome new life," he wrote, citing an unsourced statistic that 75% of women who have abortions live in poverty or are low-wage earners.
He also cited statistics from the Harvard Review of Psychiatry showing that the United States has much lower rates of paid parental leave compared with other rich nations.
"Being for life, always, also means defending it against the threat of firearms, which unfortunately have become a leading cause of death of children and adolescents in the U.S." he wrote.
The Roman Catholic church teaches that abortion is murder because life begins at the moment of conception and ends with natural death.
Pope Francis has compared having an abortion to "hiring a hit man" to eliminate a problematic person.
But he has tried to steer the U.S. Catholic Church away from seeing abortion as the single, overarching life issue in the country's so-called culture wars.
The death penalty, gun control, support for families, and immigration are also life issues, he has said.
The Vatican's Academy for Life praised Friday's U.S. Supreme Court ruling, saying it challenged the world to reflect on life issues, but also called for social changes to help women keep their children. read more
U.S. President Joe Biden, a lifelong Catholic, condemned the ruling, calling it a "sad day" for America and labelling the court's conservatives as "extreme".
Register now for FREE unlimited access to Reuters.com
Reporting by Philip Pullella; Editing by Mike Harrison
Our Standards: The Thomson Reuters Trust Principles.
Supreme Court 'Misleadingly Quotes Me' in Abortion Ruling: Law Professor
Laurence Tribe, a Harvard professor of constitutional law, accused the conservative Supreme Court majority of "misleadingly" utilizing his quotes in its controversial Friday decision to overturn Roe v. Wade.
Conservative Associate Justice Samuel Alito wrote the majority opinion in Dobbs v. Jackson Women's Health Organization. The ruling in that case brought an end to nearly five decades of Supreme Court precedent—overturning the landmark 1973 Roe decision and bringing an end to woman's constitutionally protected right to an abortion.
"Roe was egregiously wrong from the start. Its reasoning was exceptionally weak, and the decision has had damaging consequences," Alito argued in his opinion.
Four of the top court's justices concurred with Alito's opinion, while Chief Justice John Roberts concurred with upholding the 15-week abortion ban of Dobbs, but took issue with fully overturning Roe. The Court's three liberal justices together issued a dissenting opinion.
Tribe, who has been harshly critical of the Supreme Court's decision, said the conservative majority opinion misused his quotes to justify its arguments overturning Roe.
"The Dobbs majority misleadingly quotes me on pages 50 and 54 in straining to justify a decision the dissent rightly calls an exercise in 'power, not reason.' Don't be fooled. The writings from which the Court cherry-picked my quotes were totally supportive of the result in Roe," the constitutional law expert wrote in a Friday evening Twitter post.
On page 50, the conservative majority opinion states: "As Professor Laurence Tribe has written, '[c]learly, this mistakes 'a definition for a syllogism.' Tribe 4 (quoting Ely 924). The definition of a 'viable' fetus is one that is capable of surviving outside the womb, but why is this the point at which the State's interest becomes compelling?"
On page 54, it quotes Tribe again, stating: "Laurence Tribe wrote that 'even if there is a need to divide pregnancy into several segments with lines that clearly identify the limits of governmental power, 'interest-balancing' of the form the Court pursues fails to justify any of the lines actually drawn."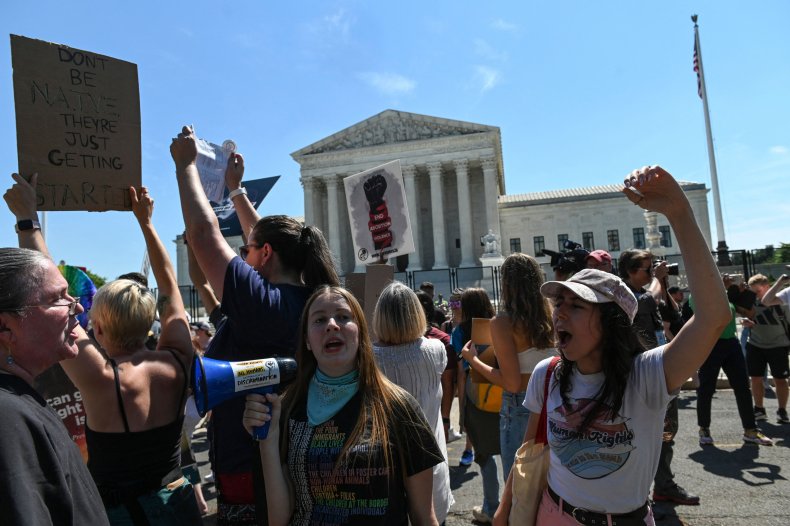 Newsweek reached out to the Supreme Court's press office for comment.
"Three men — Presidents GHW Bush (Justice Thomas), GW Bush (Justices Alito, Roberts), Trump (Justices Gorsuch, Kavanaugh, Alito) — two of whom won with a minority of the popular vote — have done this to tens of millions of women and to the rule of law. This must be undone," Tribe wrote in a follow-up Friday evening Twitter post.
Protests have broken out across the country in the wake of the controversial ruling. Multiple states quickly implemented so-called "trigger laws," which were in place and ready to go the moment Roe was overturned. Meanwhile, states that have already protected legal abortions have taken steps to make them easier to access to women traveling across state lines.
Former President Donald Trump hailed the decision and took credit, describing the ruling as "the biggest WIN for LIFE in a generation" in a statement. He said it was "only made possible because I delivered everything as promised, including nominating and getting three highly respected and strong Constitutionalists confirmed to the United States Supreme Court."
Meanwhile, President Joe Biden slammed the decision.
"Now, with Roe gone, let's be very clear: The health and life of women in this nation are now at risk," Biden said in a Friday address at the White House. The president went on to say that the nation's top court "has done what it has never done before: expressly take away a constitutional right that is so fundamental to so many Americans that had already been recognized."