All the Ways You Should Be Cleaning Your Wood Furniture, but Aren't
The cleaning products aisle of the supermarket has plenty of options for cleansing and polishing wood furniture. And while those formulated for use on wood get the job done, you don't always need a dedicated product to get your mahogany desk or oak chairs gleaming. Here are some other ways you can clean wood—many of which involve items you may already have at home.
How to clean wood furniture with household items
As always, if your wood furniture is new enough to come with instructions from the manufacturer on how to clean it, follow those. Also, keep in mind that a lot of modern "wood" furniture gets its look from laminate or veneer, which may have different care instructions than solid wood.
Your best bet is to use a microfiber cloth when cleaning wood, because the material's tiny fibers are able to grab more dirt and dust than other types of fabric. And start out with at least two (but ideally more), making sure to keep one dry.
Here are a few methods for cleaning wood furniture:
Routine/light cleaning
If you're cleaning wood furniture that's currently being used or displayed in your home (as opposed to a piece you bought at a yard sale and have to deep-clean), wipe it down with a dry microfiber cloth, buffing out fingerprints or smudges as you go.
For stubborn sticky spots, lightly dampen a microfiber cloth and gently rub the sticky area until it's gone. If it still won't budge, mix a small amount of dish soap with warm water, dampen your cloth in that, and repeat the steps above.
Toothpaste
Apply a light layer of non-gel toothpaste to a water ring or stain on wood furniture. Let it sit for five minutes (but not more than that, so the toothpaste doesn't stain the wood itself). Then, buff it out using a dry microfiber cloth, being careful to only rub in the water stain itself, avoiding the surrounding wood as much as possible.
Mayonnaise
Like toothpaste, mayo can also be used for water and trapped moisture stains on wood furniture. Use your finger or a spatula to apply the mayo to the stains in a circular motion. Let it sit for an hour, then check part of the stain to see if it's gone. If it is, remove the mayo with one cloth, and then dry the areas with another.
DIY dusting and cleansing spray
Looking for a solution you can make yourself and have on hand for routine cleaning? You may want to mix up a batch of this:
1 cup of water
¼ cup of white vinegar
2 teaspoon mineral oil or coconut oil
15 drops of lemon oil
Pour the ingredients into an empty spray bottle, and shake well (both initially, and before each use). To use it, just spray it on wood furniture, and use a microfiber cloth to wipe it off.
DIY cleansing polish
Want to clean your grimy wood and make it shine? Mix equal parts olive oil, denatured alcohol, gum turpentine, and strained lemon juice for a DIY polish. Then apply it with a microfiber cloth, and buff it with a separate clean, dry microfiber cloth.
How to grab and move multiple iPhone apps at once
There's an iconic scene in Braveheart where William Wallace, played by Mel Gibson, repeatedly orders his army of Scots to "hold… hold… hold!" in the face of an English cavalry charge, and I want you to keep that in mind for the next few minutes as I talk about iPhones.
Now, the stakes—literally—are not as high today as they were when Wallace's infantry raised sharpened wooden poles at the last moment, obliterating the rushing horsemen. But those three words will truly help you as I walk through how to select and move multiple apps at once on your iPhone's home screen.
How to select and move multiple apps at once on iOS
Anyone who's reorganized their iPhone screens knows this first step: press and hold the app you want to move. Keep holding—don't let go. Ignore the dialog box that appears, asking you if you want to edit your home screen. Keep holding. Don't waver when all the app icons start to jiggle. Keep. Holding. This is where the fun begins.
Now, using any finger other than the one keeping pressure on that first app you touched, start tapping the icons you want to move. They'll start to stack up, along with a number that shows how many apps you've grouped together. When you've grabbed everything you want, just drag the pile to another part of the home page, a folder, or another home page entirely, and let go. The apps will fall into place right there, in the order you selected them.
That's all there is to it, but there are some foibles that can make the process a little awkward if you're using it for the first time.
Seriously, don't let go
I emphasized Wallace's words above for a reason: let go of the first app you pressed down on—at any point—and you'll have to restart the process. If you stop holding when the dialog box popped up, you'll be stuck there and will have to tap elsewhere on the screen to close it. Don't bother choosing Edit Home Screen—you won't be able to stack the apps no matter how hard you try. If you release when the icons start vibrating, you'll lose the ability to start a pile. Hit Done in the top right to begin again. And if you lift your finger before the app stack gets where you want it to go, they'll all drop right where they are.
Move the app stack to an empty part of the screen
Before you start grouping apps, slide the first one to an empty part of the screen. Not only will this eliminate the need for dexterous digit gymnastics, but it will help you avoid accidentally creating an app folder as the unselected apps slide left. If they slide under your stalwart fingertip, iOS will think you're trying to create a folder and open one up. If that happens, just drag your app hoard away from the folder window and it'll disappear.
[Related: Your iPhone's home screen can hold more than just apps]
You can stack apps that are in folders
If you want to pull an app out of a folder and stick it in your ever-growing pile, just use your tapping finger to open the folder and touch the icon you want. Tap outside the folder to close it when you're done. You can't, however, stack folders.
Tap strategically, if you want
Some people are happy to let apps fall where they may, building an iPhone organizational scheme that only makes sense to them. Others strategize. If you're in the latter group, and have a plan for how you want your apps to end up, all you have to do is make sure you long-press on the first one first, then tap them in the order you want them listed. So if you want to keep your home screen in alphabetical order, for example, tap App Store, then Bumble, Chrome, and so on until you've got everything under your finger. Sterling work, friend.
The Roku Channel is adding 22 free movies in July – here's the full list
Every month, streaming services add dozens of new TV shows and movies to their libraries. They do this in order to keep their subscribers around and entice new ones into signing up. But no matter how exciting these additions may be, there are far too many services for any of us to subscribe to them all. Thankfully, paid services aren't the only choices — many free alternatives have started popping up all over. One of the best options is The Roku Channel, and the service is adding a bunch of free movies to its library in July.
The Roku Channel added 26 new movies back in June, including Independence Day and Taken. Another 22 movies are joining the library in July. Some of the highlights are As Good as it Gets, E.T. The Extra-Terrestrial, Space Jam, and White Chicks.
They are all free to watch on The Roku Channel. You can access The Roku Channel on nearly any smart device. The service is also available online at TheRokuChannel.com.
In addition to on-demand movies and shows, The Roku Channel also features a number of live channels. These include ABC News Live, Family Feud, Real Crime, Fubo Sports Network, Movie Favorites by Lifetime, and WeatherNation.
Free movies on The Roku Channel in July 2022
Akeelah and the Bee (Exclusive)
As Good as it Gets 
Divine Secrets of the Ya-Ya Sisterhood 
E.T. The Extra-Terrestrial 
Evita 
Eyes Wide Shut 
Four Christmases 
Fury 
Hitch 
My Girl 
Observe and Report 
Outbreak  
P.S. I Love You 
Soul Surfer 
Space Jam 
Sucker Punk 
The Count of Monte Cristo 
The Pelican Brief 
Three Kings 
What a Girl Wants 
White Chicks 
Wild Hogs 
Those are the free movies coming to The Roku Channel in July. There are also a few TV shows that you'll be able to watch for free on the service:
Crash 
Friday Night Lights 
Love & War 
Natural Born Narco (Roku Original)
We'll be back next month with all of the latest movies and shows on The Roku Channel.
---
More Roku coverage: For even more Roku news, visit our Roku guide.
Watch MIT's fascinating little robot lightning bugs take flight
Fireflies are one of the best parts of warm summer nights. The dancing, flickering lights of these tiny bugs have enamored people for centuries. Now, a group of scientists at MIT have created robot lightning bugs inspired by nature. Not only can these robots fly, but they also emit light. Just like real-life fireflies.
From performing simple tasks to helping explore the Moon, humans have found many uses for robots. But what could robots the size of an insect do? Well, the possibilities, as it turns out, are quite endless.
Check out these robot lightning bugs that MIT researchers created
Making robot lightning bugs that are built to insect-scale isn't easy. And, there are a lot of factors to consider. After all, at such a small size, these robots can't really be fitted with sensors and other tracking tech. That's not even taking into account the need to keep the robot's weight down as low as possible to make flying smoother.
But, because these robots can emit light, the researchers can track them without sensors. Instead, all the researchers need is a camera capable of picking up the emitted light. Normally, we'd have to rely on bulky infrared cameras. Which would make the robot's usefulness outdoors unlikely.
However, the researchers proved they can track the robot lightning bugs using a standard smartphone camera. And, the researchers say, they could even teach them how to communicate using their lights, similar to how real fireflies communicate.
The glow up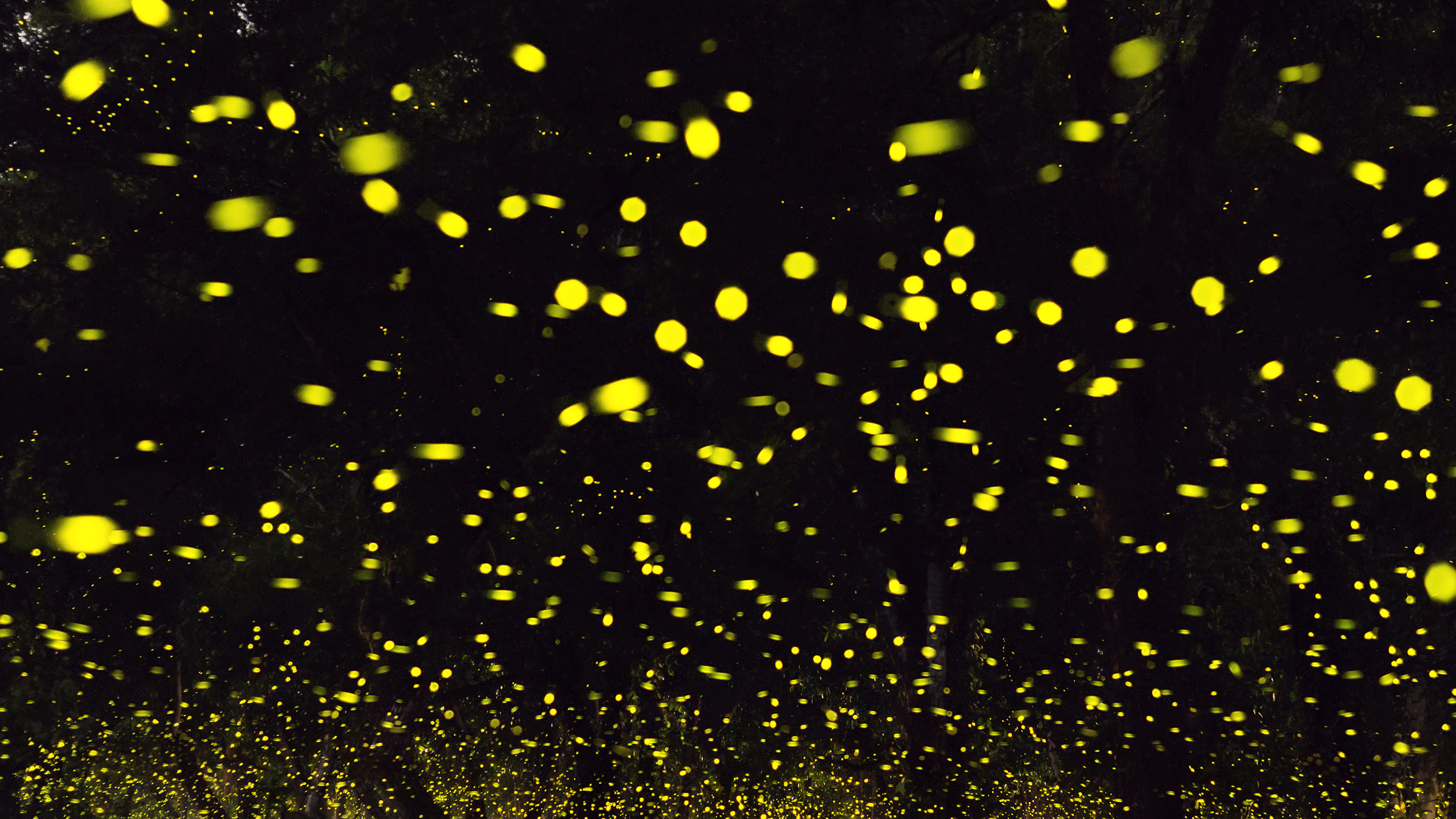 One of the most challenging parts of the process was creating small robots capable of emitting light. While it might not sound difficult, you still have to take the weight and overall size of the robot lightning bugs into account. As such, the researchers at MIT had to embed minuscule electroluminescent particles into the artificial muscles the robot utilizes.
Altogether, the process added around 2.5 percent more weight to the robot. However, it didn't affect its flight performance, a key factor the researchers had to consider. Another intriguing part of these robots is how they move around.
Unlike drones, which require propeller-like systems to move around, the robot lightning bugs use artificial muscles capable of flapping built-on wings. That means that MIT's robot is actually flapping wings to take off, instead of forcing air underneath it like a propeller system. To make the light-emitting qualities work, the researchers had to create an electrode that wouldn't block light.
To do this, they used highly transparent carbon nanotubes. These nanotubes are only a few nanometers thick. As such, they allow the light to pass through them easily and clearly. The researchers published a paper on the robot lightning bugs in IEEE Robotics and Automation Letters earlier this month.