Alienware x14 review: The thinnest 14-inch gaming laptop around
At a glance
Expert's Rating
Pros
Attractive design
Extremely slim and easy to carry
Solid performance, especially for its size
Future-proof wired and wireless connectivity
Cons
Fan noise is a constant companion
Cramped keyboard and touchpad
Becomes very warm under load
No Ethernet port, only one USB-A
Our Verdict
The Alienware x14 is a slim, quick gaming laptop that sounds ready to launch into orbit.
Best Prices Today: Alienware x14
$1899.99
Free
Dell Small Business
$2059.00
Free
Want the thinnest 14-inch gaming laptop money can buy? The Alienware x14 is it. It somehow stuffs up to an Intel Core i7-12700H and RTX 3060 into a chassis that's only a hair thicker than a Dell XPS 13 from 2020. I assume a bag of holding is involved. But does the magic extend to performance – or does Alienware run out of mana? 
Alienware x14 specs and features
The Alienware x14's offers only a handful of configuration options. You can choose an Intel Core i5-12500H or i7-12700H processor and one of three Nvidia GPUs: the RTX 3050, 3050 Ti, and 3060. Storage runs up to 4TB and RAM runs up to 32GB.
CPU: Intel Core i7-12700H
Memory: 32GB
Graphics/GPU: Nvidia RTX 3060
Display: 14-inch 1080p 144Hz IPS LCD
Storage: 1TB SSD
Webcam: 720p
Connectivity: 2x USB-C USB4/Thunderbolt 4, 1x USB-C USB 3.2 Gen 1, 1x USB-A USB 3.2 Gen 1, 1x HDMI 2.1, 1x MicroSD card reader, 3.5mm audio jack
Networking: Wi-Fi 6E, Bluetooth 5.2
Biometrics: IR camera, Windows Hello compatible
Battery capacity: 80 watt-hours
Dimensions: 12.65 inches x 10.34 x .57
Weight: 4.06 pounds
MSRP: $1,499 base, $1,999 as-tested
Pricing is competitive. The base Alienware x14 is just $1,499, which is much less than Razer's Blade 14 and similar to Asus' ROG Zephyrus G14. Our review unit, configured as shown in the bullet list above, was $1,999. That's no bargain, but it's a fair price for a compact gaming laptop.
Design and build quality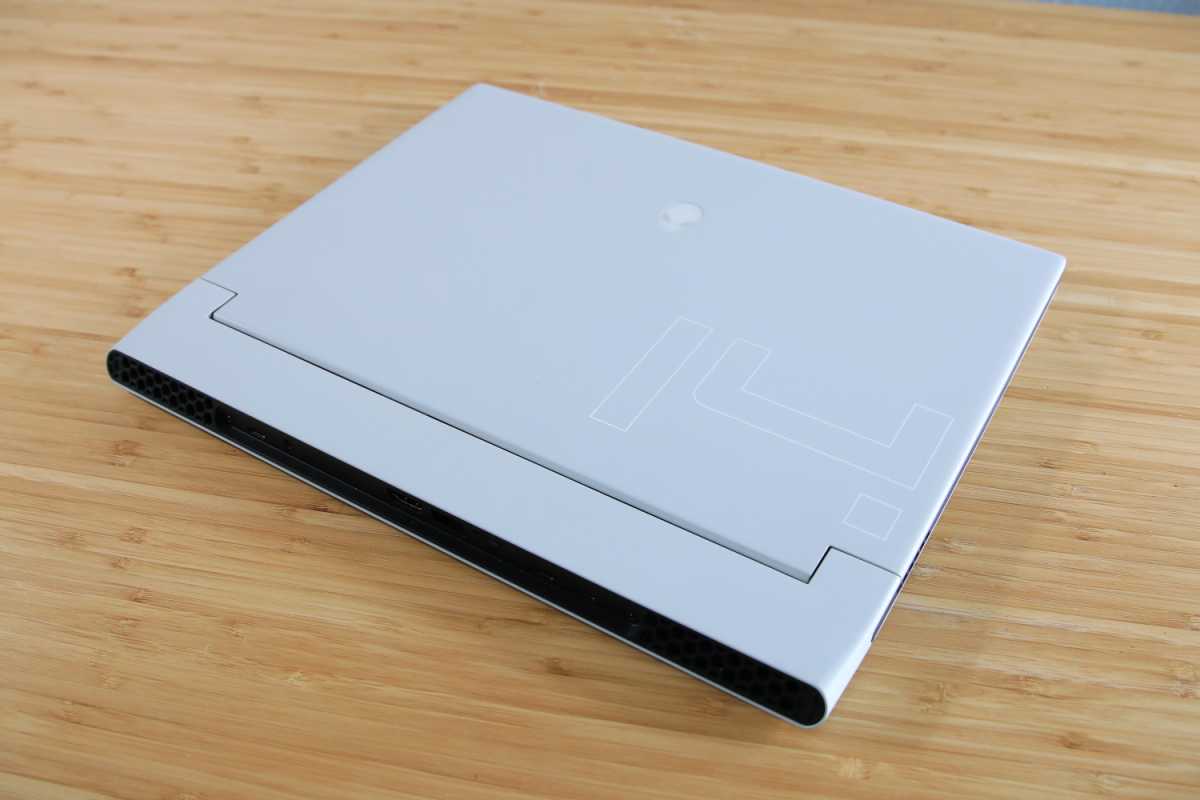 IDG / Matthew Smith
The Alienware x14 is a stunner. It harnesses the brand's unique Legend design language in a tight, slim design. Every inch of the machine seems carefully considered. The x14 has none of the odd warts or sudden angles that spoil competing machines from Acer and Asus, yet it also avoids looking generic. It's possibly the best gaming laptop design on the market today. 
The chassis is built not just from plastic and aluminum but also stainless steel and a magnesium alloy. Magnesium is a material more commonly used by Lenovo's ThinkPad line to provide rigidity with minimal weight. It lends a unique "grippy" feel that's unlike an aluminum laptop. It can feel a bit odd – chalky, even – but has the benefit of making the laptop easy to pick up and carry.
I noticed flex in the display lid. This is one area that doesn't quite match the x14's otherwise luxurious feel. However, build quality is otherwise excellent with tight panel tolerances and no misaligned parts. The laptop's lower half resists flex when handled from a corner or edge.
The Alienware x14 is extremely thin. It measures a mere .57 inches thick – just a few tenths of an inch thicker than Dell's outgoing XPS 13. The x14 is noticeably slimmer than the Razer Blade 14 and Asus ROG Zephyrus G14. Weight comes in at about four pounds, which is well below average of a gaming laptop. 
Keyboard and trackpad
IDG / Matthew Smith
Shaving a gaming laptop as thin as Alienware's x14 leaves minimal vertical space inside. This forces the laptop to embrace a key switch with just 1.2 millimeters of travel which, though not bad, is less than most gaming laptops. The result is a swift, short key action that bottoms with a firm, clicky sensation. It's enjoyable to use but began to feel tiring after hours using the laptop.
The x14's keyboard is pushed forward by the speakers and cool vent located between it and the display hinge. This leaves little space for the palmrest, which is far more shallow than usual. My usual typing position left the lower half of my palms dangling uncomfortably on the laptop's edge. Typing can feel cramped, especially for owners with large hands. 
A customizable RGB keyboard backlight is included but only offers one zone, which limits your options. The backlight is bright and most keys appear evenly lit. There's modest light leak around the edges of each key. 
Touchpad quality is harmed by this design choice, too. It's four inches wide but only two inches deep, leaving little space for swiping vertically across the touchpad and using Windows' multi-touch gestures. The touchpad is responsive, at least, and doesn't register unintended inputs.
Display, audio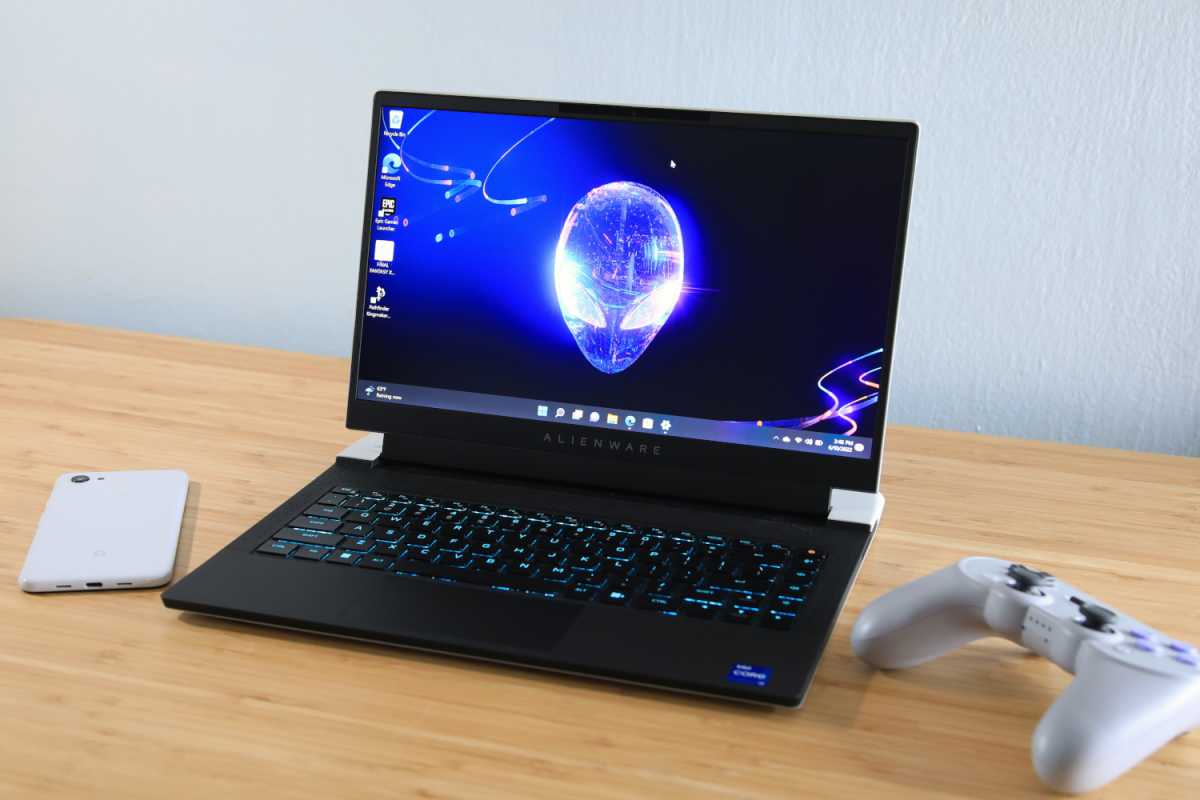 IDG / Matthew Smith
Every Alienware x14 has the same display: a 1080p, 144Hz, non-touch IPS LCD screen. It supports Nvidia G-Sync as well as Advanced Optimus, so it can switch to the Intel integrated graphics to conserve power when the Nvidia GPU's grunt isn't required.
A conventional 1080p IPS LCD doesn't sound exciting in 2022, but the x14's display is as good as the technology gets. It has extremely accurate color, a massive color gamut, a bright of up to 420 nits, and an anti-glare coat.  The display is so good it can easily be used for photo or video editing, making the x14 a reasonable choice for content creators in need of a highly portable mobile workstation. 
Cramming 1080p into a 14-inch means a pixel density of about 158 pixels per inch. That's just a few pixels short of a 4K 27-inch monitor. Games look crisp with excellent detail in textures and sharp polygon edges. The only problem is the display's lack of contrast, which snaps depth from dark scenes. However, the x14 does perform better than most LCD screens. 
Audio quality is not as impressive. The speakers provide a clear presentation that rarely becomes muddy, but there's a serious lack of bass. Action scenes and bass-heavy music can sound hollow and distant. 
Webcam, microphone, biometrics
The Alienware x14 has a basic 720p webcam. It produces a soft, dull image that has serious trouble handling low-light or mixed-lighting situations. Though fine for occasional video calls, you'll need an external webcam to look your best.
Audio recording is handled by a dual-array microphone. It picks up acceptable audio quality, though recording will always sound more distant and obscure than with a stand-alone microphone. Low-volume background noise is usually eliminated, but sharp or loud noise will get through.. 
An IR camera is included and enables Windows Hello facial recognition login. This is a great extra that's rarely found on gaming laptops. It's the quickest and arguably most secure option for biometric login.
Connectivity
IDG / Matthew Smith
Though slim, the Alienware x14 offers excellent physical connectivity. It includes two USB-C ports that support Thunderbolt 4, USB4, DisplayPort, and up to 15 watts of Power Delivery. One additional USB-C port supports USB 3.2 Gen 2, DisplayPort, and up to 15 watts of Power Delivery. 
Video output is handled over either the USB-C ports or a single HDMI 2.1 output. It's good to see HDMI 2.1 is included, since this helps make the most of a HDMI 2.1 monitor or HDTV.
Additional options include a single USB-A 3.2 Gen 1 port and a MicroSD card reader. The limited number of USB-A ports could be a sore point, since many PC gaming peripherals use USB-A. I had to use a USB-C hub to connect my flight stick for Microsoft Flight Simulator.
An Ethernet port is not included, either, though a physical Ethernet connection is possible through a USB-C adapter or USB-C hub. 
The lack of Ethernet is partially excused by the x14's excellent Wi-Fi. It supports Wi-Fi 6E which, at short ranges, can achieve connection speeds above Gigabit Ethernet. You'll need a high-end Wi-Fi 6E router to make the most of this feature, however. Bluetooth 5.2 is also available. 
Performance
The base Alienware x14 ships with an Intel Core i5-12500H processor and Nvidia RTX 3050 GPU, but my review sample was upgraded to a Core i7-12700H processor with RTX 3060 GPU. This upgrade adds a rather modest $500 to the price. My sample was also equipped with a 1TB solid state drive and 32GB of RAM.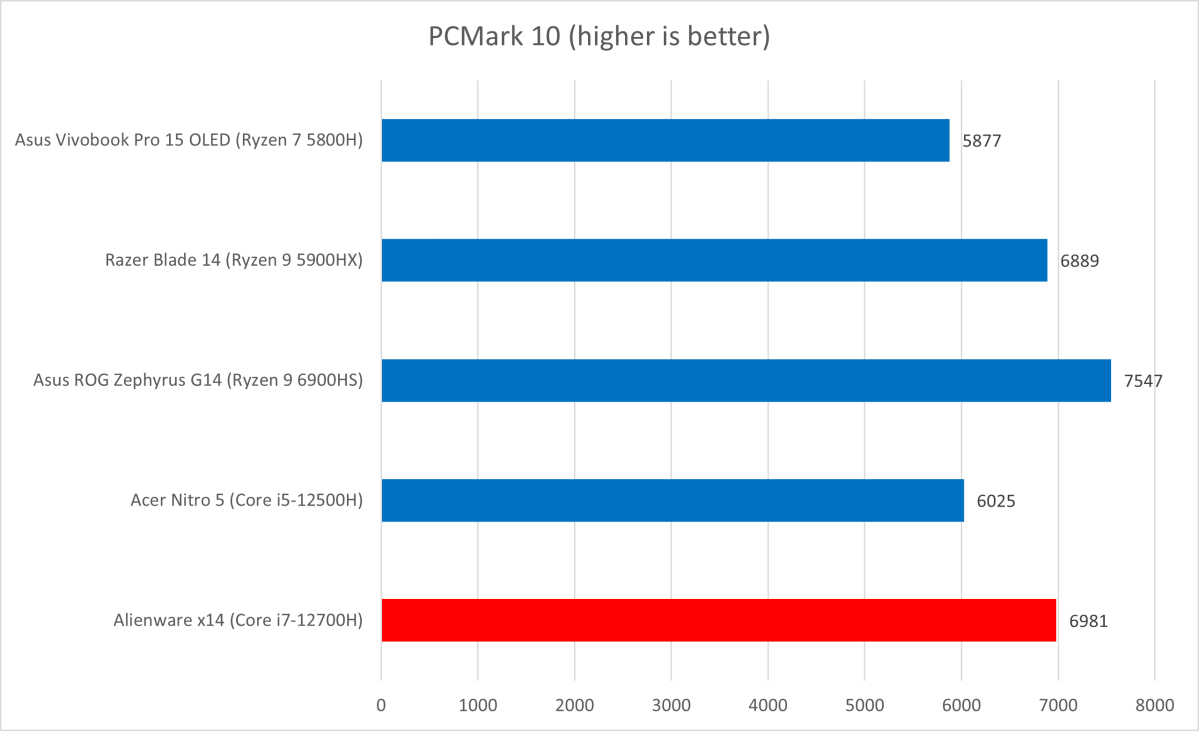 IDG / Matthew Smith
My performance tests began with PCMark 10, a synthetic test that depends heavily on processor performance but is more balanced between single-core and multi-core performance than some other tests. 
The Alienware x14 does well here, hitting a score of 6,981. This is behind the Asus ROG Zephyrus G14 with the latest AMD Ryzen 6900HS processor, but ahead of the Razer Blade 14 with outgoing Ryzen 9 5900HX. The x14 easily beats the larger, less expensive Acer Nitro 5 with Core i5-12500H.
IDG / Matthew Smith
The Intel Core i7-12700H leaps ahead in Cinebench R20, squeaking out a slight win over the Asus ROG Zephyrus G14 and easily beating the older Razer Blade 14. This is a very strong result overall, and indicates the Alienware x14 is well equipped to handle demanding productivity applications.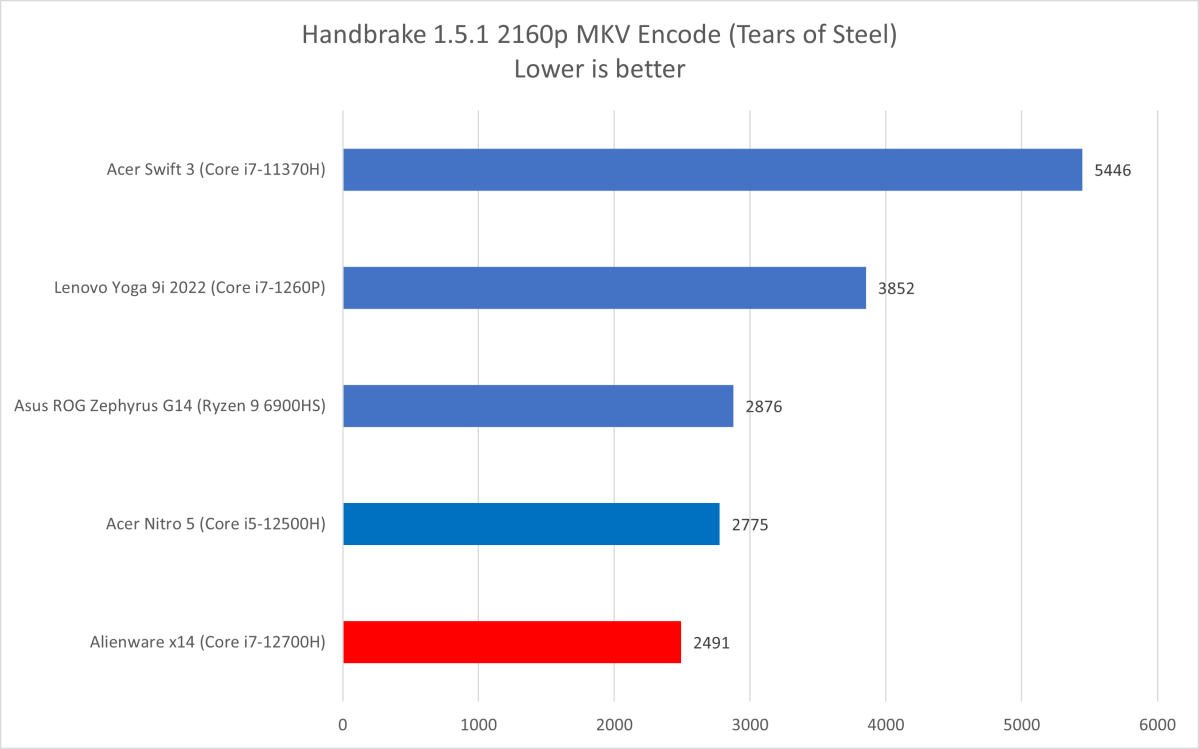 IDG / Matthew Smith
Handbrake turns in another solid result for the Alienware x14 and flexes the muscles of Intel's new Core i7-12700H processor with six performance cores and eight efficient cores. The x14's thin design seems no obstacle for performance in multi-threaded workloads.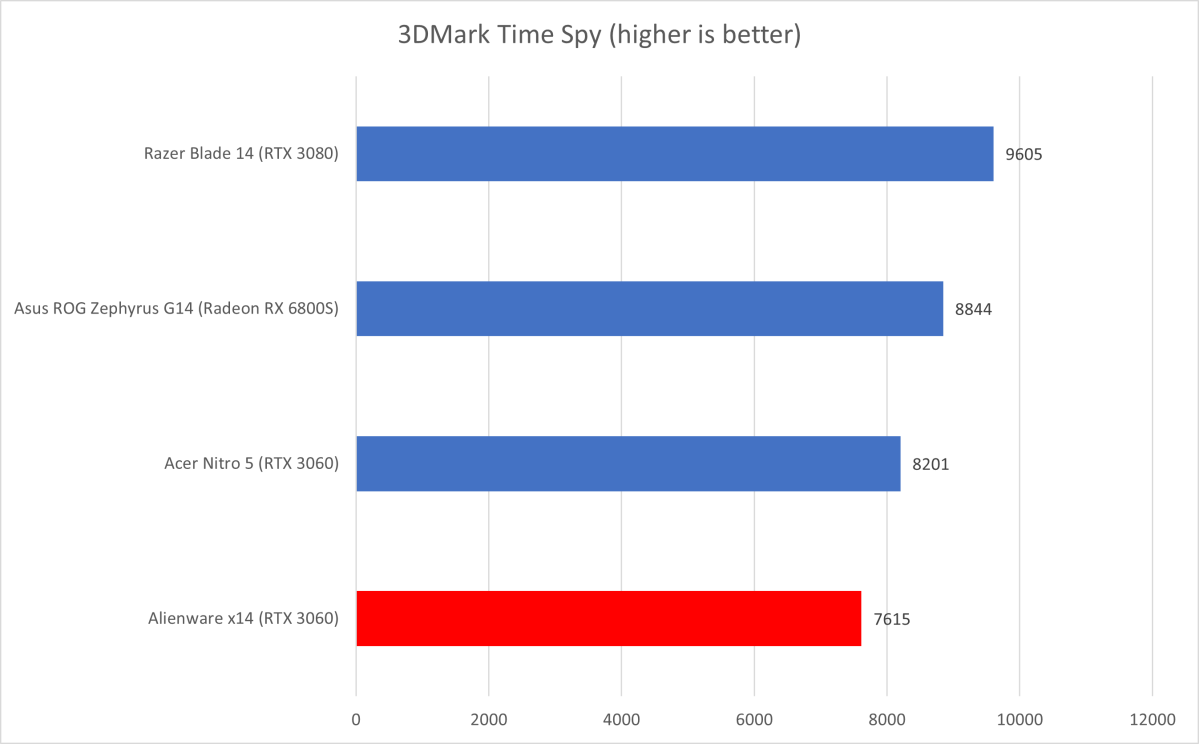 IDG / Matthew Smith
Our first graphics test, 3DMark Time Spy, produces a less favorable result for Alienware. The x14's final score of 7,615 isn't bad but does come behind the Acer Nitro 5, a larger but less expensive laptop with the RTX 3060 GPU. It's also behind Asus ROG Zephyrus G14 and Razer Blade 14, both of which we tested with more powerful GPU options not available to th Alienware.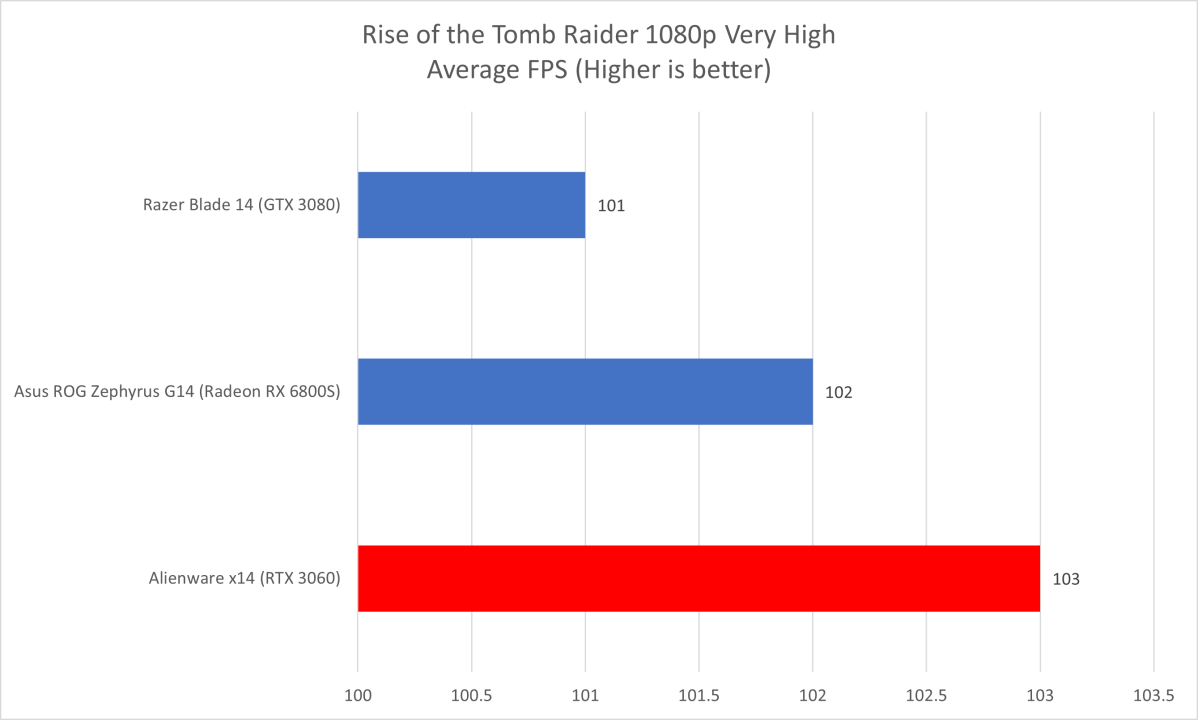 IDG / Matthew Smith
Our first real-world gaming laptop, Rise of the Tomb Raider, reached an average of 103 frames per second at 1080p resolution with detail at Very High. This is a good result, squeezing out a small victory over the Asus ROG Zephyrus G14 and Razer Blade 14. It's possible this represents a processor bottleneck that keeps the Asus and Razer systems from making the most of their superior GPUs.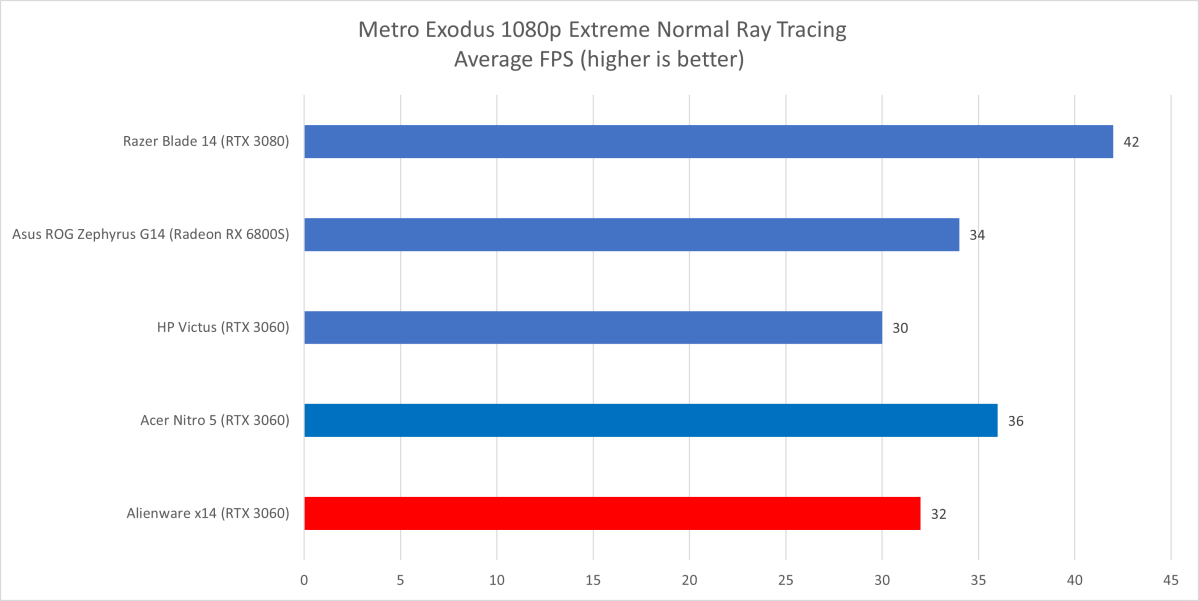 IDG / Matthew Smith
We end on Metro Exodus Enhanced Edition, an extremely demanding benchmark even with Ray Tracing set to its lowest "normal" preset. The Alienware x14 does manage to hit an average above 30 frames per second, but finds itself behind the more powerful Asus ROG Zephyrus G14 and Razer Blade 14.
On the whole, the Alienware x14 delivers good performance for a laptop of its size. It's generally behind the quickest small laptops, but this is mitigated by the x14's fair pricing. You'd be hard pressed to see better results from a 14-inch laptop sold at $2,000. The x14 also does well in processor tests, which may appeal to content creators who need a fast but compact laptop.
Battery life
A large 80 watt-hour battery is crammed in the Alienware x14's small frame. This helps the laptop cope with its demanding hardware, but battery life remains less than lengthy in taxing situations.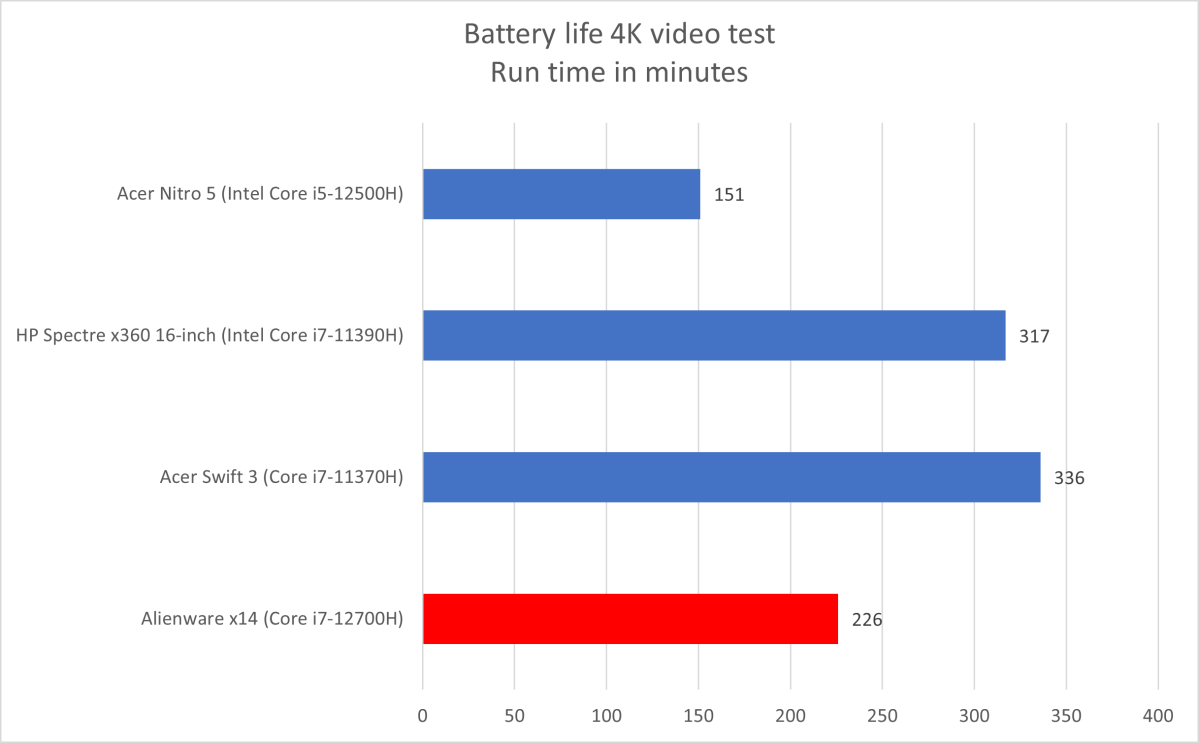 IDG / Matthew Smith
Our standard battery life test, which loops a 4K video of Tears of Steel with the display set to a brightness of 200 nits, ate through the battery in three hours and 46 minutes. This is better than many games laptops with similar hardware but still not outstanding overall.
However, real-world results can vary significantly depending on how the laptop is used. A demanding 3D game can easily drain the battery in under two hours, but browsing the web may extend battery life to five or six hours. The inclusion of Nvidia Advanced Optimus, which can switch off the discrete GPU when it's not needed, helps extend battery life in light-load situations. 
Fan noise and thermals
Cramming powerful hardware into a slim gaming laptop is never easy. Reducing size means less space to spread out a thermal load and less airflow. Alienware combats this with vapor-chamber cooling and a gallium-silicone thermal interface, but it's not enough.
The Alienware x14's fan is a constant companion at its default settings and, at high load, becomes a whirlwind of noise and heat. This isn't the loudest fan ever but its high-pitched character is difficult to ignore. 
Alienware's bundled software has several thermal modes including a Quiet setting. It does reduce fan noise. With Quiet on, the fan is often hard to hear at idle. Demanding loads lead to lots of fan noise, but it's tolerable. However, Quiet mode takes a chunk out of performance. The RTX 3060 performs more like an RTX 3050 when Quiet mode is on. CPU performance is even worse off, cut roughly in half compared to Balanced mode.
This is acceptable when playing older games, but players looking to enjoy Metro Exodus with ray-tracing (or any demanding game) will need to put up with noise. 
Conclusion
The Alienware's x14 is the world's thinnest 14-inch gaming laptop. This is a blessing and a curse. Though portable and sleek, the x14 can't brush aside the fundamental physics problem of a laptop this small. It's loud, runs hot, and performs no better than a budget gaming laptop with a 15-inch display and RTX 3060 GPU.
Still, the x14 is an admirable performer given its size and specifications. On paper the x14 should be blown away by alternatives with more powerful GPUs, like the Asus ROG Zephyrus G14 and Razer Blade 14, but real-world results place the Alienware close to its competition. The x14 is also properly priced, with the base model undercutting the Razer Blade 14 by $500.
It all comes down to this: do you need a thin 14-inch gaming laptop? If so, the Alienware x14 is a great choice, but if not, go for a 15-inch model.
Note: When you purchase something after clicking links in our articles, we may earn a small commission. Read our affiliate link policy for more details.
Apple's Mixed Reality Headset May Be Packing An M2 Chip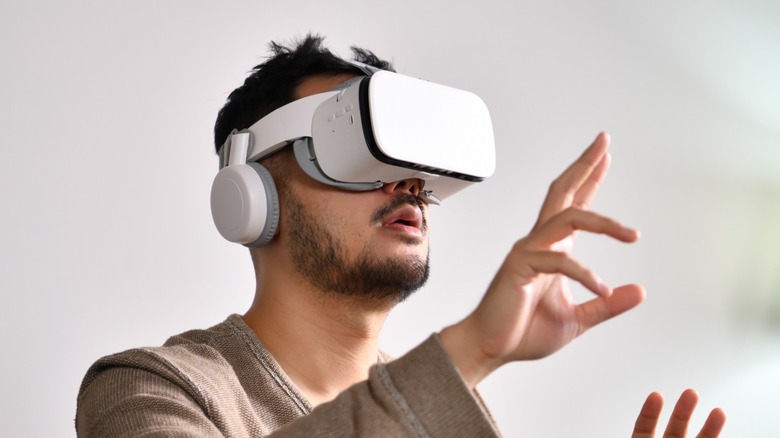 amenic181/Shutterstock
If it lives up to the hype, Apple's mixed reality headset could be the most powerful AR/VR device on the market, and one of the most complex pieces of hardware the company has ever built. There's a possibility a lot of that power could come from Apple's new M2 chip, which was unveiled at WWDC 2022 and promises huge upgrades over the tech giant's previous generation of silicon. The chip is set to debut in the 2022 incarnations of Apple's MacBook and MacBook Pro notebooks which hit the shelves in July.
Apple's M2 chip comes with up to 24GB of LPDDR5, an eight-core CPU, a ten-core GPU, and 100GB/s of memory bandwidth. The chip's 16-core neural engine can perform up to 15.8 trillion operations per second — and the M2's chip is said to be 18% more powerful than Apple's M1 silicon while still consuming the same amount of power. The difference is even clearer when compared to the Intel chips Apple previously used in their devices, with performance boosts of over 30% in some cases. Apple claims their new silicon's powerful media engine is capable of handling multiple 4K and 8K streams simultaneously. This capacity could make the M2 ideal for AR/VR headset use.
Initial benchmarks for the chip showed Apple's claims that the M2 is a significant improvement on the previous generation of Apple Silicon have merit. While Geekbench's benchmark clocked the M2 as around 12% faster than the M1 chip in terms of single-core performance, the multi-score test showed a 20% improvement with the M2. The GPU's chip also showed massive improvements.
Apple's latest silicon could make it into their new headset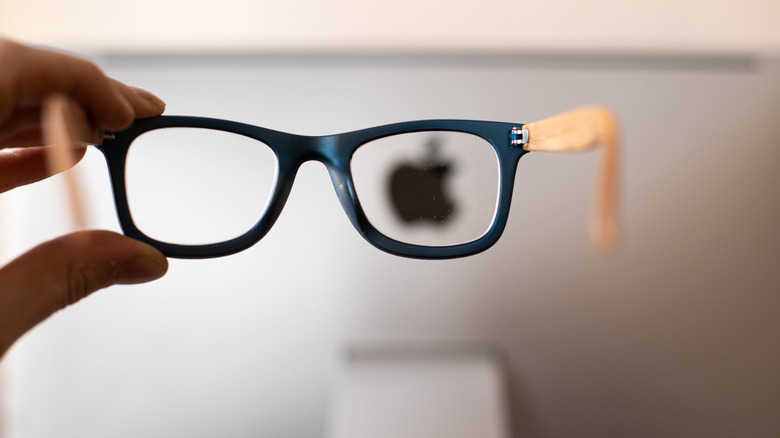 Girts Ragelis/Shutterstock
Bloomberg's Mark Gurman predicts the chip's use won't be restricted to notebooks. Gurman claims to have been told that: "the latest internal incarnations of the device run the base M2 chip along with 16 gigabytes of RAM." The writer also says Apple is already working on the chip's successor, the M3, with a goal of using it in next year's updated MacBooks. With Apple's headset reveal predicted to take place in January, there's a good chance that their new device won't have Apple's "latest" silicon in it when it eventually launches.
However, that may not matter. The M2 is already a very powerful chip, and if it is combined with 16 GB of RAM as Gurman predicted, it will be the most powerful stand-alone headset on the market by a long way. This isn't the first time someone has predicted Apple will be going all out in terms of specs with their first headset. In January, notable Apple analyst Ming-Chi Kuo predicted that the headset might "require the same level of computing power as the MacBook Pro," will "offer performance much higher than that of the latest iPhones," and "may feature not just one, but two processors: One 4nm chip and one 5nm chip."
How The Boring Toyota AE86 Became An Exciting JDM Legend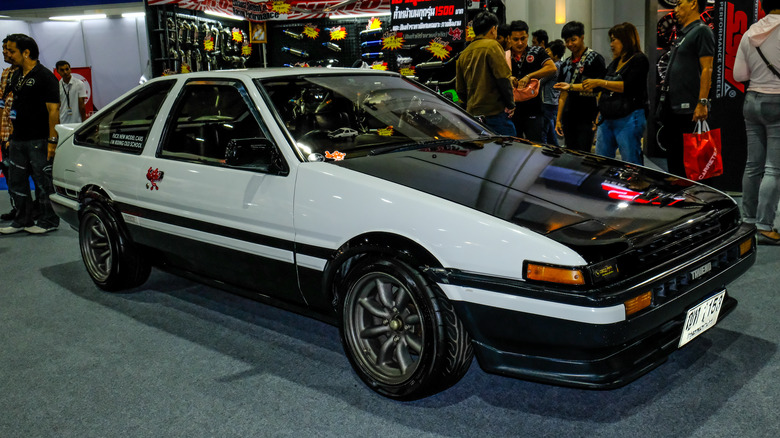 Creative Stock Studio/Shutterstock
The Toyota AE86 wasn't always known as a JDM legend. It went largely unnoticed until a sudden turn of events sent it skyrocketing to pop-culture stardom. There were a number of notable Toyota sports car models in the '80s, namely the Celica Supra, MR2 coupe, and the Corolla. While the Corolla's rear-wheel variant, the AE86, wasn't exactly as sleek as the rest of Toyota's sporty fleet, it still became a cultural icon decades after its release. So, how exactly did the dark horse manage to outshine the rest of the herd?
It all started with a man known as the "Drift King," Keiichi Tsuchiya. Aside from being an accomplished pro racer, Tsuchiya also popularized drifting, a driving technique that involves oversteering through a sharp turn resulting in a controlled skid and the maintaining of speed where deceleration would otherwise be necessary to stay on the track or avoid a collision.  
Tsuchiya later became a technical supervisor for the widely popular racing show "Initial D" (via MotorTrend). For those unfamiliar, the series features Touge racing, which involves drifting through windy mountain roads — it seemed only natural for the sport's pioneer to be involved. Tsuchiya's personal ride — a panda-colored Toyota AE86 Sprinter Trueno — was the one that served as inspiration for the series' hero car, thus giving birth to a major cult following.
The making of a JDM icon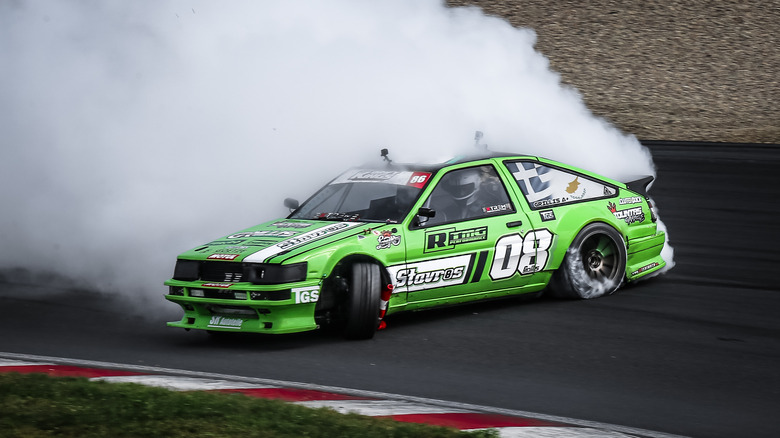 Michele Morrone/Shutterstock
The AE86 and its RWD configuration was quite an oddity in racing back in 1984, a time when FWD Corollas were becoming the norm. For Tsuchiya, however, the "Hachi-Roku," or 86, was instrumental in driving him to win. In a YouTube video interview, the Drift King revealed how badly he wanted to drive the AE86, which served as a motivating factor earlier in his career. Before Tsuchiya was even allowed to race in one, his team managers told him he would first need to win in a Toyota Starlet. He did just that and more, even winning the Fuji Freshman Series six consecutive times while driving an AE86, inspiring numerous aspiring racers in the process.
One of these inspired drivers was Japanese GT racer Manabu "Max" Orido, who said in the interview that driving an AE86 became a status symbol that represented the Drift King. Although Tsuchiya was already racing in an AE86 in the mid-80s, he still couldn't afford one of his own. His path to personal ownership included buying two crushed AE86 units and Frankensteining the parts to build one himself. 
The Initial D car that boosted the AE86's popularity
The television show "Initial D" debuted in 1995, and as the series progressed, it portrayed the AE86 as a car that could beat virtually any ride it was pitted against. The series showed an AE86 starting as a simple tofu-delivery car, but its driver's skill and tenacity turned it into a legend capable of beating much faster vehicles. Before the "Initial D" car effortlessly slid down the notoriously tight corners of Mt. Akina, Tsuchiya was already doing something similar in real life. According to his website, the Drift King honed his skills by driving down windy roads in mountain passes around Nagano Prefecture for lack of a more appropriate track to practice.
His AE86 and signature driving style eventually became synonymous with mountain pass racing and drifting in general, both of which developed equally large fanbases over time. This paved the way for numerous popular shows and competitions including "Initial D," D1 Grand Prix, and Formula D. Tsuchiya credits the AE86 for turning him into a professional, per his interview. While the AE86 is a JDM legend to many, Tsuchiya suggested that he sees it as a reminder of how he started. 
Whether you're a fan of the "Initial D" car and Touge racing, or simply inspired by Tsuchiya's iconic ride and real-life accolades, the AE86 will always leave an impression that says big things can definitely come from small packages.
Every Type Of Mechanical Keyboard Switch Explained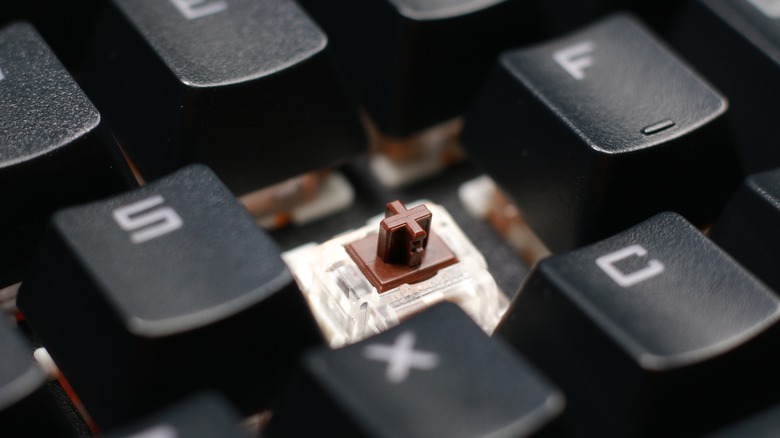 nishandx/Shutterstock
Mechanical keyboards are all the rage among working professionals, gamers, and casual typists alike. There's something incredibly satisfying about getting feedback from every key you push down and hearing the click-clack of your keys as you're working or gaming. Plus, on top of feeling and sounding amazing, many mechanical keyboards come with some kind of backlighting or fancy RGB capability so you can customize the keyboard's backlight. 
Some people don't like the extremely loud mechanical keyboards, but that's the beauty of mechanical keyboards. There are different mechanical key switches to choose from, depending on how much physical and auditory feedback you want while you're typing. And if a mechanical keyboard is hot-swappable? Even better! Then, you can test out multiple switches until you find your perfect match. 
Here is the rundown on what mechanical keyboards are, how mechanical keyboards work, and the best options for your personal setup at home or office.
What are mechanical switches?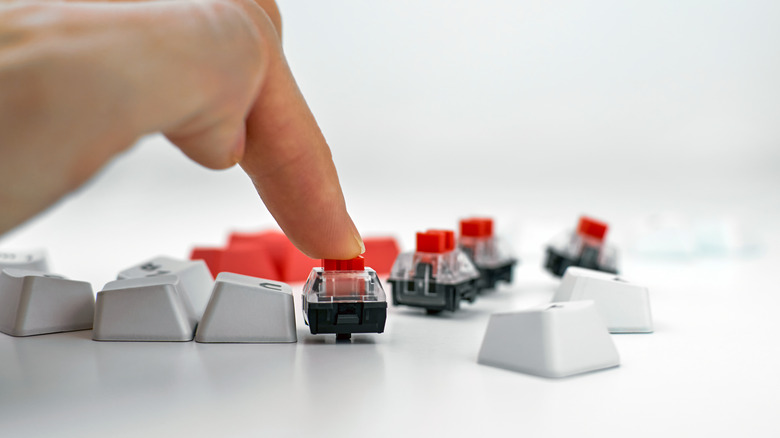 Om.Nom.Nom/Shutterstock
If you've ever seen a computer keyboard marketed as a "mechanical keyboard," all that means is that it has mechanical switches under the keycaps. Many inexpensive options or laptop keyboards are membrane keyboards, which typically have more of a soft, rubbery feel to them due to the way they're constructed. Mechanical switches, on the other hand, are more intricately designed and have more working components. 
You won't typically meet someone who's indifferent about mechanical switches. You either love them, or you hate them. Mechanical switches on a keyboard provide users with more tactile feedback, a recognizable clicky sound, and a wider range of personal customization than membrane keyboards offer. Because of these special features, keyboards with mechanical switches are traditionally more expensive than membrane keyboards; however, they're starting to become more affordable as they gain popularity.
But how exactly do mechanical switches work to provide users with this unique typing feedback? Let's check it out.
How do mechanical keyboard switches work?
When you have a mechanical keyboard and a membrane keyboard right in front of you, it's easy to tell the differences between the two. One option clearly gives you more tactile and auditory feedback, while the other has soft, almost squishy keys with minimal feedback. But if you're trying to decide between the two without trying keyboards out in person, it's difficult to understand the differences on paper. 
Beneath the keycap that you see on the surface, there are five components of a mechanical switch. If you pop the keycap off, you can see the stem that the keycap is attached to and the switch's external housing that holds everything together. Inside the switch housing, which consists of an upper and a base housing part, there's a coil spring and a metal or gold crosspoint contact piece. 
The resistance of the spring determines how much pressure you need to apply before your key press registers. The spring also helps guide the switch back to its original position after you've pressed a key. Then, the metal or gold crosspoint contact piece is responsible for communicating between your key press and the correct symbol showing up on your computer. 
When looking at mechanical keyboards, you'll see a few unique terms thrown around, like actuation force, bottom-out, reset point, and travel distance. Actuation force is the amount of pressure needed from a user to depress a key and register a keystroke. Bottom-out refers simply to pressing a key all the way down. The reset point is the distance a key has to spring back in order for the switch to reset. Then, travel distance is a measure of the total distance a switch can depress. 
The three main types of mechanical switches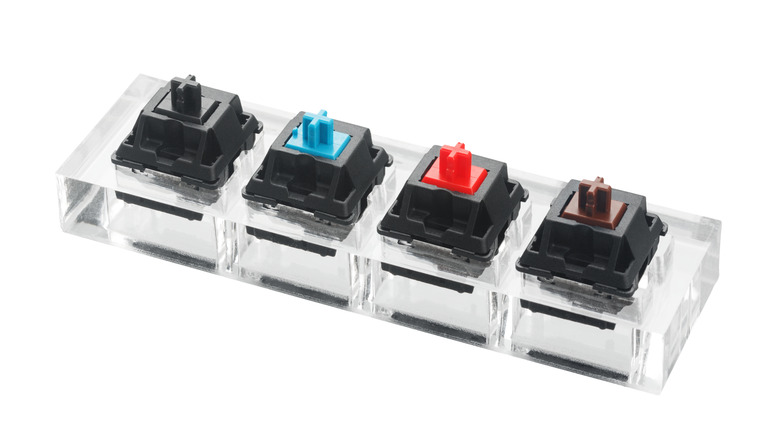 BonD80/Shutterstock
If you search for mechanical keyboards or switches, you'll be met with a ton of options. However, all mechanical switches can be divided into three main categories: linear, tactile, and clicky. Here's a brief overview of what each category feels and sounds like. 
Linear switches typically don't offer any tactile feedback by way of a bump on each key when typing. Instead, linear keys glide down and up smoothly and register keystrokes when the key bottoms out. Among the three types, linear keys are the quietest. 
Tactile switches are for people who don't love linear switches but also aren't fond of clicky switches. Tactile keys are quieter than their clicky counterparts and offer a bump about halfway down at the actuation point. Since the key doesn't have to go all the way down as linear switches do before the keystroke registers, you can type a bit faster on tactile switches.
Clicky switches are usually the loudest of the three options. As the name implies, there's a stronger click sound with every keystroke as well as a recognizable bump when you depress each key. If you've ever typed on an old typewriter, imagine that clicky mechanical switches are the modern version of a typewriter.
Most popular mechanical switch brands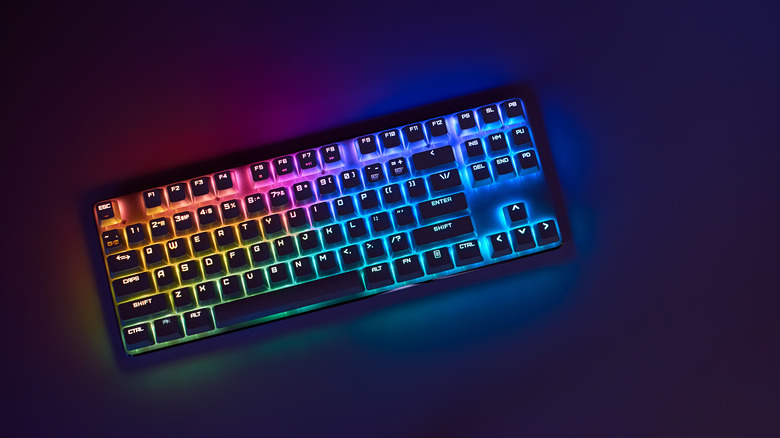 Om.Nom.Nom/Shutterstock
When mechanical switches first became a popularized option for keyboards, one brand sat behind every switch option: CHERRY. While other brands have emerged to compete with CHERRY, the company practically pioneered the mechanical switches we know and love today and still excels at making quality products. 
If you're looking around on Amazon for a mechanical keyboard or for mechanical switches, you'll see a slew of options, from both established brands and unrecognizable brands. Always do your research before you buy, and make sure you're getting a mechanical keyboard that'll do what it promises and last you a while. 
For anyone new to mechanical keyboards, CHERRY switches are a great place to start. At its most basic level, CHERRY's linear switches are red, tactile switches are brown, and clicky switches are blue. This company knows what it's doing, and with the number of unique switches it offers, you're bound to find something that works for you. 
However, if you've tried CHERRY switches before and know you don't like them, you've got plenty of other choices. A few of the most popular brands include Razer, Steelseries, Logitech, and HyperX. While many other brands follow CHERRY's color models for its switches, a few don't; so be sure to pay attention to a switch's description and not the color. 
CHERRY MX Red switches
CHERRY's MX Red switches are perfect for anyone who's new to mechanical keyboards. While many people might graduate from linear switches to one that offers more feedback, like tactile or clicky switches, linear switches are the perfect place to start and gauge your personal preferences. 
These linear red switches have no click or bump, that you can feel when you depress a key. Then, there's 45 cN of operating force, which is the amount of force needed in order for the keystroke to register with your device. The pre-travel, or how much the key must be pressed before it actuates is two millimeters, and the total travel is 4 millimeters. These red switches also have a short bounce time, which makes for faster typing. 
While these numbers and measurements might seem pointless if you don't have experience with mechanical switches, it'll help when comparing switches online to know exactly where the differences lie, no matter how small. CHERRY's MX Red switches, as well as all of CHERRY's other switches, are equipped with its exclusive gold-based crosspoint contact technology, which protects the electrical contact enclosure against corrosion and allows for self-cleaning within the enclosure. This exclusive tech allows each key to survive for a whopping 100 million keystrokes. 
CHERRY MX Black switches
One of the other linear mechanical switches that CHERRY offers are the MX Black switches. These perform similarly to the CHERRY MX Reds, but they're heavier. In other words, it takes more force from your fingers to depress each key. Inside the MX Blacks, there's a stronger spiral spring that's responsible for more force before the key bottoms out. 
CHERRY's MX Black switches are perfect for people who like the two main features of linear switches—the quietness and the lack of a distinct bump with every keystroke—but want to get more physical feedback than the MX Red switches can offer. Whereas the MX Reds have a defined operating force of 45 cN, the MX Blacks have an operating force of 60 cN.
Between the MX Reds and Blacks, you'll see the same 2-millimeter pre-travel distance and 4-millimeter total travel distance. Plus, as CHERRY's other switches, the MX Blacks can last for over 100 million actuations due to the exclusive gold-plated Crosspoint contact technology.
CHERRY MX Brown switches
The MX Brown switches are the classic tactile option from CHERRY, characterized by noticeable feedback with every keystroke. There's not much auditory feedback; instead, the feedback is tactile, in the form of a small bump every time you depress a key.
There's a bulge on the surface inside the mechanical switch enclosure that the mechanism has to cross over every time you press a key down. When you're typing, you'll feel that bump on every key and know exactly where the actuation point is.
The MX Brown switches also have 55 cN of operating force, a bit more than the traditional linear switches, the MX Reds. However, you'll see a similarity in travel distance; the MX Browns have a pre-travel distance of two millimeters and a total travel distance of 4 millimeters. Then, there's CHERRY's guarantee of 100 million keystrokes due to its gold-based crosspoint contact that's in every one of its switches.
CHERRY MX Clear switches
Similar to its linear switches, CHERRY offers a lighter tactile switch, the MX Browns, and a heavier tactile switch, the MX Clears. The only real difference between the MX Brown switches and the MX Clear switches is the operating force. 
The MX Clears have an operating force of 65 cN, 10 cN more than the MX Browns. This increase in operating force means that it'll require more pressure to push a key down until it registers as a complete keystroke. A higher operating force is ideal for users who find heavier keys to be more satisfying while typing because it's clearer when a key is pressed. 
In all other aspects, the MX Clears are identical to the MX Browns. The MX Clears have a pre-travel distance of 2 millimeters and a total travel distance of 4 millimeters, no audible click, and a noticeable, tactile bump with every keystroke.
CHERRY MX Blue switches
The CHERRY MX Blue switches are the perfect choice for users who love auditory and tactile feedback. Clicky switches, like these, are reminiscent of a typewriter because of the satisfying auditory feedback with every keypress. The MX Blues have an operating force of 60 cN and an audible click in addition to the tactile bump users feel each time they depress a key.
The switching slide inside a clicky switch consists of two parts, whereas the switching slide in linear and tactile switches is a single part. One part is responsible for the tactile bump users feel when typing, and the other part is responsible for the acoustic feedback, or the noticeable click. The pre-travel distance on the MX Blues is 2.2 millimeters, and the total travel distance is 4 millimeters.
Just like tactile switches, clicky switches let you know exactly where the trigger, or actuation point, is beneath your keycaps. This makes it easier to type accurately and quickly because you can feel whether or not you truly pushed a key down and the keystroke was registered.
CHERRY MX Green switches
The MX Green switches from CHERRY are the heaviest switches the company offers, with an operating force of 80 cN. The MX Greens are a slight variation of the MX Blues, and the only real difference between the two is the actuation force. While an extra 20 cN of operating force might not seem like a lot, it makes a world of difference for users who want keys that require more effort to depress.
Just like CHERRY's other clicky switches, the MX Greens switching slide is made up of two components. There's one part responsible for the tactile bump, and one part responsible for the acoustic feedback, or the clicky sound. The pre-travel distance is the same as the MX Blues at 2.2 millimeters, and the total travel distance is the same at 4 millimeters. This is a great option for typists who stroke the keyboard with gusto.
CHERRY MX unique switches
In addition to its classic linear, tactile, and clicky switches, CHERRY also has a few mechanical switches that are special variations for users who want an even more personalized feel to their keyboard. The three most notable specialty switches from CHERRY are the MX Red Silents, MX Black Silents, and MX Speed Silvers.
The MX Red Silent switches are essentially the MX Reds with a twist. These switches are still linear, and also have an operating force of 45 cN. The MX Red Silents are, well, silent, which is awesome for anyone working in an office or anyone who just doesn't like the sound of loud, clacky keys. These switches have a slightly shorter pre travel distance, at 1.9 millimeters, and total travel distance, at 3.7 millimeters, than the MX Reds which allows the keystroke to register slightly faster.
Similarly, the MX Black Silent switches are a silent version of the MX Blacks, but still have an increased spring force that results in an operating force of 60 cN. CHERRY implements its patented noise reduction technology in both the MX Black Silents and MX Red Silents
Lastly, there are the MX Speed Silver switches, which are CHERRY's fastest mechanical switch model to date. These switches have a pre travel distance of 1.2 millimeters, total travel distance of 3.4 millimeters, and an operating force of 45 cN. It has a straight surface, so it's a linear-style switch with no noticeable feedback with each keypress.
Razer yellow, orange, and green switches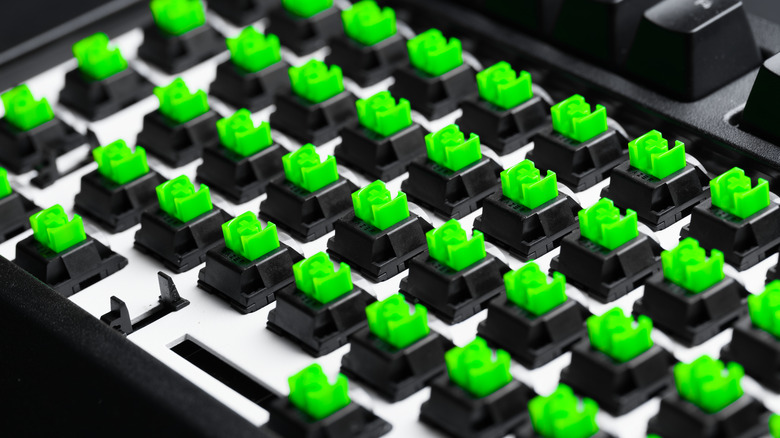 SvedOliver/Shutterstock
Razer is a huge brand in the world of gaming tech, with products including computer mice, speakers, and, of course, mechanical keyboards. While CHERRY is a more established brand, Razer's mechanical switches are still a popular option among gamers and other computer users.
Razer's Mechanical switches have an 80 million keystroke lifespan, 20 million fewer keystrokes than CHERRY offers, but nothing to sneeze at. Also, Razer's mechanical switches are soldered onto its keyboards, whereas CHERRY sells switches individually so that they can be swapped them out. With Razer's switches, you need to be sure of your choice before you make your purchase.
Razer's tactile switches are orange, and you'll experience a noticeable bump with no audible click. These orange switches have an actuation force of 45 G, which is a different measurement than CHERRY uses, but nearly the same cN, the measurement CHERRY uses. The total travel distance is 4 millimeters and the actuation point is 1.9 millimeters.
The yellow switches from Razer are linear and silent and have an actuation force of 45 G, just like Razer's orange switches. With a total travel distance of 3.5 millimeters and an incredibly fast actuation point of 1.2 millimeters.
The green switches are Razer's clicky switches for anyone who wants to feel and hear every single keypress. There's a distinct tactile bump and auditory click with every keypress, and an actuation force of 50 G, slightly more than the yellow and orange switches. The total travel distance is 4 millimeters, and the actuation point is 1.9 millimeters.
HyperX red, aqua, and blue switches
Mechanical switches from HyperX are more similar to Razer's switches than to CHERRY's switches. HyperX switches offer an 80 million keystroke lifespan and come soldered onto HyperX branded mechanical keyboards, so it's difficult and tedious to swap your switches if you change your mind on the sound and feel you want.
Linear switches from HyperX are red, just like CHERRY's linear MX Reds, and have a similar operating force of 45 G. The HyperX Red switches have a total travel distance of 3.8 millimeters, and their actuation point is at 1.8 millimeters. They're much quieter than the aqua and blue switches from HyperX and don't provide any tactile feedback.
HyperX Aqua switches are tactile, with an operating force of 45 G and a slight bump in its travel path so you can feel exactly when a keypress registers. Then, HyperX blue switches are clicky, with an operating force of 50 G, a much more substantial tactile bump, and audible feedback. Both the Aqua and Blue switches share the same total travel distance and actuation point as the Red switches from HyperX.